Special Issue: Violence Targeting Local Officials
Local Government as a Battleground for Political Violence
The current prevalence and form of political violence in South Africa is rooted in the past apartheid system and transition to democracy in the 1990s. The four years before the first democratic elections in April 1994 were particularly violent. More than 14,000 people were killed as the apartheid security apparatus used violence to repress uprisings and amid ethnic divisions and political tensions between the African National Congress (ANC) and Inkatha Freedom Party (IFP) that spread from KwaZulu-Natal (KZN) to Gauteng.1Truth and Reconciliation Commission (TRC) Human Rights Committee, 'Most political deaths occurred in run-up to 1994 election: HRC,' South African Press Association, 27 May 1997 During the transition from apartheid, increased competition between parties, particularly during election periods, manifested in new forms of political violence, including assassinations and party infighting.2Juniour Khumalo, 'They are under siege'- 8 eThekwini councillors under guard after death threats,' News24, 22 January 2022; Ntombi Nkosi, 'ANC condemns violence at branch meetings after shooting in Kanyamazane,' Independent Online, 25 October 2022; Rumbi Matamba, 'Tracking the trajectory of targeted killings in South Africa,' Enhancing Africa's response to transnational organised crime (ENACT), 31 October 2022. 
While contestation for power takes place in South Africa at all levels of government, 80% of violence targeting government representatives between 2018 and 2022 was directed against local officials. During this time, ACLED records 143 events of violence targeting local officials – surpassing the recorded totals of conflict-affected countries such as the Democratic Republic of the Congo or Mali. The majority of this violence involves municipal authorities – the lowest level of government in South Africa. In contrast to provincial authorities who provide social and economic services like education, health, roads and agriculture, and provincial governance, municipalities play a significant role in the delivery of public services and socio-economic development.3Republic of South Africa, 'Batho Pele (People First), White paper on Transforming public service delivery,' Department of Public Service and Administration, 18 September 1997 
Alarmingly, political violence targeting local officials in South Africa is on the rise, more than tripling in 2021 compared to the previous year, and increasing an additional 70% in 2022 (see graph below). In light of the escalating attacks, this report examines the trend's key drivers as well as the geographic concentration of incidents by province and municipality, and concludes by looking at government responses and future prospects for local-level violence.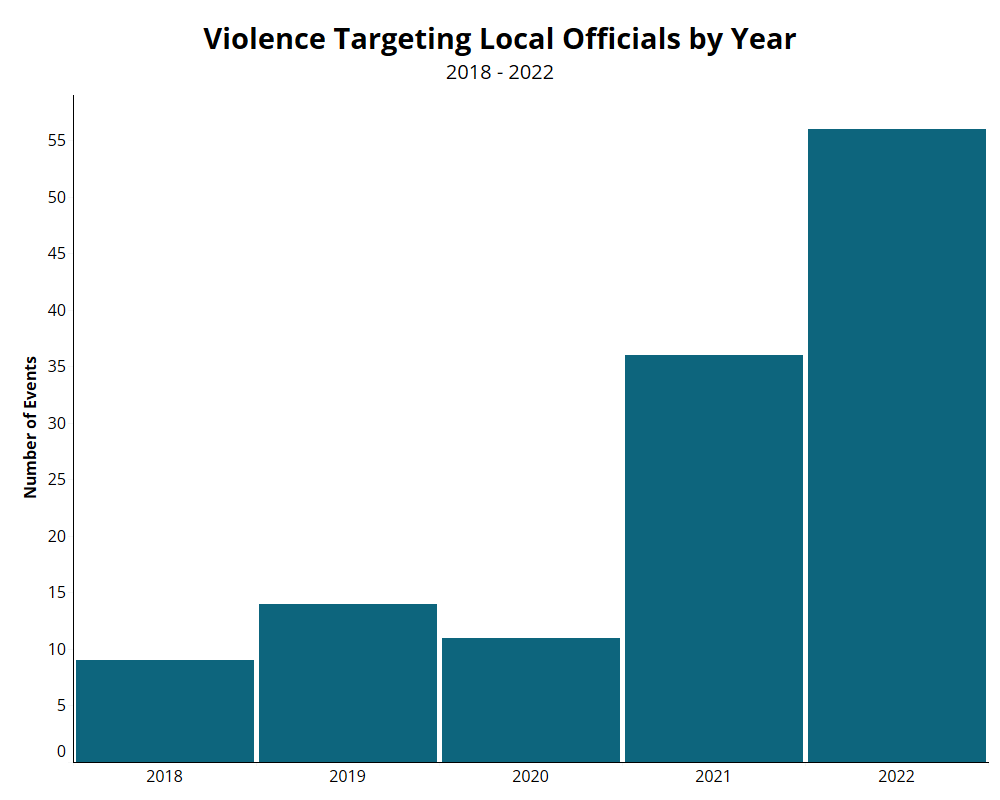 Local Power Struggles Motivate Violence
A critical factor in the rising violence targeting local officials, particularly councilors, is party and intra-party competition to secure influential positions at the local level. Further, political actors have increasingly resorted to violence to secure and hold on to these positions. Therefore, as political leaders contest for positions in local government, officials become both victims and perpetrators of violence. Attacks or threats function to intimidate opponents, and serve as a deterrent for whistleblowers.4Paddy Harper, 'Suspect arrested in Sindiso Magaqa murder,' Mail & Guardian, 13 September 2018 Physical attacks and abductions against local officials account for approximately two-thirds of all events recorded between 2018 and 2022. ANC members were the most frequently targeted group, while the perpetrators tended to be unidentified gunmen with suspected political links. Declining political support for the ANC may also fuel increased competition as political leaders attempt to hold on to power.5Bloomberg, 'New poll shows EFF, DA losing support, and the ANC gaining – but there's a catch,' BusinessTech, 28 March 2023 
Increasing criminal activity and the proliferation of small arms are also among the main drivers of this violence. Professional hitmen and police have reportedly been implicated in numerous targeted killings of local officials.6Luvo Cakata, 'Police arrest three in connection with murder of Mbhashe Municipality councillor,' News24, 10 March 2023; South African Police Service (SAPS), 'Police Recorded Crime Statistics,' 17 February 2023; Jenni Irish-Qhobosheane, 'How to Silence the Guns? Southern Africa's Illegal Firearms Markets,' Global Initiative against Transnational Organized Crime, 15 September 2021; Paddy Harper, 'Cops charged with ANC councillor's death,' Mail & Guardian, 16 November 2022 In a notorious case from 2021, an ANC candidate, Siyabonga Mkhize, was shot dead in Durban while campaigning for the municipal elections. The assassination was reportedly orchestrated by an ANC eThekwini municipality councilor.7Juniour Khumalo, 'ANC eThekwini councillor arrested for allegedly murdering predecessor,' News24, 30 May 2022; Rising Sun Overport, 'Outrage as jailed KZN councillor receives monthly salary,' Vaalweekblad, 12 May 2023 In a similar case in September 2021, an ANC candidate running for ward councilor, Piet Moletsane, was shot and killed in Meloding. A former ANC ward councilor in Matjhabeng municipality was later arrested in connection with the killing.8TimesLIVE, 'Former Matjhabeng councillor in court for murder of ward candidate,' 04 May 2022 
In addition to political competition, deteriorating public perception of local service delivery, employment, and corruption has been an important driver of violence targeting local officials. Between 2018 and 2022, more than 550 service delivery-related demonstrations were recorded in South Africa, showing high levels of public frustration often directed towards local government. Further, unemployment in South Africa reached an estimated 33% in the last quarter of 2022, compounded by the high levels of corruption that rank South Africa 72nd on the Corruption Perception Index – fueling further tension against the local government.9Statistics SA, 'Incidence of long-term unemployment among women is higher than the national average,' 28 February 2023; Transparency International, 'Corruption Perceptions Index – 2022,' 31 January 2023 Faced with these challenges, local government officials become targets of violence as key economic decision-makers and conduits for public goods and services. As a result of this growing dissatisfaction, violent demonstrations and mob violence comprise a growing portion of the events targeting local authorities, accounting for 20-30% of the annual violence between 2018 and 2022. Rioters have frequently looted and destroyed government offices or homes of local authorities.
Officials in KwaZulu-Natal Under Threat  
Since 2018, KwaZulu-Natal (KZN) province has been the epicenter of violence against local officials (see map below), with 61 political violence events and 47 associated fatalities recorded between 2018 and 2022. In 2022, violence increased sharply in KZN province from the previous year, amidst increasing party infighting and a tense relationship between the ruling ANC and Inkatha Freedom Party (IFP) – a rivalry dating back to the 1980s.10Maria Schuld, 'Voting and violence in KwaZulu-Natal's no-go areas. Coercive mobilisation and territorial control in post-conflict elections,' African Centre for the Constructive Resolution of Disputes (ACCORD), 8 March 2013 Although the ANC and IFP worked together against the apartheid regime, ideological differences split the two groups between the ANC's aims for national democracy and the IFP's promotion of Zulu nationalism. 
Consequently, areas across the KZN province have been a battleground between the IFP and ANC since the 1980s. The IFP initially won over the ANC during the 1994 elections with over 48% of the votes in the province,11Electoral Commission of South Africa, '1994 National and Provincial Elections,' 1994 but the ANC has gradually accumulated further support in the province and features as the homestead of former president Jacob Zuma.12Clayton Hazvinei Vhumbunu, 'The July 2021 Protests and Socio-political Unrest in South Africa,' African Centre for the Constructive Resolution of Disputes (ACCORD), 10 December 2021 High levels of violence in KZN followed the Constitutional Court sentencing of former president Zuma to 15 months imprisonment for defying a court order to testify at an inquiry into corruption. Between 9 and 16 July 2021, of the more than 190 Zuma-related unrest events were recorded across the country, more than 100 occurred within the KZN province and nearly 90% using forms of violence.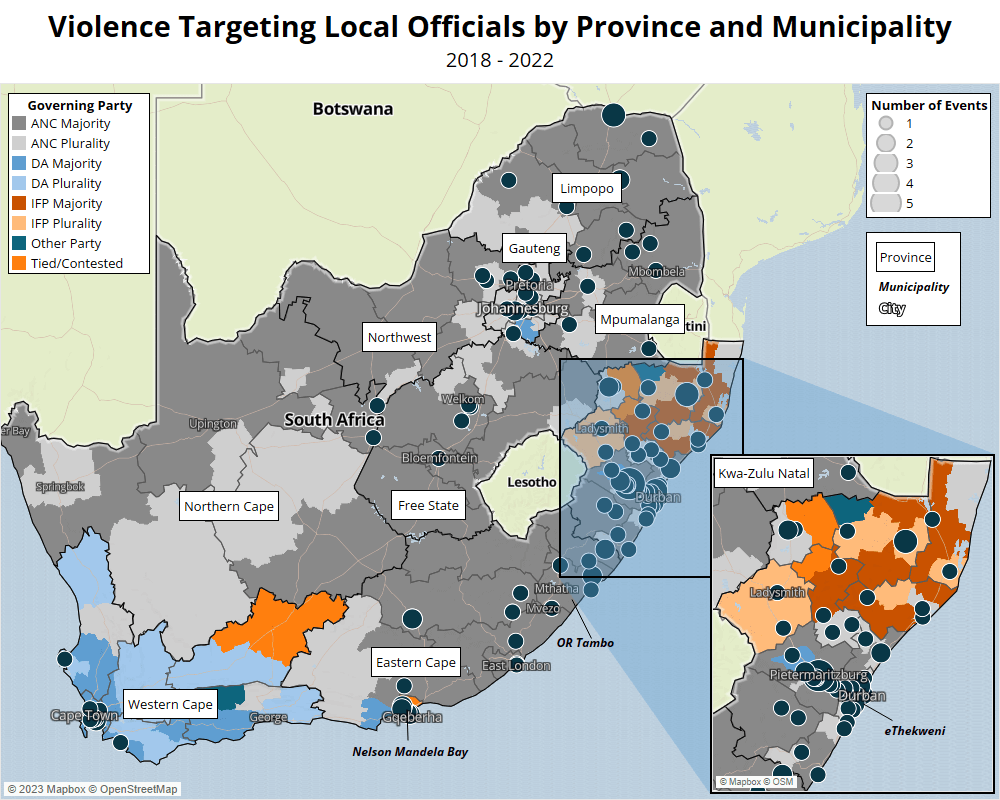 Notably, since 2021, violence targeting local authorities has dramatically increased in the eThekwini Metropolitan Municipality of the KZN province, and the primary targets have been ANC members. The densely populated eThekwini Metropolitan Municipality – the third largest metropolitan municipality in the country13Economic Development, Tourism and Environmental Affairs, 'EThekwini District Economic Profile,' 2021 – is operating under a hung government of a bloc of smaller parties in coalition with the ANC.14Jehran Naidoo, 'Hung municipalities, including eThekwini, to give KZN a headache,' IOL, 4 November 2021 Faced with ongoing allegations of maladministration and fraud, the national government enacted Section 154 in the Constitution which allows the national government to intervene directly in eThekwini Metropolitan Municipality.15Thami Magubane, 'Coalition government in eThekwini Municipality on the brink of collapse,' Independent Online, 12 December 2022; EThekwini Municipality, 'About EThekwini,' 2022; Sihle Mavuso, 'IFP says eThekwini municipality should have been placed under administration, instead of Section 154 intervention,' Independent Online, 12 May 2023; Soyiso Maliti, 'Former Presidency DG to head intervention in embattled eThekwini metro,' News24, 9 May 2023; Paul Kariuki and Avin Bhola,'Metro meltdown: A section 154 for eThekwini. What are the implications for residents?,' News24, 5 June 2023
After the KZN province, violence was highest in the Eastern Cape and then Gauteng province, making up about 26% of the total events recorded between 2018 and 2022. In the Eastern Cape, factional fighting continues in Nelson Mandela Bay Metropolitan Municipality after divisions were sowed following the ANC's 2007 Polokwane Conference, which led to Jacob Zuma becoming the party leader and setting the tone for ideological changes within the party.16J.C.M. Venter and A. Duvenhage, 'The Polokwane conference and South Africa's second political transition: tentative conclusions on future perspectives,' Koers 73(4) 2008 A coalition government of more than five political parties governs the municipality and numerous changes have taken place since the last local government elections, causing disruptions to the management of the municipality.17Nelson Mandela Bay Municipality, 'About the NMBM Council,' 14 February 2023 Violence targeting local officials also ran high in OR Tambo District Municipality of the Eastern Cape province, an area criticized for maladministration, poor service delivery, and corruption allegations.18Estelle Ellis, 'District development mode in tatters after Eastern Cape government decides to dissolve flagship OR Tambo municipality,' Daily Maverick, 12 August 2021 
In Gauteng province, a battleground between ANC and IFP supporters since the 1990s and largely affected by unstable coalition governments,19New Yorker, 'Human Rights Developments – South Africa,' Human Rights Watch, 19 August 1991; Chelsea Ndlovu-Nachamba, 'Riding the coalition wave: The service delivery challenge for Joburg's residents,' News24, 11 May 2023 violence against local government representatives increased sharply in 2021. Violence in the province is widespread, but focused on the important financial municipalities of Johannesburg and Ekurhuleni. Nearly 40% of events targeting local officials took place in the City of Johannesburg, the financial capital of South Africa and where the ANC lost power during the 2021 elections.20Mogomotsi Magome, 'South Africa's ANC loses mayors in Johannesburg and Pretoria,' Associated Press, 24 November 2021 Further, more than 30% of violent events in the province took place around the City of Ekurhuleni Metropolitan Municipality, whose economy accounts for almost a quarter of the entire province.21Yes Media, 'City of Ekurhuleni Metropolitan Municipality (EKU),' 2023 
Government Responses and the Prospect of Continued Local-Level Violence 
Amidst bleak economic conditions, an environment of criminality, the persistence of corruption, and the deterioration of support for the ruling ANC, violence targeting local officials may continue to escalate. Particularly, in contested areas with fragile coalition governments, intra-party competition, or increasing influence of minority parties, the challenges of government service delivery and unemployment are likely to contribute to further unrest. Rioting activity has already increased by nearly 40% in 2023 compared to 2022, highlighting that this trend shows no sign of decelerating. 
The rise in violence against local officials has been enough to garner the attention of President Cyril Ramaphosa in 2022, who expressed concern over the hundreds of local councilors murdered in South Africa.22Malibongwe Dayimani, 'More than 300 councillors killed: Ramaphosa concerned about past few years' 'deeply disturbing' attacks,' News24, 9 September 2022 Although the government has not yet implemented a systematic response to protect local authorities, an elicit crackdown could be used to target opposition supporters. Conviction and sentencing rates remain low, but some perpetrators have been successfully tried in court and imprisoned, including the life sentencing of former ANC Winnie Madikizela-Mandela Local Municipality councilor, Lucky Mbuzi, in February 2023 for the murder of two contenders for the councilor position in 2021.23Lauren Isaacs, 'Ex-EC ANC Ward Councillor handed 2 life sentences for killing political rivals,' Eyewitness News, 21 February 2023 
A provincial response to the high levels of violence in the KZN province has been the creation of the Moerane Commission to investigate and report on the high number of killings of councilors and municipal managers, and a Community Safety Intervention Unit to investigate violence targeting traditional leaders in the province.24Moerane Commission of Enquiry, 'Report of the Moerane Commission of Enquiry into the underlying causes of the murder of politicians in KwaZulu-Natal,' 12 June 2018; Karen Singh, 'New community safety intervention unit for KZN to address violence against amakhosi and izinduna,' Independent Online, 27 January 2022 Yet, another eight local officials were killed across South Africa during the first quarter of 2023, including two in KZN province alone. Evidence of violence stemming from intra-party competition was also reported in 2023, as a former ANC Mkhondo Local Municipality mayor was arrested in connection with the killing of fellow ANC councilor Sibonelo Ntshangase and two others who were shot and killed outside of town.25Nkosikhona Duma, 'Former Mkhondo mayor arrested for murder of ANC councillor,' Eyewitness News, 17 January 2023 Following a turbulent election cycle in 2021, the 2026 municipal elections will likely be characterized by elevated, and potentially deadly competition among candidates to secure a seat if the current factors driving violence targeting local officials remain unresolved.
Visuals in this report were produced by Christian Jaffe