Special Issue: Violence Targeting Local Officials
Dangers Faced by Local Officials in Wartime
On the morning of 29 March 2022, a Russian missile struck the Mykolaiv regional administration building, killing 37 and wounding 34 – among them many local officials who had just arrived for work. Regional Governor Vitalii Kim, whose upbeat approach kept spirits up while the region was under siege,1Roger Cohen, 'Vitaliy Kim, Master Motivator and Symbol of Ukraine's Resistance,' New York Times, 30 June 2022 may have been one of the high-profile officials targeted by the strike. While the missile missed him, many of his fellow local government officials have died in similar attacks across the country. 
In the year since Russia launched its full-scale invasion, the number of incidents targeting local officials has spiked in Ukraine. This trend was particularly pronounced during the first months of the war, up to the illegal Russian annexation of seized territories in autumn 2022. The abduction and targeted assassination of local officials during this period suggested a concerted effort to eliminate any resistance to Russian occupation, both real and perceived. At the same time, significant activity linked to suspected Ukrainian partisans targeting unarmed Russian-appointed and collaborating officials has also been reported, with frequent assassination attempts using explosives.  
While the invasion precipitated a spike in attacks on administrators, it is not a new phenomenon in Ukraine (see maps below). In the four years prior, local government officials were intermittently targeted throughout the country, especially in the highly populated areas around the capital, Kyiv, as well as in the east and south. Most cases involved assailants setting fire to vehicles belonging to officials and, to a lesser extent, their residences or workplaces, suggesting attempts to intimidate rather than kill or injure. 
This report explores the evolution of violence targeting local officials in Ukraine before and after the full-scale invasion.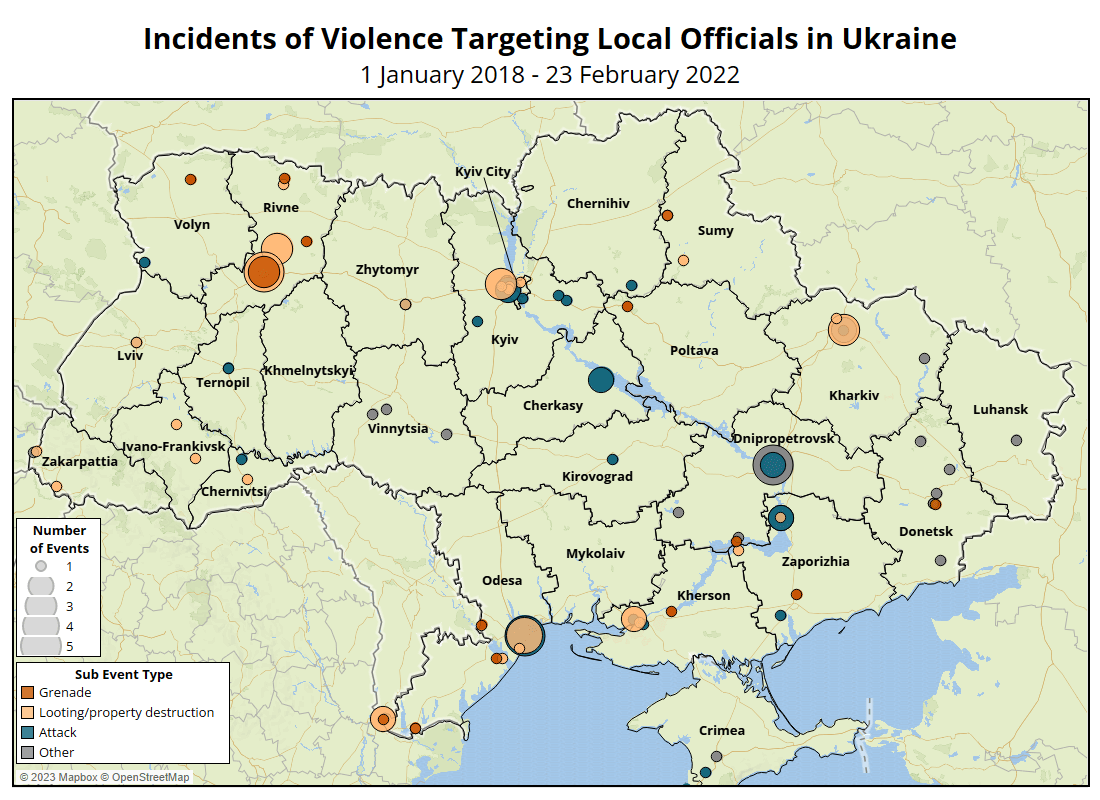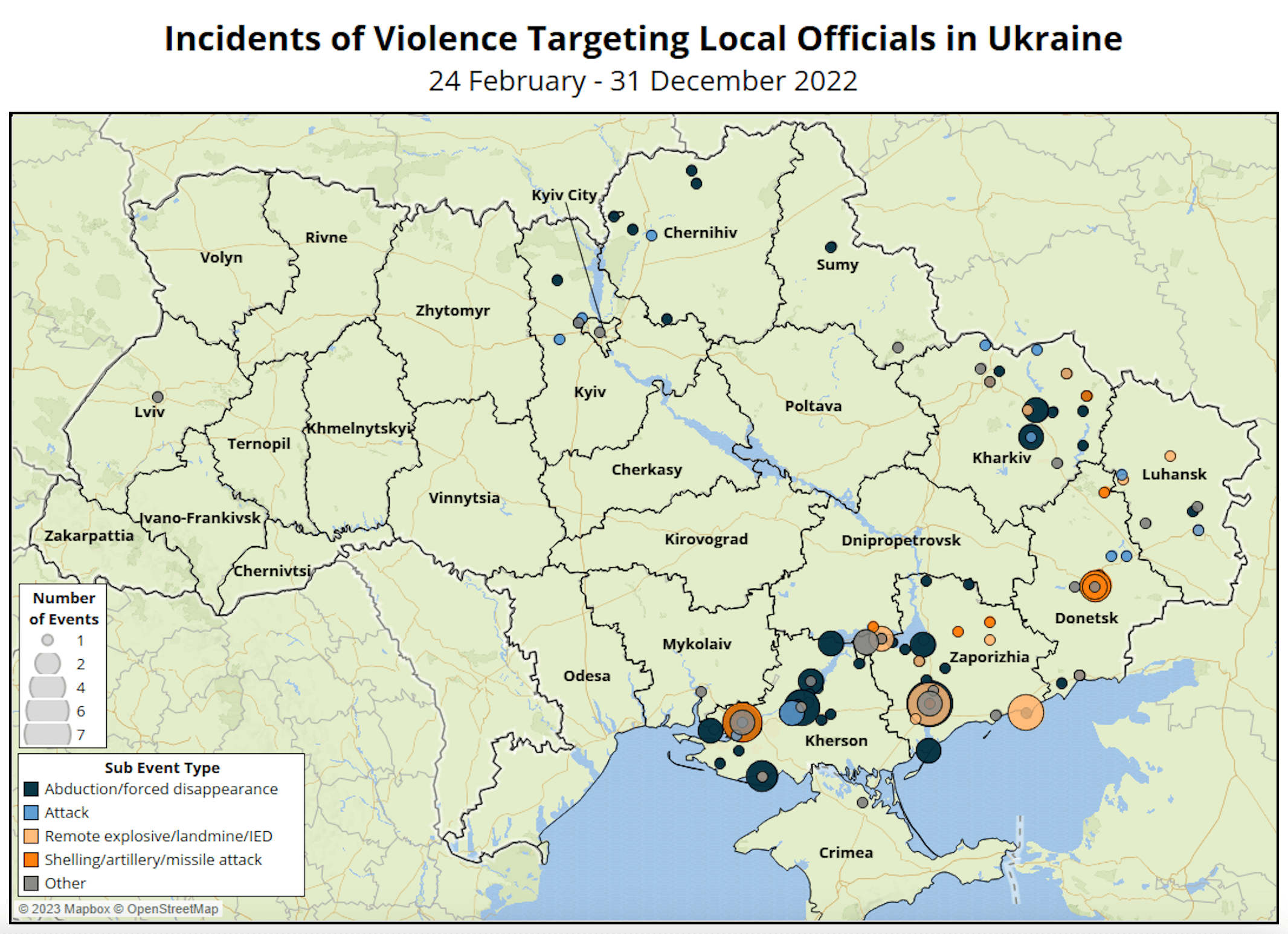 Intimidation of Local Officials Prior to the Invasion 
Between 20182ACLED coverage of Ukraine began in 2018. and the full-scale Russian invasion in late February 2022, ACLED records 125 incidents of violence against local officials in Ukraine. About three-quarters of these events were reported in 2018 and 2019. The number of events declined sharply during the subsequent two years when the country underwent COVID-19 lockdowns. The local elections on 25 October 2020 did not appear to coincide with a significant change in the incidence of violence against local officials, although four of the five events recorded in the run-up to the polls were linked to campaigning. 
Approximately 70% of all events recorded between 2018 and 2021 occurred in eight of Ukraine's 27 regions,3This number includes Russian-occupied Crimea and the city of Sevastopol. all but one of which are also the most populated and urbanized. The Odesa region tops the list with a sixth of all events, closely followed by the Kyiv region and the capital's district. Although it was the site of most of the attacks, the Odesa region saw only one fatality – that of Andrey Bezbabchenko, former mayor of Tiraspol in Moldova's breakaway region of Transnistria, who was killed in May 2019 in a probable score-settling over his activities outside Ukraine. 
An outlier is the northwestern region of Rivne, where local officials were targeted much more often than in other more populous regions. Heightened targeting in Rivne is likely connected to tensions between local authorities and businesses engaging in illegal mining in the amber-rich region.4Ivan Marchuk, 'Amber: What Illegal Miners in the Rivne Region Leave to the Descendants,' Suspilne Media, 26 September 2020 Yet, while local officials in Odesa were subjected to physical assaults on at least six occasions, including with the use of firearms, Rivne was primarily the site of arson and explosive attacks. At least four people were instead reported killed in the capital, Kyiv, and in the surrounding region.   
Overall, at least five local public officials were killed in Ukraine between 2018 and 2021. Another six victims included relatives and collaborators of local officials, as well as officials from breakaway regions. Among them was Kateryna Handziuk, an aide to the mayor of Kherson and prominent anti-corruption activist, who was attacked with sulfuric acid on 31 July 2018. She died in the hospital three months later. The then-Head of the Kherson Regional Council, Vladyslav Manher, appeared to have ordered the attack.5Halya Coynash, 'Key Suspect in Savage Murder of Ukrainian Activist Katya Handziuk Detained in Bulgaria,' Kharkiv Human Rights Protection Group, 27 January 2020 The death of Handziuk sparked several major demonstration waves across the country. 
Another high-profile target was the head of the self-styled Donetsk People's Republic, Alexander Zakharchenko. On 31 August 2018, a bomb went off at a bar in the city of Donetsk, killing Zakharchenko and his bodyguard. Russian and Ukrainian authorities traded accusations of having orchestrated the assassination.6Marc Bennetts, 'Rebel Leader Alexander Zakharchenko Killed in Explosion in Ukraine,' Guardian, 31 August 2018 In Kyiv city and the surrounding region, which accounted for the largest number of victims, unknown gunmen shot at the car of Vyacheslav Sobolev, a deputy in the Kyiv regional council, as he was traveling with his family on 1 December 2019. His three-year-old son died in the attack. Two former members of the Ukrainian armed forces with combat experience in the Donbas were arrested in connection with the shooting. The founder of a supermarket chain in the Donetsk region, Sobolev had made accusations against a corrupt network who sought to seize his property.7Sobolev was also implicated in a scheme allegedly bankrolling armed groups in Donetsk. See Romeo Kokriatski, 'Two People Arrested in Connection with Fatal Shooting of 3 Year Old Child in Kyiv,' Hromadske, 2 December 2019
The geography of the violence points to a variety of local motivations for attacks on administrators prior to the invasion. Overall, despite multiple deadly incidents, the most frequent forms of violence used in these attacks suggest that the intimidation of local administrators was a more common goal during this period. Direct attacks on local officials make up about a quarter of all events, with their number sharply increasing in 2019 and equally sharply decreasing in 2020 in 2021, likely due to pandemic lockdowns. 
In contrast, over a third of events involved property destruction, the majority of which constituted cases where vehicles were set aflame. The occurrence of arson attempts remained steadily high in the years prior to the invasion, decreasing slightly only in 2021. The hurling of grenades, mostly at the residences of local officials, accounted for over a tenth of the total, with the highest incidence in 2018 and 2019. The prevalence of property destruction coupled with relatively few fatalities indicates that much of this violence was likely intended primarily as a form of intimidation. In Ukraine, where collusion between local authorities and organized crime is widespread, a variety of armed actors may aim to threaten or coerce a target rather than cause death or injury.8John Lough and Vladimir Dubrovskiy, 'Are Ukraine's Anti-corruption Reforms Working?,' Chatham House, November 2018; Mathias Bak, 'Overview of Corruption and Anti Corruption in Armenia, Azerbaijan, Belarus, Georgia, Moldova and Ukraine,' Transparency International, 7 April 2020; Konstantin Skorkin, "Ukraine's Other Battle: Zelensky vs. the Mayors," Carnegie Endowment for International Peace, 25 May 2023 
With the onset of the invasion, this complicated patchwork of drivers of violence against local authorities has changed. Local authorities became targets of the Russian occupation forces due to their role as officials in the Ukrainian administration. At the same time, local authorities considered to be linked to the Russian occupation became the target of groups loyal to the Ukrainian government.
Surging Violence Against Local Officials Following Invasion 
The Russian invasion led to a surge in the levels of violence directed at local government officials in Ukraine (see graph below). ACLED records more than 160 incidents in 2022, compared with a total of 125 in the previous four years. The death toll from attacks specifically targeting Ukrainian elected and appointed local officials is at least 26, including at least 20 civilians killed by the Russian missile strike on the Mykolaiv regional administration,9Facebook @mykoda, 5 April 2022 as well as two mayors, three local officials, and one local councilor killed elsewhere in Ukraine. This likely represents a significant underestimate of the true count, as the fate of many targets, especially those abducted by Russian occupying forces, remains unknown. In addition, at least 20 Russian-installed local officials in occupied areas of Ukraine were killed in attacks and remote explosions, most of which are believed to have been carried out by Ukrainian partisans.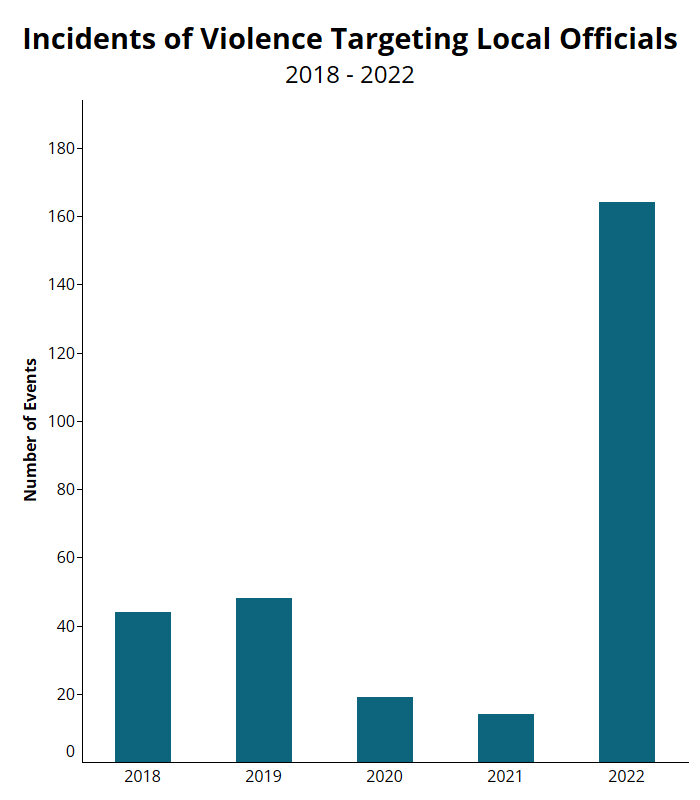 Over 40% of these events were reported in March and April 2022, when Russian forces attempted to overrun Ukraine's north and northeast and occupied a sizable part of its south. In addition to the Russian bombing of the Kharkiv and Mykolaiv regional administrations on 1 and 29 March 2022, respectively, local officials were also targeted with direct attacks. Among them are the killings of the Mayor of Hostomel Yurii Prylypko10Sanyo Fylyppov and Ivana Kottasová, 'Gunned Down on a Mercy Mission: Witnesses say Russian Troops Killed Hostomel Mayor and Two Volunteers,' CNN, 6 June 2022 and the head of Motyzhyn village Olha Sukhenko11James Marson, 'Execution of Village Mayor Becomes Symbol of Russian Brutality in Ukraine,' World Street Journal, 5 April 2022 along with her husband and son, both near Kyiv city. During the same period, suspected Ukrainian partisans killed the pro-Russian mayor of occupied Kreminna.
Russian forces have also engaged in the abductions of local officials who refuse to collaborate. ACLED records nearly 80 abduction events during this period, nearly three-quarters of which took place in March and April 2022. During this time, most events clustered in the Kherson and Zaporizhia regions in southern Ukraine. There, occupying Russian forces did not encounter as fierce resistance as in northern Ukraine, but struggled to assert control over local residents.12Jennifer Rankin, 'It Was Scary': Acts of Resistance in Russian-occupied Kherson,' The Guardian, 19 April 2023; Council of Europe, 'Congress President Condemns the Continuing Abduction of Ukrainian Local Elected Representatives,' 5 September 2022 ACLED records nearly 90 protest events in these two regions between the invasion and April 2022, after which protest activity sharply decreased. Russian forces continued abducting local administrators in the Kherson region over the course of the year. Abductions went on until the rushed annexation of the occupied areas in September 2022 and the eventual withdrawal of Russian forces from the right bank of the Dnipro River and the regional capital in November 2022. 
Among prominent abductees were Ivan Fedorov, the mayor of Melitopol in the Zaporizhia region, who was detained on 11 March 2022 but shortly released in a prisoner exchange, and Ihor Kolykhaev, the mayor of Kherson, who carried on his duties while refusing to side with the occupying Russian forces until his detention on 28 June 2022. Kolykhaev's whereabouts have been unknown since Russia's withdrawal from the city in November 2022.13Michael Schwirtz, 'A Ukrainian Mayor Disappeared, but Questions of His Loyalty Did Not,' New York Times, 2 March 2023 Earlier in April 2022, Russian forces also abducted Volodymyr Mykolayenko14Most, 'Occupiers Abduct Ex-Mayor of Kherson,' 18 April 2022 and Andriy Putilov,15Iryna Balachuk, 'Former Head of Kherson Regional State Administration abducted,' Ukrainska Pravda, 9 April 2022 a former mayor and a former head of the regional administration of Kherson, pointing to a concerted effort to subdue any perceived local challenge to the occupying authority.
While they have primarily targeted occupying armed personnel, suspected Ukrainian partisan groups have also carried out attacks against Russian civilian appointees and local collaborators in occupied areas. These were the likely intended targets of at least 34 incidents involving improvised explosives, grenades, and arson during this period. Over half occurred in occupied parts of the Zaporizhia region, especially in the towns of Melitopol and Berdiansk. Targets included rank-and-file administrators and heads of smaller settlements, as well as two officials in charge of education in the occupied parts of Kherson and Zaporizhia regions where a 'Russification' campaign is underway.16Lauren Said-Moorhouse and Oleksandra Ochman, 'This is What the 'Russification' of Ukraine's Education System Looks Like in Occupied Areas,' CNN, 16 May 2022 The Russian-appointed mayor of the key town of Enerhodar in the Zaporizhia region, which hosts the largest nuclear power station in Europe and is currently occupied by the Russian military, survived an apparent assassination attempt on 22 May 2022. 
In addition, Kirill Stremousov, a prominent Russian-appointed deputy governor of the Kherson region, died in a suspicious car crash on 9 November 2022, shortly before Russian forces withdrew from the region's capital.17BBC, 'Kirill Stremousov: Senior Russian Kherson Official Dies in Car Crash, Officials Say,' 9 November 2022 The collaborationist governor of the same region, Volodymyr Saldo, was rumored to have been poisoned earlier in the summer, pointing to probable infighting among occupation authorities.18Meduza, 'The Head of Russian-controlled Kherson Administration Is Being Moved to Moscow. Baza and RT Report He Is in a Medically Induced Coma,' 5 August 2022 Another prominent victim of likely internal strife was the self-appointed prosecutor-general of the Luhansk People's Republic, blown up together with his aide on 16 September 2022 in Luhansk city, which has been controlled by the Russian-backed insurgents since 2014.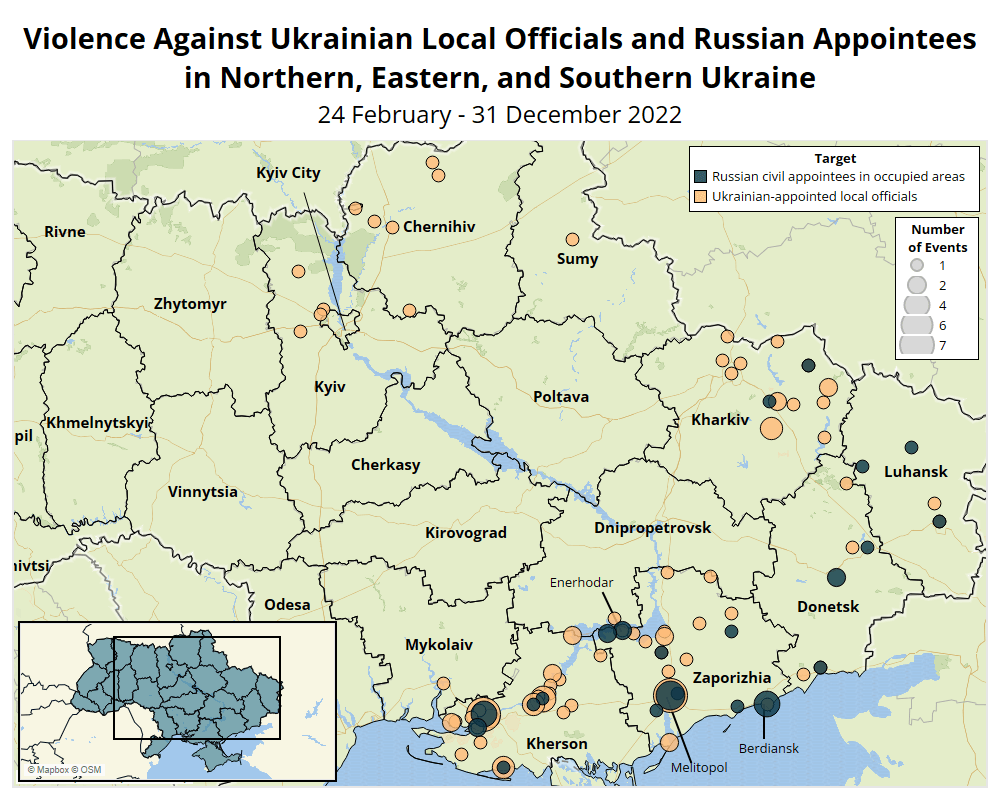 Attacks on Local Officials as a Tactic of War 
Russia's attempt to occupy and bring captured areas to heel has led to disastrous consequences for local officials. In a form of the plata o plomo (silver or lead) dilemma, those refusing to cooperate or suspected of rallying their communities to resist occupiers have frequently faced abduction or death. While local officials were only intermittently subject to violence in the pre-invasion period, mostly due to local competition, many are now under constant threat. And Russian forces have not limited their attacks to officials, as victims of illegal detention, torture, and probable extrajudicial killings include a wide range of other prominent figures like local journalists and civil society activists.19Council of Europe, 'Statement on the Occasion of the International Day of Victims of Enforced Disappearances,' 29 August 2022 
While occupying forces may have silenced pro-Ukrainian voices in some areas under their control, violence against Russian appointees and collaborators shows few signs of abating, especially in southern Ukraine, which, unlike the Donbas, had no previous experience of isolation from the rest of the country. Another eight explosive incidents targeting local officials in Russian-occupied Ukraine were reported between January and May 2023, with all but one in the Zaporizhia region. Routine targeting of Russian-appointed or collaborating officials in the occupied regions is matched by the attempts of occupying forces to impose tighter control over local populations.20Karolina Hird et al., 'Russian Offensive Campaign Assessment,' Institute for the Study of War, 4 March 2023 The discovery of torture chambers and mass graves in areas liberated by Ukrainian forces underscores the deadly risks faced by communities under occupation.21Human Rights Watch, 'Ukraine: Russian Torture Center in Kherson,' 13 April 2023 Only when Russian forces retreat will the full scale of violence and repression against civilians – including Ukraine's local officials – likely become clearer. 
Visuals in this report were produced by Ana Marco