Fact Sheet: Unrest Spikes in France After Fatal Police Shooting
Over 450 demonstration events were recorded across France in the four days between the Tuesday shooting and the end of the week on Friday, marking a 380% increase compared to the previous week and a 456% increase compared to the weekly average since 2021

Violent demonstrations1The 'violent demonstration' sub-event type of the 'riots' event type is used when violent and/or destructive activity takes place at an in-person public protest gathering of three or more participants. Examples include physical clashes with other demonstrators or government forces; vandalism and property destruction; and road-blocking using barricades, burning tires, or other material. In certain cases, these events can also include intentional displays of violent public disorder that do not necessarily take place within an ongoing protest gathering, but are connected to or serve the goals of a wider protest movement. The coding of an event as a 'violent demonstration' does not necessarily indicate that demonstrators initiated the violence and/or destructive actions, nor does the order of the actors coded necessarily indicate which side of a two- or multi-sided counter-demonstration initiated the violence and/or destructive activity. When this information is available in source material, it is included in the 'notes' column for each event, but users should be cognizant that details about directionality or responsibility are frequently incomplete, inconsistent, or in dispute, and are often among the most biased aspects of conflict and protest reporting, and should therefore be assessed with caution. For more, please see the ACLED Codebook.

were reported in nearly 300 cities and towns around the country during this period

Some violent demonstrations targeted mayor's offices and municipal buildings, along with other public buildings such as schools and police stations, with at least 150 reported incidents

The ongoing unrest so far represents the worst period of street violence since ACLED began collecting data for France in 2020, exceeding the level of violent demonstrations over retirement reforms recorded earlier this year
Overview
A video of a police officer fatally shooting a teenager of Algerian and Moroccan descent on 27 June during a traffic stop in Nanterre, a suburb west of Paris, has triggered a wave of unrest across France. In the four days between the killing on Tuesday and the end of the week on Friday, demonstrations increased over fourfold compared to the previous week and nearly sixfold compared to the weekly average since 2021, with more than 450 events reported around the country. Violent demonstrations were recorded in over 290 French cities and towns. Though the ongoing unrest echoes demonstrations prompted by the death of two teenagers in a police chase in 2005, the current bout has extended beyond the outskirts of many French cities,2Michel Wieviorka, 'Crisis vs movement: understanding riots in France,' Le Grand Continent, 3 July 2023 particularly affecting Paris and the surrounding area, as well as other major urban centers, including Marseille, Lyon, Toulouse, and Strasbourg. It marks the worst outburst of street violence since the start of ACLED coverage of the country in 2020, surpassing levels of violent demonstrations triggered by minimum retirement age reforms that began earlier in 2023. 
Authorities have struggled to control the situation despite the deployment of thousands of police officers to the streets at night3Sylvie Corbet et al., 'France mobilizes tens of thousands of police to head off unrest after police fatally shot a teenager,' Associated Press, 29 June 2023 and the imposition of curfews in dozens of cities and towns.4Radio France, 'Urban violence: curfews in multiple cities across France,' 2 July 2023 About 700 police personnel were injured5Antoine Albertini and Luc Bronner, 'Pillage, arson, attacks: an astonishing tally of overnight riots in France,' Le Monde, 2 July 2023 in initial clashes, and over 3,000 demonstrators have been detained.6Sud Ouest, 'Riots: violence on the wane, 72 arrests overnight, time for the government to tally,' 4 July 2023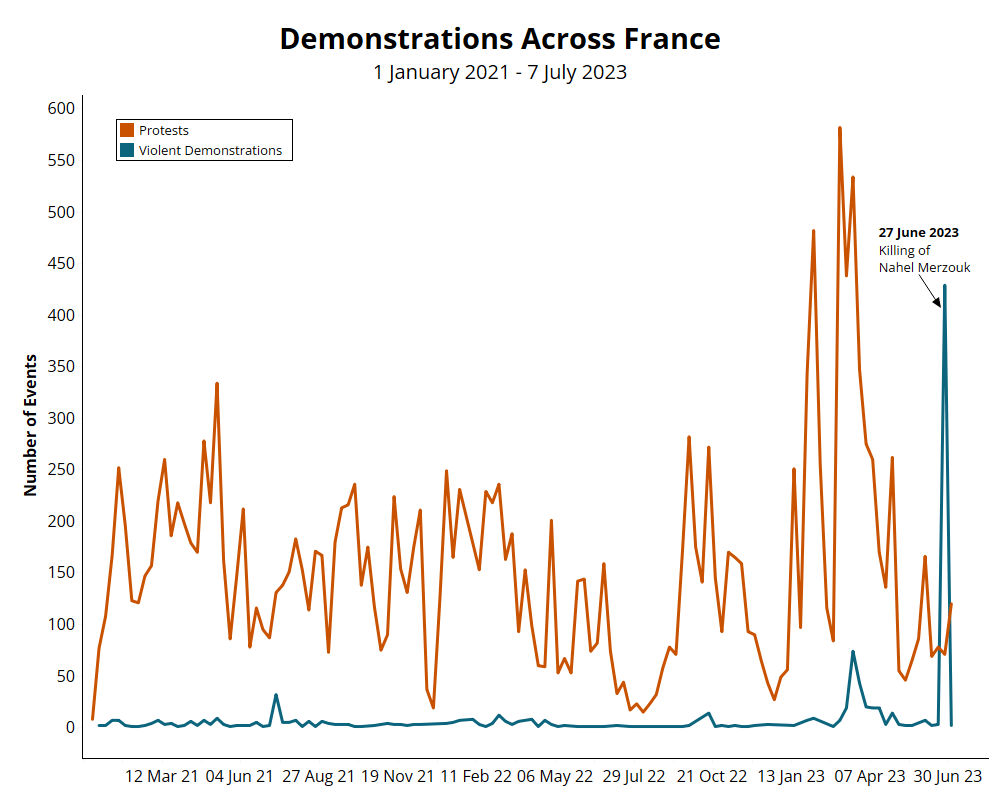 Some violent demonstrations appear to have specifically targeted mayor's offices and municipal buildings, along with other public buildings such as schools and police stations, with at least 150 reported incidents. Violence targeting mayors themselves has also been reported, including direct attacks and cases of demonstrators setting their vehicles and other property on fire. The violence has prompted rallies in support of local officials and calls for a "return to civil peace."7France Inter, 'Images: rallies in front of mayor's offices everywhere in France in support of the Mayor of L'Haÿ-les-Roses,' 3 July 2023 
The police officer who fatally shot the teenager in Nanterre is now being investigated for manslaughter, and violent demonstrations appear to be trending downward following the weekend.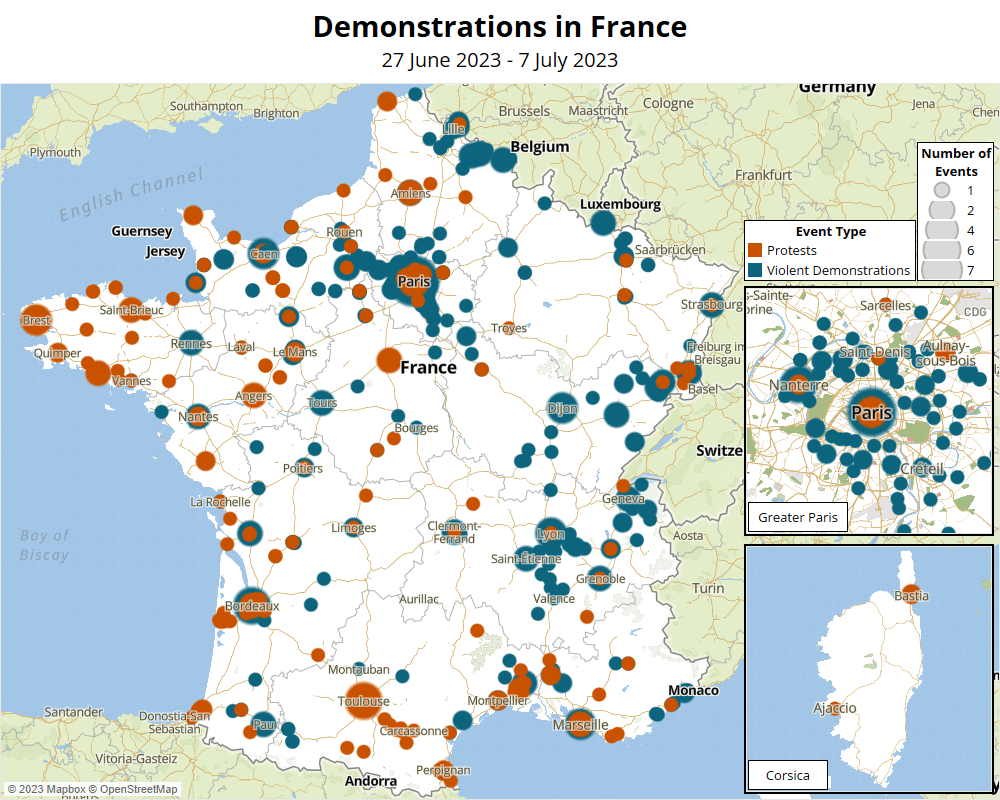 For more information, check our Europe & Central Asia Regional Overview for June 2023 as well as the European Union section of our special report on violence targeting local officials around the world.
Visuals in this fact sheet were produced by Christian Jaffe.