Situation Update | July 2023
Somalia: Political Crisis Deepens Amid Transition to Direct Elections
Somalia at a Glance: 24 June-21 July 2023
VITAL TRENDS
From 24 June to 21 July 2023, ACLED records almost 200 political violence events and nearly 480 reported fatalities in Somalia. Lower Shabelle, Banadir, and Lower Juba regions were the epicenter of political violence during this period due to al-Shabaab attacks against Somali security forces.
Lower Juba region had the highest number of fatalities, with over 150 recorded during the reporting period. Galgaduud region followed, with more than 130. Security force operations against al-Shabaab militants accounted for over 70% of the reported fatalities in both regions.
The most common event type was battles, with 130 events, followed by explosions/remote violence, with nearly 50 events. ACLED records over 30 incidents of violence targeting civilians during the reporting period, with almost 70% perpetrated by al-Shabaab militants.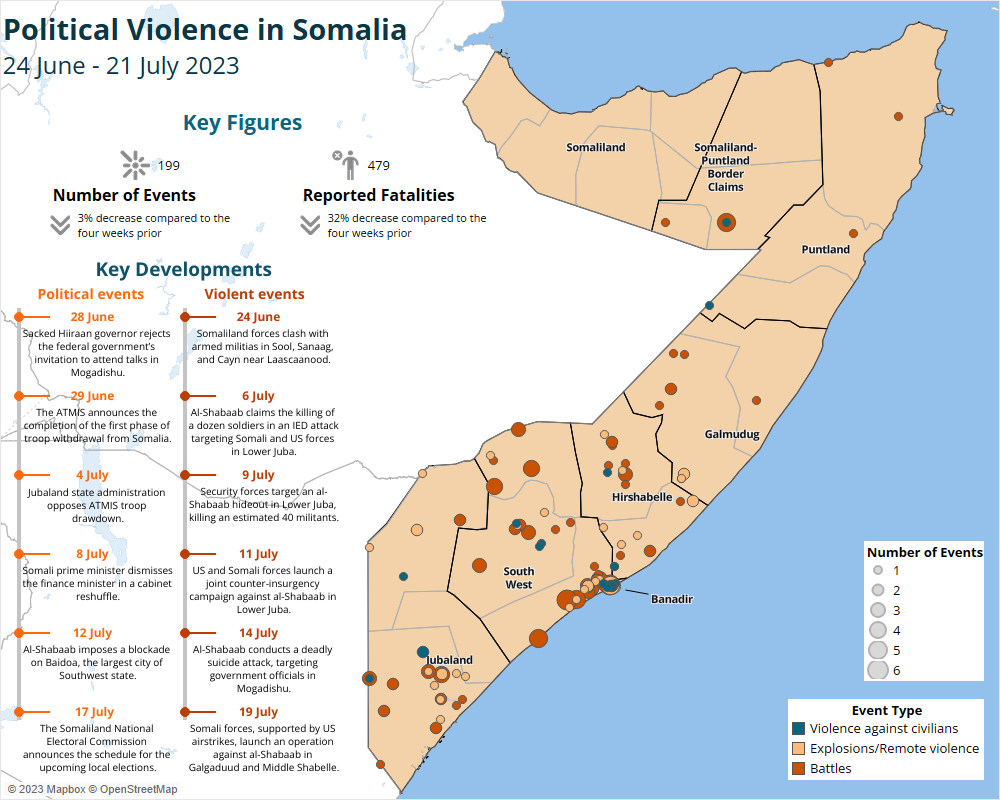 Political Crisis Deepens as Somalia Transitions to Direct Elections
In May 2023, the Somali government announced that a one-person-one-vote system will be introduced in the next national and local elections. The decision to grant universal suffrage deviates from the indirect electoral system that, for over three decades, gave power to clan-based politics. Under the indirect voting system, members of the parliament and senate elect the president, while clan delegates elect lawmakers in the federal government as well as regional member states.1Reuters, 'Somalia says it will revert to direct vote for officials starting next year,' 28 May 2023 The decision coincided with the first statewide direct municipal elections in the semi-autonomous northern Somali state of Puntland in May, marking the first state to do so after Somaliland.2Horn Observer, 'Somalia: Puntland takes historic step with first direct election in 54 Years,' 25 May 2023; International Institute for Democracy and Electoral Assistance, 'Explainer: What historic local elections mean for democracy in Somalia,' 19 July 2023 Debates in the House of Representatives of Puntland over electoral reform were nevertheless accompanied by sporadic outbreaks of violence by security forces divided along clan affiliations in June, causing an uptick in violence in the state's administrative capital, Garowe.3Al Jazeera, 'Dozens killed in Somalia's Puntland after parliament debate,' 20 June 2023 
Long-standing political disputes, clan rivalries, financial shortages, and insurgent activity pose a major challenge to the holding of free and fair direct elections beyond Puntland. Al-Shabaab has long targeted clan delegates, election centers, and electoral officials to disrupt the vote. In 2021, a delay in the planned April elections triggered political infighting between security forces divided along clan lines in Mogadishu. This report explores the intersection between elections and violence in Somalia, with a focus on electoral struggles in Puntland and the potential for future clan-based violence.
Electoral Reforms to Put an End to Clan Dominance in Politics
In May, the Somali government launched its first national census in nearly five decades, which is set to end ahead of the 2026 federal elections.4Harun Maruf, 'Somalia Launches First Census in Nearly 50 Years,' Voice of America, 2 May 2023 The positive conclusion of the census is considered a prerequisite for the introduction of universal suffrage, approved at the end of May by the National Consultative Council (NCC) – a federal body consisting of the president, prime minister, state presidents, and the Banadir governor. The agreement, yet to be turned into law as it is pending approval by parliament, is set to make changes in the current voting system, including through the direct election of the president and deputy president on a single ticket. Additionally, the position of prime minister is set to be abolished.5Harun Maruf, 'Somali Leaders Reach Landmark Political Agreement,' Voice of America, 28 May 2023
Called the '4.5 formula,' the current voting system consists of a mechanism for sharing political power among four major clans (Darod, Dir/Isaaq, Hawiye, and Rahanweyn/Digil-Mirifle) and the 'minority' groups.6René Brosius, 'The 4.5 System – An Instrument of Exclusion?,' African Legal Studies, 25 June 2021; Adan M. Dawad, 'Who are political minorities in Somalia,' Puntland Post, 30 May 2023 The new system threatens this clan-based power-sharing system, in which top positions in the federal government are reserved for the Hawiye and Darod clans – the two largest Somali clans. Furthermore, the agreement revokes the powers of clans and clan elders in the elections. Currently, clan delegates have a considerable role in the indirect elections by voting for state and federal lawmakers. Thus, they have been a target of al-Shabaab attacks during election periods, with ACLED recording over 50 such incidents by al-Shabaab militants since 2021. Over 70% of these attacks occurred in Banadir region (see chart below), which is one of al-Shabaab's hotspots, and where al-Shabaab conducts the majority of its civilian targeting attacks.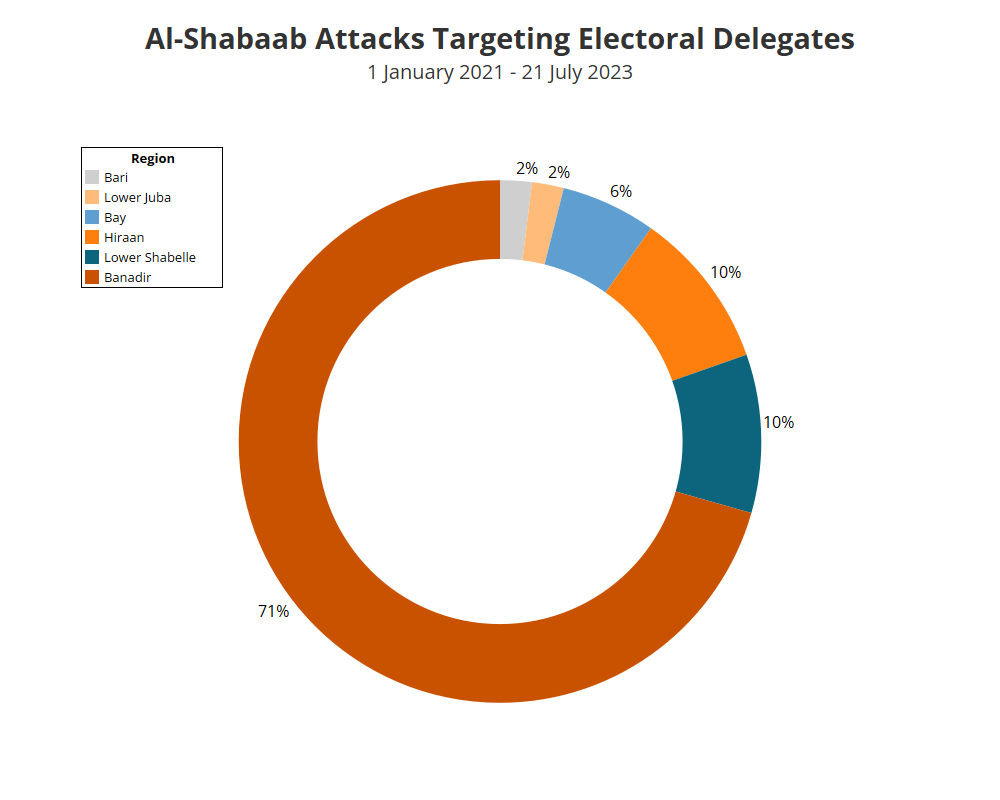 Unresolved Election Dispute Leads to Violence in Puntland 
Among other local administrations, the semi-independent Puntland state government rejected the national election reform, citing a lack of consultation with the Puntland administration.7Garowe Online, 'Somalia: Puntland rejects result of the NCC forum in Mogadishu,' 30 May 2023; Garowe Online, 'Somali politicians reject proposed direct vote model as 'unconstitutional',' 30 May 2023; Puntland Post, 'Puntland Political Forum Denounces Authoritarian Turn In Somalia,' 31 May 2023 The rejection comes in the backdrop of the prolonged political disagreement between the federal government and Puntland state since December 2022. In January 2023, the Puntland administration announced that it was acting independently from the federal government until the completion of the constitution, and subsequently skipped the past six meetings of the NCC.8Garowe Online, 'Villa Somalia: Puntland in talks with Federal Government,' 13 July 2023; Horn Observer, 'Somalia's Puntland State declares to act as an independent state,' 11 January 2023 Somalia President Hassan Sheikh Mohamud held consultative meetings with former federal government leaders on 12 and 13 July to discuss electoral reforms and the fight against al-Shabaab.9Shabelle Media Network, 'Somalia aims to overcome its challenges as talks enter second day,' 13 July 2023 The president's chief of staff stated that talks were ongoing between the two sides to resolve the impasse, in an effort to assuage concerns about the rift between the federal government and Puntland administration.
Similar to other states of Somalia, Puntland state uses a clan-based election system where members of state parliament from different clans elect the state president.10Garowe Online, 'Somalia: Deni's plot to extend term takes shape in Puntland,' 27 April 2023 The Transitional Puntland Electoral Commission (TPEC) leads the election process in the state, including the voter registration exercise.11'Transitional Puntland Electoral Commission TPEC,' accessed on 24 July 2023 The TPEC will also lead the transition to a one-person-one-vote system in the upcoming elections across Puntland in 2025. 
Puntland's opposition parties favor the clan-based election system, under which a different sub-clan of the Majeerteen sub-clans leads the state every five years. Currently, clans residing in Puntland state divide the top state positions. The Majeerteen sub-clans, which are the majority, get the presidential seat; the Dhulbahante sub-clans, the deputy presidential seat; and the Warsangeli sub-clans, the speaker of state parliament. If the current system remains in place, Puntland President Said Abdullahi Deni, who hails from the Majeerteen Osman Mohamud sub-clan, will hand his position over to a representative of the Majeerteen Isse Mohamud sub-clan – thus losing the presidency for his sub-clan.12Ahmed Musa et al., 'Why has the Puntland state of Somalia been unable to conduct a 'one person one vote' election for over 24 years?,' PRIO Blogs, 9 November 2022 
The dispute on universal suffrage in Puntland goes back to October 2021, when the state held one-person-one-vote municipal elections for the first time in Eyl, Ufeyn, and Qardho districts in Bari region. More than 28,000 people cast their votes, electing 87 council members, including 23 women.13Hiiraan Online, 'Puntland voters cast their vote in historic 1PV local election,' 25 October 2021 The Kaah Party, led by President Abdullahi Deni, won the majority of seats in the elections.14Hiiraan Online, 'Kaah Party win big in Puntland's first 1PV local election facebook sharing button Share,' 26 October 2021 Subsequently, several parties accused the Puntland administration of vote rigging and gross electoral misconduct.15Garowe Online, 'Somalia: Puntland's political associations boycott Local Elections results,' 31 October 2021
The transition process to direct elections has been undermined by disputes with opposition forces that rejected the voter registration introduced for the municipal elections in May 2023. The burgeoning election disputes resulted in the suspension of municipal elections in Garowe, Dangarayo, and Godob-Jiraan districts in May.16Garowe Online, 'Puntland Election: What we know so far,' 25 May 2023 The other 33 districts of the state, however, held elections as normal.17Hiraan Online, 'Puntland Election Commission postpones voting in three districts due to security concerns,' 24 May 2023 Ahead of the elections, a faction of security forces blocked the main road linking Garowe to Bosaso and accused Puntland President Abdullahi Deni of using the salaries of the security forces to fund his party's political campaign. Opposition politicians from the Majeerteen Issa Mahmud sub-clan also supported the movement. On 16 May, Puntland police forces transporting ballot boxes from Garowe to other districts clashed with opposition forces. The Puntland administration accused the federal government of undermining the Puntland municipal elections in order to organize a 'political coup.'18Nasiru Eneji Abdulrasheed, 'Puntland Accuses Somali Federal Government of Orchestrating Political Coup,' 28 May 2023
The violence heightened in June as the parliament was debating the constitutional changes from an indirect election to a one-person-one-vote system. Different factions of Puntland security forces clashed in the capital, Garowe town (see map below), resulting in dozens of reported casualties. The infighting among security forces from Majeerteen sub-clans arose when opposition groups from the Majeerteen Isse Mohamud sub-clan – dissatisfied with the proposed electoral reform – accused President Abdullahi Deni of seeking constitutional changes to extend his term in office.19Al Jazeera, 'Dozens killed in Somalia's Puntland after parliament debate,' 20 June 2023 Reports had emerged earlier of the movement of forces opposed to the constitutional review in Garowe. Consequently, the parliament halted the constitutional review as consultation meetings brokered by clan elders and former state leaders were underway.20Garowe Online, 'Efforts underway to resolve political tensions in Somalia's Puntland,' 3 July 2023 Violence subsided after armed factions agreed on a ceasefire on 21 June.21Abdiqani Hassan, 'Armed factions in Somalia's Puntland agree ceasefire after deadly clashes,' Reuters, 21 June 2023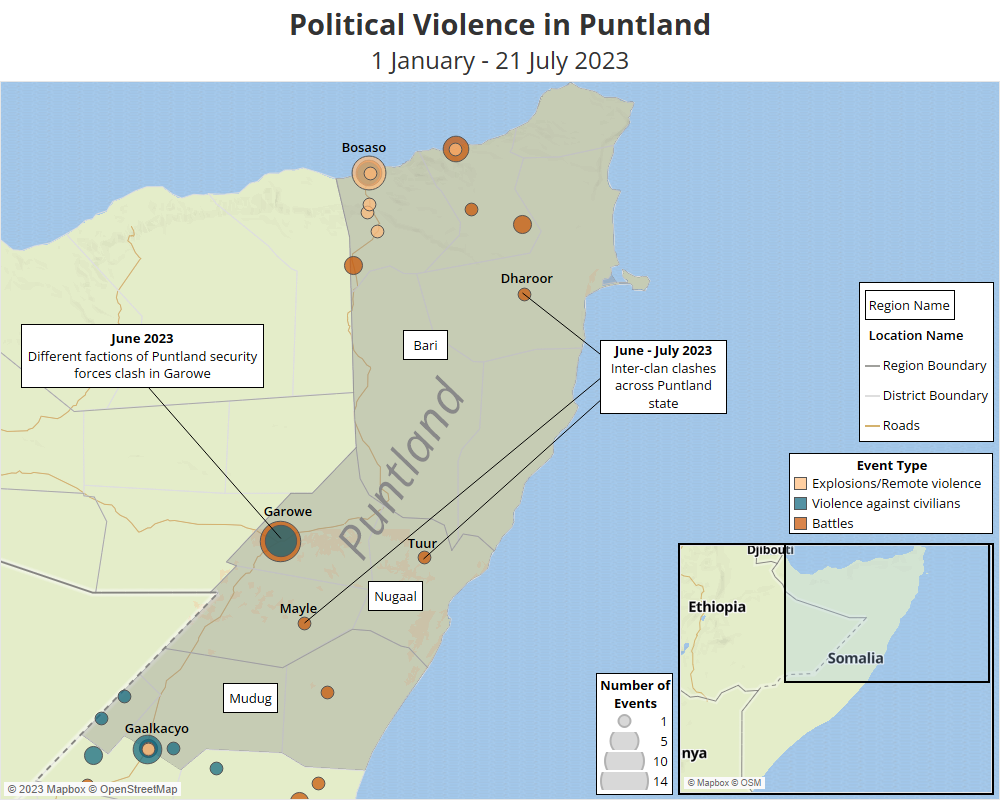 The violent activity of security forces divided along clan affiliations poses a threat to both security and the local elections as sub-clans with opposing grievances over power-sharing systems may clash in a new wave of inter-clan fighting. Furthermore, June witnessed increasing activity by clan militias across the state due to clan revenge and pastoral land disputes between the sub-clans of Majeerteen, Leelkayse, and Habar Gedir in Mudug and Nugaal regions.
On 25 July, the House of Representatives of Puntland approved the proposed constitutional amendment to the electoral system. The session was attended by 60 members, with 54 voting in favor and 6 rejecting the reforms.22Shabelle Media Network, 'Puntland parliament endorses constitution amendment motion,' 25 July 2023 Opposition leaders, led by Puntland's former Finance Minister Hassan Shire Abgaal, accused the administration of bribery to silence the parliament and announced their intention to hold parallel elections in January 2024.23Hiiraan Online, 'The Puntland opposition said they will hold a fair election on January 8, 2024,' 26 July 2023
Can Direct Elections Coexist with Inter-Clan Peace?
The new election agenda suggests a rebirth of democratization in Somalia, especially in Puntland state, which has spearheaded direct local elections in the country. Nonetheless, the one-person-one-vote system in Puntland is not widely seen as the democratizing rebirth of the state, but instead, as an attempt to extend the current administration's term of office, and as a threat to the power of major clans and clan elders. The recent municipal elections were a litmus test of the viability of the new system in Puntland and other states of Somalia. 
Apart from Puntland, elections in Galmudug, Hirshabelle, Jubaland, and Southwest states have been delayed after the state parliaments decided to extend the term of presidential office to five years last year.24Garowe Online, 'Somalia's Galmudug parliament extends president's term by 1 more year,' 13 September 2022; Garowe Online, 'Somalia: Puntland's outgoing president under pressure to drop plot for term extension,' 6 May 2023 Politicians and presidential candidates in Galmudug are, nonetheless, planning for elections in February 2024 after the president's four-year term ends – a move that could indicate a possibility of disorder in the state.25Hanoolaato Media Network, 'Dr Mohamed Adam Jimale (Koofi) – I'm a candidate for Galmudug,' 5 July 2023 Furthermore, the Somaliland National Electoral Commission officially announced the schedule for the upcoming elections on 17 July, but the commission's decision has faced opposition from political stakeholders amid ongoing fighting in Laascaanood.26Hamse Y, 'Divided Somaliland National Electoral Commission Announces Election Timeline,' Somaliland, 17 July 2023; Somaliland, 'Somaliland: UCID Party of Somaliland Rejects Electoral Commission's Revised Election Timelines,' 18 July 2023 The power-sharing disputes and discord within and between clans, in addition to political insecurity caused by al-Shabaab and Islamic State insurgencies, threaten the electoral transition agenda. If Somalia is to implement country-wide direct elections in 2026, the government should take measures to pave the way for inter-clan peace and continue the offensive against insurgents in Somalia so that the ballot box can reach all corners of the country.