For more information, including previous situation summaries and an interactive dashboard, visit our Ukraine Conflict Monitor.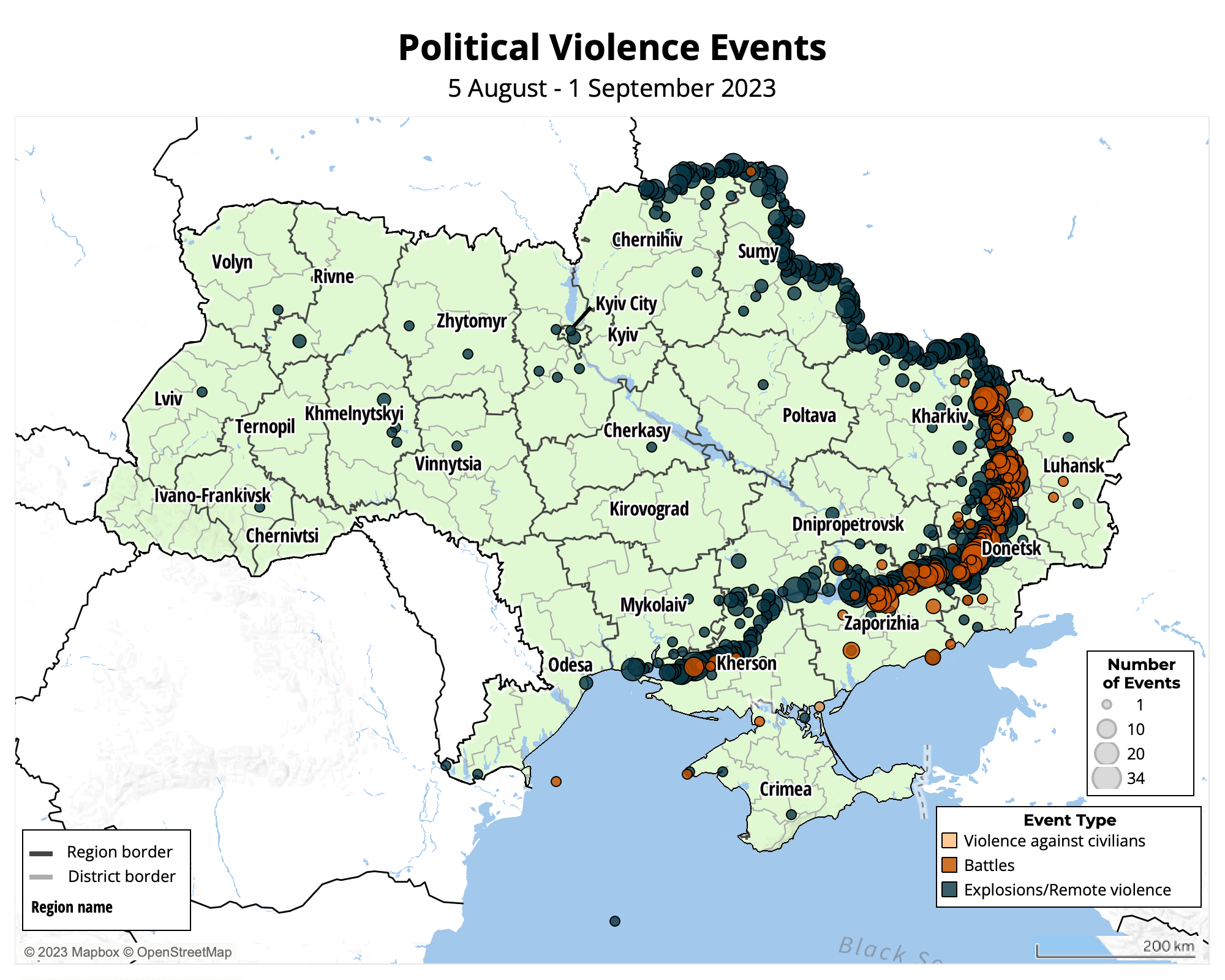 Armed clashes decreased in almost all regions after a spike in June and July following the start of the Ukrainian counteroffensive. In the Donetsk region, fighting concentrated in the areas of Bakhmut, Avdiivka, and Marinka, with no significant changes in the control over territory. Clashes also continued along the Donetsk-Zaporizhia administrative boundary, where Ukrainian forces reportedly retook a village south of Velyka Novosilka. Ukrainian forces also made advances along the frontline in the Zaporizhia region and liberated a settlement south of Orikhiv. In the Kherson region, where Ukrainian and Russian forces are separated by the Dnipro river, Ukrainian forces reportedly recaptured a village on the southern bank of Dnipro. Fighting picked up slightly in the Kharkiv region, where Russian forces made limited territorial gains and continued to push towards Kupiansk. Russian forces also continued offensive operations near Svatove and Kreminna in the Luhansk region. Amid the continued Ukrainian missile and drone strikes on Crimea, most of which were intercepted by the Russian air defense, Ukrainian special forces reportedly conducted a raid on a Russian radio frequency engineering base in Mayak in the most western part of Crimea. 
Russian forces continued to target civilian infrastructure across Ukraine with shelling, missiles, and drones, killing over 120 civilians mostly in the frontline regions, but also in the western Ivano-Frankivsk and Volyn regions, the northern Kyiv region, and the central Poltava region. The majority of civilian fatalities were recorded in the Donetsk region, where Russian missiles hit a residential building in Pokrovsk on 7 August, killing 10 civilians and wounding over 80. Russian forces also shelled and launched missiles at residential buildings and educational and medical facilities in Zaporizhia city on 9 and 10 August, killing four civilians and wounding almost 30. On 19 August, a Russian missile hit an opera theater during a drone exhibition in Chernihiv city center, killing seven civilians and wounding over 150. Russian authorities also reportedly continued to forcibly relocate Ukrainian children, deporting around 150 from the occupied areas of the Kherson region to Russia.