Situation Update | September 2023
Kenya: Police Use Excessive Force in Response to Anti-Government Demonstrations
VITAL TRENDS
From 29 July to 15 September 2023, ACLED records 125 political violence events and over 175 reported fatalities in Kenya. Political violence centered in Nairobi county, where at least 13 incidents of mob violence were recorded. Nairobi also witnessed the highest number of demonstration events in the country.

Lamu county had the highest number of reported fatalities, with nearly 95 recorded during the reporting period as al-Shabaab activity intensified in August and September, with militants targeting both civilians and security forces. Garissa county followed, with at least 16 reported fatalities. In Garissa, attacks by suspected ethnic militias accounted for the majority of reported fatalities. 

The most common event type was protests, with 85 recorded events, followed by riots, with 71 events. ACLED records 78 incidents of civilian targeting during the reporting period. Rioters were involved in nearly half of these incidents.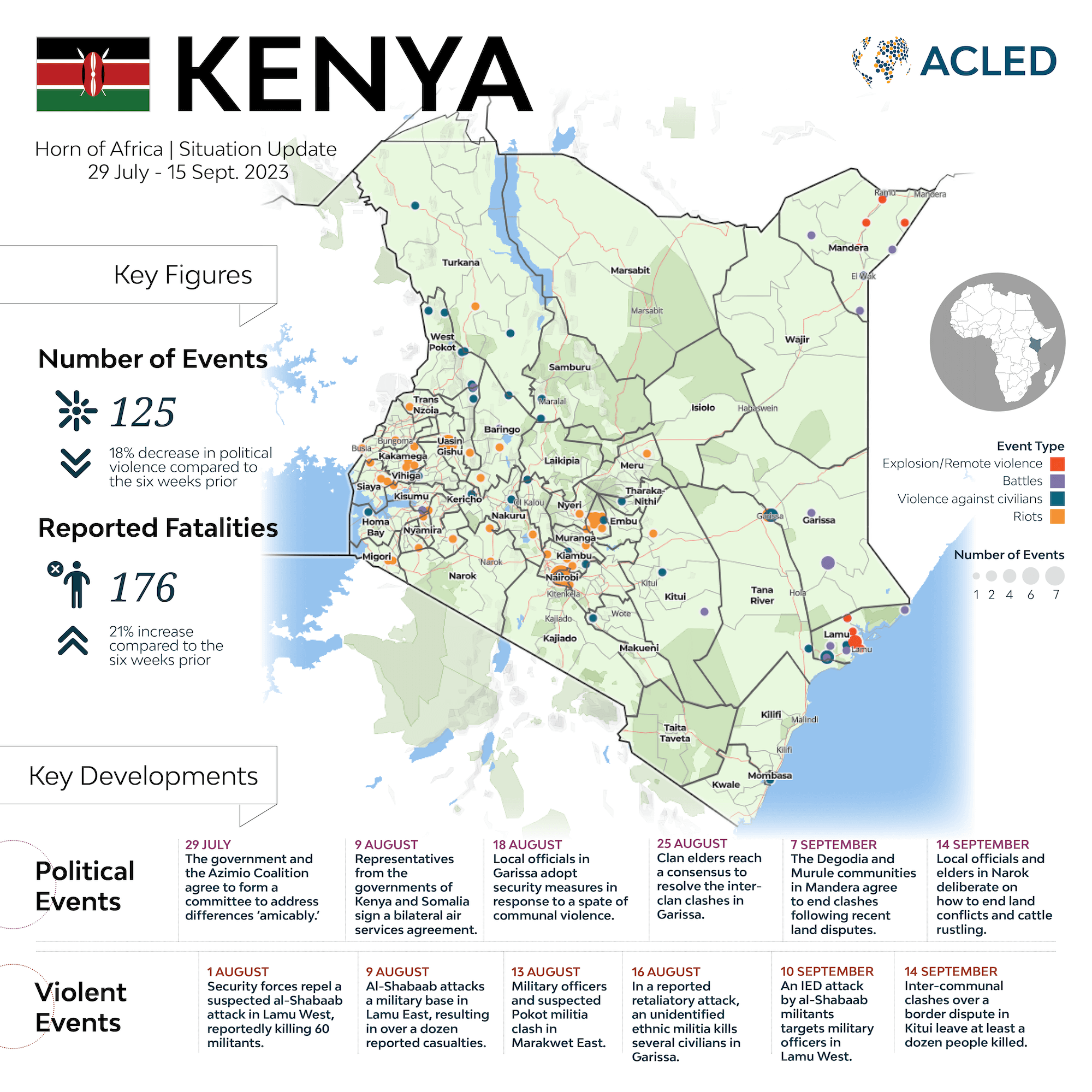 Police Use Excessive Force in Response to Anti-Government Demonstrations
Since January 2023, Kenya has witnessed a surge in cases of police violence in the context of anti-government demonstrations organized by the opposition party, Azimio la Umoja (Resolution for Unity) One Kenya Coalition Party. Led by the former prime minister and current opposition leader, Raila Odinga, the Azimio Coalition has staged multiple waves of protests throughout the year to voice grievances such as electoral injustice, high living costs, and tax hikes. The first round of protests took place in March, followed by subsequent waves in May and July. During these demonstrations, there have been numerous reports of police injuring and killing demonstrators, as they have increasingly resorted to excessive use of force in their efforts to contain and suppress the protests. This wave of punitive policing is occurring in contrast to the Kenya Kwanza (Kenya First) Alliance's rise to power on a heavily human rights-focused platform.1Emmanuel Kipchumba and Ronald Kipruto, 'Rights groups claim Ruto ignored promise on extra-judicial killings,' The Standard Kenya, 15 September  2023 This report examines the marked increase in violent police interventions during the latest round of anti-government demonstrations. The excessive use of violence undermines trust in Kenya's law enforcement bodies and fails to ensure accountability or rein in violence, which may contribute to escalating the protest movement.
Growing Use of Force by Police as Demonstrations Increase
Demonstrations have significantly increased in Kenya in 2023, primarily driven by Azimio leader Odinga mobilizing his supporters against the Kenya Kwanza government led by William Ruto. From 1 January to 15 September 2023, ACLED records over 840 demonstration events across Kenya; 26% of the demonstrations recorded thus far drew intervention from security forces – compared to only 15% of demonstrations in 2022. Police forces intervened in around half of the demonstrations organized by the Azimio Coalition in 2023. Additionally, police intervention has also become more lethal, resulting in at least 35 deaths – all during Azimio-led demonstrations.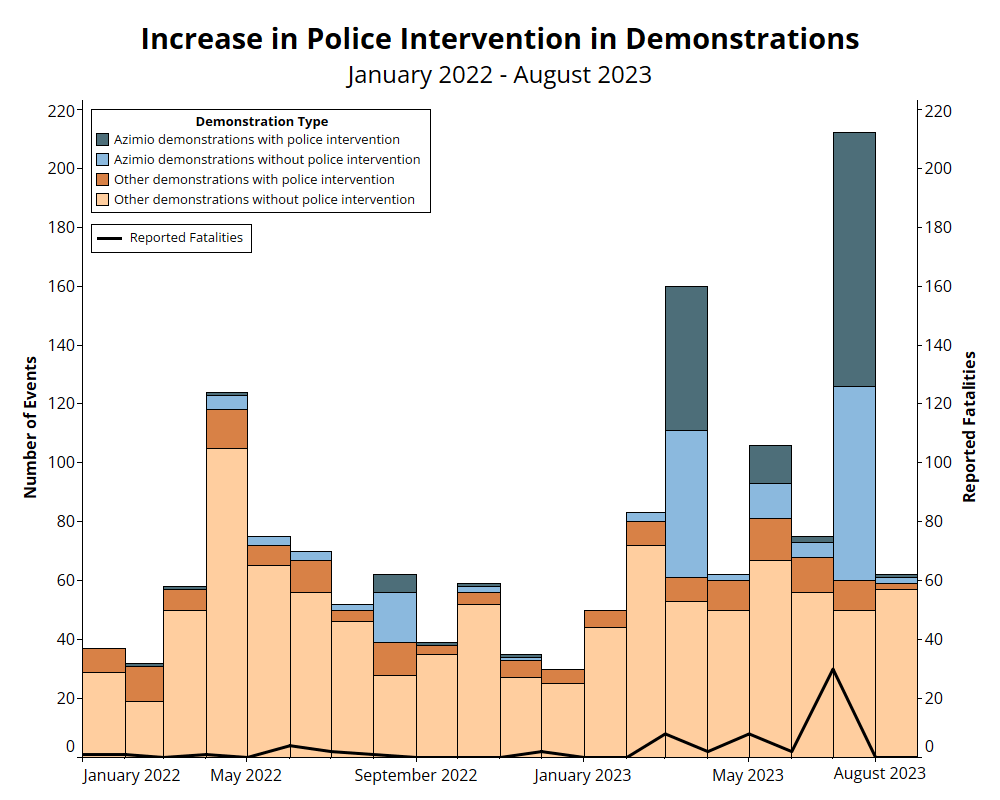 In July alone, the Azimio Coalition organized over 150 demonstration events across the country to protest against the passing of a Finance Bill enacting contested tax hikes. While the protests in March and May were limited to areas perceived to be the opposition's stronghold, such as the capital city of Nairobi, the coastal city of Mombasa, and other parts of western Kenya, the July protests extended beyond the political divide and spread to counties such as Laikipia, Meru, Nyeri, and Muranga, all of which are considered strongholds of the president's coalition.2Daily Nation, 'Anti-govt protests rock DP Gachagua's Mt Kenya base,' Daily Nation, 12 July 2023 The protests, according to Odinga, were a matter for all Kenyans rather than a party-based issue.3Mariama Diallo, 'Kenya Opposition Leader Raila Odinga Says Protests Will Continue,' Voice of America, 25 July 2023 However, in the North Rift region – and President Ruto's home region – Azimio supporters and their leaders stayed away from the protests, alleging threats and intimidation from police and Kenya Kwanza supporters.4Daily Nation, 'Threats and intimidation: Why there are no protests in Ruto's North Rift backyard,' 21 July 2023 
The July protests were violently repressed by the police as state forces declared the protests illegal and a threat to national security.5Andrew Wasike, 'Kenyan police ban anti-government protests as death toll rises,' Anadolu Agency, 19 July 2023 These incidents have included mass arrests of protestors, incarceration of Azimio leaders, property destruction, use of teargas, batons, water, and cannons, as well as live bullets that caused injuries and loss of life. For example, on 20 July, police used teargas and live bullets to disperse demonstrators in Bondo town, Siaya county, which resulted in two deaths. In another incident, police officers allegedly raided a homestead in the Nyalenda area of Kisumu county during the demonstrations. The officers dragged two brothers out of their house, beating and injuring them. The victims later succumbed to their injuries.6Laura Otieno, ''They Cracked His Skull': Mother Cries As Another Son Succumbs To Police Beating In Nyalenda,' Citizen Digital, 31 July 2023 Additionally, there were reports of a house being burned down in the neighboring Katito town as a result of teargas fired by police. 
Police violence has also reportedly targeted students and activists. More than 50 pupils from Kihumbuini primary school in Kangemi were rushed to the hospital after teargas was deployed by the police within the school premises to disperse demonstrators.7Clause Masika, 'Over 50 pupils in hospital after teargas lands in classroom,' The Star Kenya, 12 July 2023 In some instances, human rights defenders have been specifically targeted by the police, with at least one human rights activist being abducted by plainclothes security personnel and taken to an undisclosed location.8Ondari Ogega, 'Where is vocal human rights activist Boniface Ogutu Akach?' Daily Nation, 21 July 2023  
Incidents of police repression and violence have been more prevalent in informal settlements in the major towns of Nairobi and Kisumu, the traditional support bases for the Azimio Coalition (see map below). Although killings were also reported in Makueni, on the eastern side of the country, Azimio leader Odinga termed the police violence as "a case of ethnic profiling," claiming that police violence disproportionately affected members of the Luo community – mainly inhabiting the Nyanza region of Kenya, from which he hails.9Africanews, 'Kenya's Odinga denounces 'unprecedented police brutality' against protesters,' 25 July 2023 The government has denied this allegation.10Evelyne Musambi, 'Opposition in Kenya gathers evidence of 'police atrocities' against protesters to take to the ICC,' Associated Press, 25 July 2023 However, according to ACLED data, the Nyanza region – consisting of Siaya, Kisumu, Homa Bay, Migori, Kisii, and Nyamira counties – saw over 40% of all police intervention in Azimio-led demonstrations nationwide.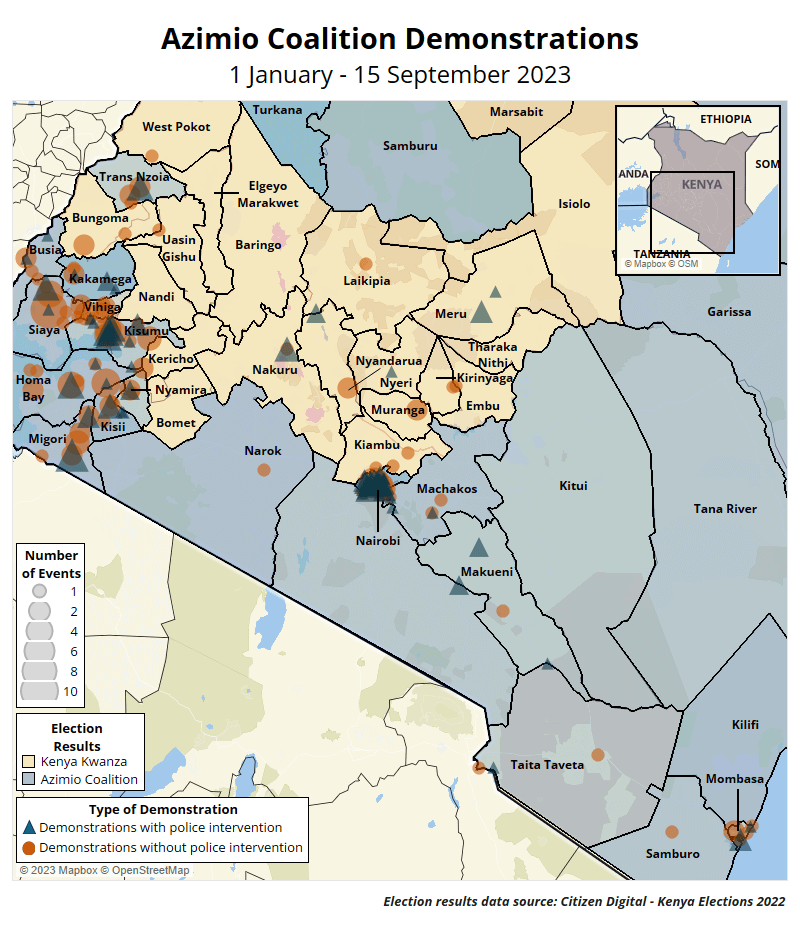 Reactions to Increasing Police Violence and Its Impact
Despite increasing public outrage for the use of violence by police, the government's contested Finance Bill passed through parliament and was signed into law by President Ruto in June.11Maureen Kinyajui, 'President Ruto signs Finance Bill into law,' The Star Kenya, 26 June 2023 This situation created an opportunity for the opposition to leverage the widespread discontent among the public regarding the increasing cost of living. Opposition leader Raila Odinga hailed the July protests as the beginning of Kenya's third liberation struggle, establishing a connection with the nationwide Saba Saba uprising against the government of then-President Daniel Arap Moi in 1990.12Fred Nasubo and Beverlyne Ondieki, 'Saba Saba Movement: The Stalled Wave of the Third Liberation,' The Elephant, 3 August 2023 
Police use of excessive force during demonstrations has received widespread criticism from various groups. The Law Society of Kenya, a coalition of 29 human rights organizations such as Amnesty International Kenya and Kenya Human Rights Commission, as well as Western envoys, members of the clergy, and  others, are calling for a dialogue between the opposition and the government.13Chemutai Goin, 'Azimio Protests: LSK Calls For Dialogue, Chides Police For Using Excessive Force,' Citizen Digital, 18 July 2023; Lindwe Danflow, 'Discuss police brutality, Amnesty tells dialogue committee,' The Star Kenya, 8 September 2023; Okumu Modachi, 'Catholic bishops, NCCK condemn police brutality,'  The Standard Kenya, 22 July 2023 Civil society organizations have alleged that the police may be collaborating with a private militia to carry out attacks against civilians.14Brian Otineo, 'Ruto on the spot as activists raise the red flag on police brutality,' The Standard Kenya, 22 July 2023 Some opposition lawmakers also claimed that the government had recruited youth to harm Azimio leaders and their supporters during the protests.15Irene Mwangi, 'Azimio Claims Govt Sanctioning Militia Against Protestors,' Capital FM, 17 July 2023
In response to the situation, the Office of the United Nations High Commissioner for Human Rights (OHCHR) has called for a calm and open dialogue to address the grievances of the protestors. It has also demanded an investigation into the reports of casualties resulting from the disproportionate use of force by police.16UN News, 'Kenya: OHCHR 'very concerned' over disproportionate use of force against protesters,' 14 July 2023 This move attracted a rebuttal from the Kenya Permanent Mission to the UN, which accused the OHCHR and the larger international community of interfering in Kenya's domestic affairs. They also accused them of undermining its sovereignty while inflating the number of fatalities during the demonstrations.17Peter Kagwanja, 'Violent demos chipping away at Kenya's democratic gains,' Daily Nation, 30 July 2023 The Azimio Coalition claims at least 50 people were killed by the police in the demonstrations, while the government estimates 20 fatalities.18The Citizen, 'Raila condemns 'unprecedented police brutality' at protests,' 25 July 2023
The government has denied allegations of police brutality and instead accused Azimio leaders of deploying 'goons' to vandalize property and disrupt the economy through protests. There are also allegations that some Azimio leaders hired individuals who used weapons to harm protesters and then shifted the blame onto the government.19James Mbaka, 'Kioni: Azimio protests have been peaceful,' The Star Kenya, 25 July 2023 According to government sources, a police officer was killed and over three hundred others were injured during this year's anti-government protests.20Emmanuel Wanjala, 'Violence planners supplied guns that killed protesters – Kindiki,' The Star Kenya, 25 July 2023 President William Ruto supported these claims, attributing the violence to the opposition and urging the police to take strong action against those he called "criminals, gangs, [and] anarchists."21Africanews, 'Kenya's Odinga denounces 'unprecedented police brutality' against protesters,' 25 July 2023 Furthermore, the inspector general of police accused the opposition leaders of working in cahoots with morgue attendants to plant dead bodies to paint the police force in a bad light.22John Kalii, 'IG Koome Claims Politicians Hired Bodies From Morgues To Tarnish Image Of Police,' Citizen Digital, 8 August 2023 
Kenya recently signed an agreement with Haiti, that will see the deployment of 1,000 police officers who will head a multinational police force in addressing gang violence in the Caribbean nation.23Irungu Houghton, 'A lot at stake as Kenya police head to Haiti to restore order,' The Standard Kenya, 22 September 2023; Mwangi Maina, 'Why is Kenya Rushing Headlong into Haiti as US, Canada Watch?,' Kenyan Foreign Policy, 16 September 2023 However, the increasing police brutality in Kenya necessitates a thorough reassessment of the measures and tactics utilized by security agents. Already, a lobby group has petitioned the National Dialogue Committee, calling on the committee to discuss the pressing issues of police violence.24Lindwe Danflow, 'Discuss police brutality, Amnesty tells dialogue committee,' The Star Kenya, 8 September 2023 It remains uncertain whether the committee will prioritize this issue, as it is currently grappling with significant challenges related to the restructuring of the electoral body and the rising cost of living. The contentious nature of these issues, coupled with conflicting perspectives from the government and opposition, poses a potential risk of derailing the entire process.25Collins Omulo, 'Ruto-Raila talks team facing major hurdles amid push-and-pull,' Daily Nation, 19 September 2023