For more information, including previous situation summaries and an interactive dashboard, visit our Ukraine Conflict Monitor.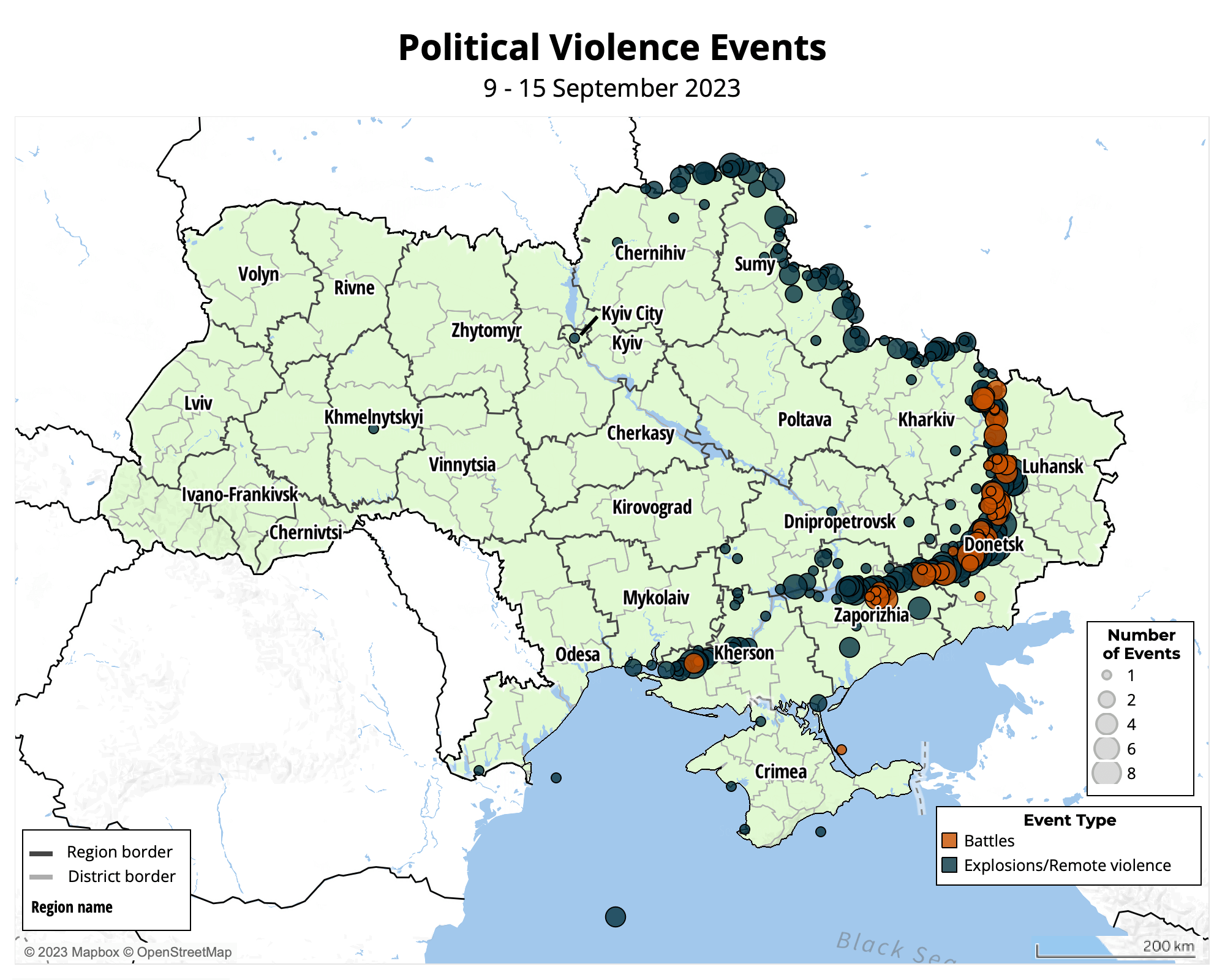 In the Donetsk region, fighting continued near the boundary with the Zaporizhia region, around Avdiivka and Marinka, and in the area of Bakhmut, where Ukrainian forces reportedly reclaimed Andriivka village. Clashes also continued in the Zaporizhia region, with Ukraine claiming minor advances south of Orikhiv. Fighting additionally continued along the Kreminna-Svatove-Kupiansk line in the Luhansk and Kharkiv regions, with no confirmed territorial gains last week. Several armed clashes were recorded in the Kherson region, where Ukrainian forces attempted to advance on the southern bank of Dnipro river. 
Ukrainian forces also launched several long-range drone and missile strikes in the Zaporizhia region, Crimea, and the Black Sea, targeting Russian military positions, bases, equipment, and patrol boats, as well as a polling station for Russian regional elections in Ukraine, which have been denounced as illegitimate.1 The Guardian, 'Ukraine criticises Russian 'fake elections' in occupied regions' 8 September 2023 In Crimea, a missile strike on a shipyard in Sevastopol on 13 September reportedly damaged a Russian submarine and a landing ship, while a drone and missile strike at Yevpatoria on the following day hit a state-of-the-art surface-to-air missile system. In addition, Ukraine also reportedly regained control of oil platforms off the western coast of Crimea that were seized by Russia in 2015. 
Russian shelling, missiles, and airstrikes killed at least a dozen civilians in the Donetsk, Kherson, and Luhansk regions. On 9 September, Russian forces fired an anti-tank missile at a car with foreign aid workers west of Bakhmut in the Donetsk region, killing two of them and injuring two others. Ukrainian forces also intercepted Russian drones further from the frontline in the Vinnytsia and Khmelnytskyi regions, as well as in Kyiv city and the wider region, with the debris injuring civilians and causing damage in the Kyiv region. Russia continued targeting Ukrainian port and grain infrastructure on the Danube river, with Ukrainian air defense intercepting over 30 Russian drones in the Izmail district of the Odesa region on 13 September. Six truck drivers and a local resident were injured in the strike. Following this, more drone debris was found in neighboring Romania.2 The New York Times, 'More suspected Russian drone debris is found in Romania,' 13 September 2023