For more information, including previous situation summaries and an interactive dashboard, visit our Ukraine Conflict Monitor.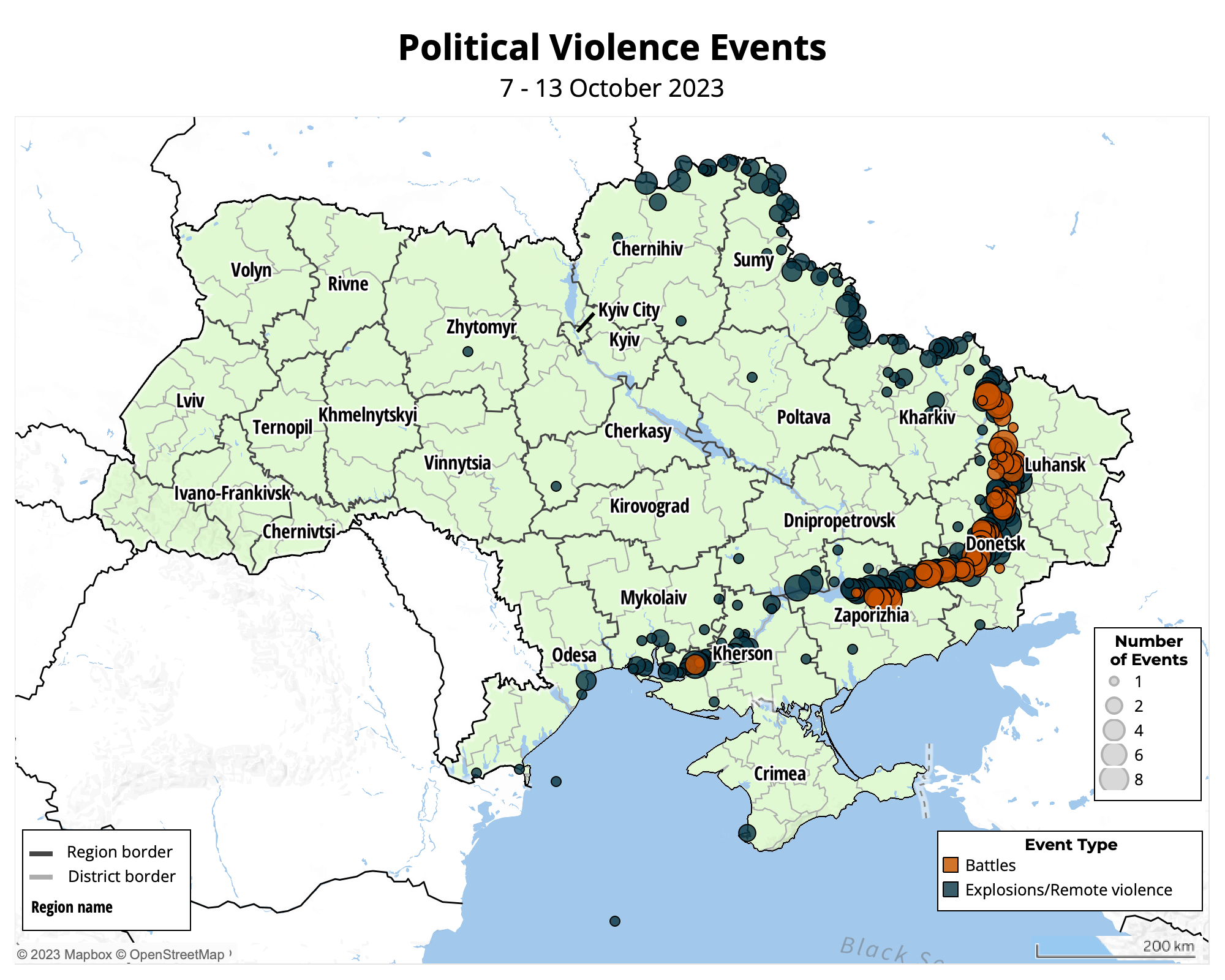 Clashes between Ukrainian and Russian forces concentrated in the Zaporizhia and Donetsk regions, notably in the area of Bakhmut in the Donetsk region, around the occupied Donetsk city where Russian forces resumed their offensive toward Avdiivka1Institute for the Study of War, 'Russian Offensive Campaign Assessment,' 12 October 2023, and near the administrative boundary between Donetsk and Zaporizhia regions. Ukrainian forces reportedly made incremental advances south of Bakhmut, while Russian forces gained ground east of Vuhledar. Clashes also continued along the Kreminna-Svatove-Kupiansk line in the Luhansk and Kharkiv regions, where Russian forces gained ground east of Kupiansk. 
Elsewhere, Ukrainian forces and suspected partisan groups carried out notable targeted attacks in Russian-occupied regions. In Crimea, Russian air defense intercepted several attempted drone strikes throughout the week before Ukrainian naval drones hit two Russian ships in the port of Sevastopol on 13 October. Separately, suspected Ukrainian partisan groups blew up a Russian train transporting fuel, ammunition, and damaged vehicles in Melitopol in the Zaporizhia region and killed a Russian-appointed official in Nova Kakhovka in the Kherson region. 
Russian shelling, missiles, and airstrikes reportedly killed around 20 civilians in the Dnipropetrovsk, Donetsk, Kharkiv, Kherson, Sumy, and Zaporizhia regions. On 13 October, Russian forces launched missile strikes on Pokrovsk, Donetsk, killing one civilian, wounding over 20 others, and damaging multiple administrative and residential buildings. Further away from the frontline, Russian forces launched missiles and drones at the central Cherkasy and Poltava regions, damaging civilian infrastructure in Myrhorod in the Poltava region.