For more information, including previous situation summaries and an interactive dashboard, visit our Ukraine Conflict Monitor.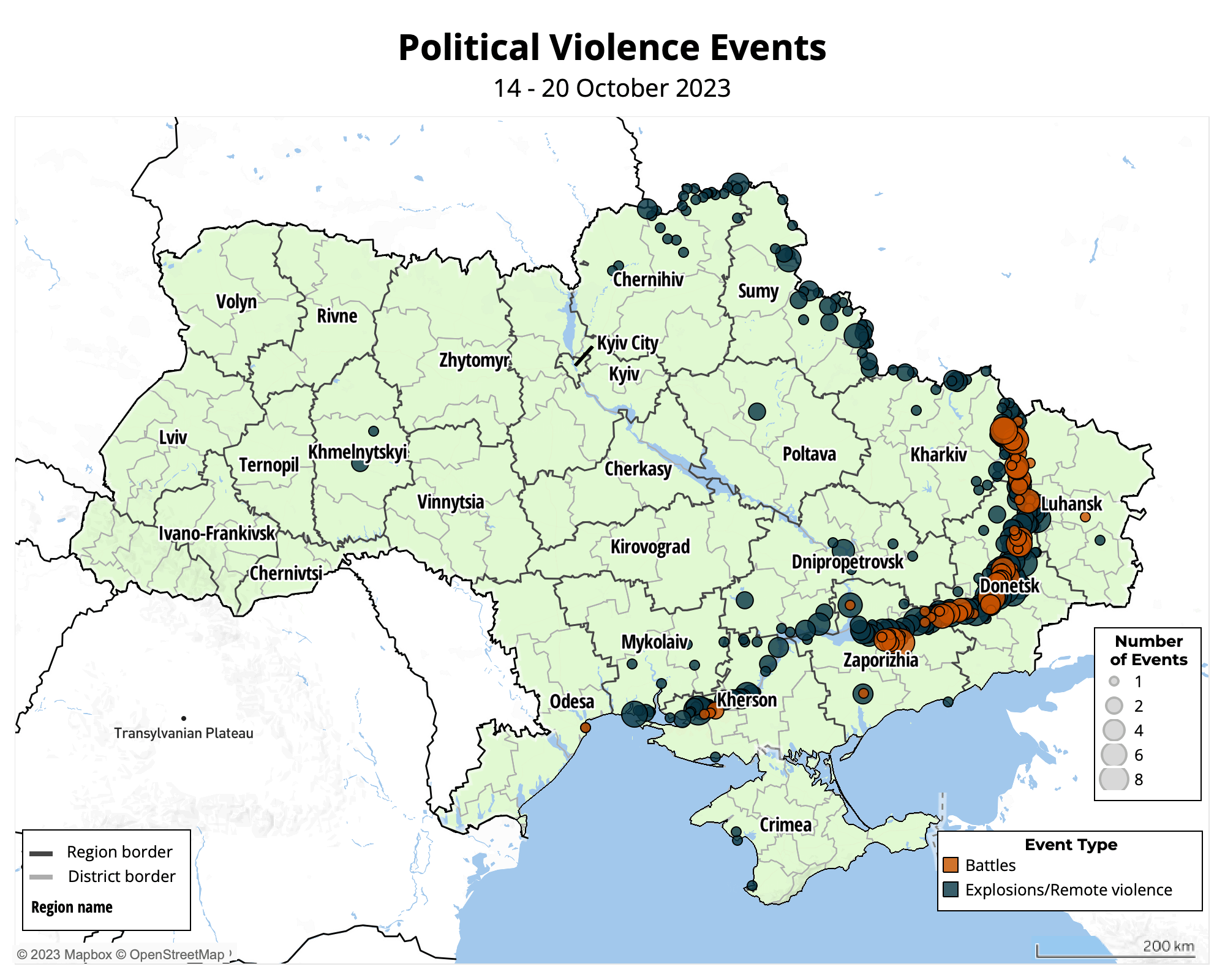 Fighting continued to center on the Donetsk, Zaporizhia, Luhansk, and Kharkiv regions. In the Donetsk region, Russian forces continued their attempts to encircle Avdiivka. Fighting also took place near Bakhmut and the boundary with the Zaporizhia region. In the Zaporizhia region, Ukrainian forces reportedly advanced west of Polohy. Elsewhere, clashes continued along the Kreminna-Svatove-Kupiansk line in the Luhansk and Kharkiv regions, with Ukrainian forces gaining ground between Svatove and Kupiansk. 
Ukrainian forces reportedly hit Russian positions, bases, airfields, and ammunition depots with strikes in Crimea, Zaporizhia, Kherson, and Luhansk regions. Among these strikes were the first claimed use of ATACMS long-range missiles, which destroyed or damaged multiple Russian military aircraft and other equipment at two airfields near Berdyansk in the Zaporizhia region and Luhansk city on 17 October. Suspected Ukrainian partisans also blew up a car carrying Russian servicemen in Melitopol in the Zaporizhia region. 
Russian shelling, missiles, and airstrikes killed over a dozen civilians in the Dnipropetrovsk, Donetsk, Kharkiv, Kherson, Mykolaiv, and Zaporizhia regions. On 18 October, a Russian missile damaged a residential building in Zaporizhia, killing five civilians and wounding five others. Elsewhere, further from the frontline, Russian forces launched missiles and drones at the Poltava and Khmelnytskyi regions, injuring three civilians in the Myrhorod district of the Poltava region.