The climate did its part to worsen the crisis in South Sudan during the rainy season, which began around May and is only just now letting up (Sudan Tribune, November 10, 2014).  The rain's effects on food insecurity and malnourishment (BBC, September 9, 2014), health issues (The Guardian, July 1, 2014), and increased displacement (Al Jazeera, July 13, 2014) have made violent conflict in South Sudan even more burdensome for its civilians.
Perhaps the only way in which the rainy season helped was to quell rebel conflict activity.[1] Raleigh and Kniveton (2012) find that the changes in climate through rainfall aberrations affect conflict activity through their effects on natural and agricultural resources.  They find that rebel conflict activity tends to be highest during dry conditions, with lower levels exhibited during wet conditions. During the drier season with the dearth of available resources, rebel conflict activity increases as conflicting groups use force and violence to compete for ever-scarcer resources. Not having to battle the elements, there is an increase in the ease of movement during the drier season, allowing conflict logistics to require less effort. Given the opportunity for increased recruitment of individuals, who are no longer employed as agricultural labor with the rainy season and harvest over, allows for an expanding army, and having to combat fewer diseases, along with an increase in available subsistence following the harvest, makes for better-equipped soldiers. Additionally, with the rainy season over, high value areas again become accessible, further promoting rebel conflict.
Communal militia activity, on the other hand, exhibits the highest incidences of violence in extreme wet rather than dry conditions (Raleigh and Kniveton, 2012).[2]  Cattle-raiding is the dominant form of organized violence involving these groups, which involves a group invasion or attack with the main objective of stealing cattle. This type of raiding is a means of expanding rangelands, restocking herds, and improving social status.  These events tend to occur during wet periods, as grass is higher – resulting in stronger animals. Furthermore, dense bush as a result of rainfall provides ample space for hiding following raids, and the availability of surface water during this time makes it easier to trek with the raided animals. Hence, the results of raiding are more successful during wet seasons. Raids occur less so during drier seasons as not only are cattle weaker and more difficult to trek with, but also because conflict during this time would be an additional burden on these groups during an already difficult time with scarce available resources.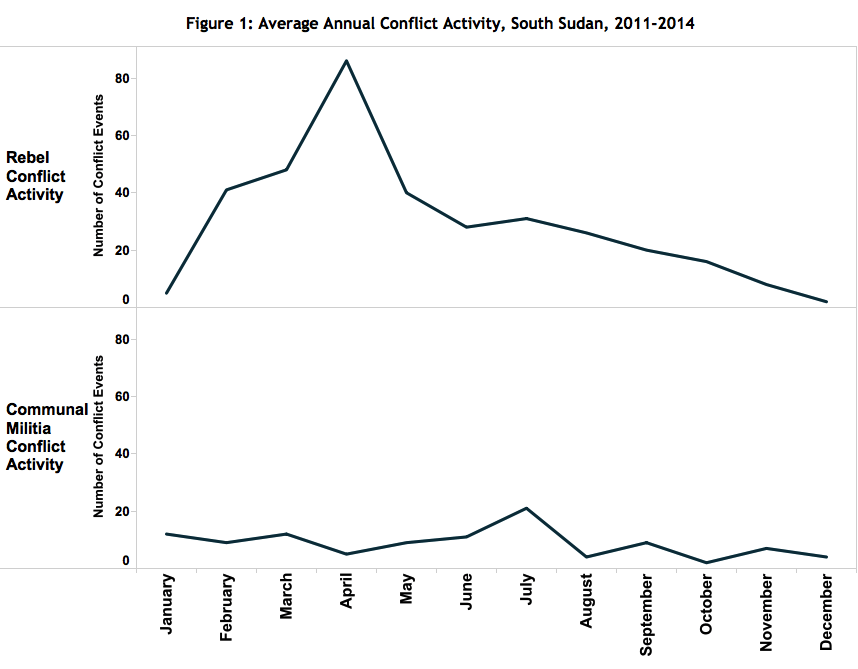 Figure 1 shows the average annual trajectory of rebel versus communal militia conflict activity in South Sudan since independence in 2011.  In line with this argument, it depicts how rebel conflict is highest during drier months, with a decrease in activity seen during the months of May to November, in line with the rainy season. Meanwhile, communal violence is less affected by rainfall, though the highest incidences of communal militia conflict activity are during the peak of the rainy season in July, when resources are the most abundant and cattle-raiding would be most successful.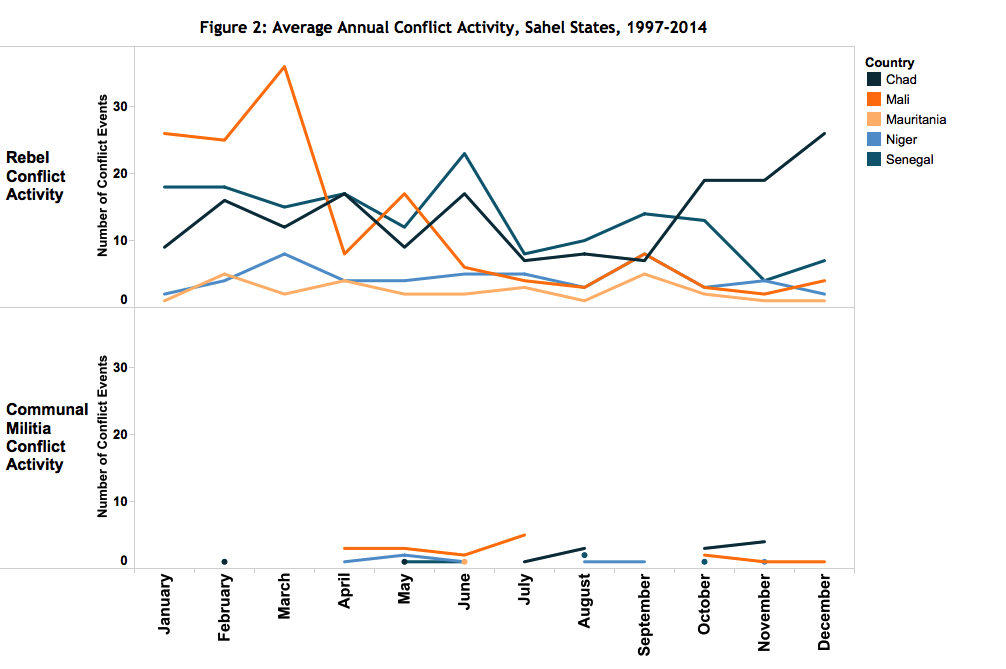 Similar trends can be seen across the Sahel belt where high rates of communal and rebel violence occur in arid and semi-arid lands. This region is especially sensitive to rainfall as about 90% of its rainfall occurs during the months of June through September/October with remaining months being especially dry (Sahel Precipitation Index, 2013). Figure 2 shows the average annual trajectory of rebel versus communal militia conflict activity in Sahel states since 1997. A decrease in rebel conflict activity can be seen during these rainy months across these countries when conflict logistics and ease of movement are most difficult.  Meanwhile, communal militia conflict activity is practically non-existent during the driest months of December through March, during the time when cattle-raids would be least successful and hence do not merit the effort and risks of conflict.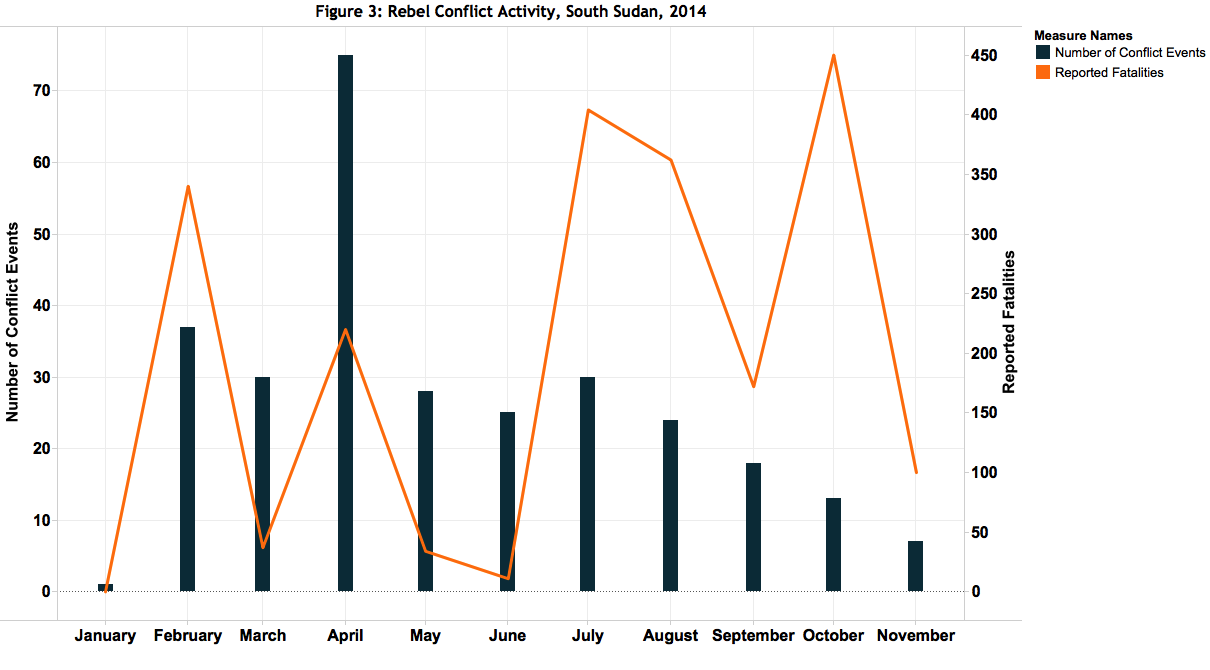 Coinciding with the end of the rainy season, South Sudan has already reported an upsurge in fighting in recent weeks (AFP, November 5, 2014). On Saturday, mediator Seyoum Mesfin of the Intergovernmental Authority on Development (IGAD) announced that an agreement has reportedly been reached by South Sudan President Salva Kiir and his former Deputy President Riek Machar to cease fighting and to end the nearly year-long conflict in the country (AFP, November 8, 2014).  The two sides have 15 days to conduct consultations and come to a power sharing agreement. Though the announcement comes as good news for the many victims of the conflict, one would be wise to not celebrate too soon – an initial ceasefire, negotiated in January and reaffirmed in May, has been repeatedly violated this year, much to the detriment of civilians.  Figure 3 shows rebel conflict activity in South Sudan during the past year.  Conflict spiked in April despite the first negotiated ceasefire in January, and fatalities spiked during the second half of the year despite the reaffirmed ceasefire in May. If past trends continue and the peace between the warring groups does not last, heightened rebel conflict may be imminent as drier months approach.

[1] ACLED defines rebel groups as violent opposition organizations with a stated political agenda for national power.
[1] Communal militia activity refers to any politically motivated, low-intensity, local contest fought between group militias associated with ethnic, regional or religious identities.