Sudan continues to be one of the top three most violent countries in Africa, as well as one of the deadliest, in large part due to the violence in the Darfur region (the most violent subnational region in Africa in 2014). Violence in this region began over a decade ago when groups began rebelling against the state, citing accusations of discrimination, and the state responded with a counter-insurgency campaign (Reuters, 2014).  Since then, hundreds of thousands have died in fighting and millions have been displaced (The Guardian, 2014).
Violence against civilians comprises a large number of the organized, armed conflict events that occur in Darfur. These are largely at the hands of political militias – 'armed gangs' operating on behalf of political elites, such as pro-government militias and the Rapid Support Forces (paramilitary forces operated by the Sudanese government). However, the majority of fatalities in Darfur are attributed to battles between government forces and rebel groups as well as inter-communal conflict.
In recent years, inter-communal conflict has become increasingly prevalent, compounding the security situation in Darfur especially (Agence France Presse, 2014). While inter-communal conflict made up only approximately 5% of all conflict in Darfur in 2014, these battles resulted in approximately 22% of fatalities – pointing to how deadly this type of conflict can be. In Darfur, the majority of these battles and fatalities involve the Maaliya and Rizaygat ethnic militias. These are increases in activity by both of these ethnic militias; the Misseriya and Salamat ethnic militias were primarily responsible for inter-communal conflict in the Darfur region in 2013. While the Misseriya ethnic militia is no longer a lead perpetrator of violence in Darfur, this group continues to be very active in Sudan (especially in Kordofan), and is the communal militia involved in the most inter-communal conflict-related fatalities in Sudan as a whole since the beginning of 2014.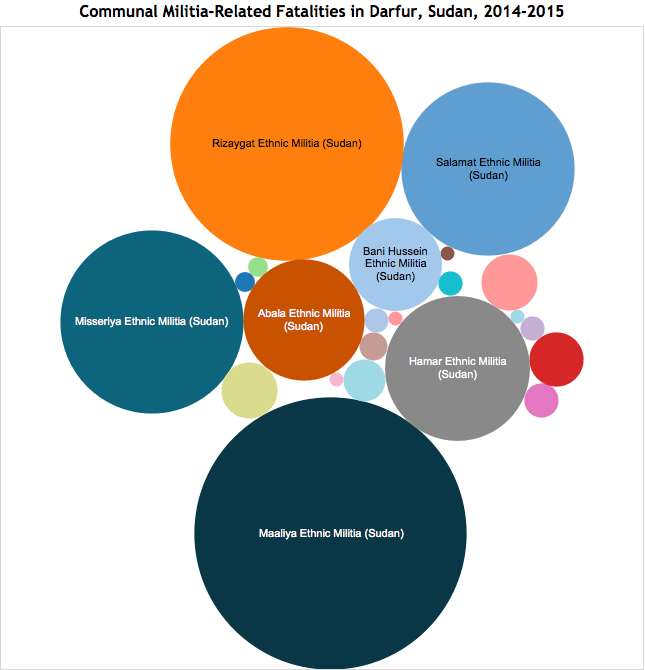 Amnesty International traces much of the inter-communal conflict in Sudan back to Sudan's failing economy (Amnesty International, 2014), as much of this conflict between pastoralist and farming communities is seen as clashes over access to land (Reuters, 2014) as well as cattle (ACLED, 2014). Oil also fuels this conflict, especially in oil-rich West Kordofan (Radio Tamazuj, 2014).
While Darfur sees the highest number of inter-communal conflict events as well as related fatalities, these militias are active outside of Darfur as well, and are also involved in organized, armed conflict events aside from inter-communal conflict. Since 2014, inter-communal conflict (conflict between two ethnic/communal militias) is limited to Darfur and Kordofan. Battles between these militias and government forces, however, occur in Kordofan (specifically, the Abyei region) as well as in the Northern region. Though at times these clashes are a response to government seizure of herdsmen and livestock, these battles tend to arise as clashes between village residents and army recruits believed to be affiliated with political militias (such as the Rapid Support Forces), or are due to army forces responding to communal militia attacks on civilians. The former is more prevalent in Darfur – in fact, all reported conflict between communal militias and political militias since January 2014 have been limited to within the Darfur region.  The latter – civilian targeting by communal militias – occurs more widely geographically across the country. While these attacks occur largely in Darfur, they can be seen in Kordofan (specifically, the Abyei region) as well as in the Blue Nile region. They are primarily a result of inter-communal tensions (e.g., revenge attacks, cattle-raiding, etc.).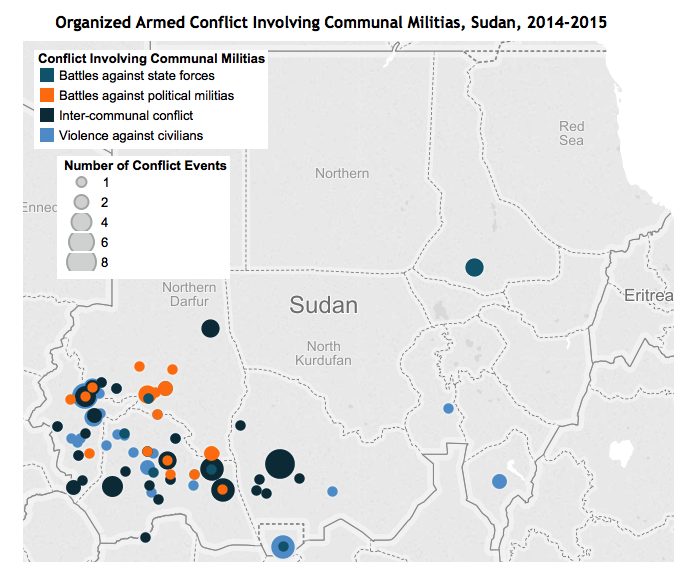 While much of the focus of conflict in Sudan, especially in Darfur, is on the civil war (battles between state military forces and rebels) and related violence at the hands of pro-government militias and paramilitary forces, violence involving communal militias continues to occur at a relatively high rate in Sudan (especially relative to past inter-communal conflict trends in the country), exacerbating the security situation in Sudan. Though reconciliation efforts have targeted specific groups, the intersecting ethnic and tribal dynamics have impeded their effectiveness (ACLED, 2014).