Zambia recently experienced a record number of riots, suggesting that the political instability that occurred in January has not been resolved, and the politics of succession are not entirely peaceful (see Figure 1). Recent riots were sparked by parliamentary by-elections in Solwezi and Lubansenshi (Lusaka Times, 25 September 2015), revealing a continued rivalry between the two main political parties, Patriotic Front (PF) and United Party for National Development (UPND).
The most recent incident of violence occurred on 23 September, in the northwestern region of Kalumbila. UPND cadres demanded to hold a rally on the eve of by-elections, stoning security forces and leaving two policemen with head injuries. On 21 September, UPND and PF cadres exchanged gunfire in Luwingu, injuring one. The following day, PF cadres open fired and destroyed UPND camps in Lubansenshi. PF cadres reportedly fired indiscriminately in Solwezi and Mutanda during the week of 21 September, to warn residents against voting for UPND. September's riots are reminiscent of conflict events in January, when presidential elections resulted in nine events involving violence against civilians, five events involving protesters, and five events involving rioters (see Figure 1). Elections were held following the death of President Michael Sata in October 2014. PF candidate Edgar Lungu narrowly defeated UPND frontrunner Hakainde Hichilema with a margin of 27,000 votes (African Arguments, 29 January 2015).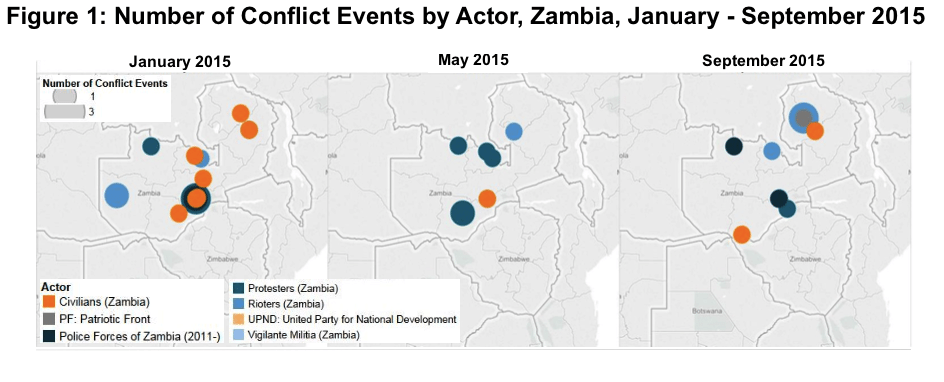 UPND is accused of creating skirmishes in districts where election races are particularly close (Zambia Reports, 23 September 2015). On 1 January, in the lead-up to presidential elections, UPND cadres attacked PF supporters in Kasama. During June's by-elections in the southern district of Mulobezi, a UPND member of parliament attacked PF Secretary General Davies Chama. Also in Mulobezi, on 30 June, clashes between PF and UPND left several injured from gunshot wounds (Zambia Reports, 30 June 2015). UPND's 'Mapatizya Formula' is a system meant to curb electoral fraud through active participation, but is often viewed as a cover-up for violent behaviour (Zambia Reports, 10 January 2015). However, instigation of violence can be attributed to both sides, possibly indicating that political capital resides in the mobilization of the people. On 2 January, PF cadres attacked a UPND campaign team in Shiwa Ngandu. On 21 February, PF cadres killed a UPND member in Mtendere East near the capital city, Lusaka.
Despite last month's increase in riots, violence against civilians decreased since the start of 2015. Civilians were the main victims in January, compared to September (see Figure 1). But a steady number of protests — six in May — are a sign that political tensions are constant. PF came to power under Sata in 2011, buoyed by support for infrastructure development programs in rural areas (African Arguments, 29 January 2015). Copperbelt and Lusaka Districts are typically supportive of PF. However, some 2015 protests have been linked to criticism of the government's suspension of mines and load-shedding at dam projects, made in effort to reduce the nation's dependency on copper and hydropower (Zambian Watchdog, 21 September 2015). As a result, UPND has been able to gain increased support in various areas. The parties split September's parliamentary elections, with UPND's Teddy Kasonso winning Solwezi West, and PF's George Mwamba winning Lubansenshi. Lungu will continue to serve the remainder of Sata's term, facing general elections in September 2016.

This report was originally featured in the October ACLED-Africa Conflict Trends Report.