Guinea witnessed a dramatic spike in political unrest in October with levels of political violence surpassing those seen during the depth of the Ebola crisis. The primary cause of this instability is the presidential election, which took place on 11 October, which pitted incumbent Alpha Conde with long-time challenger Cellou Dalein Diallo. Conde and his Rally of the Guinean People party (RPG) won 57.9% while Diallo and the Union of Democratic Forces of Guinea (UDFG) won only 31.4% of the vote (Africa Confidential, 23 October 2015).
Much the violence occurred in the immediate run-up to the election with most of the fatal violence resulting from clashes between UDFG and RPG supporters. In contrast, the police maintained a degree of impartiality and used strong-arm tactics to disperse rioters affiliated with both the ruling party and the opposition.
Spikes in violence were seen after the elections in 2010 when Conde won the presidency and took power from the National Council for Democracy and Development military junta. During the first round of elections, Diallo secured 43.69% of the vote while Conde only attracted 18.25%. Conde won the second round with 52.5%. This dramatic turn-around was due to Conde's formation of an unwieldy 116-party coalition (Africa Confidential, 22 October 2015). However the result remained controversial with Diallo mounting a legal challenge and alleging fraud.
Violence also accompanied the 2013 legislative elections when Conde's contracting of a South African software company to revise the voter's register prompted the opposition to riot and accuse the president of doctoring the voter register (BBC News, 20 September 2013).
Similar accusations arose this month with the opposition accusing Conde of manipulating the voter register in order to take advantage of Guinea's regional voting patterns. Conde is a Malinke and repeatedly secures support in Upper Guinea, while Diallo, a Peul, receives strong support in Middle Guinea (Africa Confidential, 23 October 2015). The opposition accused Conde of inflating the voter role in his safe constituencies while ensuring small constituencies in pro-Diallo regions (ibid.).
The areas in which the UDFG hold sway, Middle Guinea and parts of Conakry, were hit by anti-regime demonstrations and political violence during the 2010 presidential elections and the 2013 legislative elections (see Figure 1). However, this year differs from previous years with most fatal violence taking place in Guinea's second city, N'Zerekore, in the Forestière region. N'Zerekore has dealt with deadly violence before with ethnic clashes between the Konianke and Guerze in July 2013 leading to numerous death. However, the expansion of electoral violence to this region may be due to prominent Forestière politicians, including former junta leader Moussa Dadis Camara and minister Jean-Marc Telliano, allying with the opposition (Africa Confidential, 23 October 2015).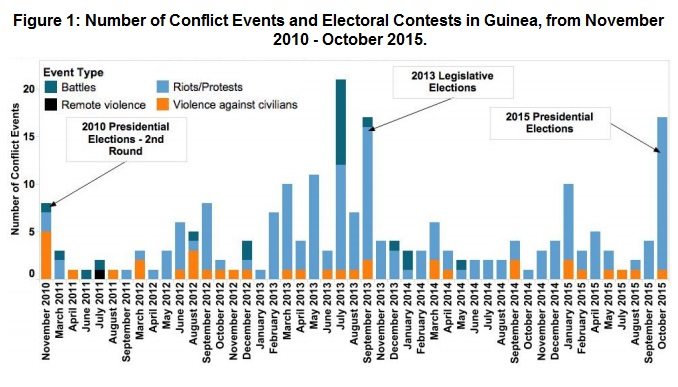 This report was originally featured in the November ACLED-Africa Conflict Trends Report.