In February 2016 ACLED released the first annual dataset of South and Southeast Asia political violence and protest data. This set covers events in 2015 across ten South and Southeast Asian states. 10,195 political violence and protest events are recorded in 2015. ACLED's team is also working to record historical data from 2010 in Pakistan, India, Myanmar, Bangladesh, Nepal, Sri Lanka, Laos, Cambodia, Vietnam, and Bhutan.  In January 2017, we aim to release data from January 2010 – December 2016 for all above named countries. We are also pleased to announce the completion of Thailand and Vietnam data from January 2010-December 2015, which will be published in the coming month.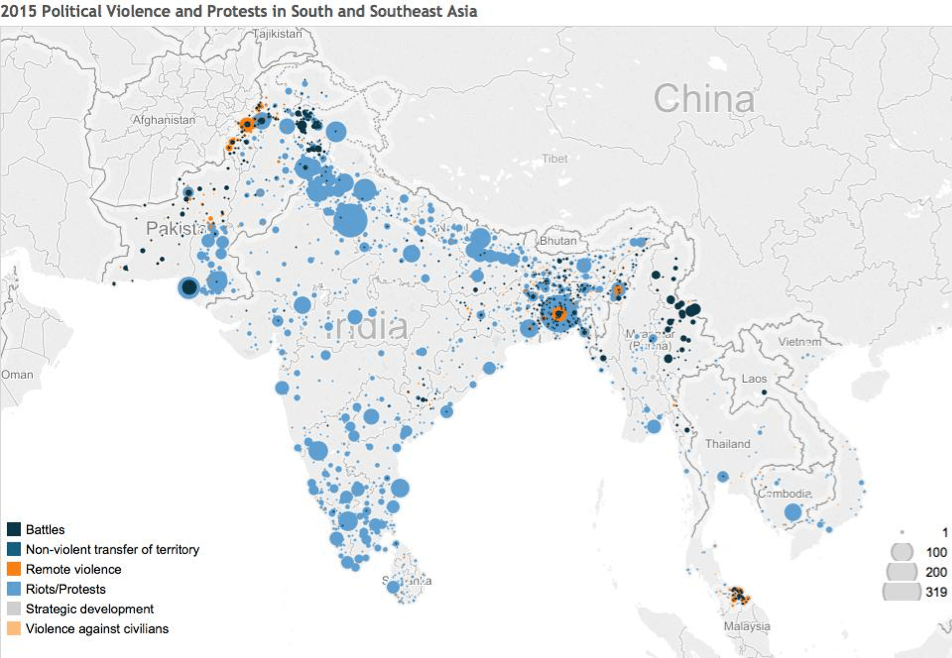 A Review: Violence in South and Southeast Asia 2015
Across the ten countries ACLED covered in 2015, the rates of political violence were significantly higher in India, Pakistan, and Bangladesh than elsewhere in South and Southeast Asia. Violence in India comprised more than half of ACLED Asia's 2015 dataset, followed by Pakistan and Bangladesh.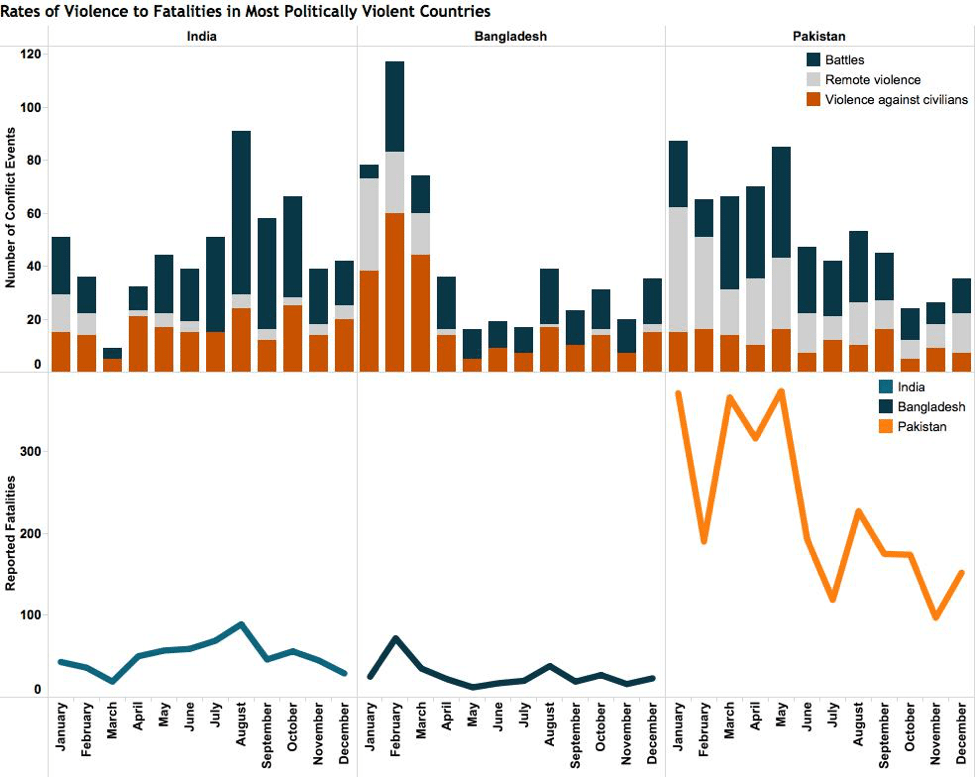 Pakistan's preponderance of political violence reflects the government's continuing military offensive, Zarb-e-Azb, whose objective includes eliminating military strongholds in the north (examined in the previous trend report). As indicated by Figure 2, violence in Pakistan resulted in the greatest number of fatalities. Approximately 4 deaths occurred for every battle in Pakistan. Reported fatalities overwhelmingly occurred in the Federally Administered Tribal Areas (FATA), Pakistan's most violent state. FATA and Balochistan both have mountainous terrain that is strategically used by violent actors. Government involvement against non-state actors was highest in FATA and Balochistan: state forces are involved in 75% of all battles and remote violence in 2015. Violent engagements between political militias and rebel groups (absent of any government intervention) were also highest in FATA and Balochistan, underscoring that these areas pose the greatest challenge to the Pakistani government despite the state's increased efforts to quell violence.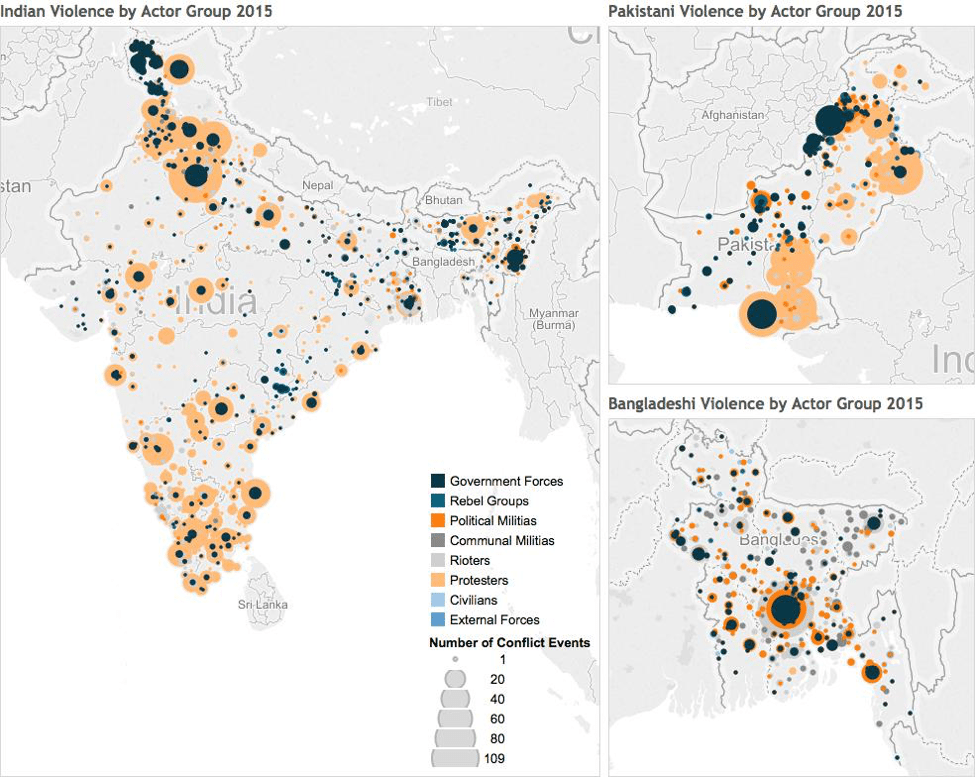 Comparably, India produced only 1.3 fatalities per violent interaction. India's largest threats to internal stability include: rebel groups in Jammu and Kashmir, CPI (Maoist)-led violence in the south and east, and ethnic militias and rebel groups in India's eastern states. Though violence in India remains isolated within high-conflict clusters, state forces are active in conflict regions. Violence in India remained concentrated in several isolated and often peripheral pockets of the state: Jammu and Kashmir in the West, Chattisgarh in the South, and several states in the Northeast: Assam, Manipur, Meghalaya, Jharkhand, Nagaland and West Bengal. While violence in Jammu and Kashmir dominated India's violent interactions (160+) in 2015, state forces were quite active in 97% of all violent interactions in the disputed territory. Indian forces' presence and response to violence committed by various rebel groups and militias violence in Jammu and Kashmir has been consistent. Chattisgarh revealed similar patterns, with Indian forces involved in 90% of interactions. In the south, however, the CPI (Maoist): Communist Party of India (Maoist) was an actor in nearly every violent event, quite the opposite from Jammu and Kashmir's abundance of actors. In India's eastern states, the government was involved in only 65% of violence. Unlike India's other pockets of conflict, government forces battled with local ethnic rebel groups and militias, fighting for state or national independence. Local groups like the National Democratic Front of Bodoland, the Garo National Liberation Army, and the National Socialist Council of Nagaland-Khaplang engaged frequently with the Indian state, though rarely fought each other. Violence between communal militias was also common in the eastern states, though rarely results in involvement from state forces.  
Across the border, Bangladesh's large scale violence in the first few months of 2015 emanated from a Bangladesh National Party (BNP) imposed hartal, or strike, which targeted civilians and opposing political militias across the country (See ACLED's Conflict Trends No.1). Fatalities peaked at 79 in February, though dropped off significantly following the conclusion of the hartal. Similarly, violence of all types in Bangladesh decreased drastically post-hartal. Throughout 2015, political violence resulted in less than a death per battle (.75), significantly fewer than its Indian and Pakistani neighbors. Groups that participated in the most violence included the BNP and Awami League Militias, the two groups responsible for feuding during the hartal. While other rebel groups such as Jamaat-e-Islami and the Islamic State have committed acts of violence in 2015, the frequency and scale of their attacks is limited in scope. Large scale violence led by political parties frustrated with political outcomes are the biggest threat to peace in Bangladesh.
Riots and Protests in South Asia
Protests constitute the majority of ACLED events (59%) occurring consistently throughout the year across the region. Riots occur at a lower rate in the region, constituting 17% of ACLED events. Nepal (1.34), Bangladesh (.37), India (.05) and Pakistan (.03) showed the highest records of riots per 100,000 population (World Bank, 2016) against significantly lower averages in Cambodia, Myanmar, Sri Lanka, Thailand, and Vietnam. As acts of spontaneous, civilian-involved instability, riots highlight societal and political tension points for average citizens in each country. They exact a significant human and economic toll: fatalities from riots in India (76), in Pakistan (40) and Bangladesh (48) underscore their destructive influences (see figure).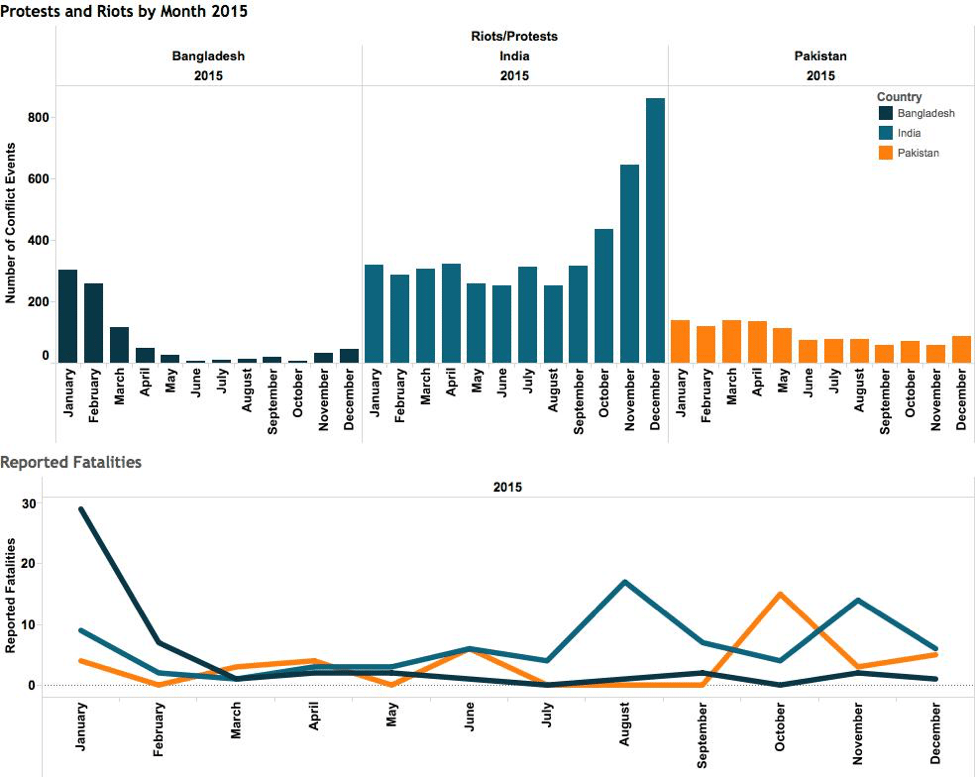 India recorded the most protests in the region (3,908); this comprised 76% of all events in India. India's northern states, including Punjab, Jammu and Kashmir, Uttar Pradesh, and Delhi accounted for a majority of India's protests. Tamil Nadu and Karnataka in the south also experienced widespread protests throughout the year. Consistent with the election cycle, Bihar's state election in November slightly increased the frequency of protests and riots, as did the Delhi election in February. The increase in protests/riots was not significant enough to warrant an overall national increase, as election related political activity remained overwhelmingly local. The largest and deadliest riots were motivated by issues of political rivalries and communal/religious identities. There had been speculation that the country could see more riots between religious groups since the Hindu nationalist Bharatiya Janata Party (BJP) won the Indian national elections in 2014 (Foreign Policy, 2015). Despite these concerns, the number of fatalities resulting from communally-motivated riots in 2015 remained small at 6. Several of this past year's largest and most deadly riots were related to caste and reservations (a form of affirmative action). Specifically, the Patidar caste reservation agitation, led by Hardik Patel, accounted for 14 of the 42 riot events recorded in Gujarat and resulted in 9 deaths. Members of Patidar community staged non-violent protests and rioted to demand Other Backward Class (OBC) status which would create quotas for their community in education and government jobs. 2016 ushered in a continuation of caste-related violence, as the Jat caste rioted throughout Haryana in February, killing 16 and causing water shortages throughout Delhi (Times of India).
In contrast, Bangladesh's outbreak of riots and protests during the hartal (an effort to force reelection) in January, February and March of 2015 significantly affected the national political landscape. Instead of riots and protests remaining local issues, the hartal spread to every state throughout the country. Levels dropped in March, tapering off as the hartal ended. Bangladesh experienced the large majority of its riots and related fatalities in January and February due to the political rivalry between the ruling secular, socialist Awami League (AL) and its opposition, the Islamic-ally oriented Bangladesh National Party (BNP) (ACLED May 2015 Trend Report). January's events marked the one-year anniversary of contested elections in Bangladesh, spurring riots to peak in January and February at 237 events (40%) and 170 events (29%) respectively. Post-hartel, riots remained at relatively low levels throughout the year.
Finally, Pakistani protests fluctuated throughout the year, with protesters demonstrating consistently about issues such as state failure to provide public goods, increases in prices of basic commodities (sugar, wheat), ineffective government policies surrounding education and minority rights as well as and local political issues. Geographically, Sindh's protests more than doubled that of the province with next greatest number of protests, Punjab. Punjab, too, recorded high levels of protests throughout the year followed by Khyber Pakhtunkhwa. Although riots occurred throughout the year, most riots in Pakistan happened in March and April, coinciding with increased activity by the Taliban during the spring. Political rivalries and religious tensions were also a significant feature of Pakistan's riot landscape in 2015. 45% of riots in Pakistan this year involved organized political groups, most frequently the Pakistan People's Party (PPP), and their political rivals, the Pakistani Muslim League (PML). 22% of riots recorded in Pakistan in 2015 were tied to elections. Local elections in late October 2015 proved to be a flashpoint for the deadliest riots, particularly in Khairpur, where 11 people died in a riot-turned-gun battle between supporters of the PML-F and the PPP–the deadliest riot of the year. Clashes between the PML and the PPP proliferated in Sindh province, where the PPP–not Prime Minister Sharif's PML party–controls the regional administration. This riot between rival supporters resulted in 11 deaths, prompting PPP officials to suspend the polls indefinitely. Election violence continued into November and December, with 12 more riots involving the PML-N, PML-F, and the PPP, 4 of which proved deadly, in Sindh and Punjab. Religious tensions in Pakistan fueled a small but significant number of riots in 2015. In March, a double suicide attack on two churches in Youhanabad (a Christian suburb of Lahore) resulted in 15 fatalities, sparking underlying religious tensions in that city and across the country. The rioting continued in Lahore for two days, and spilled over into nearby Kasur.  
Trends across Southeast Asia
Though India, Pakistan and Bangladesh were the most politically violent states in ACLED-Asia, pockets of persistent violence can be found in Northeast Myanmar and Southern Thailand. Myanmar's violent actors have been battling the state for decades,  but violence decreased from the first to the last quarter of 2015. Myanmar's patterns of violence are similar to Thailand's constant spate of separatist violence in the far south. Thailand's violent actors, however, have strategically remained nameless and random in attacking their targets, making government retaliation both difficult to search and neutralize separatists. Violence in Thailand occurred almost exclusively in southern border regions, targeting military and police as well as civilians associated with the Thai government. Nepal's violence ebbed throughout the year; it sparked and remained relatively high from August to December, as protesters demanded a new, more Democratic constitution. The scale of protests coincided with Nepali demands for a revised constitution. Cambodia, Vietnam and Laos did not report significant numbers of political violence episodes: ACLED-Asia recorded only a few dozen events throughout the year, though noted several protests that occurred throughout the year. Protests in these states were not correlated to election cycles but rather seemed to focus on timely issues impacting citizens' quality of life such as pollution.
This report was originally featured in the February ACLED-Asia Conflict Trends Report the fourth report in our series. The analysis is based on ACLED real-time and historical data on political violence and protests from ten countries in South and Southeast Asia. Monthly data updates are published through our research partners at Complex Emergencies and Political Stability in Asia (CEPSA) and are also available on the ACLED website.
Authors: Sarah Kaiser-Cross, Matt Phillips, Hillary Tanoff, Emily Whalen