Pakistan remains one of the most active conflict environments in South Asia. Throughout 2015, Pakistan's violence is concentrated into several high intensity geographic spaces; the most fatal, intense battles occurred primarily in the states of Balochistan and FATA (see figure below). Pakistani protests were heavily concentrated in Sindh, Punjab, and Khyber Pakhtunkhwa.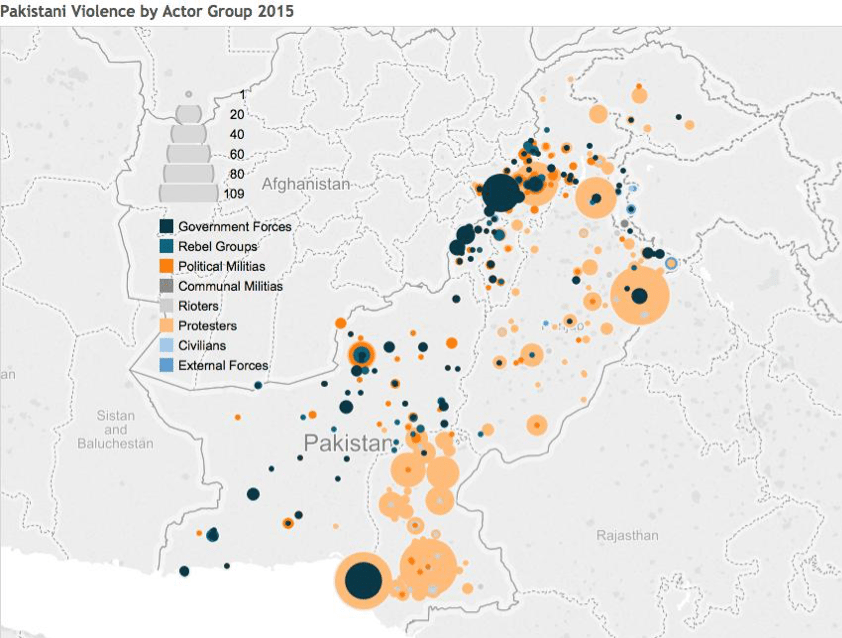 FATA is Pakistan's most violent space; 82 battles, airstrikes, and drone attacks occurred in January 2015 alone, marking the beginning of the year as Pakistan's most violent month as well as the most fatal, with 440 reported deaths. The most active agents in FATA included the Pakistani Armed Forces, Unidentified Armed Groups (UAGs), and Tehreek-e-Taliban (TTP). The Pakistani Armed Forces were involved in 75% of all violent activity that occurred in 2015, with a majority in FATA. TTP presence in FATA, however, has long defined the conflict space, with the U.S. and Pakistani militaries recently targeting rebel groups and militias operating the region to clamp down on terrorist threats. Other notable groups in FATA include Lashkar-e-Islam and the Hafiz Gul Bahadur Group. Combined with TTP and the Pakistani military, these groups accounted for 1,660 fatalities in 2015 or approximately 50% of fatalities related to political violence in 2015. Highly organized and effective, these four fatal organizations contribute significantly to FATA's unstable political climate.
In Balochistan, the Pakistani military was present for more than half of the violent interactions. State forces engaged largely with  UAGs or Baloch separatists, a nebulous formation of actors opposed to external involvement in Baloch affairs, fighting for an independent Balochistan. Attacks including Baloch separatists tended to involve large-scale operations, while UAGs tended to appear in smaller, individual, and less organized attacks. The consistent frequency of violence by unidentified actors in Balochistan, however, suggests a systemic lack of security in the region. The Baloch separatist movement has simmered in Pakistan for decades, but has drawn international attention this year, since the April 2015 agreement between Prime Minister Nawaz Sharif and Chinese President Xi Jinping for a $46 billion infrastructure aid package. The package's centerpiece is a China-Pakistan Economic Corridor, which cuts through Balochistan province. When Sharif visited the United States in October 2015, Baloch activists publicly protested the Prime Minister's public speech.
The busiest months for protests in Pakistan were January and March (see figure below). January's high protest numbers reflected the coordination of a wide coalition of civil society groups protesting the cartoons of the prophet Muhammad published in Charlie Hebdo. Jamaat-e-Islami, Jamiat Ulema-e-Islam, and Sunni Tehreek, and, significantly, Tehrik-e-Jafaria, a Shia activist group, organized country-wide protests that continued through the entire month of January.
Geographically,  the Sindh and Punjab accounted for 71% of all Pakistan's protests in 2015, with 46% of protests occurring in Sindh and 25% in Punjab. By December, Sindh saw a 48% decline in number of protests from its most active month, April. Members of the All-Pakistan WAPDA Hydro Electrical Union protested with the greatest frequency and consistency of all groups allied with protesters, organizing more than 70 protests in 2015. In March and October, union members rallied in cities across Punjab and Sindh against a move by Prime Minister Nawaz Sharif's government to privatize the Water and Power Development Authority (WAPDA). As of December 2015, WAPDA remains a state-run institution, but given the Pakistani Muslim League's previous push for widespread privatization in Pakistan in the first decade of the 21st century, it seems likely they will continue their efforts. Jeay Sindh Qaumi Movement (JSQM) and the All Pakistan Clerics' Association (APCA) followed WAPDA as the most frequent protesters in Pakistan, though a majority of the protests took place in Sindh and Khyber Pakhtunkhwa.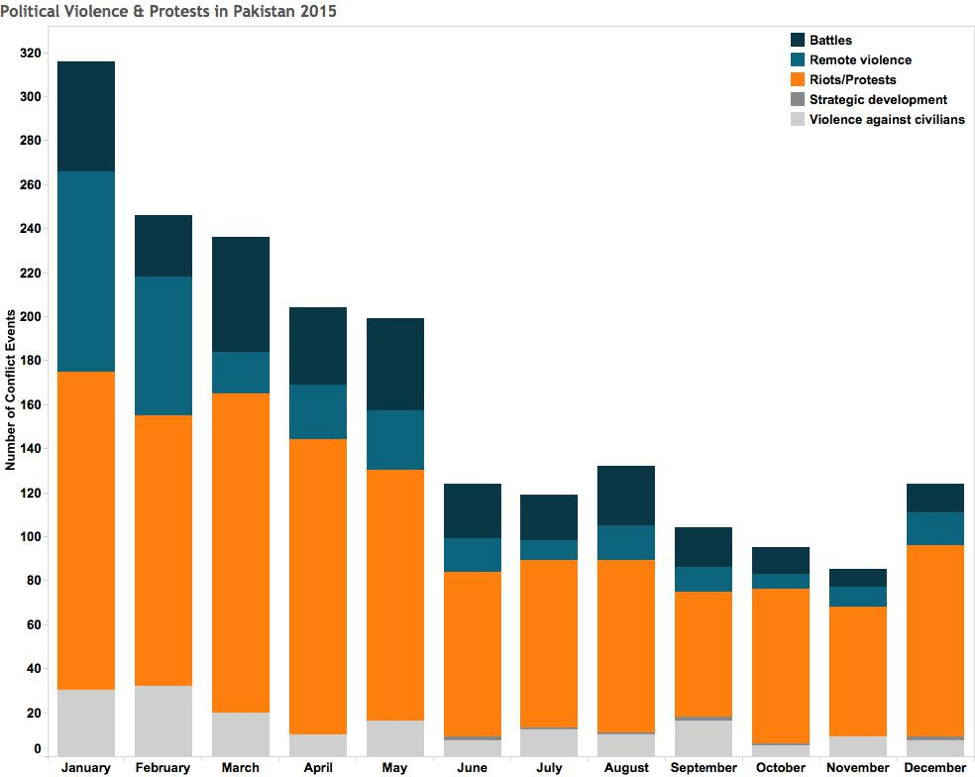 This report was originally featured in the February ACLED-Asia Conflict Trends Report the fourth report in our series. The analysis is based on ACLED real-time and historical data on political violence and protests from ten countries in South and Southeast Asia. Monthly data updates are published through our research partners at Complex Emergencies and Political Stability in Asia (CEPSA) and are also available on the ACLED website.
Authors: Sarah Kaiser-Cross and Emily Whalen