Zimbabwe conflict and protest events rose markedly in June through to August 2016 and reached their highest levels since November 2015 (see Figure 1). In this period, protests and riots accounted for the majority of events with only a small percentage constituting violence against civilians.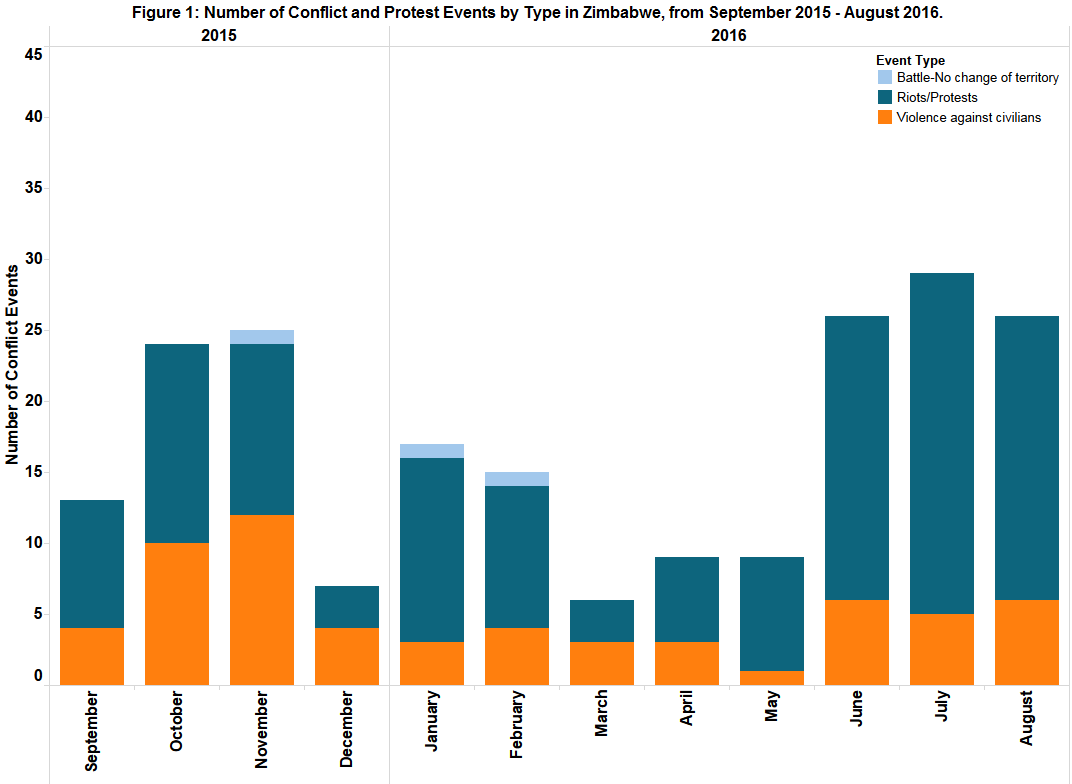 The rise in protest action is due to increased activism and mass mobilisation by civil society actors – trade unionists, workers and taxi drivers – who have mobilised against the mismanagement of the economy and high levels of corruption by the Zimbabwean African National Union-Patriotic Front's (ZANU-PF). While political infighting and competition for support in the run-up to the 2018 elections increased within and amongst Zimbabwe's largest political parties, non-governmental organisations and mass movements took their grievances to the street in attempts to alter the status quo.
The Zimbabwean State of Affairs
The first half of 2016 saw a relative decrease in violence and protest action. Yet, Zimbabweans are facing a worsening economic and political climate. The country is battling a deepening economic crisis as the country deals with severe cash shortages, resulting in unpaid salaries and the retrenchment of workers (The Chronicle, 9 June 2016; African Arguments, 4 July 2016). Unemployment in the formal sector is estimated at 90% and the government's recent policy to restrict certain imported goods such as bottled water, soaps and foodstuffs is forecast to negatively affect the large informal economy (Business Day, 21 July 2016).
Politically, Zimbabwe remains in a difficult and somewhat paralyzed position, as political parties are internally fractured. The succession battle within ZANU-PF has heated up with factions led by Grace Mugabe (G40), the wife of President Mugabe, and Vice-President Emmerson Mnangagwa (Lacoste) lobbying figures within and outside the party for support. The government continues to clamp down on Zimbabwe's media, and the security services within the country have routinely suppressed peaceful protests by opposition parties and political activists.
Civil Society and Protest Action
It is within this increasingly unstable economic and political climate that protests and demonstrations have increased over the past few month. Online campaigns such as #ThisFlag broke a 'taboo' of openly criticising the government and have been successful in mobilising Zimbabweans (African Arguments, 4 July 2016). The #ThisFlag campaign emerged when Evan Mawarire, a frustrated pastor based in Zimbabwe's capital of Harare, donned a Zimbabwean flag and gave an impassioned speech criticising the government on Twitter (African Arguments, 4 July 2016). The video attracted thousands of online views and encouraged others to emulate the pastor and air their grievances.
The growth of activism on social media during the electoral campaign is translating into protest action on the streets. On 1 June 2016, a 16-day sit-in began in Harare's African Unity Square in which various civil society organisations assembled to demonstrate against the deteriorating socio-economic situation as well as political oppression and widespread corruption in Zimbabwe (Bulawayo24, 29 June 2016).  Reports that Zimbabwean police forces arrested and beat several leading activists during the days of peaceful protests have served to reinforce the community. Similarly, protests took place in Harare when activists – including those from the National Vendors Union of Zimbabwe (NAVUZ) and #Tajamuka – protested at the Rainbow Towers Hotel against Vice-President Mphoko stay of 551 days in the hotel at the taxpayers' expense. The police response was similarly repressive.
Many of the demonstrators are those hardest hit by economic mismanagement, corruption and government policy. In July, a week of mass action engulfed the streets of Harare and Bulawayo, in which demonstrators vented their anger over unpaid salaries and corruption. During the previous week, rioters burnt a government warehouse in response to the unpopular import ban (The Chronicle, 25 July 2016).
The mass protest action in Harare, which was met with violent suppression from Zimbabwean security forces and the arrests of at least 100 people, continued throughout the week with demonstrators involving running battles with security forces in neighbourhoods throughout Harare and other areas of Zimbabwe. The demonstrations coincided with a three-day strike by teachers and nurses. Additionally, Pastor Mawarire's call for a nationwide        stayaway was, according to some reports, largely successful (Nehanda Radio, 18 July 2016).
Over the past few months of political unrest, the state's use of the violence to quash mass protests has been a common trend. Arrests, the use of tear gas, rubber bullets and intimidation are standard tools of the state when dealing with dissent. According to Figure 2, state forces – notably the Zimbabwe Republic Police (ZPR) – have used increased violence and force to quell riots and protests. More than half of riots and protest in July and August were met with force by state security forces, suggesting that while anti-government protests increase, so too does the violent reaction of the state in quashing such dissent.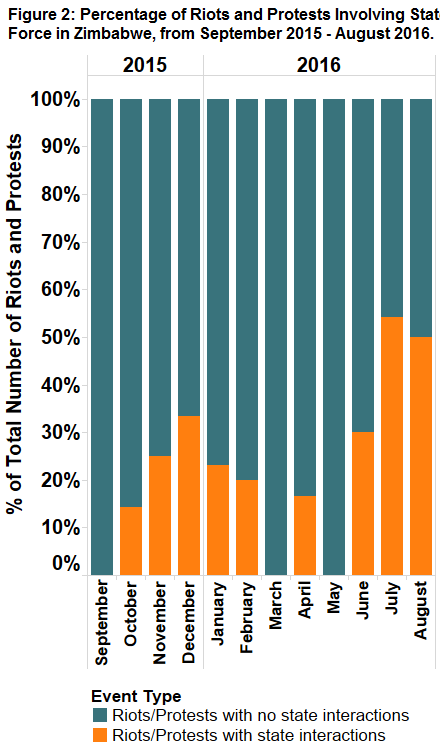 Zimbabwe has not witnessed demonstrations of this scale and intensity for some time; commentators suggest that ZANU-PF is rattled by such brazen and intense protest action; others that Vice President Mnangagwa may benefit from the discontent against Mugabe. What effect such mass mobilisation will have on the political and economic trajectory in Zimbabwe remains to be seen. Historically, the governments has used its security apparatus to quash dissent. The state's violent reaction to protests in June, July and August 2016 suggests that it will continue with this repressive trend.
However, the denouncement of President Mugabe in early August by his once staunch ally, the Zimbabwe National Liberation War Veterans Alliance (ZNLWVA), is perhaps a strong indication that Mugabe and the ZANU-PF are losing their once mighty grip on political power (New York Times, 21 July 2016). The level of resilience and patience amongst activists and the Zimbabwean citizenry at large will further play a crucial role if Zimbabwe is to escape the deepening crisis it finds itself in.