Riots and protests increased in Gabon since July 2016. The majority of these events are related to the candidacy and later re-election of President Ali Bongo Ondimba by a margin of 5,594 votes amidst calls of election fraud (Al Jazeera, 31 August 2016). The intensity and location of protests provides insight into the prospects of larger mobilisation in Gabon and offer preliminary insight into future instability. Despite the increased violence present in August and early-September, the limited geographical coverage of protest suggests a narrow opening for large-scale social and political change. Wider riots and protests may take place if defecting elites act to capitalise on Gabonese discontent.
To date, Gabon protests have remained relatively contained, with protest levels lower than March 2015. That period witnessed a series of public service strikes, and reactionary protests by students against the strikes in Libreville and Port Gentil. These fairly routine political protests fail to pose a challenge to the Gabonese administration who quell opposition momentum through concessions (U.S. Department of State, May 2015). The most recent electoral violence is a departure from the usually inactive political violence landscape, which saw only minor resistance against municipal election results by opposition Gabonese People's Union (UPG) in December 2013.
The anti-Bongo protests that started on 31 August erupted in three areas within three separate provinces, all of which have been the sites of prior protests (see Figure 1). Oyem, where a policeman was killed after being shot in the head by rioters, last witnessed a protest in April 2015; Port Gentil in March 2015 and in the capital, Libreville, postal workers held a strike in July 2016.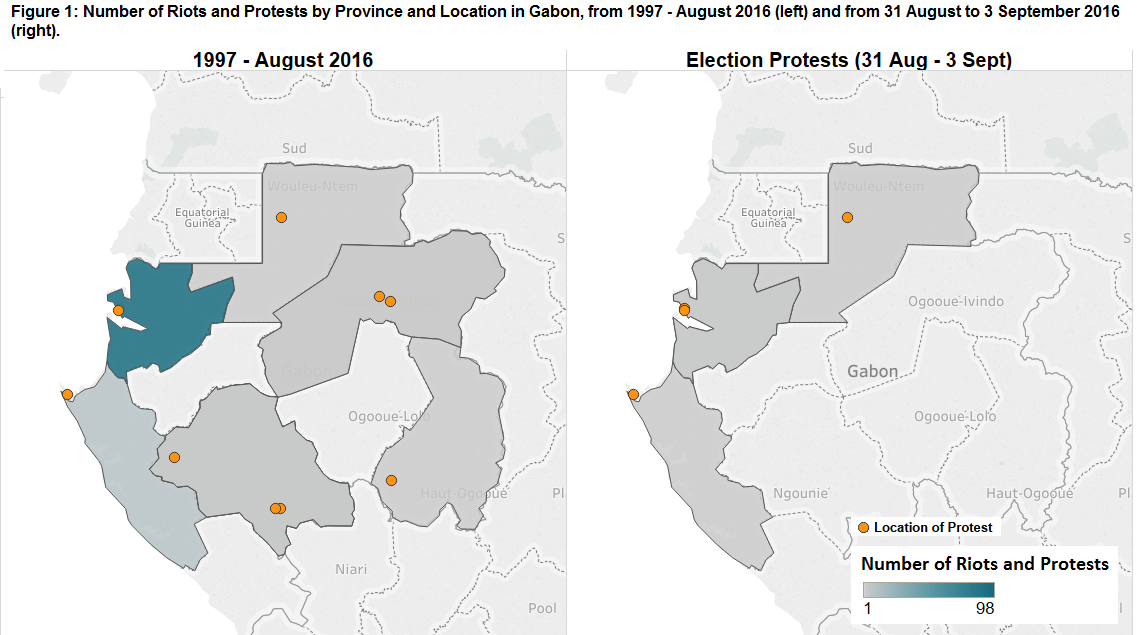 ACLED recorded 5 fatalities from the unrest from 31 August – 3 September. This compares to 11 fatalities for the entire period preceding these events since 1997. This indicates that despite the intensity of violence in the latest eruptions over Gabon's spurious election results, the geographical diffusion of the protests is yet to spread to new areas that haven't previously experienced protest. The lack of widespread protest coverage may demonstrate that opposition networks across Gabon are fragmented, so new nodes of mobilisation struggle to emerge to pressure the government. From this pattern, it appears that unless activists can unlock the capacity of surrounding regions to organise non-violently, protesters demands can be expected to continue to be channelled in limited locations with a heavy response from central security forces. By comparison, the Burkinabé uprising in October 2014 was successful in forcing a change of leadership when 10 out of 13 provinces protested against then-incumbent Blaise Compaoré.
Whilst the guarantee of a win for Ali Bongo was never truly in doubt (Africa Confidential, 26 August 2016), post-election fortunes and stability hinges on elite developments. Gabon's "competitive authoritarianism" (Africa Arguments, 22 August 2016) has somewhat been undermined by Bongo's overtly fraudulent behaviour and may signal a weakness in the central regime. With a tighter election race than in 2009, a more cohesive opposition, and defections from the PDG including Oyé-Mba and the resignation of Justice Minister, Seraphim Moundounga (BBC, 5 September 2016), this burgeoning opposition may build on protest momentum to unseat Bongo's and spoil his attempts to secure a second term.