In February 2017, ACLED released the second annual dataset of South and Southeast Asia political violence and protest data. This set covers events in 2016 across ten South and Southeast Asian states. Historical data from 2010 for each country are in the final stages of review, and Pakistan's data from January 2010-present are available for download.
In 2016, ACLED recorded 14,196 events of political violence and protests in South and Southeast Asia, an increase of 39.3% compared with 2015 (see Figure 1). The increase in events was mostly seen in India, and driven by protest (see Figures 2 and 3). Similar to 2015, India accounted for well over half of the events for the region. While the event count for the region as a whole increased, only Cambodia, India, Sri Lanka, and Thailand had an increase in event count, but the magnitude of the Indian count far surpasses the others.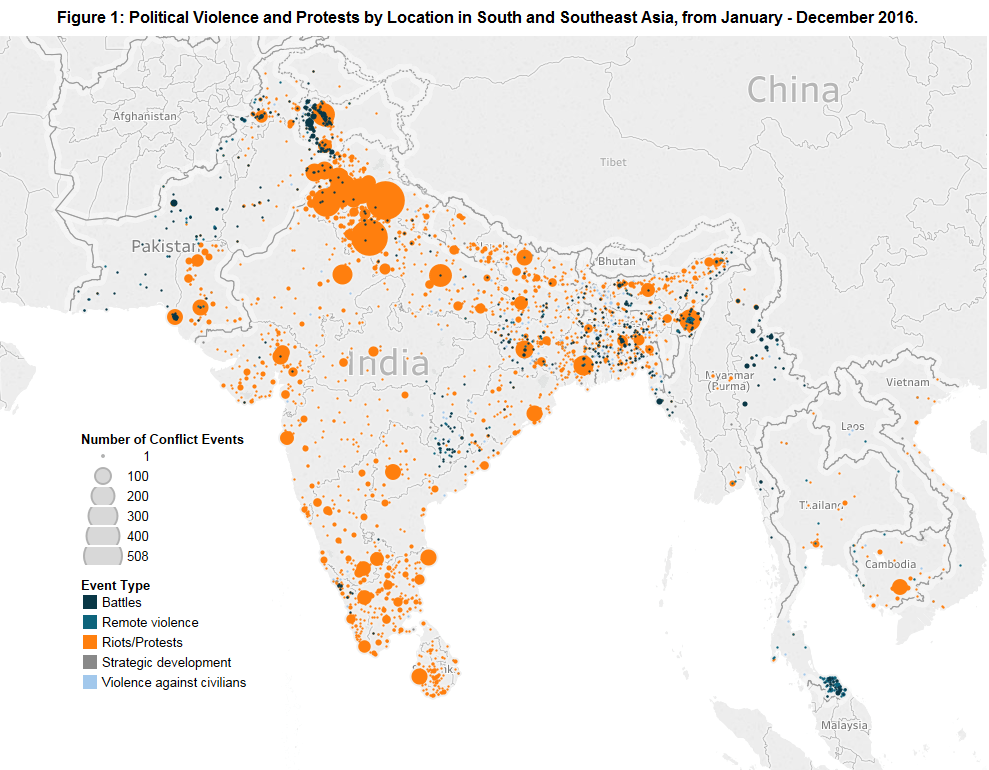 Riots and protests accounted for 83.7% of total conflict events, an increase of 6.9% from 2015. Riots and protests decreased in every country besides Cambodia, India, and Sri Lanka. India demonstrated the largest increase, more than doubling from 2015 to 2016. Large demonstration movements included targeting of the Dalit community – a topic explored in our September 2016 Trend Report, as well as the conflict in Jammu and Kashmir, which is explored in the India and Pakistan relations section of this trend report.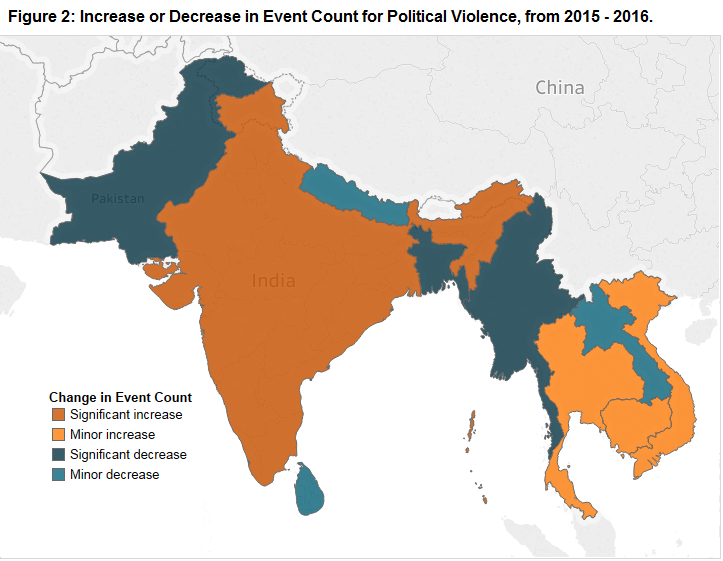 The other major event types that ACLED recorded consisted of battles between armed groups, violence against civilians, and remote violence comprising only 7.1%, 5.2%, and 2.7% of the event count for 2016 respectively. Geographically, most battles are clustered in the following areas: along the line of control (LOC) between Pakistan administered Azad Kashmir and Indian administered Jammu and Kashmir; in the Shan and Kachin states in Myanmar (see the previous trend report for the ongoing conflict in the northeastern states of Myanmar), despite a large decrease from 237 to 100 battles from 2015 to 2016; several states in eastern India also saw clusters of battles throughout 2016. Levels for violence against civilians stayed relatively stable for the region from 2015-2016. Yet, they remain significant at 28 % of total reported fatalities.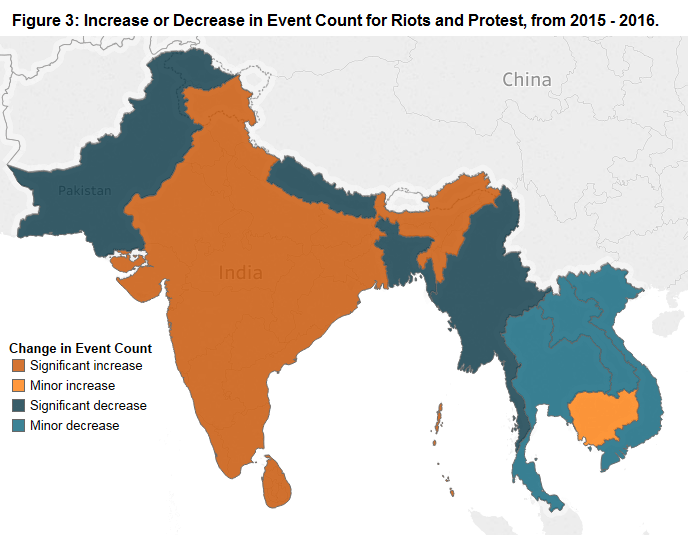 The number of conflict-related fatalities for the region decreased by 40% from 2015. This decrease was mainly due to declining fatalities in Pakistan from 2,791 to 1,196. While Pakistan accounted for a little over half of total fatalities in 2015 at 57.3%, it still accounted for almost half of total fatalities in 2016 at 40.7%. India and Thailand experienced an increase in reported fatalities, with India almost doubling its reported fatalities from 2015 (see Figure 4). However, these increases were clearly not enough to counteract the major decrease in fatalities from Pakistan, as Pakistan remained the largest contributor to the count of reported fatalities.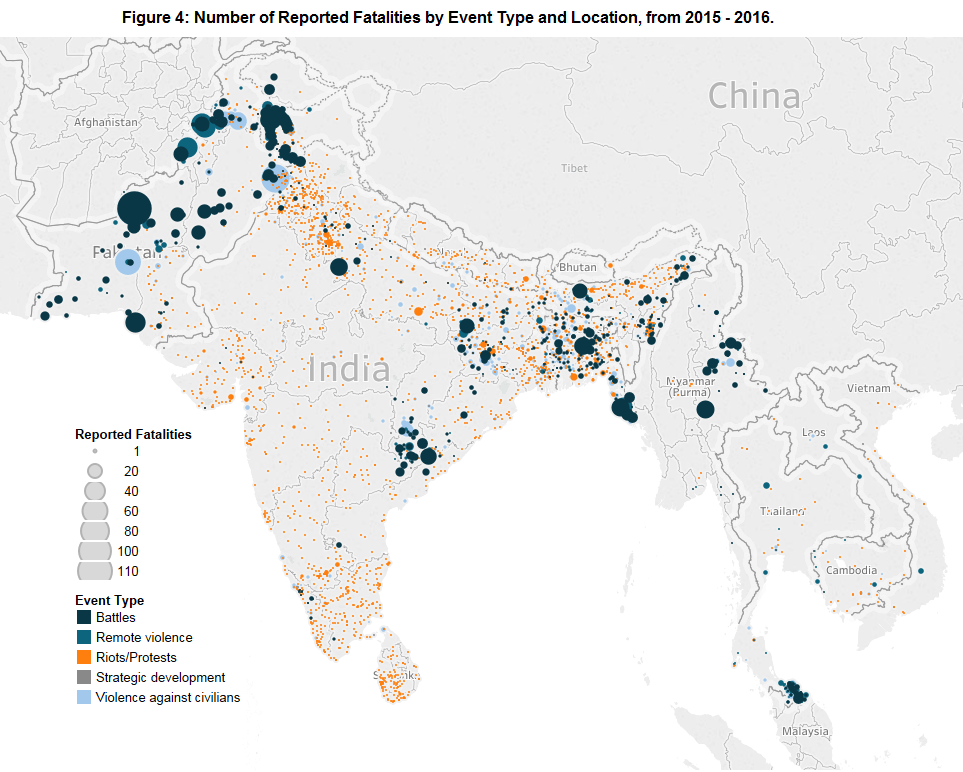 In summary, while the overall event count in South and Southeast Asia has increased from 2015 to 2016, this mostly has been due to a large increase in the number of riots and protests throughout India. Without riots and protests, the event count for political violence in South and Southeast Asia actually slightly decreased from 2,358 events to 2,310 events from 2015-2016, suggesting that political violence has remained stable in the region.
Over the past two years, topics that ACLED Asia Trends covered include: the recent increase in ISIS activity in Bangladesh with a focus on the hostage crisis from July; the large-scale protests by the Dalit caste occurring in India; an overview of data collected from the disputed territory of Jammu and Kashmir; electoral violence in West Bengal and Bangladesh; targeting of religious minorities in Pakistan;  a focus on Pakistan's most violent spaces; the rise of conservatism in India; Myanmar's tenuous peace with rebel groups; Thailand's conflict environment from 2010-2015; large scale attacks on civilians in 2015; protests on issues surrounding the quality of life in Cambodia and Vietnam; a review of violent groups who target civilians, as opposed to military targets; Operation Zarb-e-Azb; land conflict in India.