The South Asian countries of Afghanistan, Pakistan, and Nepal saw a continuation of political violence during the week of February 18, whereas the political environment in Southeast Asia, according to media reports, remained calm with no incidences of political violence or protests being reported.
Cambodia held a peaceful — however, highly criticized — General Election on February 25. Following a crackdown on opposition parties in the months leading up to the election, Hun Sen's ruling Cambodian People's Party claimed a landslide victory, further strengthening the county's one-party rule (Channel News Asia, February 26, 2018).
In Afghanistan, both Taliban and Islamic State militants targeted the National Directorate of Security (NDS) personnel three times this past week. The first attack was a Taliban ambush on the Kapisa province NDS chief, Gulab Din, in Bagram district of Parwan province. The other two were suicide attacks targeting NDS offices in Lashkargah city (by the Taliban) and Kabul (by the Islamic State).
The political environment in Nepal remained tense this week with the Netra Bikram Chand-led Communist Party of Nepal (Maoist)'s (CPN[M]) call for a nation-wide general strike on February 20. The group is demanding the release of its leaders and cadres who had previously been arrested during a party event in Biratnagar of Morang district on February 18. While the strike remained largely peaceful, there were some reports of suspected CPN(M) supporters planting IEDs as well as attacks on civilians.
While there was no notable change in the conflict trends in Pakistan, there have been several protest movements over the last few weeks. Following the Pashtun Long March in previous weeks, where protests erupted throughout the country against the extra-judicial killing of Naqeebullah Mehsud, this week's protests occurred throughout the FATA and Khyber Pakhtunkhwa regions in response to the torture and murder of Ahmed Shah, a Pashtun student, in Karachi on February 16.
Ongoing protest movements continued in Bangladesh, Indonesia, and Sri Lanka. Bangladesh Nationalist Party (BNP) members and supporters continued to stage protests across the country against the special court's verdict that sentenced their chairperson, Khaleda Zia, to five years' imprisonment and her eldest son, Tarique Rahman, and four others for ten years in a graft case.
Similarly, in Indonesia, transportation and ride-hailing drivers continued their agitation against the Jakarta administration's recent policies that increased the number of public Angkots (mini-vans) and forced regulation of online ride-hailing services.
In Sri Lanka, the long-standing issue of the education privatization in connection with the South Asian Institute of Technology and Medicine (SAITM) again erupted with university students staging an anti-SAITM protest in the country's capital Colombo.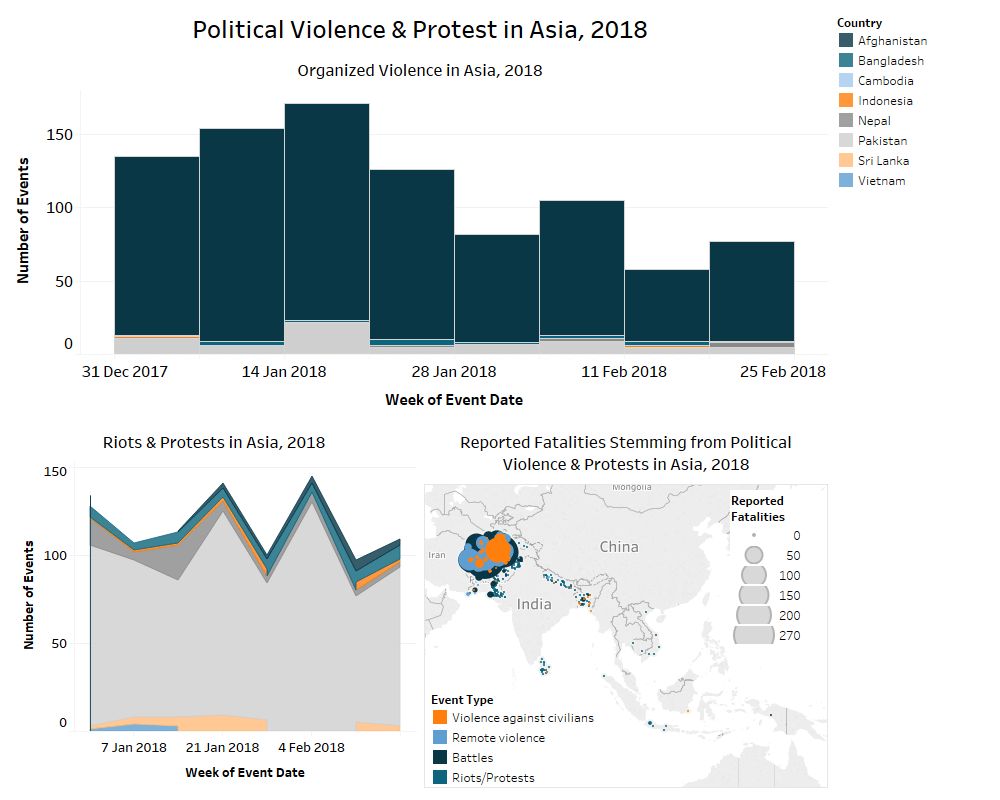 (Data on India [including Jammu & Kashmir], Thailand, and Myanmar have not yet been released; trends are hence not explored above.)