As Turkish and allied Syrian faction violence has decreased after their March 2018 capture of Syria's Afrin border region from Kurdish forces, questions remain about Turkey's plans for further operations in Kurdish-controlled areas of northern Syria. While the Afrin operation, known as "Operation Olive Branch," was not Turkey's first military foray into Syrian territory,[1] the patterns of violence exhibited by Turkish and Syrian Olive Branch forces in Afrin shed light on what continued Turkish military offensives in Syria might look like in the future. Turkish rhetoric suggests that their forces are to continue eastward towards Kurdish-held areas of Ar-Raqqa and Al-Hasakeh provinces.
Comparative analysis of the actions of Turkish forces and Syrian Olive Branch factions (when working jointly or independently) reveals distinct patterns of violence and geographic areas of focus for both elements of the operation (see maps below).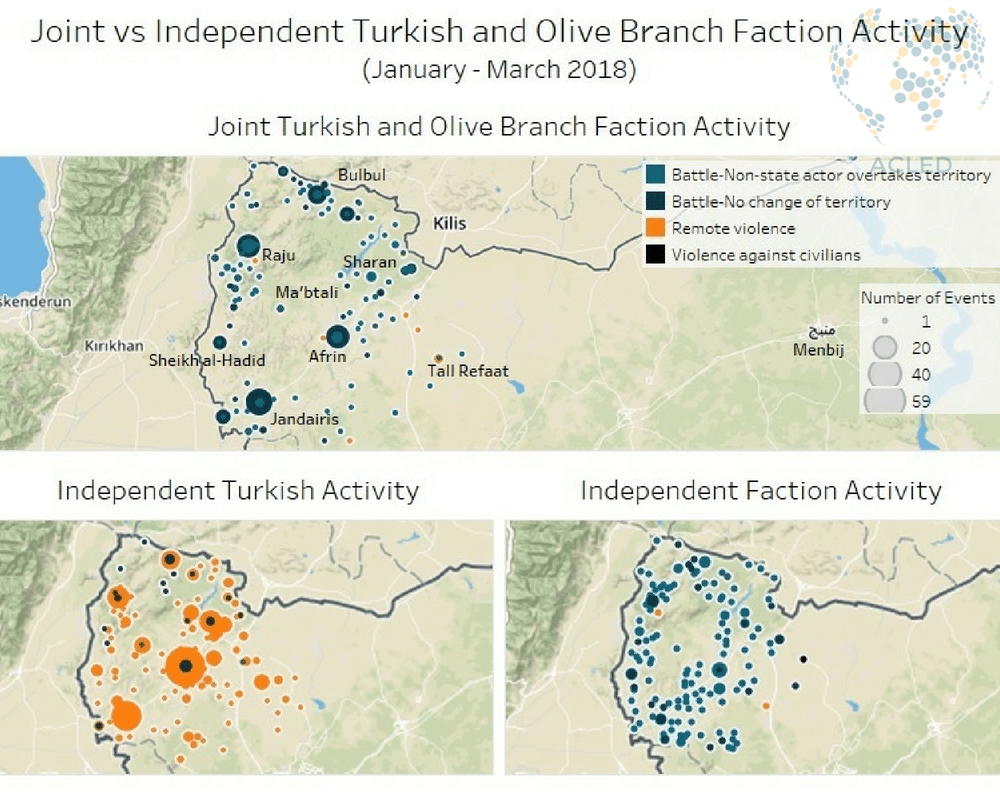 As shown in the maps above and further detailed in the table below, analysis of ACLED data shows that the majority of independent Turkish action consisted of remote violence events (shelling and airstrikes) which intensively targeted major towns and cities; these acts were supplemented with less intense targeting of rural areas (see table below). However, when working alongside Olive Branch factions, Turkish ground forces were heavily involved in the capture of major border towns and cities, including the final capture of Afrin city. Turkish forces helped to secure these strategic locations as Olive Branch factions worked independently to gain control of the connecting countryside.



Turkish President Erdoğan himself has clearly stated his plans to clear the remainder of Syria's border with Turkey of Kurdish forces (Associated Press, 2018). The Turkish government consider Kurdish groups such as the People's Protection Forces (YPG) as "terrorist" offshoots of the Kurdistan Workers Party (PKK), a group which has mounted a decades-long insurgency in southeast Turkey. Turkish forces remain entrenched across northern Syria maintaining control of recently taken towns, creating new administrative institutions (SOHR, 2018), and establishing new "observation" points to monitor the Astana peace deal (Kishi and Raleigh 2018). Turkey has not showed any signs of decreasing its physical presence in northern Syria, despite the risk of coming into conflict with U.S. forces if it continues eastward.[2]
If an eastward offensive were to take place, patterns of violence during the Afrin operation hint at what might be expected: widespread Turkish shelling and airstrikes, joint Turkish and faction ground offensives to take key border locations, and reliance on those same factions to capture and maintain control of the territories in between.
[1] From August 2016 to March 2017, Turkish and allied Free Syrian Army factions carried out "Operation Euphrates Shield" in northern Syria. The operation aimed to clear Islamic State fighters from areas along the Turkish border as well as to stop Kurdish People's Protection Forces (YPG) from advancing to the west of the Euphrates River, a move which would have allowed them to link the three autonomous Syrian Kurdish cantons along the border with Turkey (Al Jazeera, 2017).
[2] Possibilities for further Turkish operations in northern Syria are deeply intertwined with the political and military decisions of other international forces active in Syria, including the United States and other Global Coalition Against Daesh members who are NATO allies to Turkey, as well as Russian forces who have been negotiating the handover of the strategic town of Tall Refaat in northern Aleppo to Turkish Forces.