A low-level insurgency in Tunisia's western mountains is taking an increasing toll on civilians, particularly shepherds, in the first half of 2018.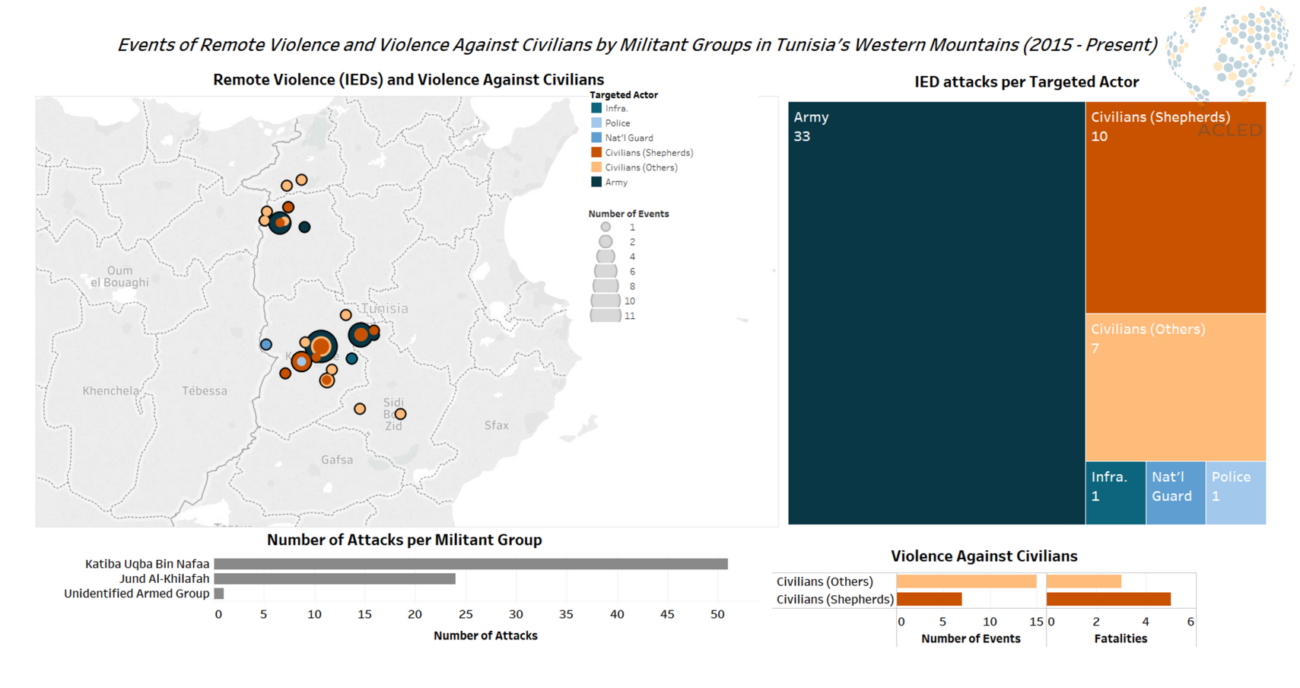 Beginning in the wake of the 2010 Revolution, there has been an ongoing insurgency of intermittent intensity in Tunisia. In 2015, there were several high-profile terror attacks against tourist sites and security personnel, namely at the Bardo Museum in Tunis (Leaders, 2015), the tourist resort of Port El Kantaoui (Jeune Afrique, 2015), and an attack on a Presidential Guard bus in Tunis (Huffpost Maghreb, 2015). These were followed by a cross-border raid in 2016, by Tunisian Islamic State militants based in Libya, who attempted to seize the border town of Ben Guerdane (L'Express, 2016) and establish an "Emirate" or zone of influence (Tuniscope, 2016).
Since 2015, Tunisian defence and security forces have gradually improved their counter-militancy capabilities (Herbert, 2018) and have effectively gained momentum and managed to contain the low-level insurgency in the country's western mountains, with international support for capacity building, including training, equipment, military advisors, and ISR – Intelligence, Surveillance, and Reconnaissance (Washington Post, 2016). Nevertheless, they have not been able to dislodge Katiba Uqba Bin Nafaa (KUBN)[1] and Jund al-Khilafah (JAK-T)[2] the militant groups that occupy the western mountains on the Algerian border.
KUBN and JAK-T use similar strategies, primarily focusing on military and security personnel (See Figures 'IED attacks per Targeted Actor'). Essentially both groups share a common substratum, represented by the quasi-defunct Ansar al-Sharia network. JAK-T is also a KUBN offshot. KUBN is larger – it has more combatants, greater military capabilities, and a wider area of operations. KUBN was responsible for more than twice the number of attacks as JAK-T over the reported period (See Figure 'Number of Attacks per Militant Group'). KUBN is also less isolated, benefiting from a close relationship with AQIM militants on the Algerian side of the border, especially the brigade known as Katibat al-Fath al-Mubin, which is active in Tebessa, El Oued, and Khenchela.
Even though the primary targets of the militants in the mountains are military and security personnel, their protracted presence has had a significant impact on the local population, who are regularly subjected to looting, threats, assaults, and IEDs, (See Figure 'Remote Violence (IEDs) and Violence Against Civilians'). A large part of the mountains and adjacent areas in the governorates of Kasserine and Kef have been declared closed military zones, however locals are dependent on these spaces to access pasture, water, and firewood. Because they venture into the active zones seeking essential resources, shepherds are disproportionately targeted by the insurgents. While IEDs are indiscriminate, and such attacks against civilians supposedly not intentional, there is another important dimension to this, specifically the use of shepherds by the army and national guard personnel for intelligence gathering. While civilians ("non-shepherds") have been subjected to a larger number of violent assaults, the shepherds have suffered more incidents of fatal violence and IED attacks, according to data gathered by ACLED for the period 2015 to present (See Figures 'IED attacks per Targeted Actor' and 'Violence Against Civilians').
KUBN and JAK-T militants occasionally raid hamlets and villages adjacent to the mountains to resupply and conduct identity checks on people in the area, although indiscriminate targeting of civilians is not one of their characteristics. However, both groups have executed shepherds. In late 2015, KUBN executed two shepherds – Nejib Guesmi near Sidi Harrats at Mount Semmama, Kasserine (Kapitalis, 2015), and Sami Ayari at Mount Ksar El Guellal, in Kef (Réalités, 2015). JAK-T also executed a shepherd in 2015 – Mabrouk Soltani, at Mount Mghila in Sidi Bouzid (Jeune Afrique, 2015). Soltani's brother was executed by JAK-T in the same area in 2017 (Webdo, 2017).
KUBN and JAK-T published videos showing the victims being interrogated about their activities. These videos were aimed at deterring people from collaborating with the defence and security forces. Each of the videoed victims described how they had been recruited by the army and national guard personnel, and the amounts of money they were paid to report on militant movements and camp locations.
On 23 June 2018, KUBN militants captured a shepherd named Lamjed Griri in western Mount Chaambi. Griri was assaulted and tortured – it is believed that the militants cut off his nose, an echo from the Algerian liberation war. While Tunisian media described the incident as an assault and livestock theft (Mosaique, 2018), KUBN itself accused the shepherd of being a "spy". In a lengthy statement, the group disputed the circumstances of the victim's death (Jihadology, 2018), claiming its militants "roughed him up" and that they had, on a previous occasion, "arrested", interrogated and warned Griri and another "spy". The militants released Griri in a critical state (Réalités, 2018), although the military vehicle that secured his medical evacuation overturned, resulting in seven wounded soldiers (Mosaique, 2018).
The subject of the use of shepherds for intelligence gathering by the Tunisian Armed Forces and the National Guard, as well as the shepherds' own motivations for engaging in such activities, has been widely and wildly debated in the Tunisian media. One thing is certain, shepherds are an overrepresented target group, at least six incidents related to militant activity have involved shepherds during the first six months of 2018, this represents most of the events of Remote Violence and Violence Against Civilians in the western mountains, but also the highest frequency ever recorded.

[1] Katiba Uqba Bin Nafaa is a Tunisian affiliate of Al-Qaeda in the Islamic Maghreb (AQIM)
[2] Jund al-Khilafah Tunisia or Soldiers of the Caliphate is a Katiba Uqba Bin Nafaa-splinter which in 2014 pledged allegiance to Abu Bakr al-Baghdadi and the Islamic State.