Pennsylvania accounts for 4% of the total number of demonstrations associated with the BLM movement reported across the United States since the start of last year. More than 97% of all pro-BLM demonstrations in the state have been peaceful. Philadelphia and Pittsburgh, the first and second largest cities in Pennsylvania, account for over a quarter of all pro-BLM demonstrations in the state, but nearly three-quarters of all demonstrations that turned violent or destructive. Erie, the fourth largest city, and Harrisburg, the state capital, account for the remaining demonstrations that turned violent or destructive. 
Law enforcement in Pennsylvania engaged with demonstrators associated with the BLM movement at lower rates than the national average: authorities intervened in approximately 6% of all demonstrations, relative to 10% of demonstrations nationwide. Despite the lower overall rate of engagement in the state, the rate of intervention was higher than the national average in Pennsylvania's major cities. About two-thirds of all police interventions in the state occurred in Philadelphia and Pittsburgh, where authorities engaged in approximately 17% and 12% of all pro-BLM demonstrations, respectively. Police in Philadelphia used force over 80% of the time when intervening in demonstrations, whereas Pittsburgh police used force over 85% of the time.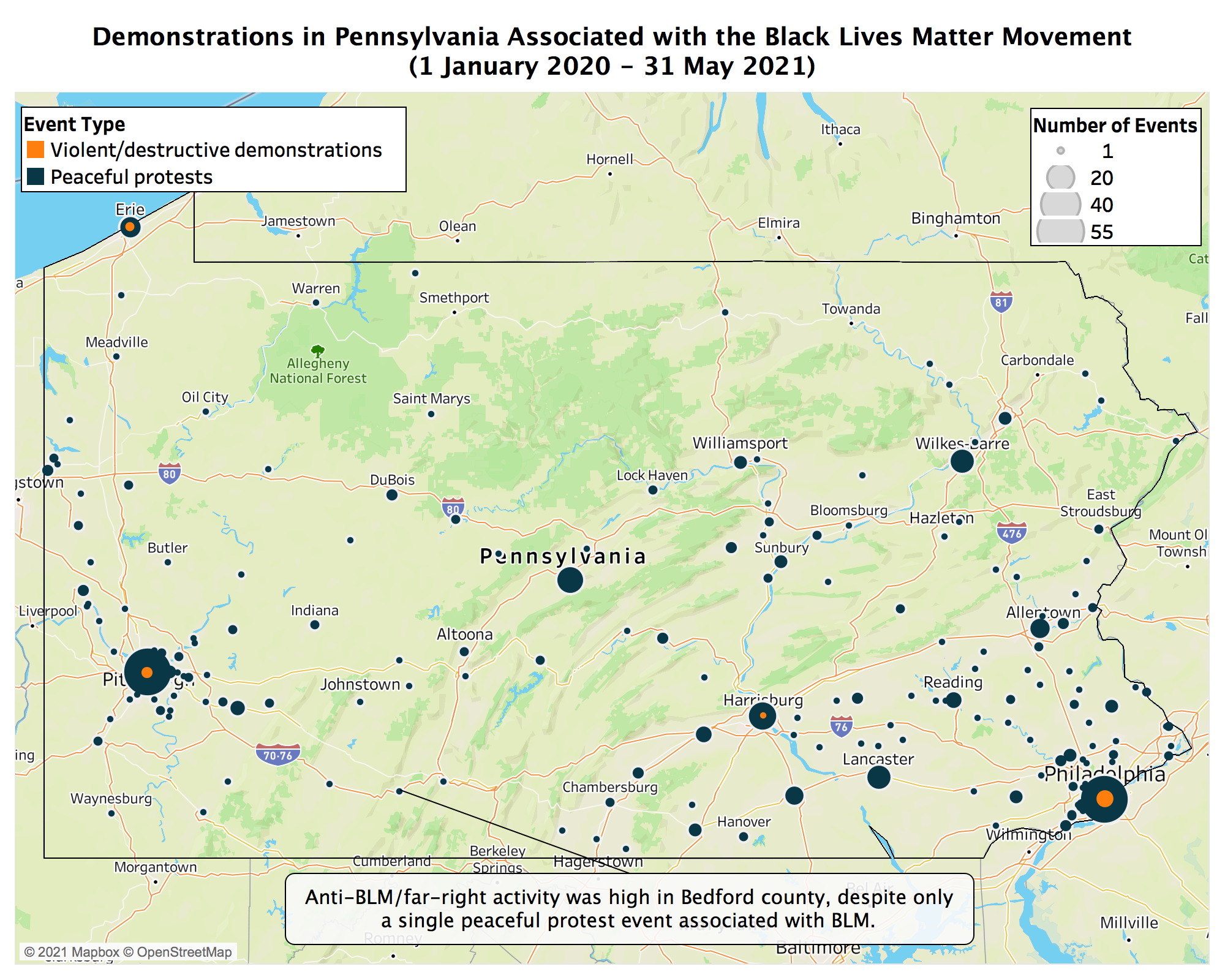 Law Enforcement Response
Authorities in Pennsylvania used force against pro-BLM demonstrators at a rate greater than the national average, especially in the initial two weeks of demonstrations following George Floyd's killing on 25 May 2020. Over 70% of events in which authorities used force against demonstrators took place in the seven days from 30 May 2020 to 5 June 2020, with over two-thirds of these incidents occurring in Pittsburgh and Philadelphia. However, after 5 June, no reported pro-BLM demonstrations in Pittsburgh included violence, and less than 8% of demonstrations in support of the BLM movement faced law enforcement intervention. Despite the lower rate of engagement, Pittsburgh police continued to use force in 75% of the cases in which they intervened — significantly higher than the national average. Conversely, while some violent or destructive pro-BLM demonstrations were reported in Philadelphia after 5 June, 95% of all BLM-related demonstrations remained peaceful. Philadelphia police intervened in over 9% of these pro-BLM demonstrations and used force 60% of the time when responding. The correlation between more peaceful demonstrations in the two cities and lower rates of police intervention and force after 5 June underscores the connection between police engagement and demonstrator behavior in the two cities.
In addition to elevated intervention rates in Philadelphia compared to the national average, Philadelphia police were accused of using unwarranted and excessive force against demonstrators during multiple events. After videos emerged showing authorities using excessive force against pro-BLM demonstrators in Philadelphia in the days following George Floyd's killing, the police commissioner opened investigations into accusations of officer misconduct (Fox 29 Philadelphia, 5 June 2020). In one case, police and city leaders ultimately admitted that the aggressive law enforcement response was "unjustifiable" and apologized for early statements accusing peaceful protesters of engaging in violent activity (New York Times, 25 June 2020; Fox29 22 July 2020; Philadelphia Inquirer, 25 June 2020). The rapid investigation process, coupled with pressure from national media coverage and campaigns from human rights organizations like Amnesty International (New York Times, 25 June 2020; Amnesty International, June 2020; Philadelphia Inquirer, 25 June 2020), may have had a twofold effect — lowering the incentive for officers to engage in action that could result in subsequent charges, and raising demonstrator confidence in their safety. However, a strong correlation also remains between shows of police force and rioting activity, especially in Philadelphia. For example, in late October, officers in riot gear arrived at peaceful demonstrations organized to call for justice for Walter Wallace Jr., a Black man killed by police, which subsequently turned violent and included intense clashes between demonstrators and authorities (BBC, 28 October 2020; WHYY, 29 October 2020). Following these clashes, the Philadelphia City Council passed legislation banning the use of tear gas, rubber bullets, and pepper spray against protesters, again amid local and national pressure (WHYY, 29 October 2020). Notably, all reported pro-BLM demonstrations following the ban have remained peaceful and reports indicate that police have largely refrained from intervening.
Far-Right Response
In addition to law enforcement, far-right actors — ranging from militias and street fighting organizations to vigilante groups — directly engaged with pro-BLM demonstrations throughout Pennsylvania or expressed direct opposition to the core demands of the movement. Pennsylvania is particularly notable for several key trends: the role of rumors in driving out participants from both the militia milieu and other right-wing elements, the multiple shots fired in opposition to pro-BLM protests, and the militant right-wing response to BLM and associated movements. Right-wing actors that engaged with pro-BLM demonstrators in Pennsylvania include Proud Boys and the Light Foot Militia as well as pro-police groups, unidentified communal militias, and white nationalists. 
The power of rumors is crucial to driving the activity of militias and other right-wing actors looking to respond to leftward threats. On 4 July 2020 in Gettysburg, Pennsylvania, there were claims that antifascists and pro-BLM demonstrators were going to gather to burn American flags. In response, multiple militias turned out following organizing by the head of the Pennsylvania Volunteer Militia, who previously ran the Pennsylvania Light Foot Militia. Other groups, such as the Proud Boys and Boogaloo adherents, also joined the Pennsylvania militia groups at Gettysburg (Evening Sun, 4 July 2020). Militias in attendance claim they were there to protect demonstrators should people show up, but a man visiting a gravesite wearing a Black Lives Matter shirt was assaulted by a group of right-wing activists and no militia intervened to safeguard them (Penn Live, 12 September 2020; Reconstruction Era, 5 July 2020). 
On 24 August 2020 in Juniata Township, a white father and son fired on a group of pro-BLM activists without provocation during a civil rights march from Milwaukee, Wisconsin to Washington, DC, injuring one demonstrator. Police erroneously issued an initial statement that there was an exchange of fire between the pro-BLM demonstrators and the father and son, which was later "fixed" by a corporal after demonstrators who were interviewed by police complained about the initial report (WJAC, 25 August 2020; Spotlight PA, 30 September 2020). Following the inaccurate police statement, multiple incidents were reported in the area the next day. In the late afternoon, a large crowd of armed white men and women gathered at the Bedford County Courthouse, reportedly "awaiting Black Lives Matter marchers" after hearing that pro-BLM demonstrators intended to burn down the courthouse (WTAJ, 25 August 2020; Tribune-Democrat, 3 September 2020). After the marchers did not appear at the courthouse, a group left and drove to the nearby Hampton Inn, where pro-BLM demonstrators were attempting to stay, but were reportedly rejected by the hotel owner (Tribune-Democrat, 3 September 2020). One man then fired shots into the air while standing in the parking lot, apparently in an attempt to hasten the departure of the pro-BLM demonstrators (Patriot-News, 26 August 2020). The experience of peaceful pro-BLM demonstrators in Bedford county illustrates the motivating power of rumors in driving militia activity, even in a rural county of a state in which 97% of demonstrations associated with the BLM movement were peaceful and all violent or destructive demonstrations occurred in major cities.
One of the most vocal militia-affiliated critics of the BLM movement in Pennsylvania is Dylan 'Angry Viking' Stevens, who started a loosely-organized pay-to-join group, often referred to as simply 'Angry Vikings.' Regardless of the firmness of the 'Angry Viking' group structure, Stevens has been quite influential with the armed right in some areas of the country and was able to get people to take to the streets in Harrisburg around the election (Penn Live, 7 November 2020; HuffPost, 7 November 2020; Reuters, 7 November 2020). Stevens, in an interview clip posted to his now-banned YouTube channel, claimed that evidence indicating most pro-BLM demonstrations were peaceful was a "myth." 
Pennsylvania has also seen well-attended vigilante patrols conducted by different groups throughout major cities. In south Philadelphia, white vigilantes rallied to protect a Christopher Columbus statue in Marconi Park, assaulting a journalist with bats and knifing his bicycle tires while he filmed (Unicorn Riot, 14 June 2020; Twitter @GeorgeSolis, 14 June 2020). One such vigilante group, who call themselves 'The Gravy Seals,' also pledged to guard the statue "around the clock" and would not allow the statue to be removed (CBS 3 Philly, 12 August 2020). Philadelphia police were criticized for standing by or marching alongside mostly white vigilantes who carried bats, hammers, and other crude weapons — a stark contrast to the frequently violent engagements between police and peaceful pro-BLM demonstrators in the city (Philadelphia Inquirer, 26 June 2020).
Top line statistics: January 2020-May 2021
Pennsylvania
National Rate
Pro-BLM demonstrations that did not involve violence, destructive activity, vandalism, or looting
456
(97% of events)
10,915
(94% of events)
Total Pro-BLM demonstrations that were met with law enforcement intervention
27
(6% of events)
1,179
(10% of events)
Total Pro-BLM demonstrations that were met with force during police intervention
18
(66% of events)
544
(43% of events)
Peaceful pro-BLM protests that were met with law enforcement intervention
15
(3% of events)
602
(6% of events)
Peaceful pro-BLM protests that were met with force during police intervention
6
(40% of events)
189
(31% of events)
Pro-BLM demonstrations that involve counter-demonstrators
37
(8% of events)
760
(7% of events)
Pro-BLM demonstrations with reports of a car ramming
4
(less than 1% of events)
92
(nearly 1% of events)
Visuals and additional data analysis support provided by ACLED Research Analyst Josh Satre.

© 2021 Armed Conflict Location & Event Data Project (ACLED). All rights reserved.