3 February 2022: ACLED-Religion has now completed historical back-coding for 2020, adding over 6,000 new events to the dataset for the seven countries covered by the pilot project: Bahrain, Egypt, Iran, Iraq, Israel, Palestine, and Yemen. The 2020 data include nearly 2,400 harassment events, nearly 700 demonstration events, over 2,150 political violence events, and over 750 strategic developments. The back-coding release expands ACLED-Religion's full dataset to nearly 13,000 total events from the beginning of 2020 to the present.
New analysis of the past two years of data finds that religious repression increased by 23% in 2021 compared to 2020, driven by an overall rise in every pilot country except Bahrain and Iran. While religious disorder remained relatively stable across 2020 and 2021, both violent demonstration events and non-violent harassment events involving religion-based actors increased.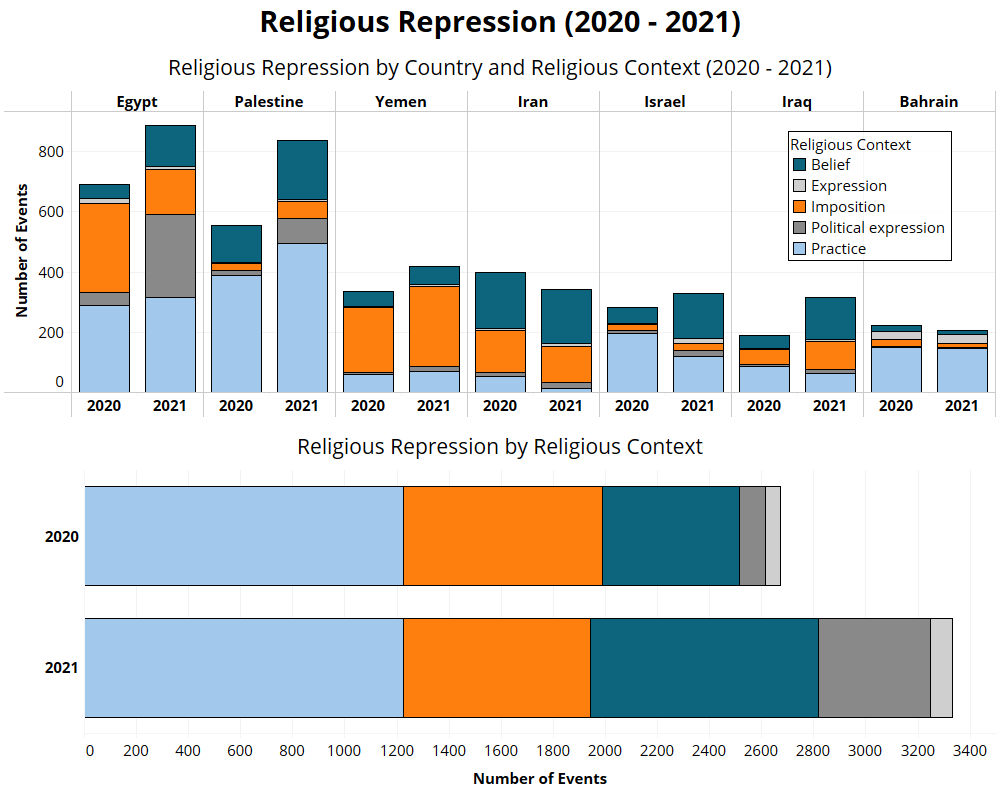 A US-based 501(c)(3) non-profit organization established in 2014, ACLED is the highest quality and most widely used real-time data and analysis source on political violence and protest around the world.
If you would like to use ACLED data and analysis, please review our Terms of Use & Attribution Policy. For more information about ACLED methodology, please check our Resource Library.
For interview requests and press inquiries, please contact: Sam Jones, Communications Manager

© 2022 Armed Conflict Location & Event Data Project (ACLED). All rights reserved.