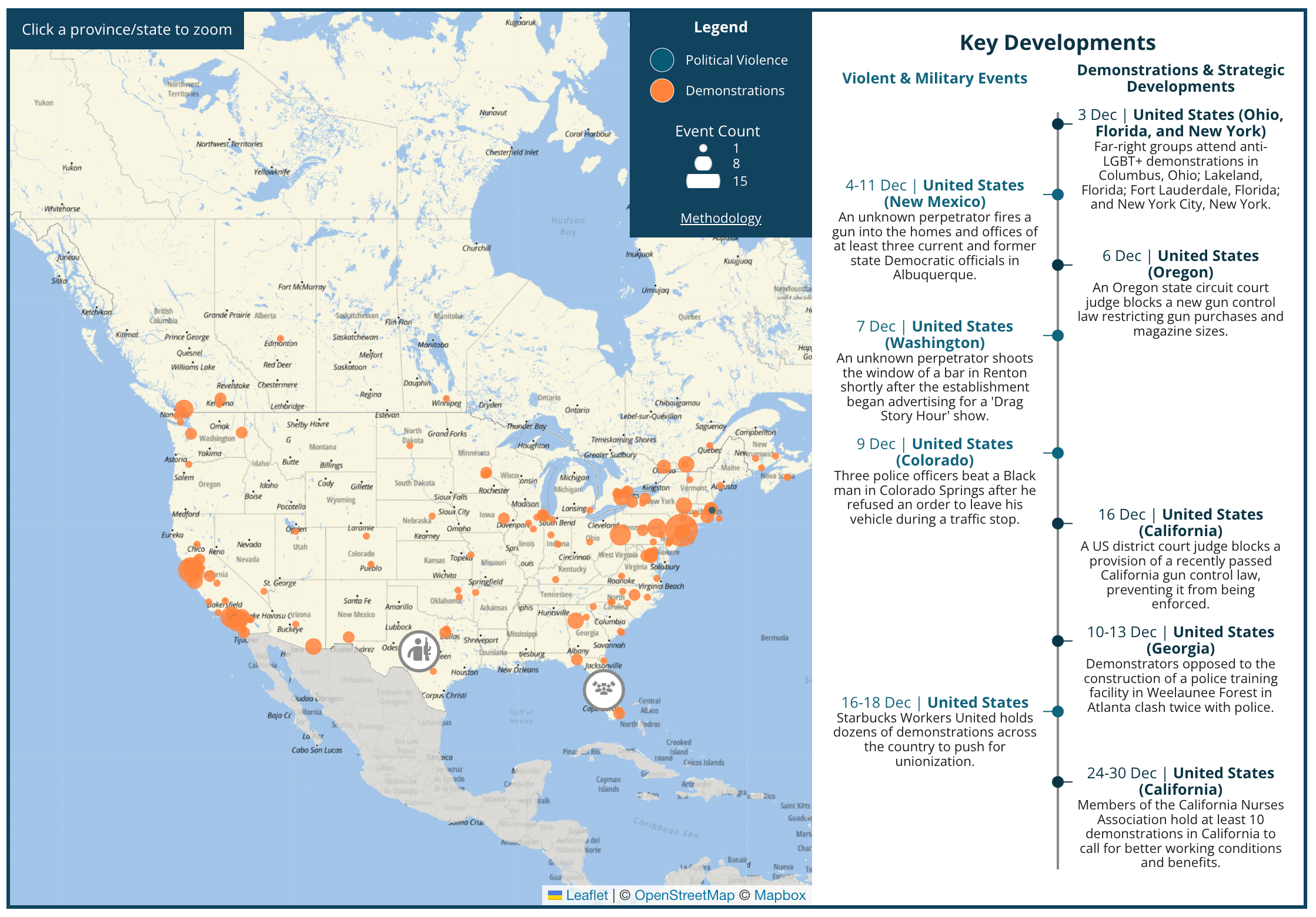 View latest month's regional overview
United States: Heightened anti-LGBT+ demonstrations involving far-right militias and militant social movements
Far-right and white supremacist groups participated in dozens of anti-LGBT+ demonstrations in December. Participating groups included the Proud Boys, Protect Texas Kids, This is Texas Freedom Force, National Socialist Florida, Patriot Front, and the Goyim Defense League, as well as White Lives Matter and QAnon adherents. In New York, members of the Goyim Defense League demonstrating against a drag event fought with counter-demonstrators on 3 December. Members of the Proud Boys participated in the largest number of anti-LGBT+ demonstrations during the month, with events reported in at least five states. In total, nearly 250 anti-LGBT+ incidents were reported around the country in 2022, marking the highest level of anti-LGBT+ mobilization since ACLED started collecting data for the United States in 2020 (for more, see ACLED's updated fact sheet: Anti-LGBT+ Mobilization on the Rise in the United States).
United States: Ongoing far-right militia, militant social movement, and white supremacist trainings and other activities
Far-right militias, militant social movements, and white supremacist groups also continued to carry out trainings, recruitment drives, and banner drops in December. In Arizona, the Yavapai County Preparedness Team, Chino Valley Preparedness Team, Maricopa Preparedness Team, Verde Valley Preparedness Team, and Lions of Liberty held public informational and recruitment meetings throughout the month.
Meanwhile, Patriot Front held multiple trainings last month in North Dakota, Massachusetts, Ohio, Rhode Island, Michigan, Texas, Missouri, Alabama, Arkansas, and South Dakota, and dropped banners with Patriot Front slogans in Hopedale, Massachusetts, around 7 December and in Cranston, Rhode Island, around 18 December. Patriot Front also distributed propaganda alongside care packages for the homeless in Denver and donated food in Bismarck, North Dakota. 
In addition, Atomwaffen division members dropped a banner in Vass, North Carolina, and the Goyim Defense League distributed at least nine sets of antisemitic flyers in California, Colorado, Louisiana, and Virginia.