Turkey's 2023 General Elections and the Kurdish Question
8 May 2023
The most consequential elections in Turkey's recent history are set to be held on 14 May, when Turkish citizens will elect a new president alongside a new parliament. An ideologically disparate coalition of six opposition parties, ranging from secularists, to Islamic conservatives, and Turkish nationalists, have joined forces under the leadership of Kemal Kilicdaroglu to unseat Recep Tayyip Erdogan. Erdogan has been in power for 20 years, initially as prime minister and then as president since 2014.
Erdogan secured an outright majority in the previous round of elections in June 2018, assuming new powers under Turkey's new constitution. While critics argued that the enhanced presidential role places too much power in one person's hands and lacks sufficient checks and balances, Erdogan has maintained that the increased authority is essential, among others, for national security.1BBC,'Turkey election: Erdogan wins re-election as president,' 25 June 2022
This report examines how Turkish security forces have dealt with Kurdish separatists at home and abroad during Erdogan's second mandate as president and in the lead-up to the 2023 elections. Erdogan's hawkish policies towards the Kurds, while successful at driving the conflict outside the country's borders, have further alienated domestic Kurdish minority groups, who have been the target of political repression. If Kurdish voters and other opposition groups can successfully mobilize an anti-Erdogan voting bloc, they may mount the toughest electoral challenge yet to Turkey's long-time president. 
Crackdown on Kurdish Political Movement 
Erdogan's approach to the Kurdish question has changed over the last two decades. He courted the Kurds early in his rule, introducing tentative reforms on Kurdish cultural and linguistic rights and developing cordial relations with the then newly founded Pro-Kurdish Peoples' Democratic Party (HDP). He also engaged in peace negotiations with the Kurdistan Workers' Party (PKK), a Kurdish armed group that has waged an insurgency since 1984 against Turkish authorities. However, this did not translate into a broader political support for Erdogan's Justice and Development Party (AKP) among the Kurdish electorate, with the HDP winning 13% of the vote in 2015 elections and the AKP losing its majority in the national parliament.2Constanze Letsch and Ian Traynor,'Turkey election: ruling party loses majority as pro-Kurdish HDP gains seats,' The Guardian, 7 June 2015 Soon after, the PKK-Turkish conflict resumed, and the government unleashed a harsh crackdown on the HDP, which intensified after the post-coup state of emergency in mid-2016.
The Turkish government has jailed scores of HDP politicians and former parliamentarians on terrorism charges and ties to the PKK in recent years, including the co-leader of the HDP, Selahattin Demirtas. After the HDP won 65 municipalities in the 2019 local election in Turkey's southeastern Kurdish areas, Ankara ousted the majority of the mayors within 18 months, replacing them with government-appointed bureaucrats.3Stockholm Center for Freedom, 'Crackdown on the Kurdish Political Movement and Opposition Groups: 2022 in Review', 26 January 2023 The HDP currently faces the threat of closure by the country's constitutional court over alleged ties to terrorism activities, which it categorically denies.4Al Jazeera,'Turkey's pro-Kurdish party backs Erdogan's rival for president,' 28 April 2023 On 25 April, less than three weeks before the 14 May election, Turkey arrested 110 HDP top officials, as well as pro-Kurdish lawyers, journalists, and artists, in a move that critics argue is an "intimidation tactic before election."5Reuters, 'Turkey arrests 110 over alleged Kurdish militant ties ahead of election', 28 April 2023
Amid the ongoing crackdown and hostile rhetoric against Kurdish politicians and activists by the AKP and far-right political parties, 86 attacks against HDP affiliates by armed nationalists and mobs have been recorded by ACLED since 2018. This far eclipses the number of political violence events targeted at any other political party in Turkey during the same period, accounting for half of such violence (see graph below). This includes the June 2021 killing of a woman HDP member at the party's provincial headquarters in Izmir, and the stabbing of another HDP member in December 2021 in Istanbul. In the run-up to the election, the Green Left Party – under whose banner the HDP is running in the parliamentary elections – has been the target of a few attacks, including a knife attack on a parliamentary candidate in Edrine on 2 May.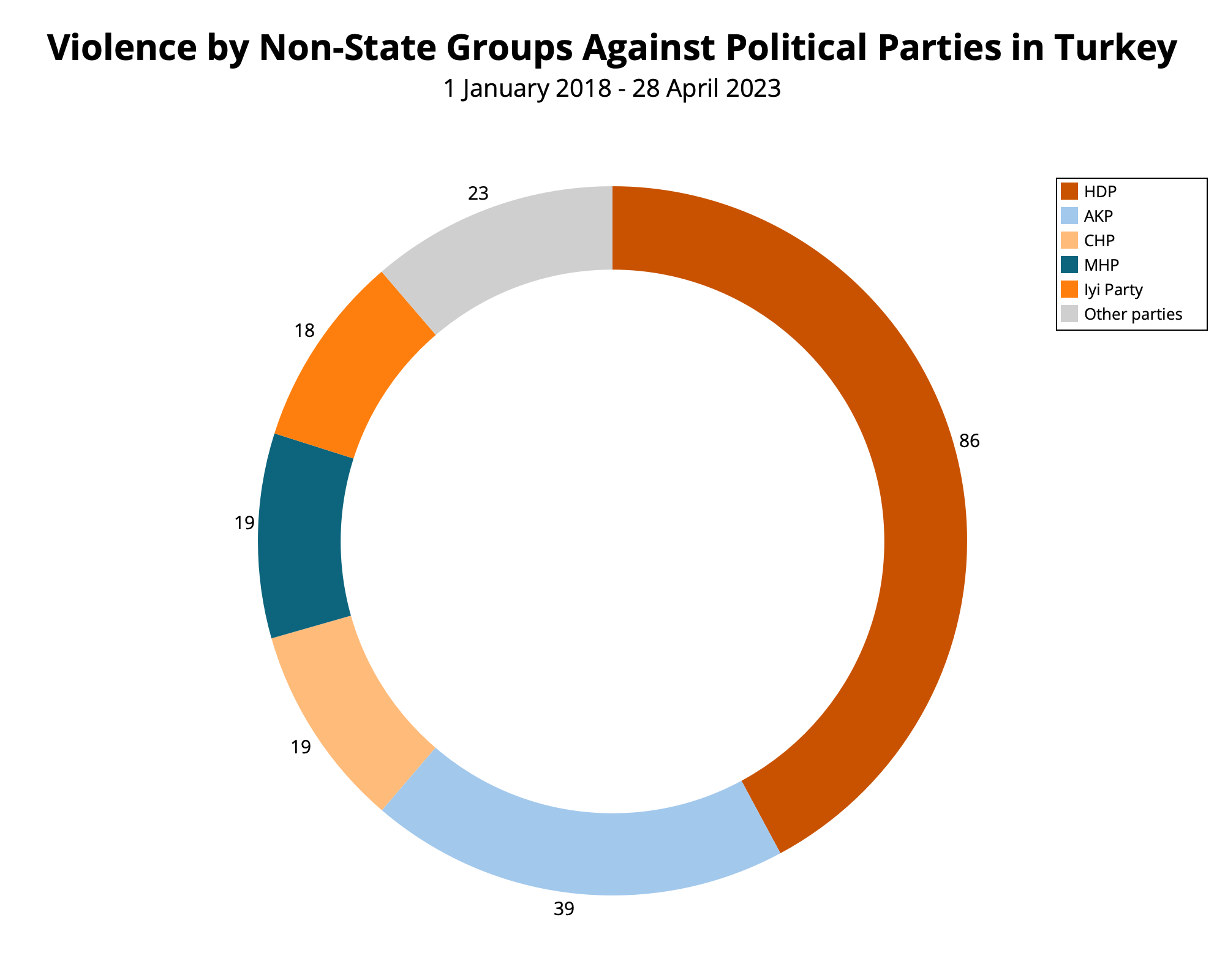 Hawkish Regional Policies in Northern Iraq and Syria
The crackdown on Kurdish political opposition has coincided with the intensification of Turkish military offensives against armed Kurdish groups, increasingly beyond Turkish borders in northern Iraq and Syria. While hostilities with the PKK peaked on Turkish soil between 2015 and 2016 following the breakdown of the peace process, the Turkish military has successfully pushed the conflict outside Turkish borders ever since. Turkish operations in northern Iraq have gained steam in recent years, with the military expanding its areas of operation further south using sophisticated weapons such as drones. Aiming to weaken Kurdish forces along the Turkish-Syrian border, Turkish military has also launched three large-scale operations in northern Syria since 2016, taking control of a swathe of territory along the border. Turkey views the Kurdish-led Syrian Democratic Forces (QSD) as an extension of the PKK.
Following the February earthquakes, the PKK announced a temporary one-sided ceasefire to facilitate the rescue work, which it then extended until after the election. Inside Turkey, since the February earthquake, only 10 events involving PKK forces were reported between February-April, marking a decrease of 37% compared to the same period in 2022. The PKK seems to have made the political calculation to remain largely inactive in the run-up to the election in order to avoid an escalation in Turkey that could play in favor of the ruling government by stirring up nationalist sentiment among Turkish voters.6Amberin Zaman, 'Kurdish umbrella group under Ocalan says Erdogan will never offer real peace to Turkey's Kurds', Al-Monitor,14 March 2023 
Nonetheless, the Turkish military has continued to target PKK forces in northern Iraq. Violence was significantly higher during the first quarter of 2023 compared to the same period in the previous year, although the trend was reversed in April since Turkey has not yet launched its annual spring operation (see graph below). This may be related to calculations that demonstrating Turkish military strength closer to the election date is politically more beneficial to the ruling party. On 7 April, a drone strike presumably carried out by Turkish forces targeted the convoy of the commander of the Syrian QSD forces in the Iraqi province of Sulaymaniya, although no one was harmed. Turkey has officially denied responsibility for the attack, but QSD accuses Erdogan of attempting to use the attack to boost his support in the lead-up to the elections.7Al Jazeera, 'Iraq demands Turkey apologise over attack on Sulaimaniyah airport,' 9 April 2023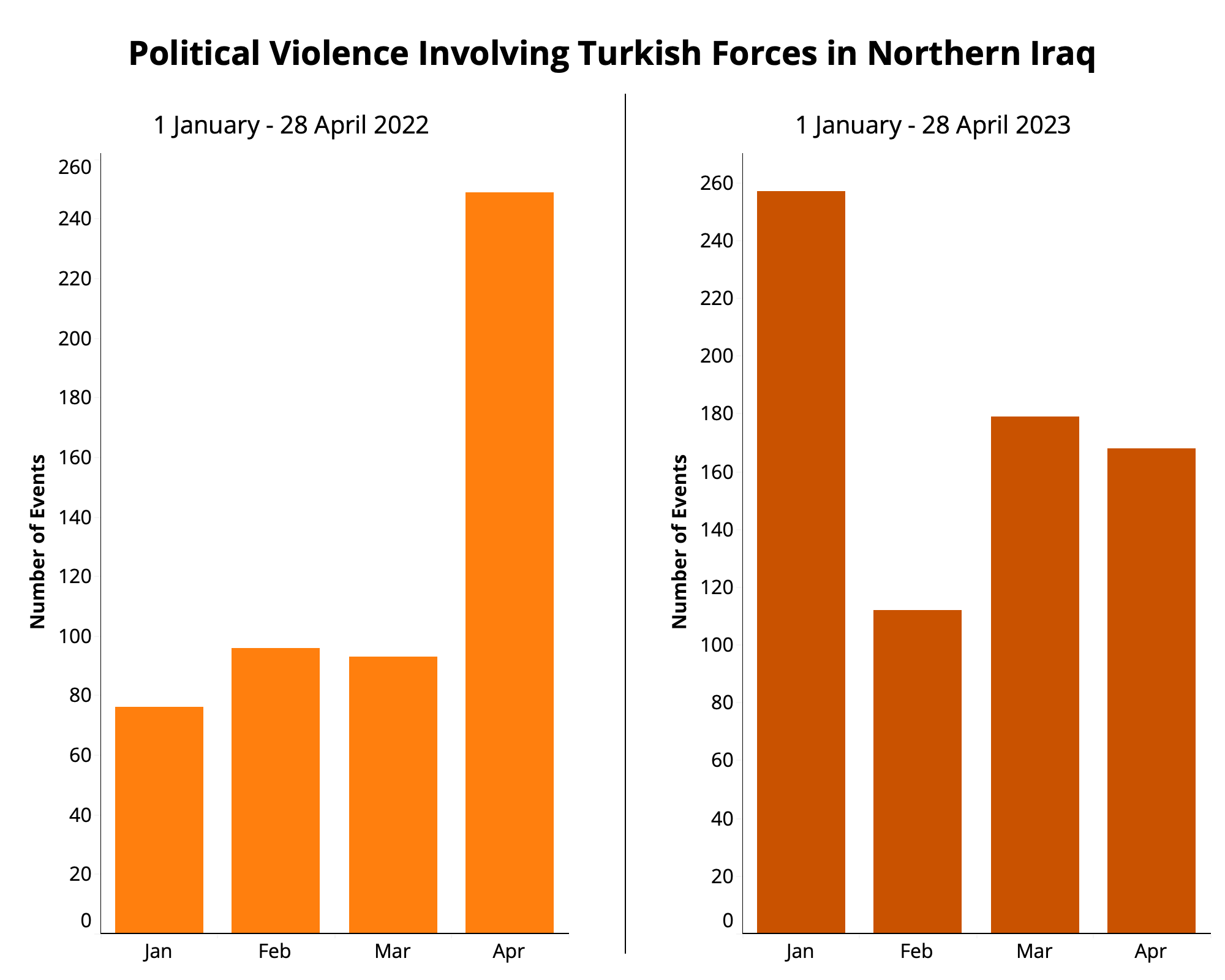 In Syria, the diplomatic rapprochement between Turkey and Syria led to a lull in Turkish operations against Kurdish forces on Syrian soil between January and April 2023. The number of political violence events involving Turkish troops in Syria was over 60% lower in the first four months of 2023 compared to the similar period the year prior (see graph below). At the end of 2022, there were fears of another ground operation into Syria after Ankara attributed responsibility for a November bombing in Istanbul to QSD.8Jeff Seldin, 'Turkish Airstrike Hits 300 Meters From US Forces in Syria,' Voice of America, 23 November 2022 However, Russia has continued to push for normalization of ties between the two neighboring countries. Assad has thus far refused to hand Erdogan a political gift by meeting him before the elections, though diplomacy has continued to make headway. For Erdogan, an agreement with Damascus could lead to coordinated actions against Kurdish forces and simultaneously allow his government to take steps regarding the return of Syrian refugees to satisfy the populist hope. The refugee issue has turned into a political liability for the government, as Syrian refugees have faced increasing public resentment amid deepening economic woes. ACLED records nearly 20 attacks targeting Syrian refugees since 2019.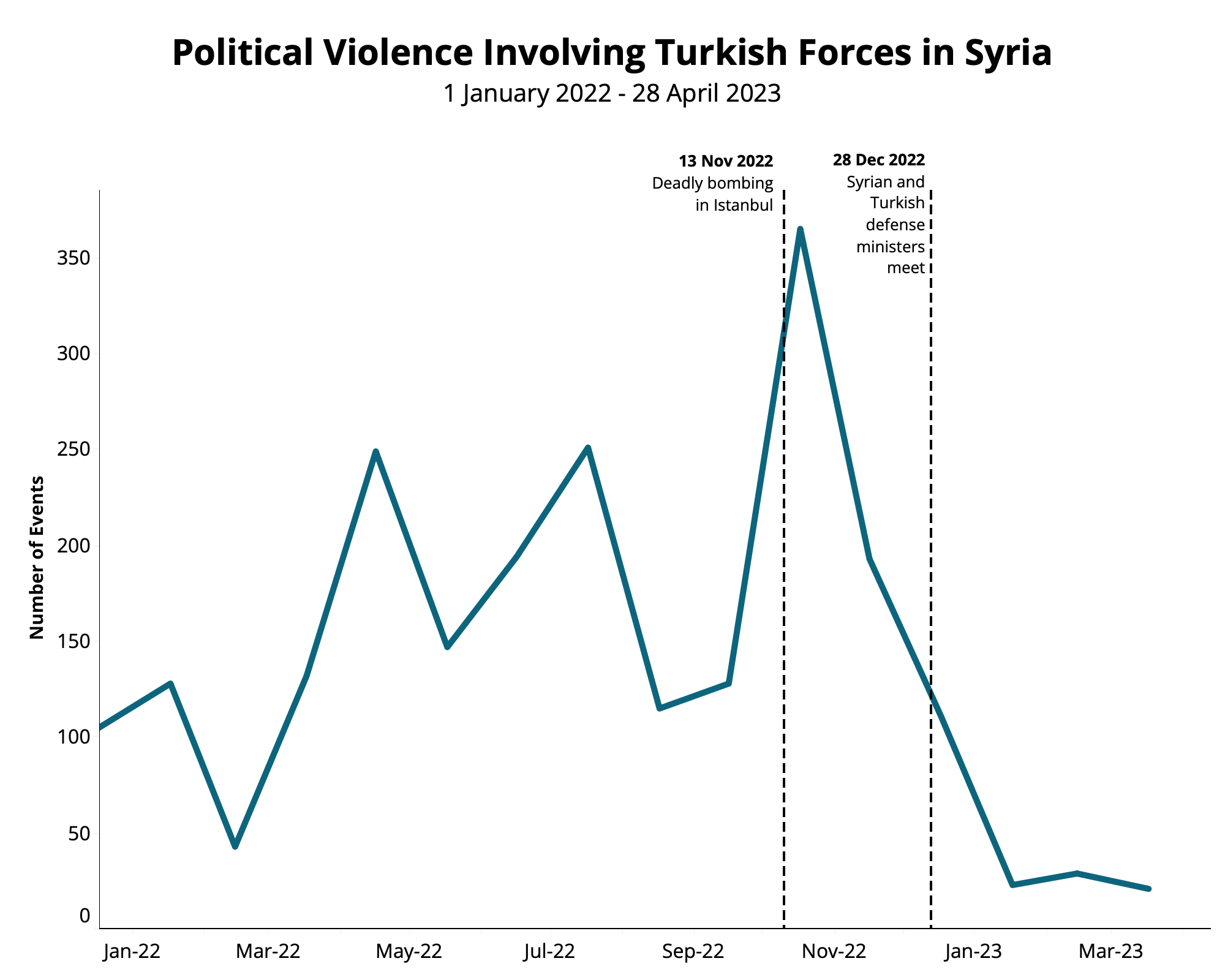 A Watershed Election
Observers have said the upcoming elections may be above all a vote on Erdogan's "heavy-handed one-man rule."9Alec Luhn, 'Exclusive: The Man Who Could Beat Erdoğan,' Time, 27 April 2023 Erdogan has purged many state institutions, including the courts, law enforcement agencies and civil service, stacking them with loyalists,10Jamie Dettmar, 'It's going to be hard to get rid of Turkey's Erdoğan,' Politico, 18 March 2023. and the country has witnessed a "democratic backsliding."11Thomas Carothers and Benjamin Press, 'Understanding and Responding to Global Democratic Backsliding', Carnegie Endowment for International Peace, 20 October 2023 The opposition has  vowed to reinstate the parliamentary system and strengthen the rule of law.12Umut Uras, 'Turkish opposition parties promise return to parliamentary system,' Al Jazeera, 28 February 2022 Kilicdaroglu, who currently maintains a slight edge over the incumbent Erdogan in the polls, has secured the support of the HDP, which has not fielded a candidate and has instead called on its supporters to vote for the opposition leader.13Middle East Eye,'Turkey elections: Pro-Kurdish opposition party backs Kilicdaroglu against Erdogan', 28 April 2023 HDP's mainly Kurdish supporters helped the opposition to win mayoral elections in Istanbul and Ankara in 2019.14Al Jazeera, Turkey's HDP 'may support' Kilicdaroglu in presidential polls,' 7 March 2023 Therefore, Erdogan's sweeping crackdown on the Kurdish political movement may come to change his political fate.
If Kilicdaroglu wins the presidential election, Kurdish-dominated parties in Turkey may receive some breathing room. Kilicdaroglu has vowed to release Demirtas and other HDP politicians from prison, arguing that there can be a political solution to the Kurdish issue.15Euronews, 'Kılıcdaroglu visiting HDP: The address of all problems, including the Kurdish issue, is the Turkish Grand National Assembly,' 20 March 2023 Yet, he will have to reconcile conflicting interests of the ideologically diverse forces in his alliance, including his far-right nationalist ally, the Good (Iyi) Party, which has so far rejected to talk to HDP.16Halil Karaveli, 'Turkey's Opposition Can't Win Without the Working Class', Foreign Policy, 17 April 2023.
Furthermore, given the military success of Turkish armed forces in increasingly pushing the PKK out of Turkey and further away from Turkish borders, Kilicdaroglu will likely have to maintain a firm commitment to the preservation of national security. He has stressed that he will not negotiate with PKK's leader, who he views as an "illegitimate" actor.17Hurriyet, 'Kurdish problem out of Kılıçdaroğlu: We can solve it with HDP,' 20 March 2023 Positive steps at home toward the Kurdish issue may help to de-escalate the conflict abroad, although much will depend on PKK's stance. Kilicdaroglu, who has made a campaign promise to send Syrian refugees back within two years of the election, will follow Erdogan's footsteps and continue Turkey's rapprochement with Assad.
Yet, it is still too early to write Erdogan off. He may still pull the many levers of power that are available to him to ensure he remains in power. Already his grip over the judiciary has handed him an advantage, by banning Istanbul mayor Ekrem Imamoglu from politics.18France 24, 'Turkish court orders jail, political ban for Istanbul mayor and Erdogan rival,' 14 December 2022 A major security-related development right before the first or the potential second round of elections can further be used as a tool to drum up support for Erdogan. Furthermore, most polls put the AKP-led alliance a few points ahead of the opposition coalition in the parliamentary election, which would enable Erdogan to campaign on stability in a potential presidential run-off vote.19Orhan Coskun and Daren Butler, 'Breakaway candidate could give Erdogan a lifeline in tight Turkey election', Reuters, 5 April 2023 Even if the incumbent president loses the election, many predict that he will not relinquish power without a fight, and may push for the cancellation of the results. This may lead to widespread demonstrations and unrest in the increasingly polarized Turkish society, where politics has evolved into a very personal affair for many.20Aslı Aydıntaşbaş, 'Letter from Istanbul: Turkey has difficult years ahead, The Brookings Institution, 4 April 2023
Visuals in this report were produced by Ciro Murillo