Situation Update | May 2023
Somalia: Al-Shabaab Regains Lost Territories as Tax Dispute Halts Counter-Insurgency Operation
Somalia at a Glance: 15 April-26 May 2023
VITAL TRENDS
ACLED records over 250 political violence events and nearly 700 reported fatalities from 15 April to 26 May 2023. Violence centered in Lower Shabelle and Banadir regions, where al-Shabaab launched attacks targeting security forces and civilians. 

Lower Shabelle region had the highest number of fatalities, with over 320 recorded during this period. Galgaduud region followed, with at least 175. Battles between al-Shabaab militants and Somali security forces resulted in over 74% of all reported fatalities.

The most common event type was battles, with 178 events, followed by explosions/remote violence, with 43 events. Nearly 30% of remote violence events occurred in Lower Shabelle region.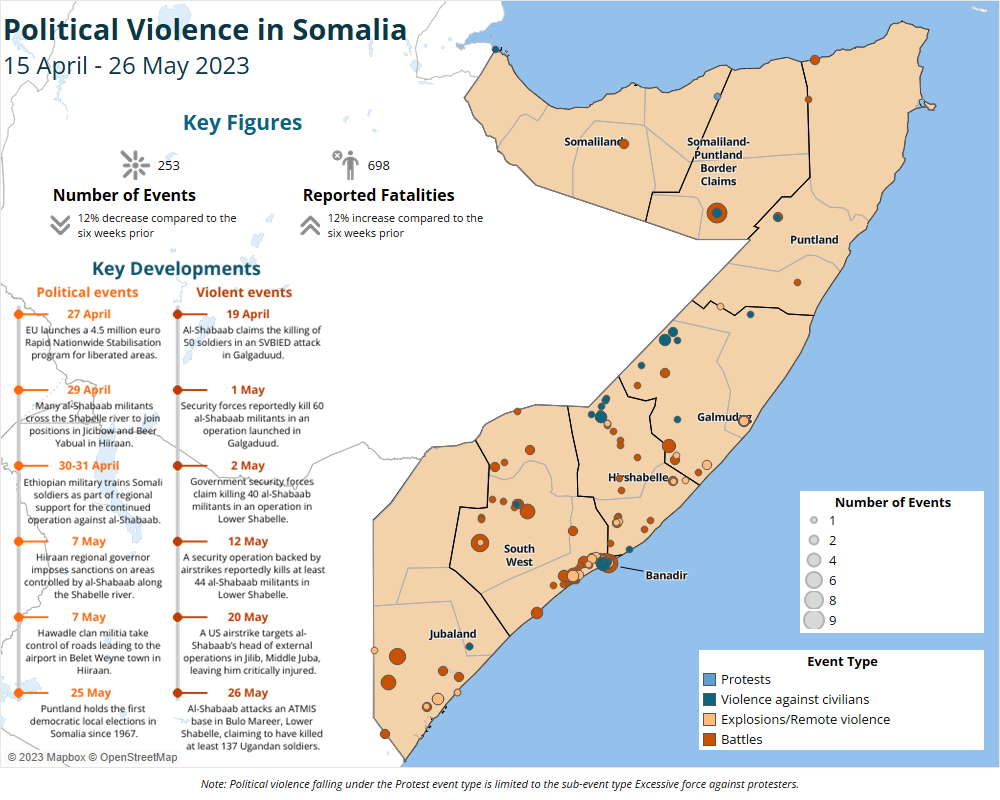 Al-Shabaab Regains Lost Territories as Tax Dispute Halts Counter-Insurgency Operation
Since the start of the first phase of the counter-insurgency offensive against al-Shabaab in Hirshabelle state in August 2022, Hiiraan region has been the epicenter of the counter-insurgency operation. During the first phase, Somali security forces gained control of several al-Shabaab strategic strongholds with the support of clan militias in Hiiraan region. Although the operation failed to dislodge al-Shabaab militants, it resulted in a general success for the security forces. As the government expanded the operation to Galmudug state, security forces were diverted from Hiiraan region. With the launch of the second phase of the offensive at the end of March, fighting intensified between al-Shabaab militants and security forces for the control of Hiiraan. During this time, the government sought to scale down the reliance on clan militias and looked for support from other countries in the region that vowed to send soldiers for the fight against al-Shabaab. However, political disputes have undermined the cooperation between Hawadle clan militias and security forces. The government's shortage of security forces in Hiiraan region, especially holding forces, made Hirshabelle state a potentially vulnerable target for al-Shabaab attacks. Moreover, the political differences within the Hiiraan administration surfaced over a dispute on tax collection in April, thus further slowing the progress of the operation against al-Shabaab. This provided an opportunity for al-Shabaab militants to act, and they recaptured key strategic villages after security forces and Hawadle clan militias withdrew from the bases in Hiiraan region. 
As a result, activity by security forces and clan militias has decreased by 34% in 2023 compared to the first five months of the operation (see graph below), and specifically 52% in Hiiraan region, leading to victories for al-Shabaab. This report provides an overview of the counter-insurgency operation against al-Shabaab during the reporting period and examines the challenges in the operation that have undermined the offensive.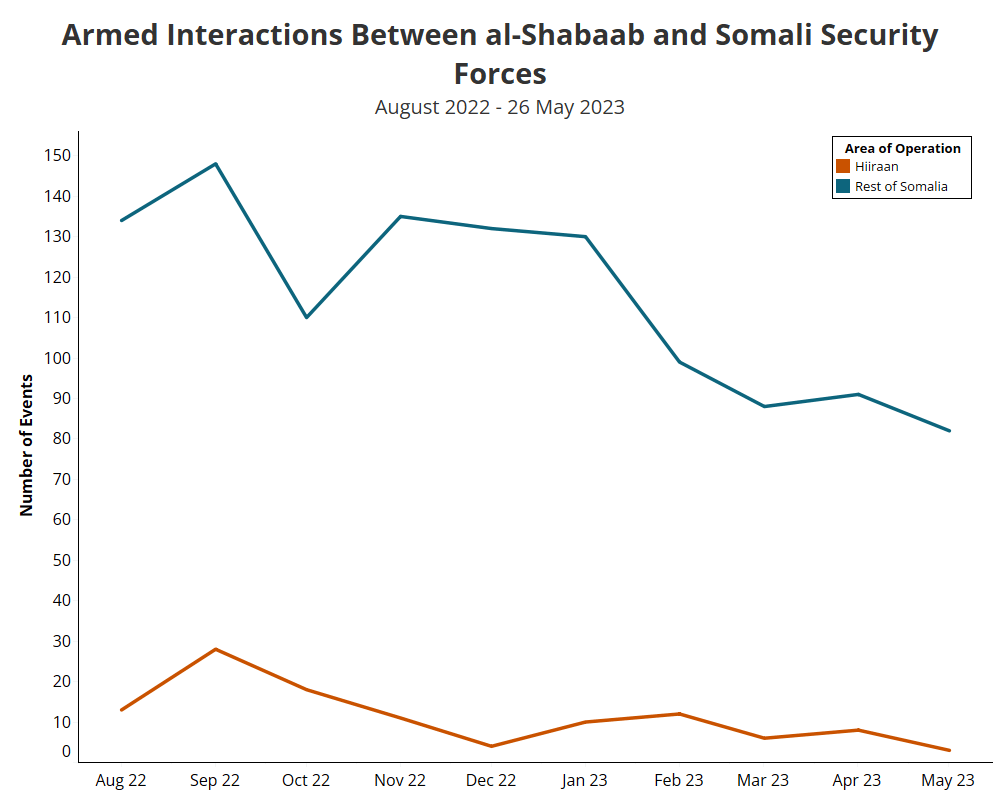 Local Political Dispute Jeopardizes Vital Support from Hawadle Clan Militias in Hiiraan
In April, Yussuf Ahmed Hagar Dabageed, former Hiiraan region governor and the current Hirshabelle state deputy president, proposed a plan to transfer the authority for local taxes from Hiiraan region to the state level. Hiiraan Governor Ali Jeyte Osman, who has been leading and organizing the counter-insurgency operation in Hiiraan, rejected the proposed plan, stating that it would jeopardize the funds allocated to the counter-insurgency operation.1Hiiraan Online, 'Hiiraan governor opposes Hirshabelle centralized tax collection plan,' 12 April 2023 The Hawadle clan militias reacted to the proposed plan by reducing their collaboration with security forces, claiming the tax dispute would impact their operations and generally prolong the fighting.
This dispute comes in light of a wider political rivalry between Hiiraan Governor Ali Jeyte and Hirshabelle State Deputy President Yussuf Ahmed Hagar Dabageed, who are fighting for the kinsmanship of the Hawadle clan in the upcoming state elections.2Radio Risala, 'Governor Jeyte responds to Yussuf Dabaged on humanitarian issues in Hiiraan,' 14 May 2023 Based on an agreement brokered by the federal government in October 2016, Jowhar in Middle Shabelle, where the Abgal clan predominantly resides, was designated as the state's capital, and the president was chosen from the Hawadle clan, which is the dominant clan in Hiiraan.3Rift Valley Institute, 'Hirshabelle's political settlement: Opportunities for meaningful and inclusive political processes,' February 2023 The two sides have had different interpretations of the agreement, but in 2020, the Abgal clan gained the presidency, causing grievances in Hiiraan. The next state elections in 2024 will likely be another battleground for state positions between and within both clans, although a recently announced plan to reform the electoral system from a clan-based indirect voting system to universal suffrage might change the election dynamic.4David Sadler, 'Elections In Somalia Will Be Held By Direct Universal Suffrage From 2024,' 28 May 2023 Due to his involvement in the counter-insurgency operation, Hiiraan Governor Ali Jeyte is seen as a key figure of the Hawadle clan and a serious contender in the upcoming state elections. On the other hand, al-Shabaab has been directly targeting the governor, reportedly spending millions to replace him.5Garoowe Online, 'Al-Shabaab spending millions to remove a governor who fought against it,' 23 April 2023 
The tax dispute between local Hawadle leaders in Hiiraan region, and the lack of payments to clan militias directly contributed to the withdrawal of forces from the bases.6Hiiraanweyn TV, 'Governor Ali Jeyte "We are tired of the war, AS is continuing,"' 8 May 2023 On 7 May, security forces and Hawadle clan militias withdrew from bases in several villages in Belet Weyne and Bulo Burto districts; al-Shabaab militants subsequently took control over all the vacated villages (see map below). In response, the Hiiraan administration, led by Governor Jeyte, banned vehicles from transporting food and fuel in the areas along the Shabelle river between Belet Weyne and Bulo Burto, in an effort to cut off supply to al-Shabaab militants in the area.7Mustaqbal Media, 'Governor Ali Jeyte impose new restrictions on areas controlled by AS,' 7 May 2023 It is clear that the political dispute in Hirshabelle state is undermining the counter-insurgency offensive. To address this obstacle to the operation's success, the federal government will likely need to intervene in the rift and mediate between leaders.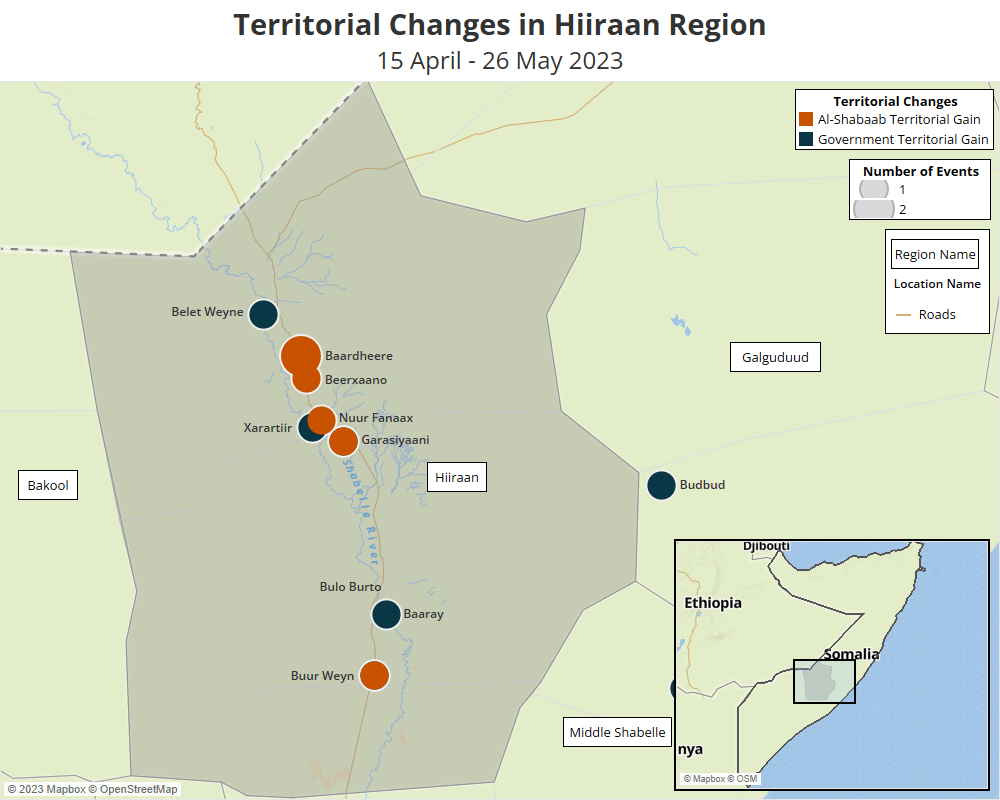 Despite the mobilization of the Hawadle clan against al-Shabaab and the increased number of offensive operations in Hiiraan region during the first phase of the counter-insurgency operation, al-Shabaab continued attacks in Belet Weyne and Bulo Burto, and moved along the banks of the Shabelle river as their new hideouts. While security forces and Hawadle clan militias focused on ending and eradicating al-Shabaab from Hiiraan, the militants adopted several military tactics, including guerilla warfare, to prolong the fighting. The government commenced the second phase of the offensive in March with less support of forces from the region than anticipated. Ethiopia, Kenya, and Djibouti had all agreed to send additional non-African Union Transition Mission in Somalia (ATMIS) troops to Somalia to take part in the counter-insurgency offensive.8Somali Guardian, 'Ethiopia, Kenya and Djibouti to send fresh non-ATMIS troops to Somalia,' 2 March 2023 While Ethiopian security forces were deployed in Doolow town, Gedo region, in March and April, Djibouti and Kenya have yet to send additional troops. 
Al-Shabaab Targets Somali and ATMIS Forces in Southern and Central Somalia
In addition to capturing lost territories in Hiiraan region, al-Shabaab militants continued launching attacks on security forces and clan militia bases across southern and central Somalia. The militants also conducted large-scale attacks targeting ATMIS forces in Bay, Bakool, Lower Juba, and Lower Shabelle regions (see map below). Al-Shabaab has inflicted considerable losses on Somali and ATMIS forces in Lower Shabelle region. ACLED records 42 events involving al-Shabaab in Lower Shabelle region during the reporting period. Since March, there has been a sevenfold increase in the number of events involving al-Shabaab and ATMIS forces in Lower Shabelle, with reported fatalities increasing from zero in March to 164 in May.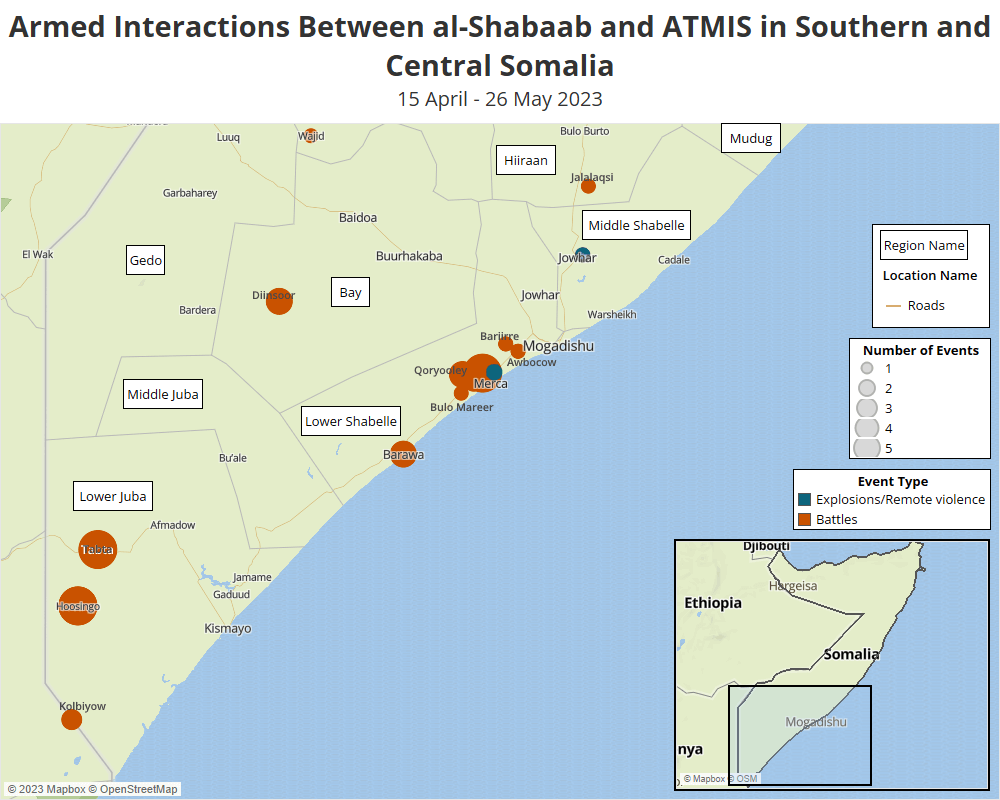 On 15 April, at least 10 soldiers were reportedly killed after al-Shabaab ambushed ATMIS and Somali security forces near Bilal village in Janaale district. The peacekeeping forces were traveling along the main supply route towards Janaale delivering logistics equipment to other troops in their forward operating bases. On 18 May, al-Shabaab targeted ATMIS Ugandan People's Defense Forces (UPDF) and government security forces traveling between Marka and Janaale, near Ceel Waregow village, with IEDs. At least 27 soldiers, including five Ugandan soldiers, were reportedly killed, and nine others were injured. A week later, al-Shabaab militants overran ATMIS UPDF forward operating base in Bulo Mareer town, initially by attacking with two vehicle-borne IEDs (VBIEDs). The Ugandan government confirmed casualties from the attack, but did not specify how many soldiers were killed.9Reuters, 'Uganda confirms casualties among country's soldiers in Somali attack,' 27 May 2023 However, al-Shabaab claims to have killed more than 137 soldiers, destroyed military vehicles, confiscated weapons, and captured soldiers during the attack.10Garowe Online, 'Al-Shabaab militants overrun African Union base camp in Somalia,' 26 May 2023 This is the third deadliest al-Shabaab attack against ATMIS peacekeeping forces in Somalia, after the attack on Kenyan forces in Ceel Cadde on 15 January 2017 and Burundian troops in Ceel Baraf on 3 May 2022. A few days after the attack, ATMIS forces launched a pursuit, reportedly killing several militants and retrieving weapons stolen from their base.11Garowe Online, 'Somalia: AU forces kill several terrorists behind UPDF Base Attack,' 30 May 2023
In Galmudug state, central Somalia, al-Shabaab continued to resist the offensive operations by security forces and Habar Gedir clan militias, and they battled to maintain Ceel Dheer district. Galgaduud state recorded the second highest reported fatalities during the reporting period, resulting from clashes between security forces and al-Shabaab. On 19 April, a suicide vehicle-borne IED (SVBIED) by al-Shabaab detonated, targeting security forces in Budbud village, which al-Shabaab claims to have killed 50 soldiers. A day later, the militants clashed with security forces and overran the military base in Cali-Yabaal village near Ceel Dheer town. The fighting resulted in 30 reported fatalities from both sides. The militants continued to use IEDs and ambush attacks along the main supply routes in Ceel Dheer district to defend their last stronghold towns of Ceel Buur and Galhareeri in Galgaduud region. On 22 April, a VBIED by al-Shabaab detonated, targeting the Somali National Army and Habar Gedir clan militia at a base in Masagaway village. The militants overran the base and destroyed vehicles. The clashes resulted in 23 people reportedly killed, including clan elders present in the area. On 14 May, security forces took control of Sabansableey village near Budbud village after clashing with al-Shabaab militants in hideouts in the area. In the attack, al-Shabaab claimed to have killed 27 soldiers.
In Banadir region, the federal government of Somalia increased security forces operations and checkpoints in Mogadishu by launching a joint campaign between the police, intelligence agency, and military to restore the security of the capital city.12Shabelle Media Network, 'Hundreds of suspects rounded up in night-time Mogadishu sweeps,' 17 May 2023 Despite the operations by security forces, al-Shabaab militants continued attacks against the troops. The attacks in Mogadishu mostly include armed clashes followed by remote explosions. Security forces and al-Shabaab clashed on 16 April, after an IED planted by al-Shabaab detonated, targeting security forces at the General Kahiye Police Academy in Hamar Jabjab district of Mogadishu. Three militants were reportedly killed. The militants also conducted several other low-scale attacks in the capital.
Despite initial successes during the counter-insurgency operation, domestic political differences and the continued vulnerability of the capital and regions surrounding Mogadishu have constituted major setbacks for the operation. After the latest trend in Hiiraan region, the federal government of Somalia needs to adopt a longtime strategy to keep the counter-insurgency operations nationwide and strengthen the fight against al-Shabaab. The deployment of holding forces and government service deliveries to the liberated areas and to the affected communities is an urgent call. The government's dependency on clan militias' support in the ongoing fighting is on the verge of collapsing due to the political differences between local leaders in Hirshabelle state. For the government to defeat al-Shabaab militants, it will likely need to strengthen the security forces and deploy more troops in the frontline to replace the clan militias.