Situation Update | June 2023
Somalia: Political Turmoil Threatens the Fight Against Al-Shabaab
Somalia at a Glance: 27 May-23 June 2023
VITAL TRENDS
ACLED records more than 200 political violence events and over 700 fatalities from 27 May to 23 June 2023. Violence remains centered in Lower Shabelle region where al-Shabaab launched dozens of attacks targeting

African Union Transition Mission in Somalia (ATMIS)

forces.
Galgaduud region had the highest number of reported fatalities, with over 280 recorded during this period. Lower Shabelle followed, with just over 200. Al-Shabaab militants claimed the killing of more than 220 Somali soldiers during two attacks in Ceel Dheer district of Galgaduud on 30 May.
The most common event type was battles, with over 120 events, followed by explosions/remote violence, with nearly 60 events. Clashes between al-Shabaab and ATMIS forces constitute over 40% of all battle events during the reporting period.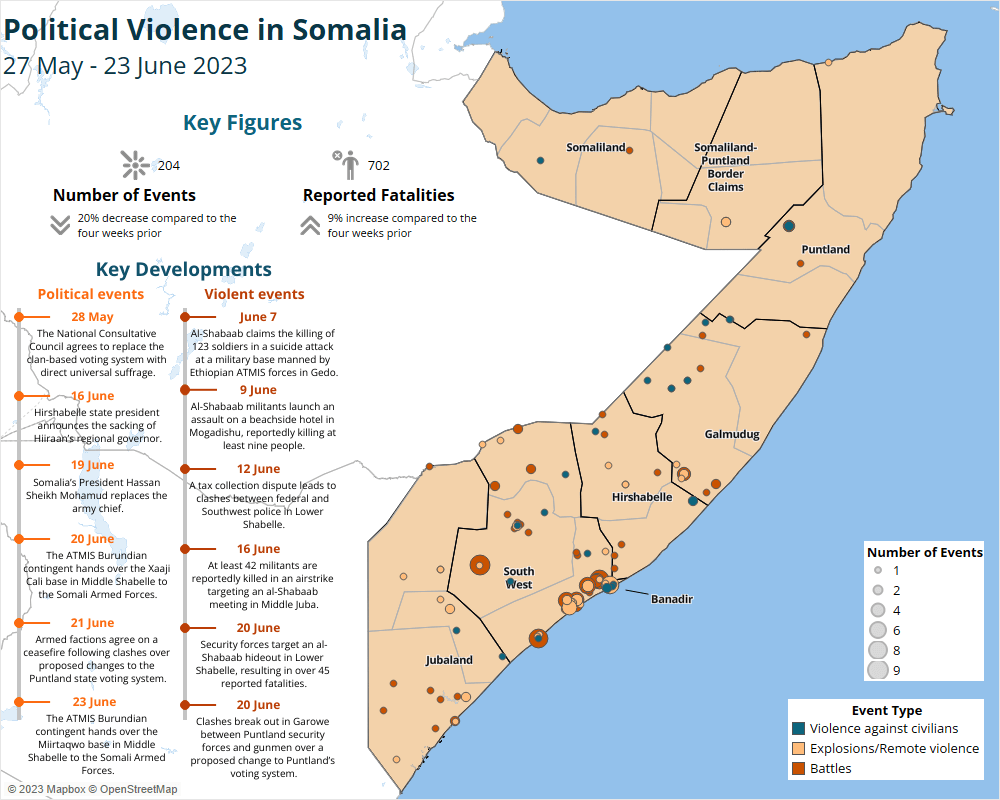 Political Turmoil Threatens the Fight Against al-Shabaab
Political infighting has undermined the counter-insurgency campaign waged by the Somali government against al-Shabaab over the past few months. The offensive was announced to enter its second phase in March, expanding operations to southern regions after recapturing several strategic al-Shabaab strongholds in Hirshabelle and Galmudug. However, the offensive has been stalled. A dispute in Hiiraan region between Hirshabelle state deputy president and the Hiiraan governor over tax collection jeopardized the support of the Hawadle clan in Hiiraan, as they claimed they did not receive payments. The dispute further escalated as the Hirshabelle state president sacked the Hiiraan governor on 16 June.1Radio Dalsan, 'Hiiraan governor fired amid revenue dispute, Al-Shabaab impact uncertain,' 18 June 2023 Meanwhile, factional disputes also arose in Lower Shabelle, Nugaal, and Gedo regions over local power dynamics, further complicating the political terrain. 
The political disputes put a pause on the second phase of the counter-insurgency operation, and as a result, fighting between al-Shabaab and security forces has decreased in recent months (see graph below); with ACLED recording a decrease of over 50% in armed interactions since September 2022, when the operation had just launched. However, as ATMIS began withdrawing troops,  al-Shabaab attacks against ATMIS forces continued to increase.2AllAfrica, 'AU Troops Begin Withdrawal From Somalia,' 22 June 2023 It is clear that al-Shabaab militants have made use of the political disputes as an opportunity to regroup, plan, and carry out high-profile attacks. This report examines the different political crises engulfing Somalia and their impact on al-Shabaab activities throughout the country.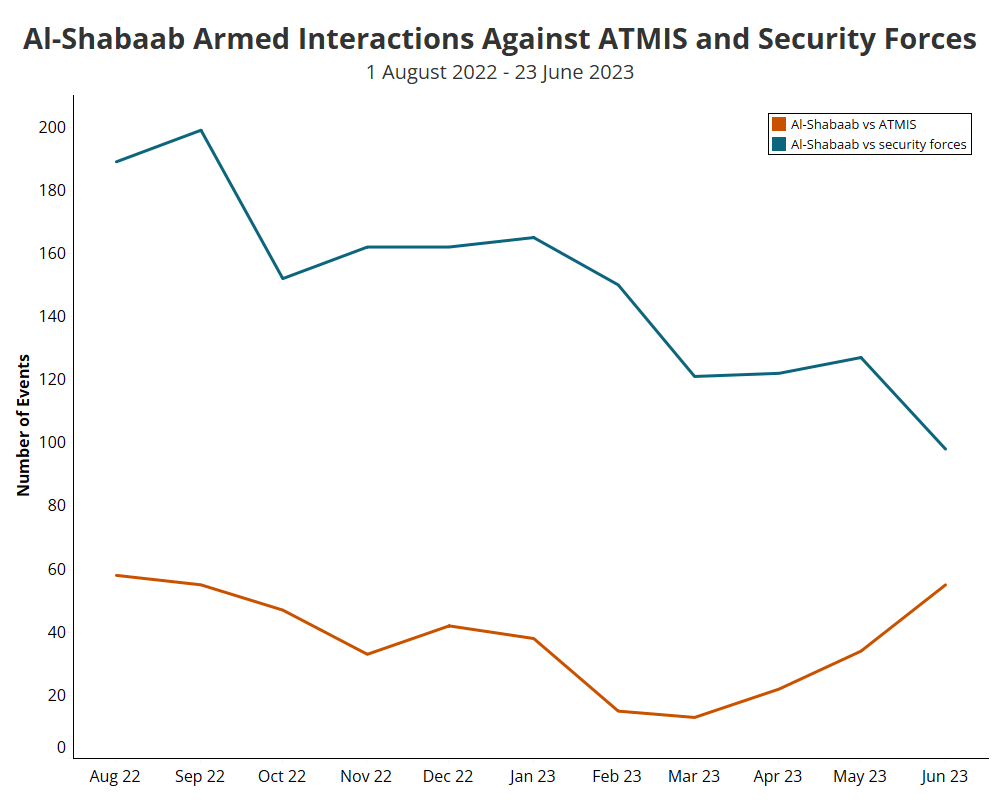 Multiple Political Crises Stall Counter-Insurgency Efforts
On 16 June, Hirshabelle State President Ali Abdullahi Hussein sacked Hiiraan Governor Ali Jeyte Osman after the latter opposed the state government's attempt to transfer authority over tax collection. Ali Jeyte has been a key figure in the ongoing operation against al-Shabaab and played a significant role in mobilizing Hawadle clan militias to support Somali security forces in the counter-insurgency operation. Following his dismissal, Ali Jeyte refused to relinquish his position and announced the secession of Hiiraan from Hirshabelle, in a move that was supported by both federal and local lawmakers from Hiiraan.3Ismail J. Warsame, 'Governor Ali Jeyte: A Hero Betrayed by Political Intrigue,' Hiiraan Online, 19 June 2023; Hiiraan Online, 'Hirshabelle Governor Ousted: Ali Jeyte declares Hiiraan an FMS and bans Hirshabelle officials,' 18 June 2023; Hiiraan Online, 'Hiiraan lawmakers rally behind sacked governor, weighing separation from Hirshabelle state,' 19 June 2023 
However, the political infighting triggered disorder. In Belet Weyne town, dozens of demonstrators took to the streets in support of the ousted governor. Segments of the Hawadle clan loyal to Ali Jeyte promptly mobilized in reaction to his ouster; armed men blocked the runway of the Ugass Khalifa Airport in Belet Weyne, while others vacated security checkpoints in various parts of the town. Moreover, about 200 Hawadle clan militiamen who supported the ousted governor arrived in Belet Weyne town from Maxaas and other villages. Armed with heavy weapons, the gunmen took positions along the town's main road, where most government institutions and security stations are situated. However, segments of the Hawadle clan also gathered and barricaded the town's main supply routes and institutions in support of the newly appointed governor. According to some sources, Ali Jeyte had been earlier accused of denying promotion to security forces from some Hawadle sub-clans. These events highlight the simmering clan-based tensions in Hiiraan. In 2020, the contested election of Ali Abdullahi Hussein as Hirshabelle state president and opposition to a power-sharing agreement ignited armed clashes in the region. 
Political turbulence also spread to other parts of the country. Tensions surfaced in Jubaland and Southwest states, where the federal government planned to expand its counter-insurgency campaign. On 7 June, Jubaland State President Ahmed Madobe appointed a new governor and four deputies for Gedo region. However, the current Gedo administration rejected the appointments4Hiiraan Online, 'Gedo governor, federal lawmakers oppose appointment of new Gedo region administration,' 9 June 2023; Nasiru Eneji Abdulrasheed, 'Jubaland President Instates New Gedo Administration in Somalia,' BNN Breaking, 7 June 2023 (for more on the political dispute in Gedo region and its impact on the counter-insurgency operation in Somalia, see ACLED's April 2023 Somalia Situation Update). In the Southwest, disputes between clan-based security forces over tax collection turned violent in June, with members of the Somali army, mainly hailing from the Haawiye clan, clashing with Southwest police forces from the Rahanweyne clan in Lower Shabelle.5Horn Observer, 'Dozen killed in a fighting in Barawe as clan-based conflict escalates in Somalia,' 14 June 2023)
In semi-autonomous Puntland state, a section of Puntland security forces from Majeerteen Isse Mohamud sub-clan, led by General Jimcale Jamac Takar, along with opposition leaders, accused Puntland State President Said Abdullahi Deni of seeking to extend his term. As the state parliament was debating constitutional changes in the election system from indirect state-level election to a one-person-one-vote system in the upcoming election on 20 June, opposition forces clashed with Puntland police forces in Garowe town, Nugaal region. At least 26 people were reportedly killed. Traditional elders brokered a ceasefire the next day.6Abdiqani Hassan, 'Armed factions in Somalia's Puntland agree ceasefire after deadly clashes,' Reuters, 21 June 2023 The current Puntland administration is on the way to achieving direct voting by the next election, set for 8 January 2024.7Garowe Online, 'Somalia: Puntland's outgoing leader adding fuel to the fire with new appoints,' 25 June 2023
As all attention was focused on the political disputes in Hiiraan, Lower Shabelle, Gedo, and Nugaal regions, al-Shabaab militants began regrouping and planning attacks. Al-Shabaab also made movements in Hirshabelle state, where the counter-insurgency operation had begun and succeeded in overtaking several strategic locations from the militants. On 13 June, locals reportedly saw al-Shabaab militants crossing the Shabelle River in Dhoqor and Faaf-Gumare villages near Belet Weyne town.
Al-Shabaab Exploits Political Crises to Escalate Fighting
The federal government's efforts to continue the second phase of the operation resulted in a reshuffle of the top leadership of Somalia's security forces in June. On 19 June, President Mohamud sacked the army chief, General Odowaa Yusuf Rageh, who played an important role during the counter-insurgency operation and supported the deployment of clan militias.8Garowe Online, 'Somalia President sacks army Chief General Odowaa,' 19 June 2023 This is the first major change made by the president since coming to office in May 2022, with the aim of expediting the second phase of the operation, which has slowed down in recent months due to political infighting in different states.
Meanwhile, al-Shabaab militants used the lull in the operation and launched high-profile attacks in southern and central Somalia, particularly against ATMIS forces.From 27 May to 23 June, ACLED records over 60 incidents of political violence between al-Shabaab and ATMIS forces. Over 73% of these events occurred in Lower Shabelle region (see map below). The ATMIS mandate is set to expire in December 2024, with its forces gradually transferring bases to Somali Armed Forces. By the end of June, ATMIS is mandated to withdraw 2,000 soldiers from Somalia.9AllAfrica, 'AU Troops Begin Withdrawal From Somalia,' 22 June 2023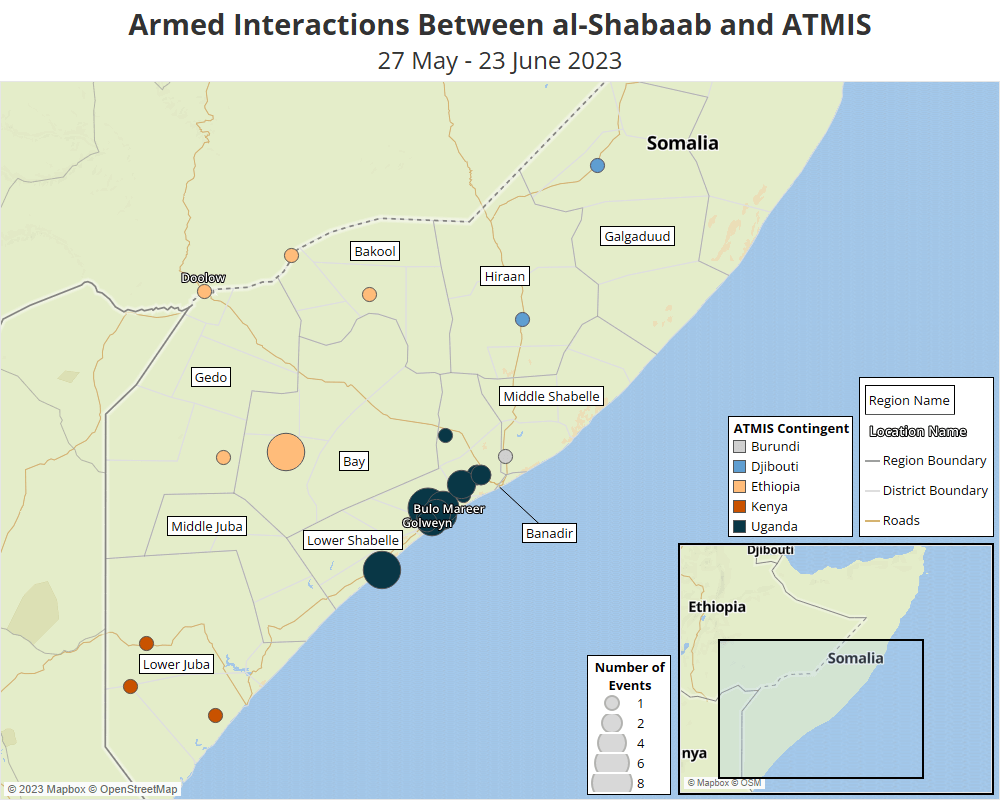 The majority of al-Shabaab attacks against ATMIS forces targeted the ATMIS Ugandan contingent in Lower Shabelle, where an al-Shabaab attack on 26 May left dozens of Ugandan soldiers dead in Bulo Mareer town. On 6 June, al-Shabaab fired mortar shells toward ATMIS Uganda People's Defense Forces (UPDF) and Somali forces at a defensive base in Golweyn village, reportedly killing at least three UPDF soldiers. Additional attacks in and around Golweyn  over the next few days resulted in more casualties among Ugandan forces. 
Nearly a dozen al-Shabaab attacks were also recorded against the ATMIS Ethiopian contingent in Bay, Bakool, and Gedo regions during the reporting period (see map above). On 7 June, in Doolow town of Gedo region, near the border of Ethiopia, two al-Shabaab suicide bombers targeted the ATMIS Ethiopian National Defence Force (ENDF) base and ammunition store. While al-Shabaab claimed to have killed 123 ENDF soldiers and injured 78 others, the ENDF dismissed the claims and said it had repelled the attack and killed six al-Shabaab combatants.
The recent political turmoil in Somalia highlights the urgent need for strong institutions and the completion of the constitution to end the unresolved disputes across the country. Following success in the first phase of the offensive, the state and federal presidents' sacking of Governor Ali Jeyte Osman and General Odowaa Yusuf Rageh represents a step back for the counter-insurgency operation as both spearheaded the fight against al-Shabaab militants by mobilizing and supporting clan militias. The significant disputes in Hiiraan and Gedo regions and the clan-based clashes in Baraawe and Garowe in Puntland state, have allowed al-Shabaab militants to make movements and launch high-level attacks that threaten the continuation and expansion of the operation to Jubaland and Southwest states.