Journalists are facing high levels of political violence. The threat worsened in 2022, with ACLED recording nearly 520 incidents of violence targeting journalists around the world, up from just over 460 in 2021. Attacks were reported in at least 78 countries. Among those with the highest levels of violence, Mexico, Bangladesh, and Afghanistan top the list for the second consecutive year, accounting for 46, 46, and 38 events, respectively.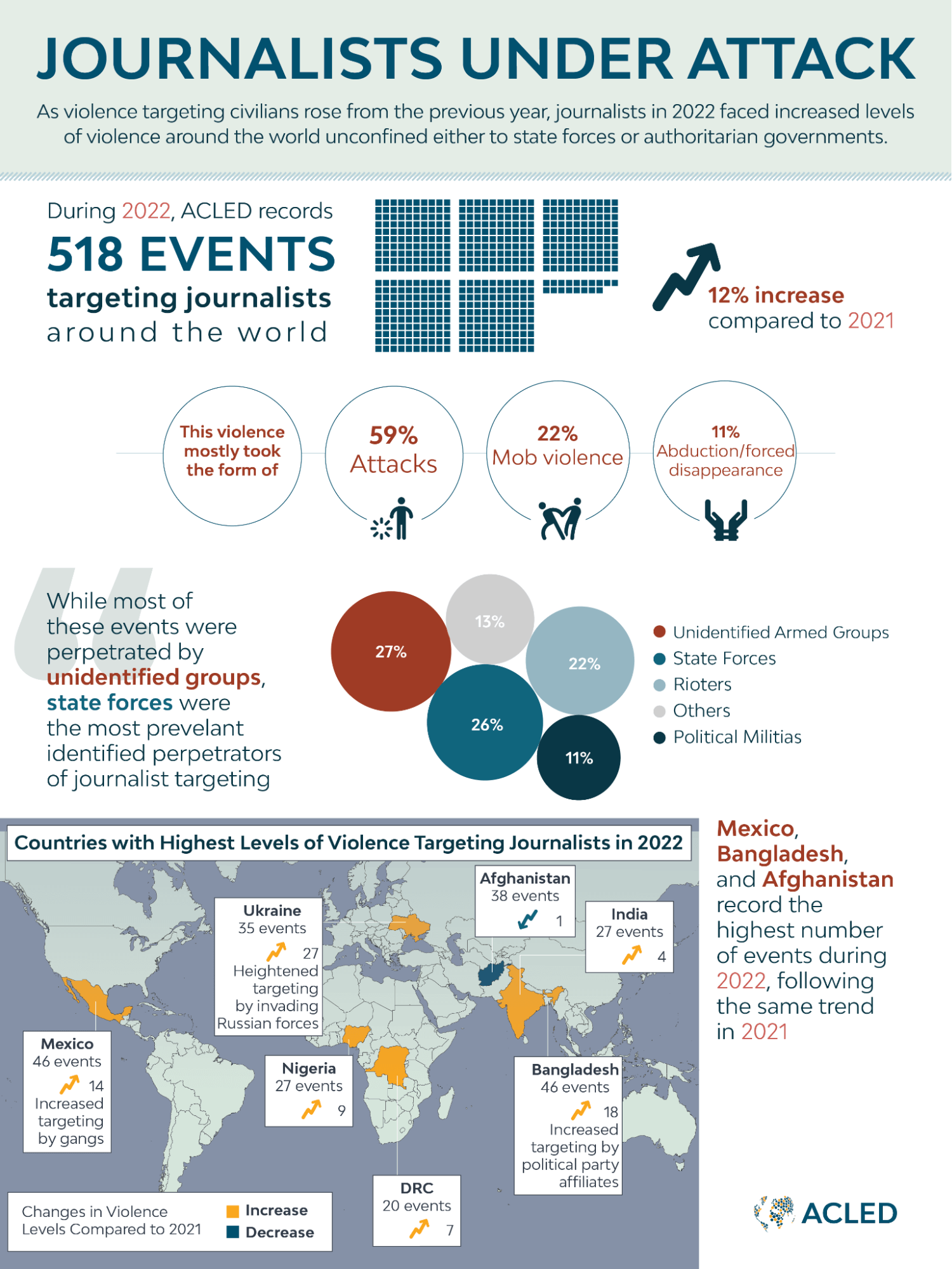 Mexico and Bangladesh experienced increases of 44% and 64% in 2022 compared to 2021, on the back of increased targeting by gangs and political party-affiliated perpetrators, respectively. Meanwhile, violence targeting journalists in Afghanistan remained at similar levels in 2022 to 2021 amid ongoing Taliban repression. The largest increase in violence targeting journalists was recorded in Ukraine, where ACLED records 35 such events in 2022 — an over three-fold increase compared with 2021. These events included direct attacks against journalists covering the war, mostly by occupying Russian forces, and shelling on both sides of the Line of Contact. Russian forces also routinely abducted journalists, mostly in the occupied parts of the Kherson and Zaporizhia regions in southern Ukraine.
Globally, the perpetrators of this violence are diverse, with state forces, violent mobs, and political militias among the most prevalent perpetrators, accounting for 26%, 22%, and 11% of events, respectively. However, many of the perpetrators of violence targeting journalists remain hidden, with more than a quarter of events perpetrated by unidentified armed groups. Though some of this obscurity arises from reporting gaps or the complexity of individual conflict environments, much is deliberately anonymous. In this sense, the use of unidentified actors to perpetrate attacks allow the orchestrators of these attacks to conceal their own identities and motives, and allow for greater impunity.