The most significant trend witnessed throughout 2014 in Egypt was the dramatic decline of riot and protest events nationwide (see Figure 1). Sweeping detentions of Muslim Brotherhood supporters, unconstitutional civilian and military trials, and the introduction of legislation that curtails representation has seen Egypt slip into a counter-revolution reminiscent of past regimes under Mubarak in the late 1980s, and Nasser's government in the 1950's (Origins, July 2014).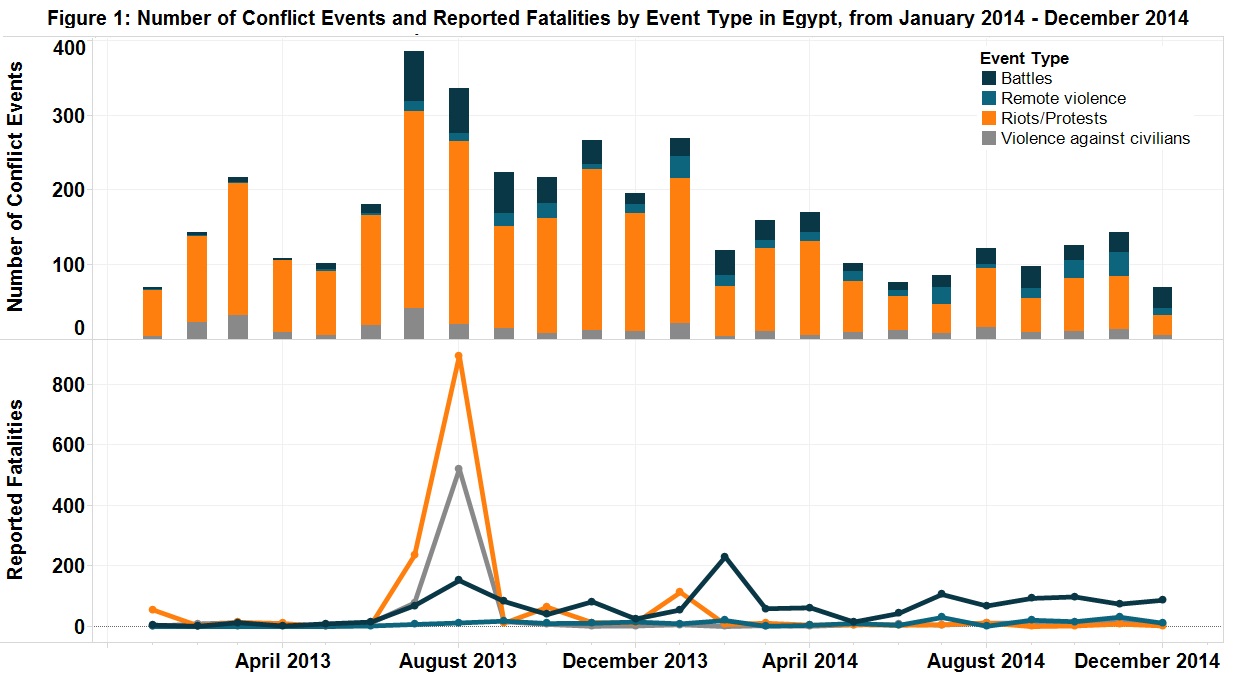 This pattern is reflective of the attitudes of Egyptian citizens where, "once thrilled by the people power which removed Mubarak's ruthless security forces, Egyptians are now tolerating tough crackdowns under President Abdel Fattah al-Sisi for the sake of stability…" (Reuters, 12 January, 2015). The Council on Foreign Relations reported that since the summer of 2013, an estimated 16,000 people have been indicted or jailed for taking part in protests (CFR, 15 December, 2014).
The security forces' focus on repressing the Egyptian public has taken precedent over their engagement with the localized insurgency threat based in the Sinai Peninsula. From Q1 to Q3 of 2014, excluding September 2014, there were 229 more events where security forces were engaged with rioters, protesters, or violence directed towards civilians than with political militias and armed groups. Whilst this may be indicative of a larger number of organized civil society demonstrations compared to militant activity, it remains that the number of protests fell throughout this period (see Figure 1).
History is repeating itself in Egypt – just as Mubarak feared the ascendency of moderate Islamist groups in the 1990s, al-Sisi reacted to the Muslim Brotherhood's rise to power in 2012. This has paved the way for a backlash by more radical Islamist groups, with Ansar Beit-al Maqdis gaining prominent international coverage in the media and December witnessing the largest attack on security forces since the beginning of the Sinai conflict in 2013.
The number of battles was relatively stable throughout the year. This further exposes the Egyptian military's languid commitment to combatting regional threats, as neighbouring Libya also struggled to contain the growth of radical Islamists in the eastern city of Derna. The creation of a buffer zone at the Gaza border and weekly raids on militant hideouts failed to dampen the growing threat to national stability from North Sinai. Despite this, Egypt's conflict landscape was nevertheless dominated by continual suppression of regime-dissenters.