A campaign of violence has been escalating in Sudanese universities in recent weeks, and over 200 students from Darfur have been assaulted, beaten, or detained over the last six months. On April 29th, 150 student members of the ruling National Congress Party (NCP) attacked members of the Darfur Students Association (DSA) at Sharq El Nil College in Khartoum (Sudan Tribune, May 12, 2015). The students were supposedly criticising recent presidential elections when NCP and security guards approached them with metal bars, crutches, and machetes (Agence France Presse, April 29, 2015). During the attack, NCP student leader Mohamed Awad was killed, sparking a wave of violence against Darfuri students throughout May. At least half of the incidents have involved National Intelligence and Security Services (NISS) agents.
Violence against Darfuri students has occurred primarily in the capital city of Khartoum and neighbouring Omdurman, which experienced seven such conflict events (see Figure 1). Violent attacks have also been carried out against students in Blue Nile State and Kordofan. Three separate incidents of violence occurred on May 11th alone. At the University of Sennar in Blue Nile State, NISS agents beat Darfuri students during protests over student support funds. At the University of Bahri in Khartoum, NCP student members attacked Darfuri students holding a discussion group, wounding three people. The student group was alleged to be in support of the Minni Minnawi-led faction of the Sudan Liberation Movement/Army (SLM/A) (Sudan Tribune, May 12, 2015).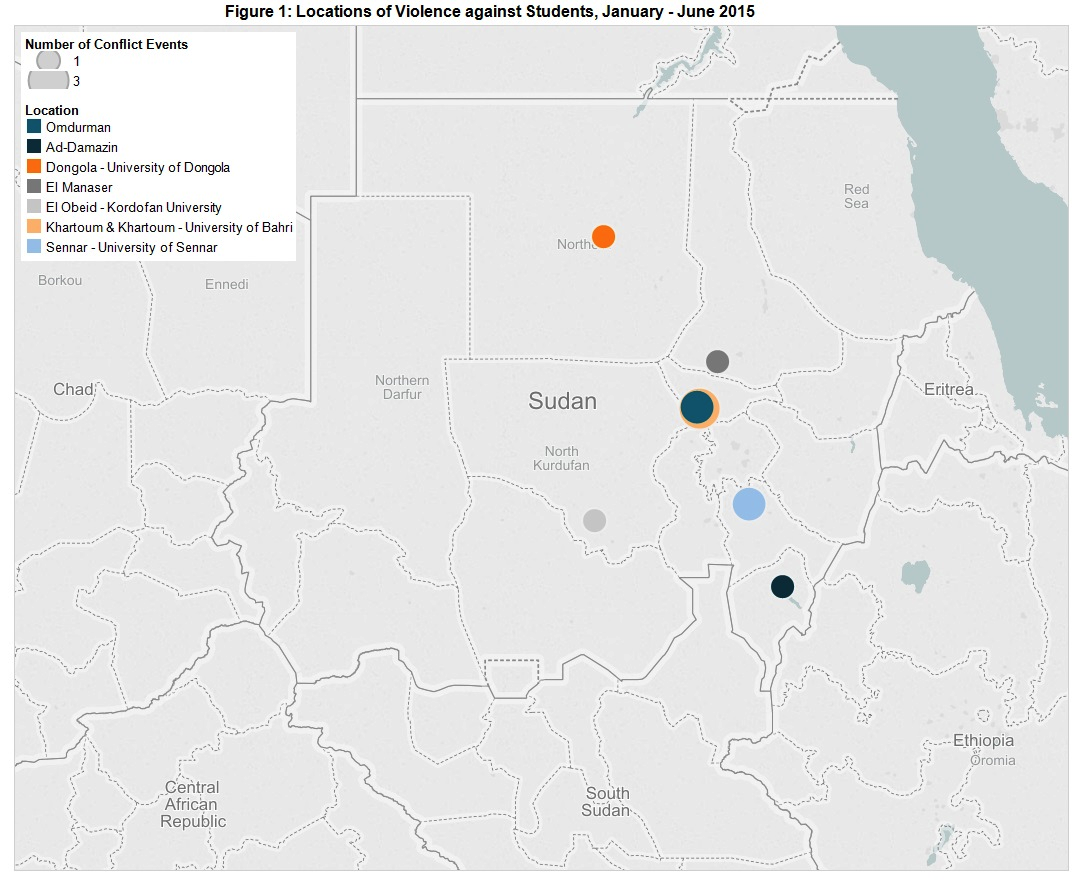 Two days prior to the attack, pro-government columnists called for Darfuri students to be expelled for allegedly supporting armed opposition forces (Sudan Tribune, May 12, 2015). Also on May 11th, at the University of Dongola in the north of Sudan, NCP students and NISS torched a university women's hostel before beating and detaining Darfuri students (Nuba Reports, May 15, 2015). The DSA announced the disappearance of eight students following the incident. On May 12th, NCP and security agents continued to attack students at the University of Bahri, injuring 17 people. From May 21st to May 28th, similar attacks occurred at Aliyah University in Omdurman, Kordofan University in El Obeid, and El Zaeem El Azhari University in Khartoum (Radio Dabanga, May 19, 2015). The most recent attack occurred on June 3rd, when NCP students injured three Darfuri students at the University of Sennar, using batons, iron bars, and knives.
The upsurge in violence against Darfuri students comes on the heels of national elections in April, which saw Omar al-Bashir retain his presidency with a 94% majority (Africa Confidential, "The President's New Clothes," May 1, 2015). Less than half of the country's registered voters went to the polls. The National Elections Commission reported 46% of registered voters marked ballots, while the opposition Sudan People's Liberation Movement-North (SPLM-N) reported voter turnout to be as low as 15% (African Arguments, April 28, 2015). With results seeming to be a foregone conclusion, it was reported that queues for restaurants and soccer matches were longer than those for polling stations (Africa Confidential, "Enhancing Elections," May 1, 2015). With increased protests associated with an opposition boycott of elections, April 2015 saw a six-month high in the number of total conflict events, with 151 (see Figure 2).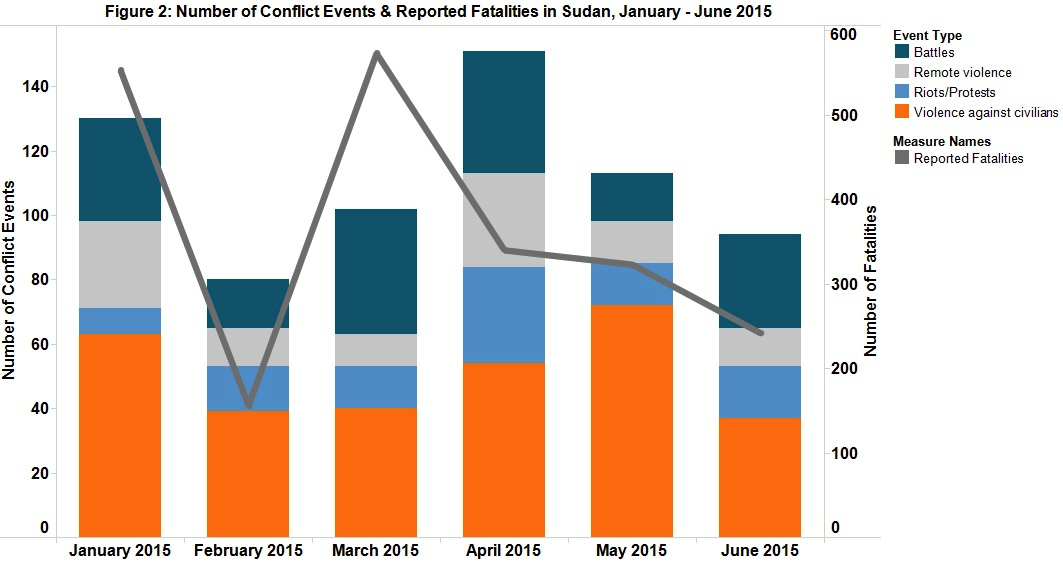 Although attacks on Darfuri students account for approximately 2% of violence against civilians in the country over the past six months, members of the DSA fear that the government is attempting to generate and manipulate manufactured "tribal" tensions (Radio Dabanga, May 19, 2015). The way in which the NCP discusses the targeting of Darfuri students has been described as "ominously similar to the way language has been used to incite ethnic violence in other conflicts" (Nuba Reports, May 15, 2015).
Although al-Bashir and NCP are often criticized for perpetuating insecurity in Darfur, South Kordofan, and Blue Nile, government-related protests and violence in and around Khartoum are relatively recent developments in the past few years. December 2011 saw a series of student protests, security raids, and arrests at the University of Khartoum (Global Coalition to Protect Education from Attack, 2014). Although Darfuri students are exempt from tuition fees according to the 2011 Doha Document for Peace in Darfur (Radio Dabanga, June 29, 2015), in December 2012, four Darfuri students at Gezira University were found drowned in a canal following a police crackdown on tuition protests (Agence France Presse, December 8, 2012). Pro-government students and Darfuri students clashed on several occasions in 2013, leaving at least four dead (Nuba Reports, May 15, 2015). In early 2014, Darfuri students at universities in Babanusa and West Kordofan were expelled and beaten (Radio Dabanga, June 29, 2015).
Although NCP and NISS have been directly involved in less than 4% of events involving violence against civilians in the first six months of 2015, April's disputed elections have reinvigorated political tensions on university campuses. If not quelled, the discrimination, attacks, and detentions may lead to further ostracism of Darfuri students attempting to gain an education outside of Darfur.

This piece was originally featured in the July 2015 ACLED Conflict Trends Report.