Uganda has seen a steady increase in violence and protest throughout 2015, peaking in October with 46 events reported. October also saw nearly twice the number of conflict events as the second-most active month in 2015 (24 total events were reported in July) (see Figure 1), and each month had six conflict-related fatalities (see Figure 1). The recent spike in protests and violence is associated with the start of campaigns and primaries for presidential elections to be held in early 2016.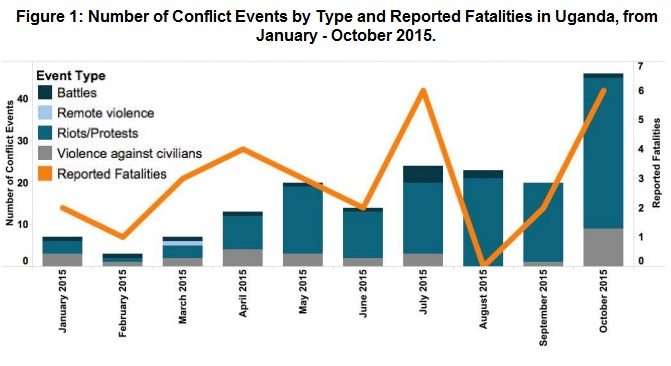 Riots and protests connected to police brutality and suppression of opposition rallies constituted 78% of all violence this month. The majority of riots and protests occurred in the western district of Karabole, the south-western district of Isingiro, and in central districts of Masaka, Luwero, and Kampala (see Figure 2). On 15 October, ruling National Resistance Movement (NRM) supporters protested in Masaka, Sembabule, and Mbarara, alleging rigged voting in the primaries. On the same day in Butaleja, two NRM supporters were reportedly hacked to death by opposition supporters. On 21 October, at least 15 people were injured in clashes between supporters of rival MP candidates in Tororo District. On 27 October, police assaulted a journalist in Lwengo for covering a story on election fraud. Most recently, on 29 October, a journalist was shot in the head at Bulera police station in Mityana District.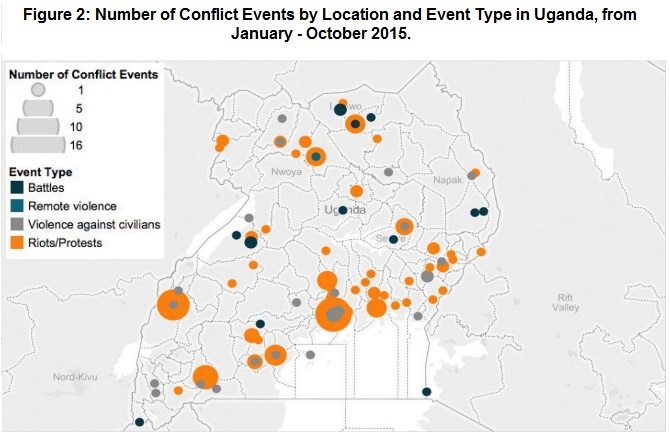 President Yoweri Museveni heads into the 2016 elections having ruled since 1986, and lifted presidential term limits through a constitutional amendment in 2005. Standing in the way of his fifth term is a slew of defectors turned political challengers, as well as accusations of police brutality against opposition voices (Human Rights Watch, 18 October 2015). In September 2015, police clashed with supporters of former NRM Secretary General Amama Mbabazi at rallies in Soroti and Jinja. Dozens of the protesters and rioters were injured by rubber bullets and tear gas (Human Rights Watch, 18 October 2015). Once seen as a natural successor to Museveni, Mbabazi's "fall from grace" and dismissal as Prime Minister in September 2014 was triggered his rumoured presidential ambitions (African Arguments, 29 June 2015). In 2015, Mbabazi defected from NRM and formed the Go Forward Campaign where the allied opposition nominated him as a presidential candidate (The Monitor, 3 November 2015). Another political challenger, Kizza Besigye, has been repeatedly arrested in 2015. In October, police beat Besigye and his staff during a Forum for Democratic Change (FDC) rally in Rukungiri District. A female staff member was stripped naked by police and thrown into a truck, sparking anger over police misconduct towards women (Voice of America, 13 October 2015).
Despite increased election-based violence in the Western and Central Regions, the Northern Region has remained relatively calm. Once the scene of abductions and torture by the rebel Lord's Resistance Army (LRA) in the 1990s and 2000s, the northern areas experienced just four incidents of violence against civilians in 2015 (see Figure 2). In early January, LRA senior commander and International Criminal Court (ICC) indictee Dominic Ongwen surrendered/was captured in Central African Republic (CAR) and was extradited to The Hague (BBC News, 7 January 2015).
Since 2006, LRA operations have moved into Democratic Republic of Congo (DRC) and CAR. Although rebel accountability is crucial, sentiment is also strong that the ICC has been "inadvertently promoting the government's narrative of the conflict," with the LRA as 'terrorists' and the government as 'protector' (African Arguments, 10 February 2015). The government's forced displacement of hundreds of thousands of civilians into "protection camps" during the LRA war has had a last negative impact. In April 2015, Acholi tribesmen, who settled in Apaa after being forcibly displaced by LRA fighting, protested against land grabbing and talks of a new boundary between Amuru and Adjumani Districts (Radio France Internationale, 19 April 2015). With the land supposedly belonging to the Uganda Wildlife Authority as a game reserve, Acholi protesters felt they were being evicted from their ancestral land for a second time (Radio France Internationale, 19 April 2015). As recently as 7 September, five people were shot and seriously injured in related clashes between police and protesters in Pabo.
Tensions with neighbouring states and non-state actors also remain a concern for Uganda. On 7 July, one soldier was killed in clashes between Ugandan military forces and an unidentified Congolese militia in Nketo near the border of DRC and Rwanda. On 4 August, in Apuk and Yoke villages in Lamwo, the military exchanged fire with South Sudanese soldiers that had erected a boundary demarcation near River Limu (Daily Monitor, 6 August 2015). Violence from possible Al Shabaab militants surfaced on 30 March in Kampala's Kiwaatule area, where gunmen shot and killed Joan Kagezi, head of the Directorate of Public Prosecution's anti-terrorism and war crimes division. At the time of her death, Kagezi was the principal prosecutor in a case against suspected Al Shabaab militants accused of bombing two locations in Kampala, killing at least 74 people watching the 2010 World Cup.
With riots, protests, and violence against opposition voices increasing as 2015 draws to a close, the start of 2016 will see Museveni fending off challenges to his continued rule. Meanwhile, Ongwen will face his confirmation of charges hearing in the ICC, scheduled for January. Time will tell whether a possible change in presidency and the potential prosecution of a rebel leader may bring about a more peaceful year for Uganda.
This report was originally featured in the November ACLED-Africa Conflict Trends Report.