On 31 December, Sudan President Omar al-Bashir announced a 30-day ceasefire for the regions of Darfur, South Kordofan and Blue Nile (Radio Dabanga, 8 January 2015). The ceasefire came on the heels of joint attacks by the military, Rapid Support Forces (RSF) and Sudanese Air Force (SAF) on villages surrounding Jebel Marrah in Darfur (see Figure 1). On 30 and 31 December (continuing on 1 January 2016), Antonov aircrafts bombed Dab Naira, Sunga, Terenga, Beronga, Dolo, Dana and Dalo in Central Darfur (see Figure 1). Eight civilians were killed. Joint attacks were also carried out on Aradeib and Deribat in South Darfur. More than half of SAF bombings in Darfur in the final three months of 2015 resulted in fatalities or injuries to civilians.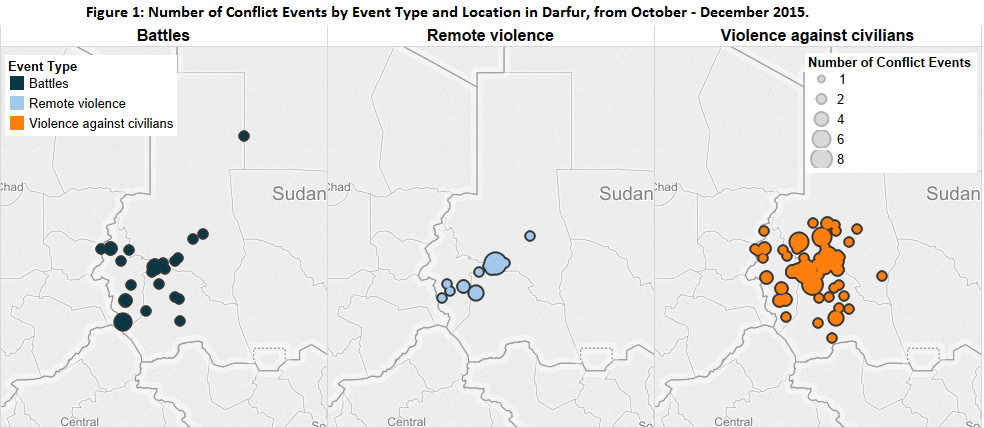 Although the Jebel Marrah attacks and ceasefire announcement shine a spotlight on military activity, many of Darfur's conflict events over the past three months involved inter-ethnic fighting. Darfur saw eight battles in October, including a two-day clash between Misseriya and Salamat tribes in Umm Dukhun. Seven were killed. The number of battles in Darfur increased to nine in November and 13 in December, including continued clashes between Misseriya and Salamat militias (see Figure 1). On 12 December, Misseriya militia also clashed with Abala herdsmen in Umm Zahefa, resulting in 17 killed. Most recently, Misseriya militia attacked a police convoy in Bielel, accusing police of favouring the Abala tribe.
Incidences of violence against civilians in Darfur remained steady in October, November and December 2015, with at least 40 such events each month (see Figure 1). A majority of these incidences occurred in North Darfur, and involved militant herders assaulting farmers. There were also attacks on civilians by pro-government militia, RSF and Abala herdsmen. In the past three months, at least 50 people were abducted and 40 women raped throughout Darfur. Often, those abducted are children, and those raped are women collecting firewood outside of internally displaced camps.
Darfur-related peace talks between the government, Justice and Equality Movement (JEM), and the Sudan Liberation Movement/Army- Minnawi Faction (SLM/A-Minnawi) will begin in Debre Zeyit, Ethiopia, in late January. Informal peace talks that stalled between the government and the Sudan People's Liberation Movement-North (SPLM-N) in late November will also resume in Berlin this month (Sudan Tribune, 15 January 2016). Much of the difficulty in negotiating and enforcing peace deals lies in the fact that there are more parties affected than there are signatories to a particular agreement. Neither JEM nor SLM/A-Minnawi signed the 2011 Darfur Peace Agreement. Therefore, those groups may boycott April's referendum (stemming from the 2011 agreement) on whether Darfur will become one semi-autonomous government or remain as five states (Radio Tamazuj, 13 January 2016). Additionally, the military saw a recent increase in clashes with the Sudan Liberation Movement/Army-Abdul Wahid al-Nur Faction (SLM/A-Nur), a main Darfur rebel group that refuses to join any mediation talks until fighting ceases on the ground.
This report was originally featured in the January ACLED-Africa Conflict Trends Report.