The number of conflict events recorded by ACLED in Libya remained stable throughout September 2016, exhibiting neither an overall increasing or decreasing trend. Whilst ostensibly this indicates relative stability in the conflict lifecycle (ACLED Crisis Blog, 10 June 2016), the underlying political dynamics were far from static, with a renewed offensive in the country's East and external military involvement leading to the emergence of General Khalifa Haftar as 'a man on horseback' grooming himself for   power.
In a continuation of political dynamics initiated a few months ago, fighting in Sirte has continued to occupy the Misratan-dominated military forces in Tripoli. After July witnessed a spike in suicide attacks that inflicted major setbacks to Operation Bunyan Marsous forces, in August the United States launched a major airstrike campaign against the Islamic State (IS) in Sirte (The Guardian, 1 August 2016). The coordinated U.S. airstrikes have hastened the success of the offensive, with at least 175 airstrikes reported on Islamic State positions since August and only a few hundred militants are now barricaded in the city's central neighbourhood (Libya Herald, 26 September 2016). This success comes despite reduced engagement by forces loyal to the Presidency Council. In June 2016, Bunyan Marsous forces carried out over four times as many attacks against the remaining Islamic State militants as September 2016 (see Figure 1). Nonetheless, Libyan military forces made the highest territorial gains in August 2016, coinciding with the official campaign of the U.S. Africa Command.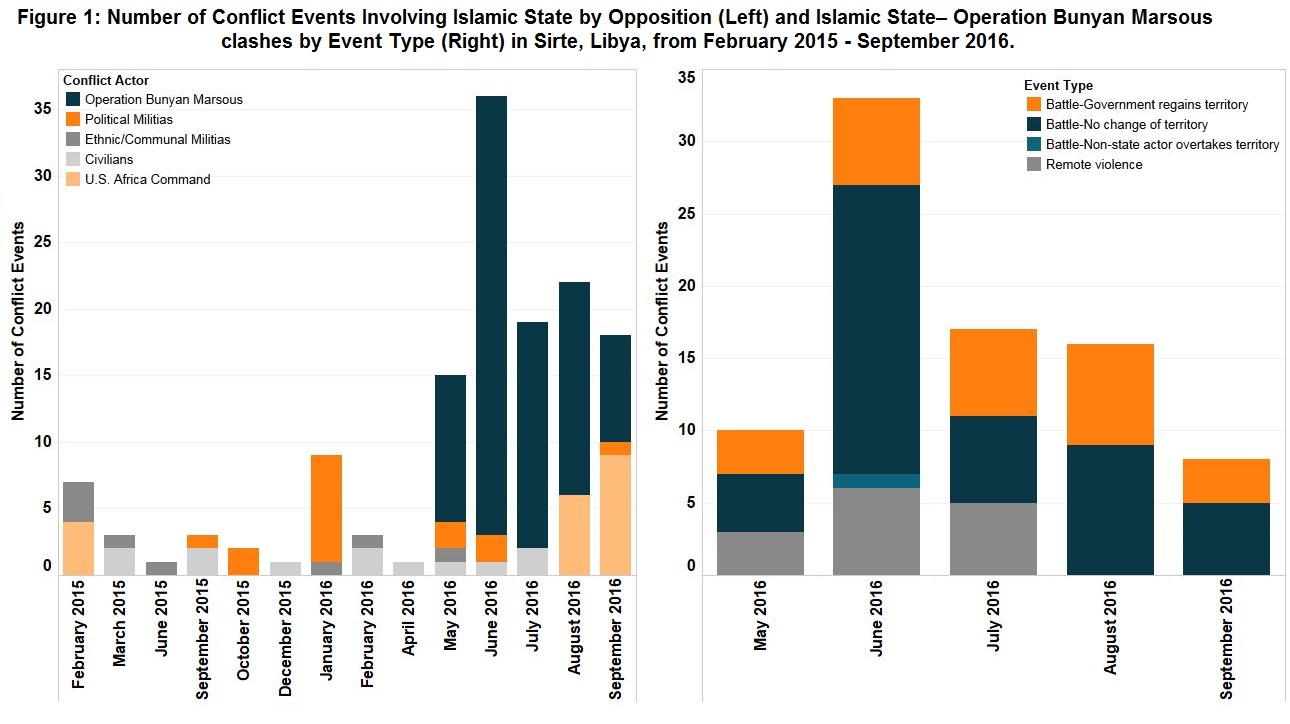 While carrying out airstrikes in Sirte in support of Tripoli-based alliances, the U.S have coordinated a joint operations room in Benghazi supporting Haftar's Libya National Army (LNA), despite the fact that elites between these two camps are heading for direct competition. In mid-September, the LNA capitalised on their eastern position to force the Petroleum Facilities Guard (PFG) out of control of the key oil terminals of Ras Lanuf, Sidra and Brega. This came at a time when the controversial PFG leader Ibrahim Jadran had signalled its cooperation with the Tripoli-based government.
Haftar has thus emerged the strongest out of the latest offensives (European Council of Foreign Relations, 23 September 2016). Politically, he has curried favour with the national institutions by immediately ceding control of the oil facilities to the National Oil Corporation, thereby insulating his forces from counter-attacks to regain control and to create meaningful partnerships with key brokers Libya's economic landscape. His position as the national policeman and Libya's transitional talisman is further consolidated by recent seizures of container ships – a move that at least signals a more serious engagement with security provision (Libya Herald, 1 October 2016).
As Haftar consolidates his position within Libya's frail governance, the Government of National Accord (GNA) struggles to extend its outreach beyond Tripoli. In August, a vote of no confidence by the Tobruk-based Parliament revealed the fragile authority of the UN-backed government, while mutual distrust between the two governing entities has shattered efforts to build a unified Libyan army (France24, 22 August 2016). Increasing protests against financial shortages and power cuts in Tripoli and other Libyan towns also show the growing dissatisfaction with a government unable to provide the basic services to its citizens (Middle East Eye, 18 September 2016).
Meanwhile, governance in eastern Libya is becoming militarised. There are reports that elected councils are being replaced with military management in Kufra, Ajdabiya, Soloug and Tobruk with speculation that the LNA will install a military governor in Sirte (Libya Herald, 27 September 2016). As the the LNA advances further west towards Sirte, renewed factional tensions between Misratan and Zintan militia groups are also likely to emerge. Misratan forces have lost close to 560 soldiers and sustained more than 2,600 injuries during a four-month-long offensive (Middle East Eye, 24 September 2016). After taking over the coastal towns of Hawara, Ras Lanuf and Beni Jawad, the LNA is now 50 km from the former IS stronghold (see Figure 2). Should the LNA – comprised of Zintan militias – attempt to lay claim to a liberated Sirte, historical grievances may well emulate the factionalism between militia groups after the fall of Gaddafi, therefore leading to a heightened risk of direct confrontation. Although there is some potential for a common economic governance shared by Libya's multiple authorities (The Arab Weekly, 2 October 2016), the prospects a stable political settlement remain fragile.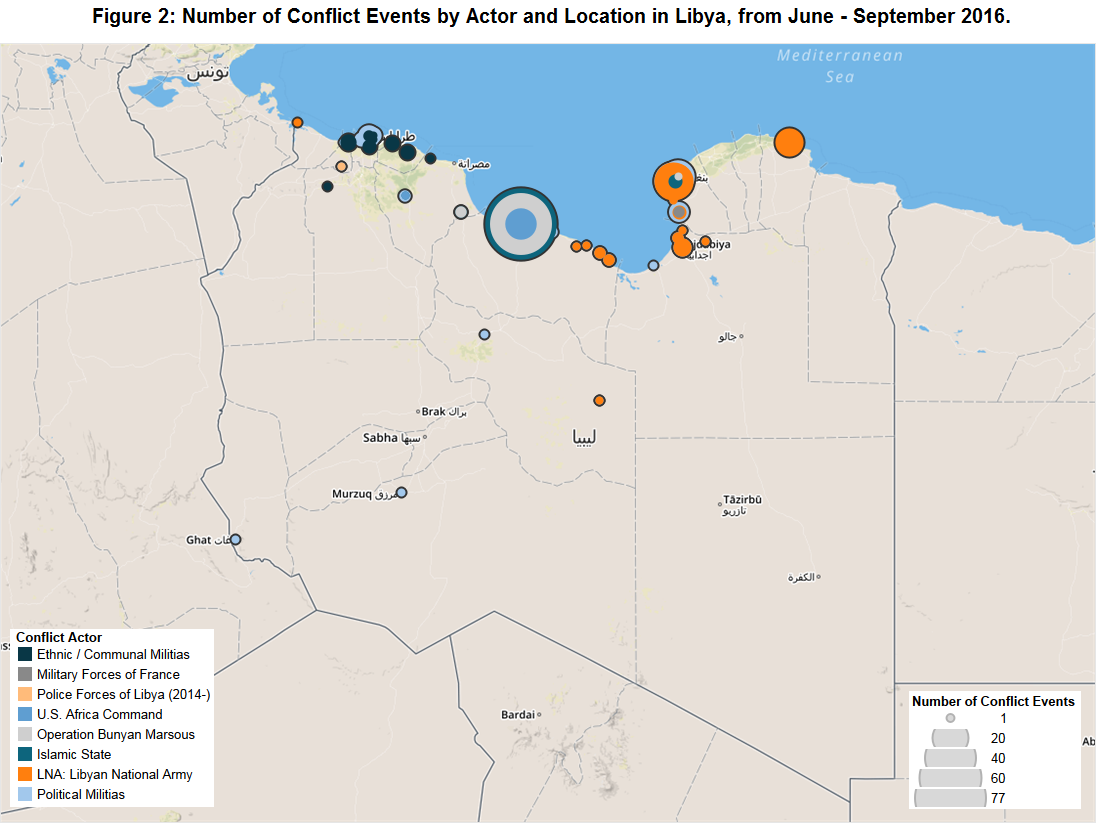 Domestic dynamics are also interacting with increasing, albeit incongruous, foreign intervention. The U.S. airstrike campaign has contributed greatly to the advance of Bunyan Marsous in Sirte, while the Italian government has recently deployed 300 soldiers to guard a hospital near Misrata airport (Reuters, 12 September 2016). Similarly, British special units were already reported to be active in Misrata. However, these moves are at odds with the alleged support that Great Britain, France, Italy and the Unites States have provided to General Haftar's LNA, whose main sponsor remains Egypt's al-Sisi (Al Jazeera, 9 July 2016). The most controversial incident occurred in July, when a militant group called Benghazi Defence Brigades (BDB) claimed to have shot down a helicopter carrying three French soldiers near Benghazi. While the French government initially denied that military personnel were present, it later had to admit that French special forces were deployed on a covert mission supporting Haftar's Dignity Operation (The Long War Journal, 22 July 2016). These episodes reveal the seemingly divergent strategies pursued by Western countries in Libya, which nominally back the internationally recognised government and abide by the international arms embargo while actually providing technical and ground support to the LNA.
This report was originally featured in the October ACLED Africa Conflict Trends Report.
Authors: James Moody and Andrea Carboni