Between January and July 2016, ACLED data recorded 83 fatalities among specific religious minority groups in Pakistan.The vast majority of those killed (72) are the result of a Jamaat-ul-Ahrar coordinated bomb-blast that took place in a Christian neighbourhood of Lahore on Easter Sunday. This attack spurred government action to deal with the targeting of minorities.


On 27th March 2016, a militant belonging to Jamaat-ul-Ahrar–a Tehreek-e-Taliban break-off faction– entered Gulshan-e-Iqbal Park with an explosive-laden vest. The park is one of Lahore's biggest, and the city's Christian population had gathered after the afternoon Easter church service to celebrate. The militant detonated his vest close to a children's play area and killed at least 72 people while injuring over 200 more (Dawn, 29 March 2016). While both Muslims and Christians were present at the park and people from both faiths were killed, Jamaat-ul-Ahrar stated that the bomb targeted the Christians present and vowed to carry out more such attacks (Reuters, 28 March 2016). Jamaaat-ul-Ahrar was also responsible for an attack on two Lahore churches in March of 2015 (Geo TV, 15 March 2015).
Other fatalities are the result of individualized acts of violence often termed as 'targeted killings' by the Pakistani media. In the interior of Sindh (rural Sindh), Hindus were attacked for eating during fasting hours during the Muslim holy month of Ramzan (The Express Tribune, 12 June 2016). In Karachi, attacks against religious minorities appear to have largely secular motivations, gunmen targeting prominent Shia Muslims. In Khyber-Pukhtoonkhwa, while some attacks on Shias took place in Peshawar, the biggest semi-coordinated attack took place in the Dera Ismail Khan district with 4 Shia Muslims murdered in a single day (The Friday Times, 13 May 2016) .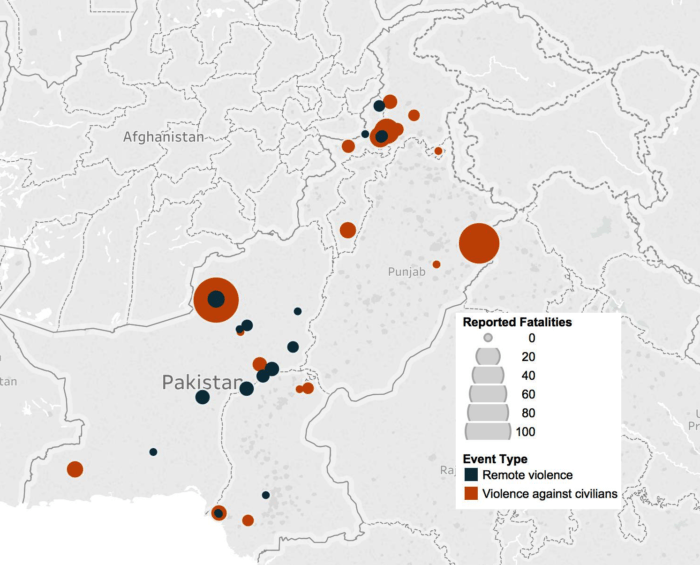 However, this year's Easter Sunday attack is notable for the significant response by the government, who shifted military strategy to address these threats.  In the aftermath of the Easter Sunday bombing, the federal government has promised the strongest retribution for those involved, an expansion of the National Action Plan against terrorism, and a deployment of Rangers (federally administered paramilitary forces) throughout Punjab. This is the first instance that federal forces will be active in Punjab through this government, marking a sharp shift in policy for Pakistan (Dawn, 29 March 2016). Khyber Pukhtunkhwa, Sindh, and Balochistan have all had Ranger deployments under the National Action Plan. The deployment of the Rangers in Punjab resulted in over 200 overnight arrests, and a continued presence throughout the state(BBC , 29 March 2016). Since the attack, several militant commanders have been captured or killed in Punjab.. Taking such measures following an attack on a minority group was a strong step to take by the state to show its commitment to protecting these groups.
While an attack against minorities on such a scale has not been repeated since the Easter Sunday attack, they are still far from secure in a country where lynching, targeted killings, and vigilantism has continued against non-Sunni religious groups. Attacks on sectarian grounds are also common in Pakistan. For example, during Ramadan, an octogenarian Hindu man and his relative were attacked on their own property for eating during fasting hours in Sindh. This case was remarkable as the attacker was a police officer, and while he was not acting on any official order, registering a case against the officer and pursuing it proved to be difficult for the victims(Dawn, 12 June 2016). As media attention gathered on the case and public outcry followed, the victims were enabled to further pursue the matter.
Different factions within Islam, ranging from Barelvi to Shia to Ahmedi, are also attacked.  Those belonging to the Wahhabi-Sunni school of thought have targeted the Shia population, Pakistan's largest minority, are the most common victims of such attacks. Militant groups including Lashkar-e-Taiba (LeT), Sipah-e-Sahaba and Ahle-Sunnat-Wal-Jamaat are known to openly engage in hate speech against Shias and have strong links to attacks on them. Often times these groups are believed to hire targeted killers to carry out the attacks, preventing direct links to themselves. The majority of Shias attacked in Pakistan between January and July 2016 were prominent figures in their communities, holding professions with strong community ties as well as steady incomes, such as journalists, religious figures, and lawyers. From Karachi in Sindh to Dera Ismail Khan in Khyber Pukhtunkhwa, Shias working for the betterment of their communities were the target of these types of attacks.
The founding of Pakistan was based in large part on escaping religious persecution in Hindu-majority India, with Muslims concerned about being a minority on the sub-continent.  However, with close to a hundred individuals from minority groups dead in six months and several hundred more injured, Pakistan  fails to keep its citizens safe.