Sudan witnessed a rise in conflict activity and fatalities over April – May 2017, driven by renewed clashes between government and Darfur rebels, and by inter-communal violence.
In May, battles resumed between Sudanese forces supported by the Rapid Support Forces (RSF) militia, and the Minni Minawi and Transitional Council factions of the Sudan Liberation Army (SLA/MM and SLA/TC) in North and East Darfur (Nuba Reports, 1 June 2017). This represents the first engagement of SLA/MM in Sudan since April-May 2015, when they tried to re-enter Darfur together with the Justice and Equality Movement (JEM) from their alleged bases in neighbouring countries. Government's large victory in 2015 significantly weakened both rebel movements, which were said to have returned abroad to rebuild their capabilities and wait for an enabling regional environment to re-enter Darfur (UNSC, 9 January 2017).
Although it remains unclear who launched the most recent attacks and why, it is possible that clashes re-erupted in May 2017 because SLA/MM deemed to have amassed enough capabilities to return to Darfur to defend its cause. The government's lack of credibility towards recent efforts to resolve the conflict in Darfur (by continuing its counterinsurgency operations in Jebel Marra despite having committed to a unilateral ceasefire for instance) might have also provoked an armed rather than diplomatic response (see Figure 1; Radio Dabanga, 26 April 2017). Upon recommitting to their own unilateral ceasefire on 1 May 2017, SLA/MM and JEM had signalled that it would not prevent them from acting in self-defence or to protect civilians (Radio Dabanga, 1 May 2017).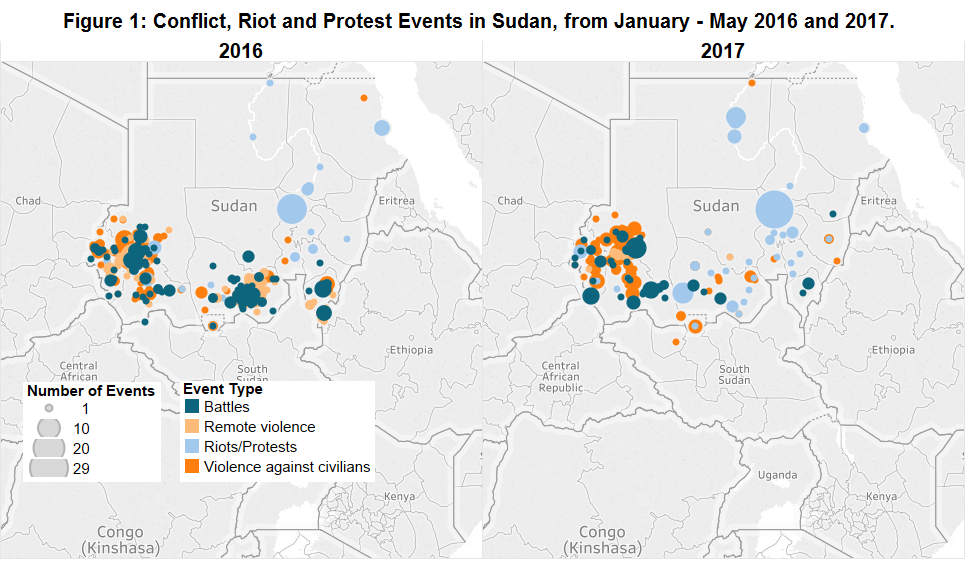 The government showed that it remained wedded to a military response to the conflict led by its militia. Following the clashes, RSF and Sudanese forces launched a violent campaign of bombardments, mass killings, lootings and burning down of entire villages in Darfur (Sudan Tribune, 1 June 2017; Radio Dabanga, 1 June 2017). This might urge rebel groups to gather forces and jointly resist the government, leading to a surge in conflict over the next few months. Divisions within the country's strongest other rebel front, the Sudan Peoples Liberation Movement North faction (SPLM/N), compound the situation and risk undermining achievements made over the past few years to stabilise the country as a whole (Nuba Reports, 1 June 2017).
In parallel, localised intercommunal violence, militia activity and banditry continued unabated throughout Darfur and Kordofan (see Figure 1). Communal violence in Darfur rose from 3 events and 8 related fatalities in March to 10 events and 76 fatalities in May. This is due to deadly rivalry between Arab tribes in South and West Darfur (the Salamat, Habbaniyah and Misseriya), as well as to continued herder attacks on farmers around Katur and Tawila in North Darfur, and around Jebel Marra (Radio Dabanga, 25 May 2017; Radio Dabanga, 17 May 2017).