The United States military began conducting operations against Al-Qaeda in Yemen shortly after US lawmakers passed Joint Resolution 23, which authorized the use of military force against "those nations, organizations, or persons" involved in the September 11 attacks against the United States in 2001 (S.J.Res.23 – Authorization for Use of Military Force, 18 September 2001). Under former President Obama, the US military significantly expanded its operations in Yemen, with drone strikes reaching an all-time peak in 2012 (New America Foundation, 2018). Since 2015, however, the scope and the forms of US involvement in Yemen have substantially changed.
The US Air Force has been aiding the Saudi-led coalition's aerial campaign against the Houthi movement and the formerly allied Saleh loyalists dubbed "Operations Decisive Storm" and, later, "Operation Restoring Hope". During this period, although the war in Yemen has escalated in recent months, the number of events involving US military forces acting directly in Yemen has decreased significantly over time since peaking in March of 2017, reaching a new low in April of 2018 (see Figure 1, and Long War Journal, 6 June 2018).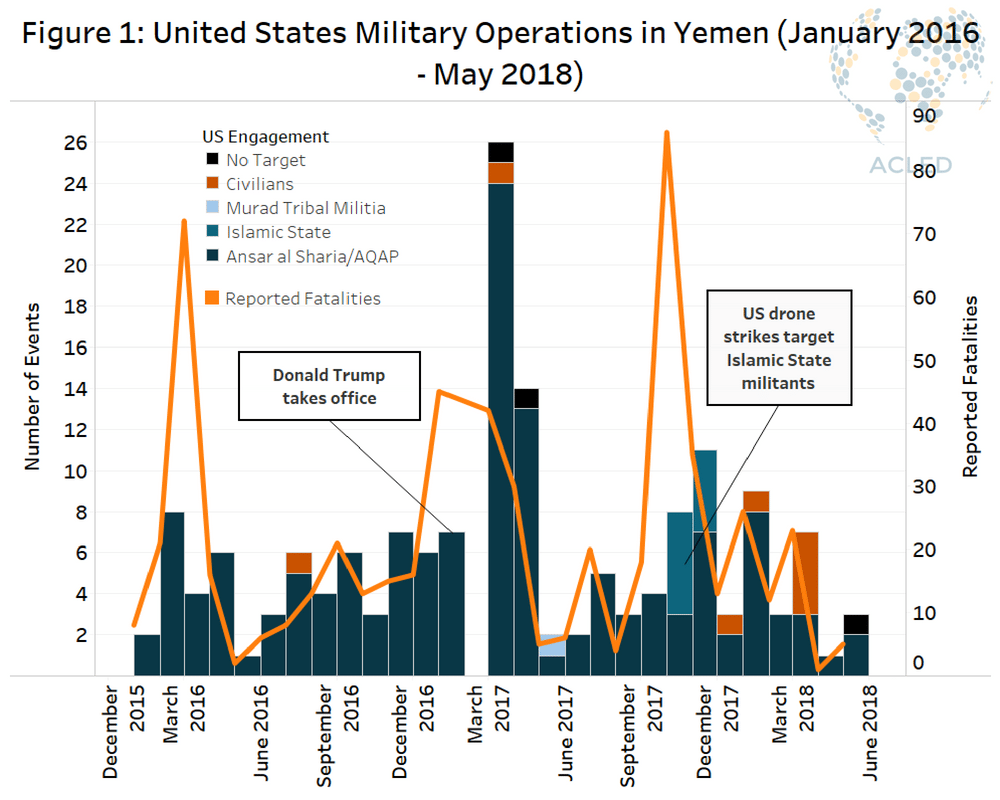 According to senior US officials, the United States' involvement in Yemen remains primarily to combat AQAP (Al-Qaeda in the Arabian Peninsula) and Islamic State groups, namely aiming to "degrade these groups' ability to hold territory and coordinate external attacks" (Centcom, 6 Feb 2018). Until the Houthi takeover in March of 2015, US special forces and drones were based in the Al-Anad Air base in Lahij governorate, just north of the city of Aden. As Houthi militias expanded southward into the area, US troops evacuated the base and are now conducting strikes from outside of the country (CNN, 23 March 2015).
Shortly after taking office, President Donald Trump intensified American efforts in Yemen, beginning with a commando raid in late January 2017 that targeted suspected AQAP members in the Yakla valley of Al-Bayda governorate. At least one US soldier was killed, as well as several local civilians and tribesmen (The Intercept, 9 March 2017). US strikes peaked in the month of March 2017, with a recorded 26 drone operations all targeting AQAP militants. In October of 2017, US drones engaged Islamic State militants for the first time, killing more than 50 fighters in targeted strikes against two training camps in the Wald Rabi district of Al-Bayda governorate (The Bureau of Investigative Journalism, October 2017). While strikes over the past year seem to have had at least some degree of success as indicated by a degraded Al-Qaeda and Islamic State presence, civilian casualties and perceptions among locals remain a challenge that could backfire against US interests in the region.
Since 2016, US airstrikes in Yemen have occurred most frequently in the central governorate of Al-Bayda, in areas that also see frequent clashes between local tribal forces and Houthi militiamen, followed by Shabwah, Abyan and Ma'rib (see Figure 2). The difficulty in conducting precision drone strikes in this particular region is that, for many groups involved in the battle against the Houthis, AQAP and IS militants still represent an "alliance of convenience" (The Atlantic, 3 February 2018), providing weapons and combat experience to allies looking to counter Houthi objectives. Thus, as the campaign against the Houthis intensifies on the west coast of the country, the dramatic decrease in US strikes over the past six months could be attributed to a shift in focus from targeting AQAP and Islamic State leaders to the US's second objective in Yemen, which is to assist the Saudi-led coalition in countering the Iranian-backed Houthi movement.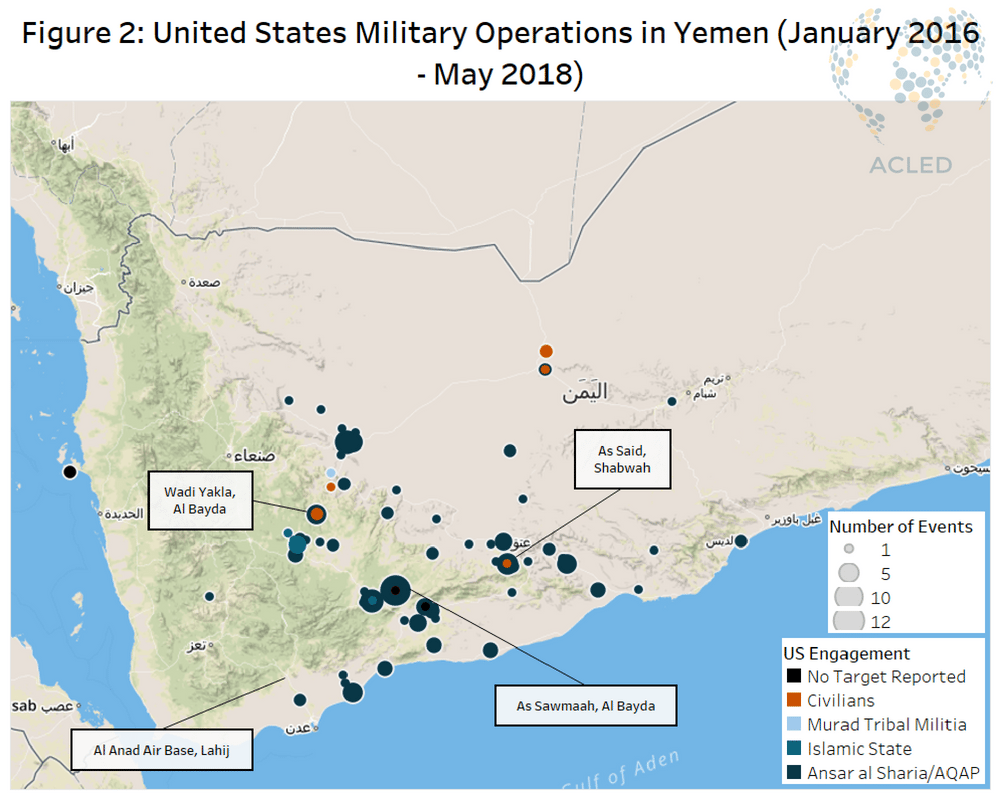 Since the launch of the Saudi-led aerial campaign, members of the US Armed Forces have been working closely with the coalition to provide aerial targeting assistance, intelligence sharing, and mid-flight aerial refueling (S.J.RES.54, 28 February 2018). US Army Green Berets are also reportedly posted on the southern border of Saudi Arabia helping to "locate and destroy caches of ballistic missiles and launch sites that Houthi rebels in Yemen are using to attack Riyadh and other Saudi cities" (New York Times, 3 May 2018). Despite active assistance from US military personnel in launching thousands of airstrikes, the coalition has struggled to achieve its goal of eradicating the Houthi movement and has simultaneously destroyed much of Yemen's civil infrastructure in Houthi-controlled territories, sparking a humanitarian disaster.
As the war in Yemen escalates further with a recent move by UAE-backed forces to take the port city of Hodeidah, the US has signaled its desire to address the coalition's security concerns, while preserving the free flow of humanitarian and life-saving commercial imports (US Department of State, 11 June 2018). The UAE had reportedly pledged not to start the final assault on Hodeidah without final approval from the US (The Intercept, 7 June 2018). In order to achieve its main objective of countering Al-Qaeda and Islamic State militants in the region, the United States will likely remain active in Yemen, both in conducting drone strikes and in assisting the Saudi-led coalition in the fight against the Houthis.
____________________________________________________________________________________
Last week, ACLED released new conflict and protest data for Yemen and Saudi Arabia in 2016. ACLED data coverage for Yemen and Saudi Arabia now spans 2016 – present. Download these data and more on the ACLED website. 
Find an explanation of ACLED's methodology for monitoring the conflict in Yemen here.