By advancing on Tripoli, Haftar counted on the defection of GNA-aligned forces, and bargained on the loyalty – and capacity – of his own. After a fortnight of fighting, the bet appears unlikely to pay off.
On 3 April 2019, Marshal Khalifa Haftar of the Libyan National Army (LNA) announced an unexpected advance westward into Tripoli, the seat of the UN-backed Government of National Accord (GNA). Libya's political landscape is dominated by two rival governments: the GNA has been based in Tripoli since 2016, while the rival House of Representatives (HoR) and its armed forces (the LNA) operate out of Tobruk (see Figure 1). Neither the GNA nor the HoR/LNA have been able to effectively assert control over the entire country (ECFR, December 2016). Haftar's advancement into Tripoli relies on fragile coalitions of local militias and international support rearranging in his favor: it is a wager that threatens not only the stability of Libya's largest city, but of the entire country.
Figure 1. GNA and LNA state of play in Libya, 1 January 2018 – 13 April 2019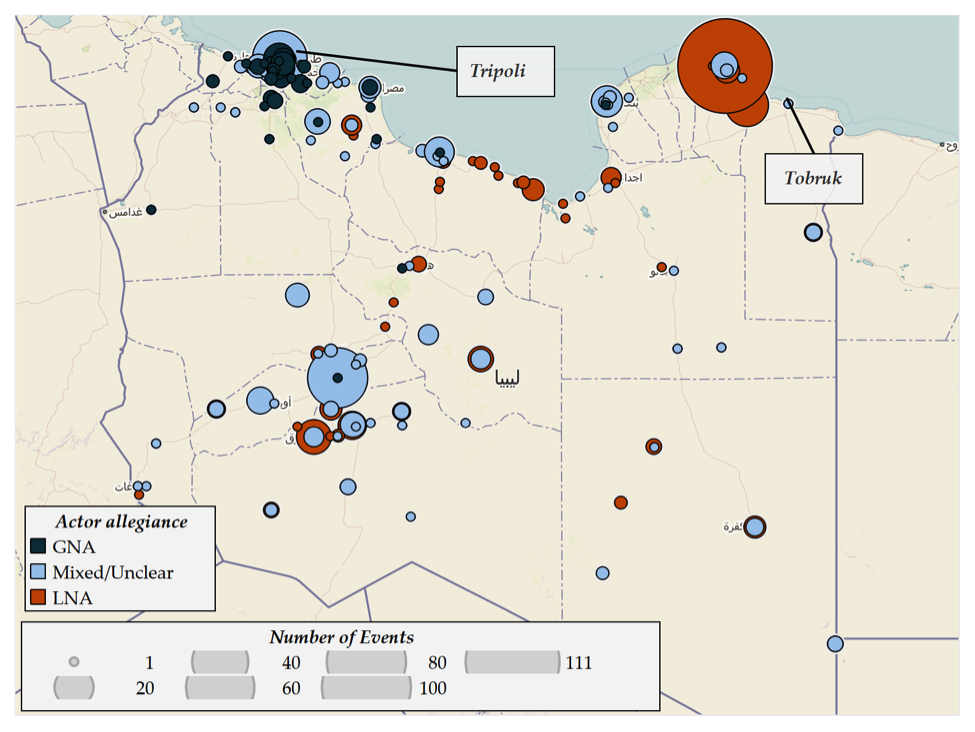 Haftar's offensive on Tripoli is sudden, and while unexpected to many, still premeditated. The timing tells: Haftar initiated the offensive a week before UN-led talks were due to take place (CNBC, 9 April 2019). Haftar has consistently pursued military measures over mediated negotiations (Foreign Policy, 1 April 2019), especially when he feels he has the upper hand (ICG, 21 December 2017). Constant military maneuvering is in part to maintain cohesion of the LNA, a de facto coalition of assorted militias (Clingendael, October 2017).
The LNA has time and again threatened to take Tripoli by force (Al Araby, 16 December 2016; Libyan Express, 26 October 2017; Arab24, 27 December 2016). In fact, Haftar's invasion of Tripoli is only one step further in a conquering-spree that began in January in the Fezzan Region in the country's south (Atlantic Council, 22 February 2019). Haftar has long been maneuvering the pieces into place for his advance into Tripoli: in December last year, the LNA conducted pre-emptive operations targeting remnants of militiamen in Saddada and Bani Walid, while at the same time asserting influence in the Western Region (see Figure 2) – setting up a staging ground for the current offensive (ACLED, 2 January 2019).
Figure 2. LNA activity during the months leading up to the Tripoli offensive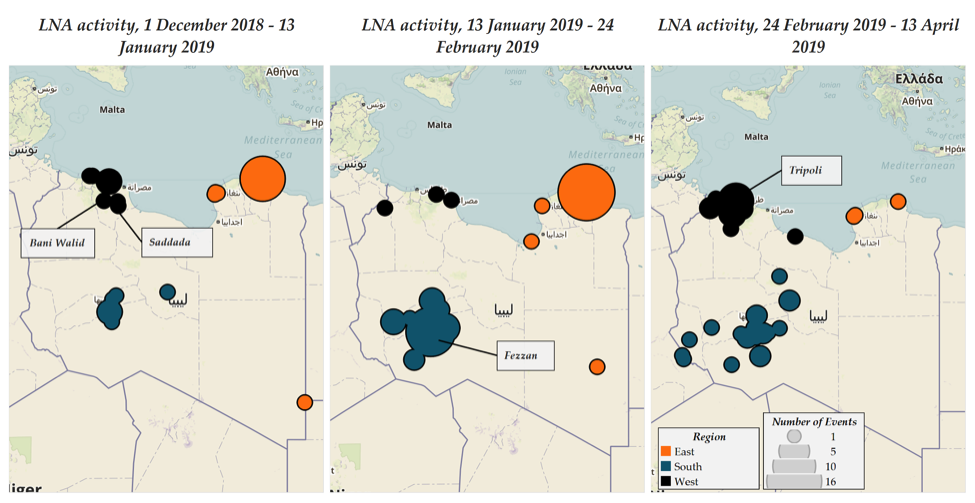 However, it will take more than bold premeditation for Haftar to achieve his objectives in Tripoli. Haftar has in the past relied heavily on international support to conduct successful offensive maneuvers, especially Egyptian intelligence and United Arab Emirates (UAE) air support (Clingendael, October 2017).
Additionally, Haftar not only relies on the LNA maintaining cohesion, but on the GNA crumbling. The LNA often combines military coercion with the exploitation of internal divisions in achieving its objectives. Haftar likely calculated an 'in' in Tripoli, as various militias in the city have recently quarreled over power-sharing arrangements, and operate largely independently, motivated by pragmatic self-interest (New York Times, 16 April 2019; ACLED, 6 September 2019). Haftar is betting that some of the militias controlling Tripoli and its surroundings will side with the LNA in the coming fight (see Figure 3).
Figure 3. Active groups in Libya's west since 2018 by allegiance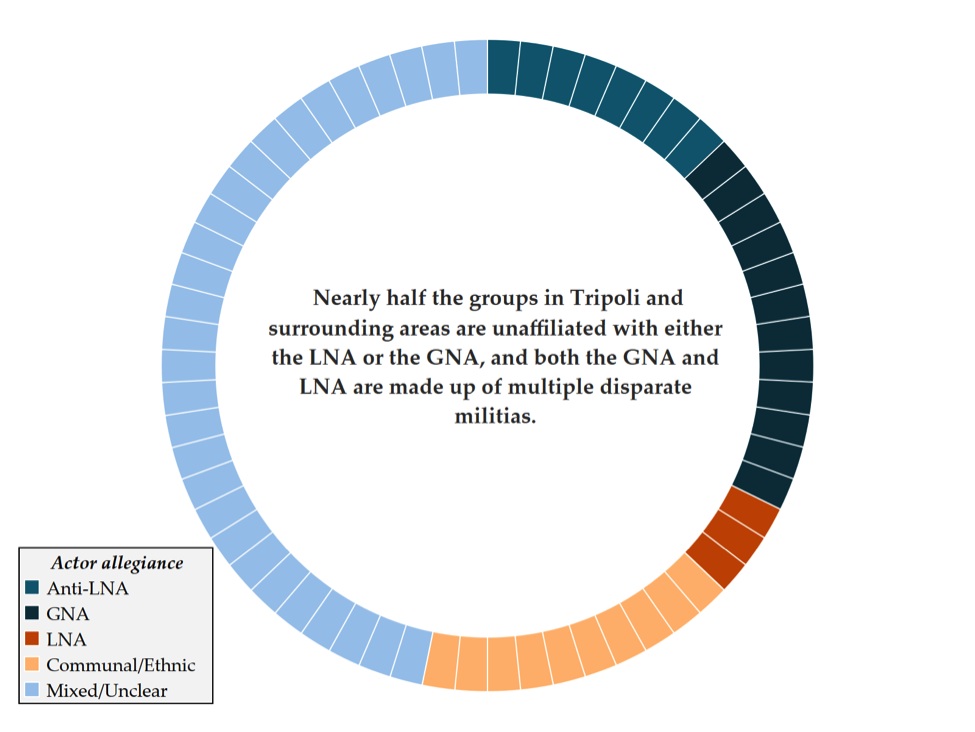 Finally, Haftar needs his past conquests to remain stable as he utilizes considerable resources on the Tripoli fight. The LNA's logistics hubs are far away from Tripoli, and easily exposed on the route from Jufra towards Tripolitania. The LNA's hold across its territories relies on tenuous alliances with local-level leaders, as well as the consistent plausible threat of military coercion (ECFR, December 2016). Haftar's control is broad, but thin; it remains tenuous beyond the eastern region, and he is taking a large risk in diverting resources away from his other conquests and into Tripoli.
In the two weeks following Haftar's advance on Tripoli, the stakes have increased. During the initial blitz, the LNA made swift advances towards the Tripoli International Airport and the southern outskirts of the capital, though was pushed back in the West – the offense has largely stalled on the outskirts of Tripoli (see Figure 4). Haftar's hope of widespread defections has yet to be realized: in fact, disparate militias have banded together to push back against the LNA's advance.
Figure 4. The LNA has advanced on Tripoli from multiple directions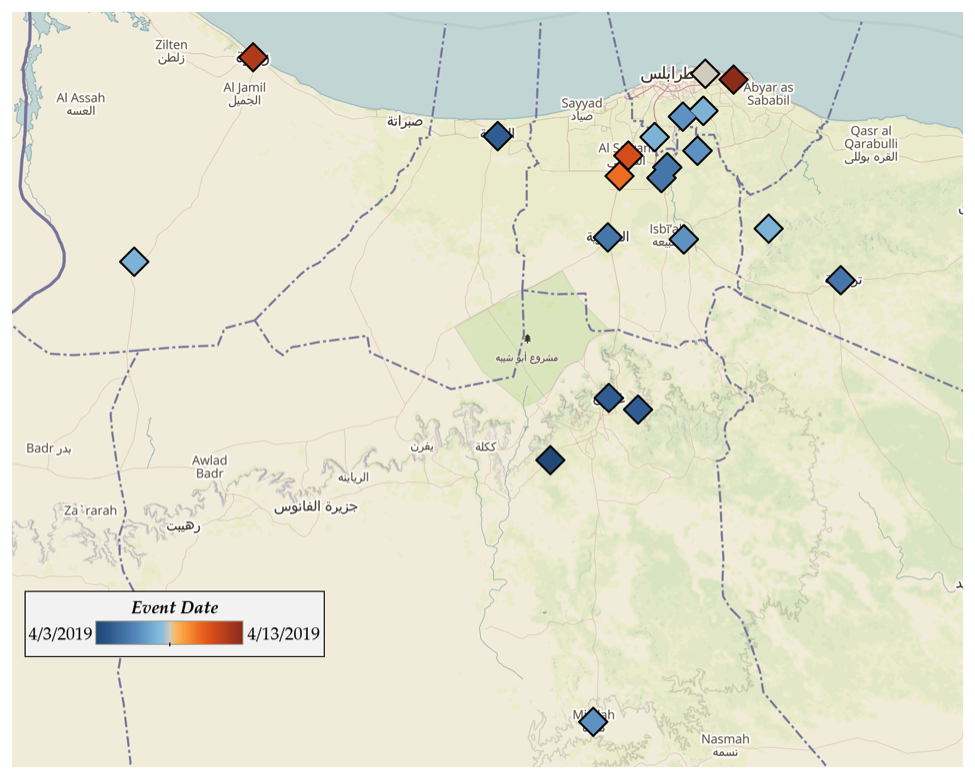 International condemnation and withdrawal has been widespread (BBC, 6 April 2019). The U.S. military evacuated troops shortly after fighting began (Stars and Stripes, 7 April 2019), and Italy withdrew all of its Italian ENI staff (Libya Observer, April 7, 2019). Russia, a Haftar supporter, has expressed displeasure with the advancement, and the UN has begun to consider demanding a ceasefire (VOA, 17 April 2019).
Meanwhile, the LNA's hold elsewhere has been tested. In the south, LNA's weak control has been exploited by Islamic State militants who carried out a deadly overnight raid in the town of Fuqaha, killing several senior local officials (see Figure 5). Such attacks are likely to continue as Haftar remains occupied in Tripoli. As recently as 18 April, the LNA repelled a GNA attack on a major airbase near Sabha (Reuters, 18 April 2019).
Figure 5. Attacks targeting the LNA outside of its Tripoli offense threaten country-wide destabilization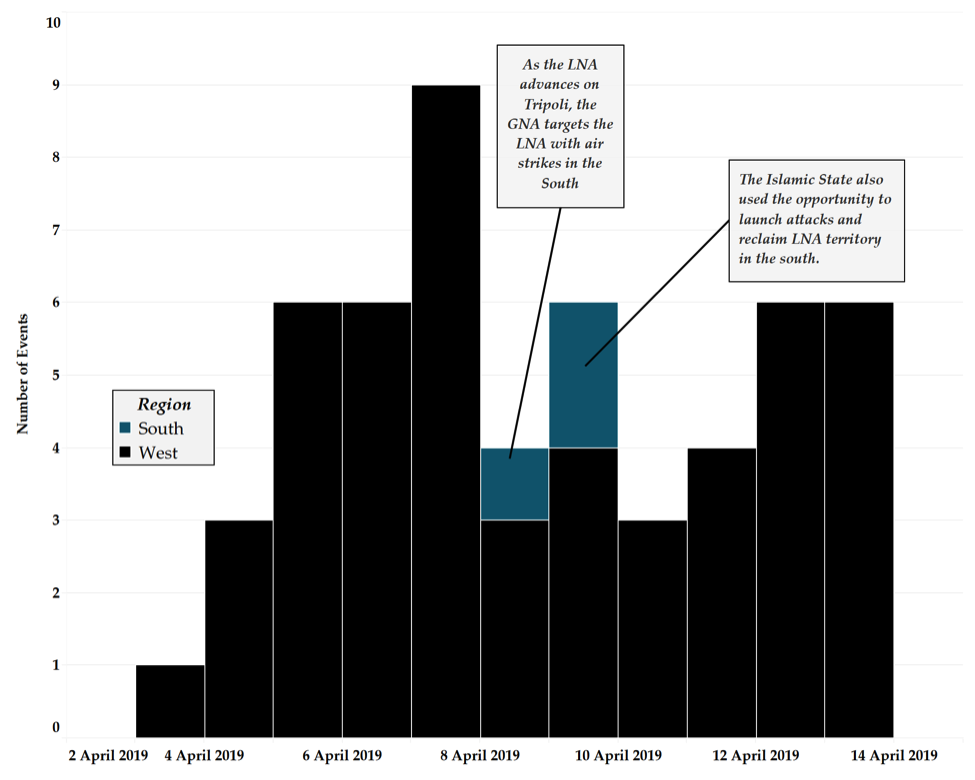 The battle for Tripoli has only just begun, and already thousands have been displaced and scores killed and wounded in the fighting (OCHA, 13 April 2019), which has only intensified (VOA, 17 April 2019). Haftar has not only overestimated the LNA's capabilities to swiftly gain control Tripoli, but to hold territory beyond the city as it does so. So far, most of Tripoli's militias have shown limited willingness to defect, and tipping the scales would likely require support from Egypt and the United Arab Emirates (Washington Post, 10 April 2019). It is unclear if this support can be expected amidst widespread international condemnation of Haftar's activities. Regardless, Haftar's advance has made clear what can be expected in Tripoli, and in Libya – both in the short- and long-term: protracted battles and large-scale devastation, deepened divisions, and an international community wary of becoming involved, even as a humanitarian emergency looms.

© 2019 Armed Conflict Location & Event Data Project (ACLED). All rights reserved.