Political disorder1The term disorder is used in this report to refer to all political violence and demonstrations. This effectively includes all events in the ACLED dataset, minus Strategic developments — which should not be visualized alongside other, systematically coded ACLED event types due to their more subjective nature. For more on Strategic developments and how to use this event type in analysis see this primer. in Europe2ACLED has published new data covering 37 European countries and territories. For more, see this press release. Ten of those new countries are featured here. is largely driven by social movements. Most democratic governments across the region have enabled a robust protest culture to form around a host of issues, ranging from the Yellow Vest movement in France to climate change demonstrations in Sweden. At the same time, a turn towards illiberalism has stifled political freedoms in countries like Poland and Hungary.
The onset of the coronavirus pandemic in 2020 further shaped regional demonstration trends. While demonstrations initially declined across the region, ACLED records a subsequent uptick in anti-lockdown demonstrations against government measures to stem the spread of the virus. Many of these demonstrations were held by right-leaning and conspiracy-minded groups, such as Querdenken in Germany. In Italy, the pandemic response led to a significant number of prison riots.
Inspired by protests in the United States, demonstrations against racism and in support of the Black Lives Matter movement also spread across Europe. While demonstrations in the United States focused on systemic racism and police brutality, demonstrations in Europe highlighted the legacy of colonialism. Police violence against communities of color also motivated protesters in countries like France. Violence against Black and immigrant populations further spurred anti-racism demonstrations in Portugal.
Disorder in Europe is also linked to the far-left and far-right political divide. Groups from both sides engage in political violence and protest to promote their agendas. In countries like the Netherlands, far-right support for farmer protests — not always welcomed by the farmers themselves — has exacerbated existing polarization.  
Lingering separatist sentiments have also been a source of disorder in places such as Northern Ireland and Spain. In Northern Ireland, sectarian tensions come to the fore during the marching season each year. In Spain, demonstrations calling for Basque and Catalonian independence persist.
ACLED's expansion of coverage to all of Europe allows for data-driven analysis of these political disorder trends for the first time. This report reviews the new data and examines the 10 cases highlighted above.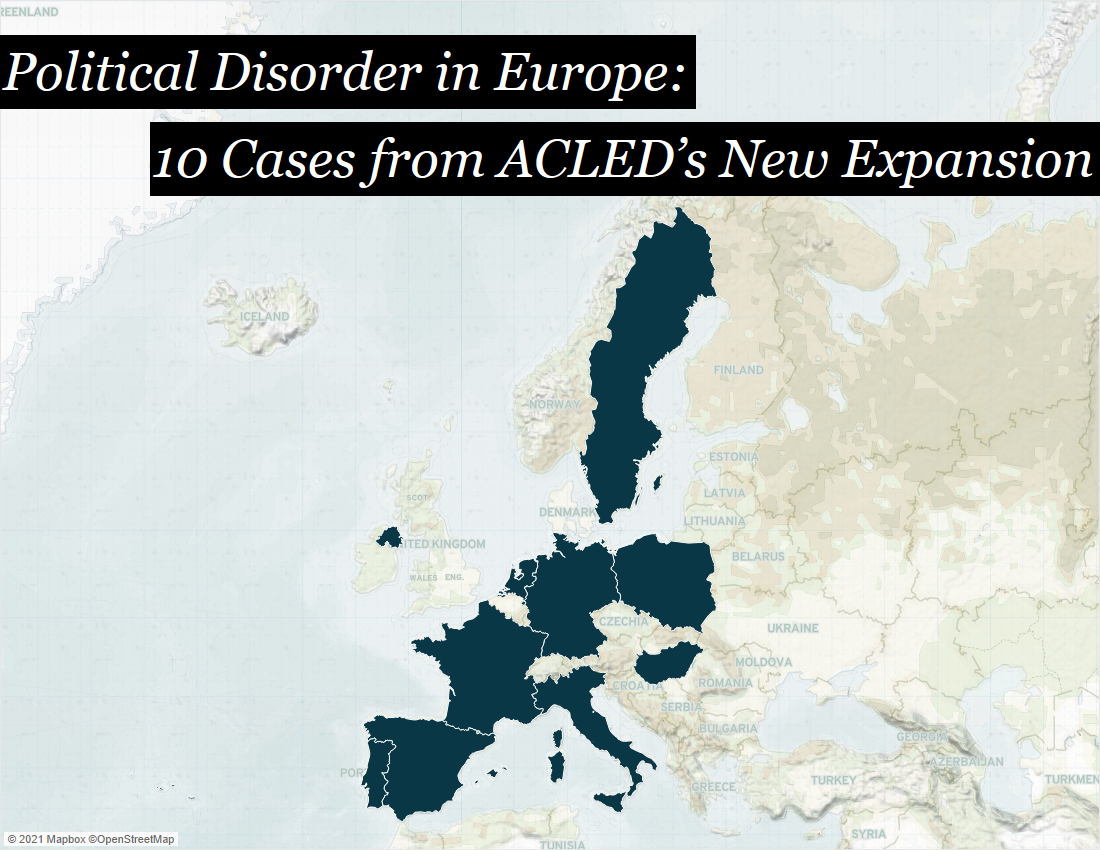 Political Disorder in Europe: 2020
Please click through the drop-down menu below to jump to specific cases.

© 2021 Armed Conflict Location & Event Data Project (ACLED). All rights reserved.