Although Tanzania holds a reputation for peace and stability, the country has experienced an increase in violent Islamist-related activity in 2015. The most recent attack occurred on the 14th of April in the eastern Morogoro Region (see Figure 1), when a suspected Al Shabaab militant attacked a police officer with a machete. The policeman survived, but a vigilante militia later killed the suspect. The incident was sparked when police arrested ten terror suspects emerging from a mosque in Nyandero, carrying explosives, bomb detonators, and an Al Shabaab flag (The Citizen, April 16, 2015). In the first four months of 2015, Al Shabaab militants were directly involved in five battles with Tanzanian security forces, resulting in the deaths of eight policemen and soldiers. Al Shabaab's increased presence in early 2015 comes after no such direct involvement was recorded in all of 2014, although July attacks on moderate Muslim clerics and foreign tourists in Arusha were thought to be committed in retaliation of terrorist arrests in the county (Tanzania Daily News, July 5, 2014).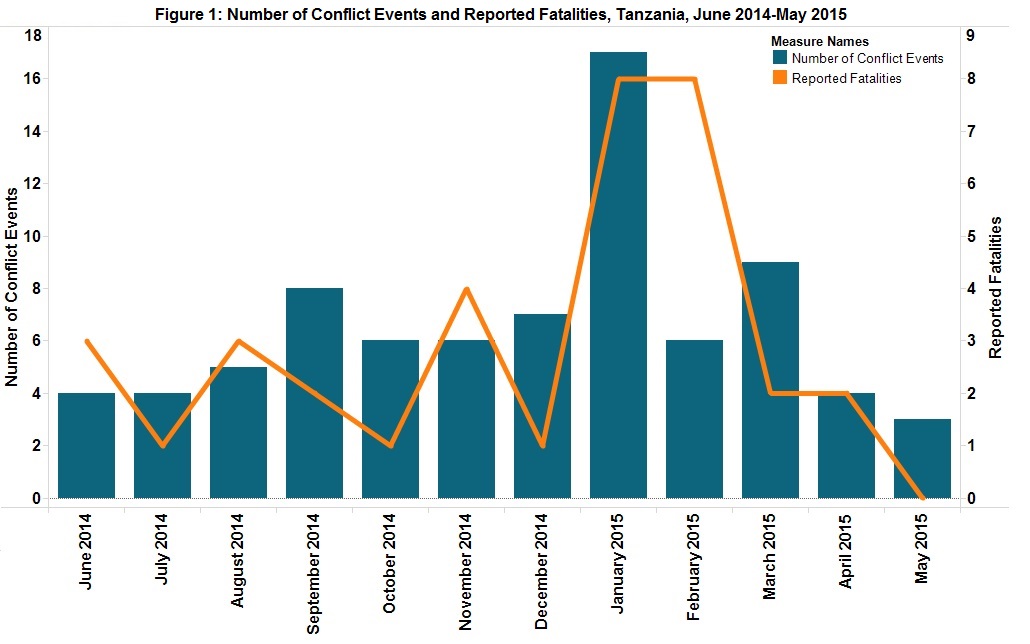 While Tanzania has traditionally been considered resistant to the emergence of this form of violence (Institute for National Strategic Studies, September 2014), Al Shabaab's activity in neighbouring countries proves that the group can gain a foothold and capitalise on internal divisions for their own gain. September 2013's Westgate Mall attack in Nairobi killed 67 people, and July 2010's suicide bombings in Kampala killed 74. Even if the direct threat of Al Shabaab in the region has diminished following the United States' September 2014 killing of Al Shabaab leader Ahmed Abdi Godane in Somalia, sympathetic organisations and aligned militants may still be able to bring about considerable instability in the region, as the group struggles to retain its control in regions of South-Central Somalia.
Areas where political and religious tensions exist in Tanzania are particularly susceptible to increased violence involving violent Islamist groups. The island of Zanzibar is home to a political opposition party Civic United Front (CUF) and a majority Muslim population that has long sought independence from Tanzania and President Jakaya Kikwete's ruling Party of the Revolution (CCM). Since 2005, Kikwete has seen the country through a period of economic growth sparked by oil and gas discovery. But his administration has also endured allegations of corruption, police brutality, and attacks on press freedom (African Arguments, July 16, 2013; US Department of State, April 8, 2011), as well as the threat of domestic militant training camps. In October 2013, police were reported to have rescued 54 children and 32 women from an Al Shabaab indoctrination camp in Lwandai in Tanga (Sabahi, November 15, 2013). Furthermore, a limited number of violent incidents bearing the hallmarks of violent Islamist mobilization have already been recorded in the region: for instance, in September 2013, acid attacks occurred against priests and foreigners in Stone Town, Zanzibar (Institute for National Strategic Studies, September 2014).
For now, Tanzania has only a dispersed structure of groups linked to Al Shabaab in Somalia or to Al Hijra in Kenya; Ansar Muslim Youth Centre (AMYC) in Tanga is one such group. However, Islamist militants could develop more sophisticated and sustained operations over time (Institute for National Strategic Studies, September 2014), particularly as domestic militants seek to manipulate internal divisions and grievances among the wider population.
Al Shabaab-related attacks in 2015 have been concentrated in the eastern regions of Morogoro, Pwani, and Tanga. An Al Shabaab group led by Abu Qays bin Abdullah claimed responsibility for two attacks on the 15th of January – one on a police station in Kilombero in Morogoro and the other on Ushirombo police post in the northern Shinyanga Region. On the 21st of January, Al Shabaab killed two police officers in Ikwiriri in Pwani Region, west of Dar es Salaam. These attacks contributed to January 2015 having the highest number of conflict events (seventeen) and highest number of fatalities (eight) in the country over the past twelve months. Although just six conflict events occurred in February, eight fatalities were recorded, including a soldier killed in an exchange of fire with suspected Al Shabaab militants on the 8th of February (The Citizen, February 15, 2015). The battle occurred during a joint military and police operation to recover weapons hidden in the Amboni caves in Tanga.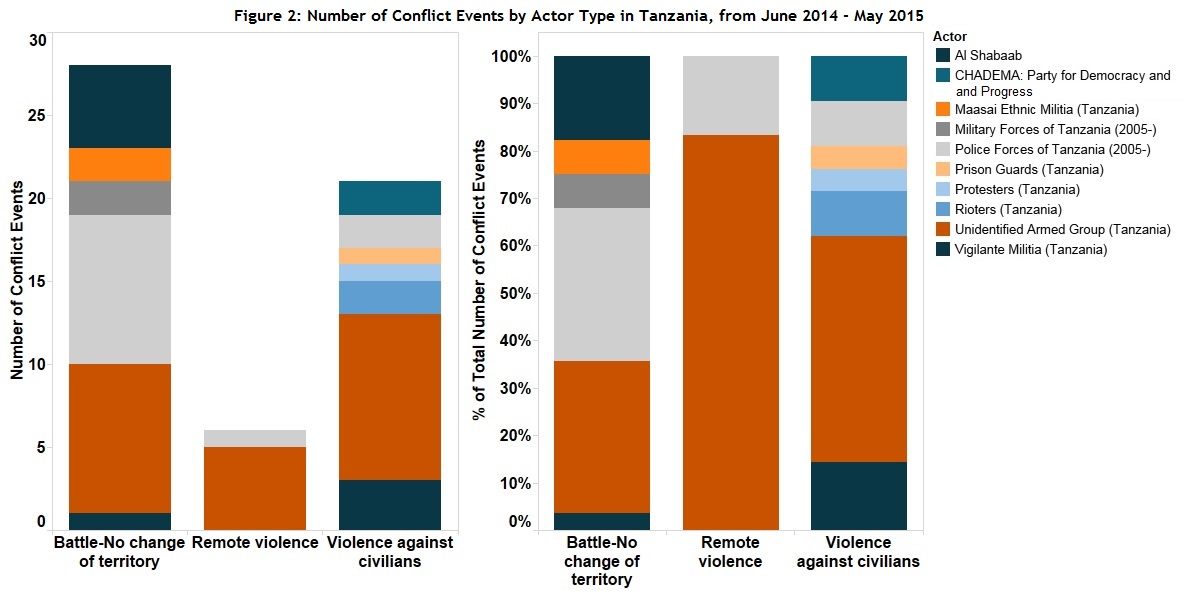 Fatality counts fell in March and April, with four deaths reported in two months. And May saw just three events, with no battles or fatalities. However, there is reason to remain concerned about potential violent Islamist threats, particularly given the trajectory of increasing Al Shabaab-attributed attacks over the past year (see Figure 2).