Situation Update | August 2023
Kenya: Government Operation Brings Calm to North Rift Region
Kenya at a Glance: 1-28 July 2023
VITAL TRENDS
From 1 to 28 July 2023, ACLED records over 70 political violence events and approximately 75 fatalities in Kenya. Nairobi and Kisumu counties were the epicenters of violence, as security forces violently repressed opposition-led demonstrations against the high cost of living and tax hikes.

Mandera county had the highest number of fatalities, with at least 28 during the reporting period. Garissa county followed, with at least seven reported fatalities. Fighting between al-Shabaab militants and security forces accounted for nearly all the reported fatalities in these counties.

The most common event type was protests (125 events), followed by riots (117 events). The opposition Azimio la Umoja (Resolution for Unity) One Kenya Coalition Party organized a new round of anti-government demonstrations in more than 80 locations as bipartisan talks faltered. A new phase of dialogue, facilitated by former Nigerian President Olusegun Obasanjo, started at the end of July.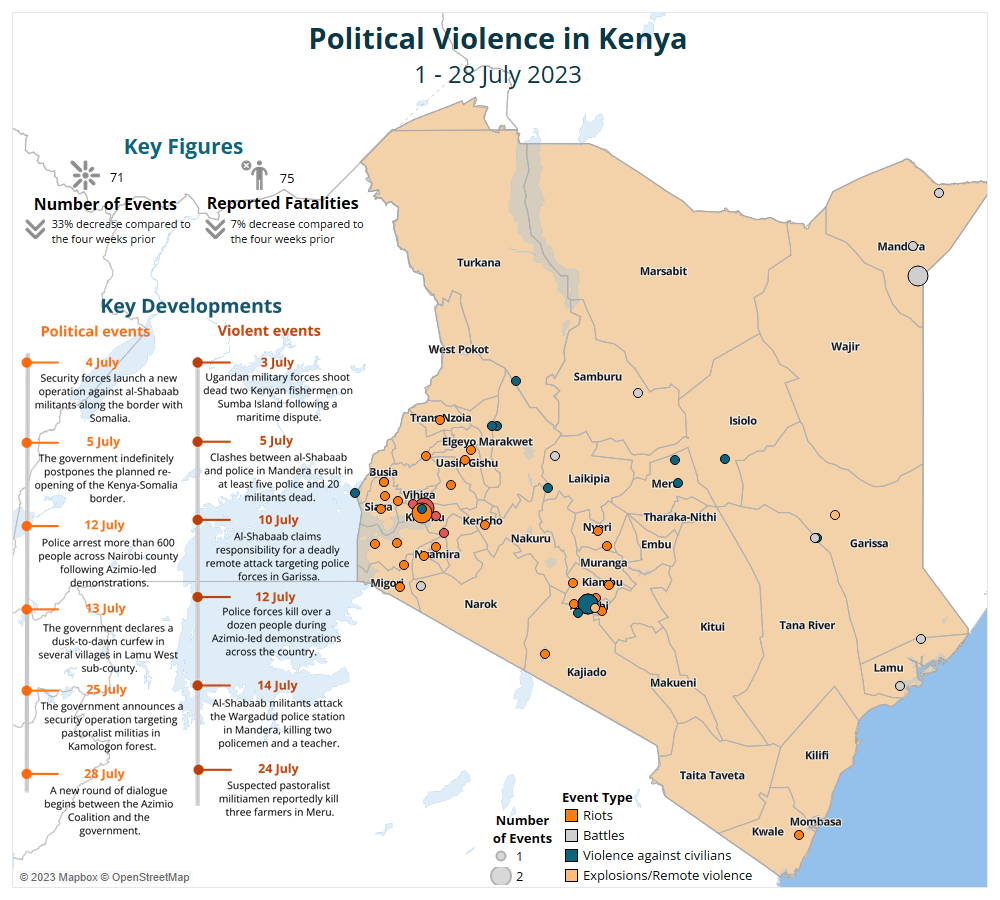 Government Operation Brings Calm to North Rift Region
The Kenyan government has long been dealing with security challenges caused by pastoralist militia activity, especially in North Rift region. In February 2023, following a spike in violent activity by pastoralist militias, the government launched a security operation dubbed Operation Maliza Uhalifu North Rift.1 Maliza uhalifu means 'end crime' in Swahili. As the campaign gained momentum, activity by pastoralist militias has significantly decreased, indicating that it has succeeded in reducing insecurity across North Rift region. However, its long-term impact is less certain due to the country's multiple security challenges and the risk of overstretching government security forces. The campaign in North Rift is ongoing as the government has launched a new counterterrorism operation against al-Shabaab near the Somali border and has violently repressed opposition-led demonstrations against the high cost of living. Given the history of failed attempts to tackle insecurity in North Rift, it is unclear if the levels of violence will remain low in the region in the long run.2Tom Mshindi, 'Silence of guns marks start of the really tough part,' Daily Nation, 2 July 2023 A similar operation was launched last year, targeting Elgeyo Marakwet, Baringo, and West Pokot counties, and despite a short lull in violence, it did not have a long-term impact.3Cyrus Ombati, 'Matiang'i imposes curfew in three Rift Valley counties over insecurity,' The Star Kenya, 8 June 2022 Further, as explained below, reports indicate that militias have found refuge in forests in the region, where they are regrouping to launch attacks. 
Security Team Intensifies Operation Against Pastoralist Militias
The government has intensified its campaign against pastoralist militias in the past three months.4NTV Kenya, '200 national police reservists graduate as govt intensifies security operation in North Rift,' 18 May 2023 Operation Maliza Uhalifu North Rift was launched with the aim to disarm the militias and drive them out of North Rift region.5Mohammed Yusuf, 'Kenya Launches Operation to Weed Out Bandits,' Voice of America, 15 February 2023 The operation is led by police forces and supported by the military in a multi-agency security team that also consists of National Police Reserve (NPR) forces – volunteers operating as supplementary forces within their communities. The security team has played a vital role in reducing violence in the region by confiscating illegal weapons, recovering stolen livestock, as well as tracking and neutralizing armed pastoralist militias. As part of the campaign, the government also instituted and extended periods of 30-day dusk-to-dawn curfews in selected areas of the region that were declared "disturbed and dangerous."6Mwangi Ndirangu, 'Govt extends dusk to dawn curfew in restive parts of North Rift for 30 days,' Daily Nation, 17 May 2023  
Since the operation was launched on 13 February,7Citizen Digital, 'President Ruto Orders Joint Military, Police Operation In Turkana As Bandits Terrorise The North,' 13 February 2023 ACLED records over 30 battle events between pastoralist militias and security forces. Kenyan military forces also conducted airstrikes in March, targeting militia hideouts on Korkoron and Tandare hills in Baringo, and Kalemngorok in Turkana. Fighting between the two sides has mostly occurred in Samburu and Baringo counties (see map below), which host militia hideouts because of the hills, caves, gorges, and ravines that characterize the rugged terrain. Interior Cabinet Secretary Kithure Kindiki has ordered the building of fences around militia hideouts, such as Tandare Valley and Kokoron hills and caves, following the security forces dislodging militias from these areas.8Tony Owori, 'Gov't To Fence Off Forests Where Bandits Have Been Flushed Out,' Citizen Digital, 18 May 2023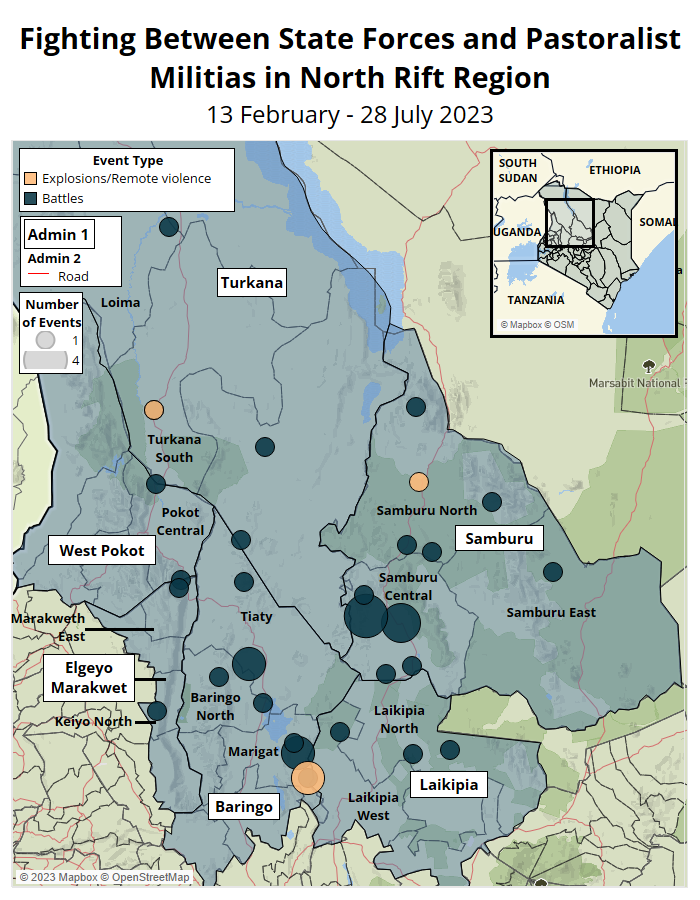 The government has declared that police and military involvement in this security operation will be for the long haul,9Dennis Musau, 'Heavy Police Presence In North Rift Stays Permanent Even After Banditry Operation Over – Kindiki,' Citizen Digital, 26 April 2023 and is further seeking to establish a permanent military camp on the border between West Pokot and Elgeyo Marakwet counties in order to support the police in enforcing peace and security in the region.10Barnabas Bii, 'DP Gachagua: How state will tackle insecurity in volatile North Rift,' Daily Nation, 23 June 2023 In addition to training new recruits to join NPR forces fighting militias in North Rift region, the government has also taken measures to equip them with formal uniforms and footwear, as well as to provide them with medical coverage and a monthly stipend.11Perpetua Etyang, 'Police reservists to have NHIF cover from July 1 – Kindiki,'  The Star Kenya, 18  May 2023; Bruhan Makong, 'Govt To Train 200 More Reservists To Support Police Operations In Baringo,' Capital FM, 12 April 2023; Kenya News Agency, '140 Police Reservists Pass Out In Lokichoggio,' 20 April 2023; Mwangi Ndirangu, 'Laikipia leaders welcome new National Police Reservists recruits,' Daily Nation, 1 June 2023 In 2022, the government reinstated the NPR in areas prone to attacks by pastoralist militias, after disarming them in May 2019 on suspicion that they were using their weapons to commit crimes.12Geoffrey Ondieki, '181 reservists sent to trouble spots in bid to stop banditry,' Daily Nation, 28 March 2023; Julius Chepkwony, 'The return of National Police Reservists,' The Standard Kenya, 8 March 2022 The militarization of the region, however, can backfire in the long run and alienate local communities from government forces as they might see them as enemies.13Dennis Onyango, 'ONYANGO: Community policing only solution to North Rift insecurity,' The Star Kenya, 2 April 2023
As part of Operation Maliza Uhalifu North Rift, additional measures have also been adopted off the battlefield to tackle the structural and systemic issues providing ground for pastoralist militias' recruitment. For instance, military officers have offered free medical camps in Turkana, providing medical care to residents,14Ministry of Defence, 'KDF in partnership with mema and mdm conduct a three-day free medical camps in turkana county,' 22 May 2023 and are helping with the rebuilding of more than 20 schools destroyed by militia violence.15Fred Kibor, 'Changing tack? Government roots for education to transform restive North Rift region,'  Daily Nation, 9 June 2023 The multi-agency security team has also supported development projects to enhance economic growth, collaborating with the church and local leaders.16Twitter @NPSOfficial_KE, 15 July 2023 The team has been applying traditional conflict approaches by leveraging the support of community elders as peace ambassadors to mediate between warring communities and facilitate the surrender of illegal weapons to security agencies.17Martin Munyi, 'Elders In Laikipia Urged To Help Resolve Inter-Communal Conflicts,' Kenya News Agency, 28 July 2023 Information sharing by chiefs and traditional leaders is considered to be a contributing factor to the success of past security campaigns, such as the operation against Sabaot Land Defence Forces in Mount Elgon.18Fred Kibor, 'Retired colonel demystifies security operation in North Rift,' Daily Nation, 21 February 2023 
In tandem with these measures, peace efforts are ongoing at the local level to end violence and cattle rustling. Delegates from the Office of First Lady Rachel Ruto have facilitated reconciliation meetings between warring communities in the region.19David Ndolo, 'Pokot, Tugen communities bury the hatchet, vow to end livestock theft,' People Daily, 22 May 2023 Local governors, officials, and church leaders likewise launched a North Rift Peace Initiative in June. This initiative aims to provide a platform that brings together both state and non-state actors in the affected areas, focusing on the rehabilitation and reform of former militia members, among other things.20Mathews Ndanyi, 'Bishops, governors lead peace drive to silence guns in troubled North Rift,' The Kenya Star, 29 June 2023 
Whether these initiatives can bring long-term peace to North Rift region remains to be seen. Their success faces multiple obstacles, including limited government resources and a lack of sufficient measures to address cattle rustling, offer other sources of income to pastoralists, and tackle the impact of environmental changes, such as restoring grazing areas and improving access to water.21People Daily, 'To end banditry, address cultural and economic roots,' 15 March 2023; Faustine Ngila, 'Kenya's government is struggling even to pay its ministers,' Quartz, 11 April 2023; International Crisis Group, 'Absorbing Climate Shocks and Easing Conflict in Kenya's Rift Valley,' 20 April 2023 Although militia activity has dropped as a result of the government operation, the persistent militia presence across the region and beyond will continue to pose a threat to stability.
Security Challenges Persist Despite a Drop in Violence in North Rift Region
The security operation against pastoralist militias has been largely effective in curbing violence in North Rift region. Following an uptick in March, when the militia increasingly targeted both civilians and security forces, violent events have been on a downward spiral, with ACLED recording only six such incidents in July. Political violence involving the militias decreased by almost 50% from April to July compared to the four months prior (see graph below). During his second public accountability statement in June, Interior Cabinet Secretary Kindiki affirmed the operation's achievements, stating that 200 weapons have been surrendered since February, particularly in Samburu county. He added that an unknown number of cattle were recovered, as pastoralist militias were driven out of their hideouts.22Mary Wambui, 'Interior CS Kithure Kindiki: Why I have had sleepless nights,' Daily Nation, 1 June 2023 The most recent recovery of livestock was at Ndonyo Nanga in Samburu county, where 75 goats were recovered after a fierce shootout with the militia on 11 July.23Sharon Mwende, 'Suspected bandits arrested, 75 goats recovered in Samburu,' The Star Kenya, 11 July 2023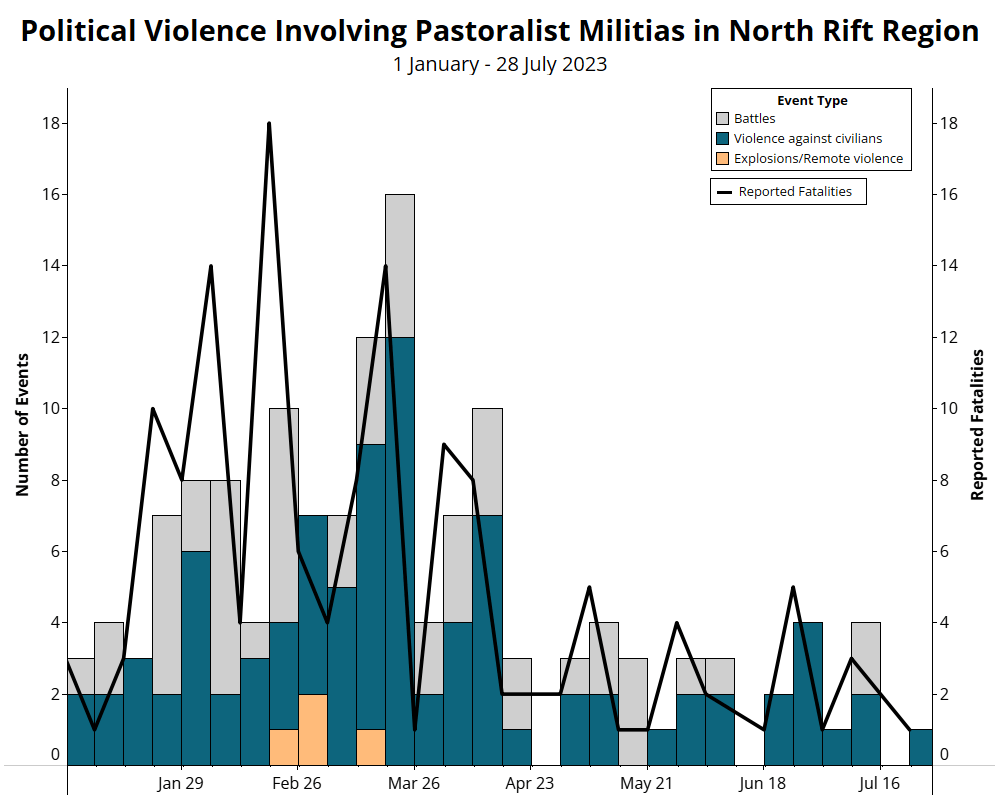 Militia attacks, however, have risen in neighboring areas, such as the Meru-Isiolo border.24Gerald Mutethia, 'Bandits escalate animosity in Igembe, kill four,' The Star Kenya, 28 July 2023 On 24 July, militiamen attacked a homestead in Kabachi village near the border, indiscriminately shooting at people. The attack led to the killings of at least three civilians while others fled. Two days later, another attack in Lororo along the Meru-Isiolo border reportedly left at least one civilian dead and another injured.
Intelligence reports also indicate that the militias, who have been reintegrated into local communities, may return to their hideouts in the remote hills and valley of the region – from where they plan to stage attacks under the pretext of herding cattle.25Florah Koech and Fred Kibor, 'Bandits plan to return to hideouts in the pretext of herding, says CS Kindiki,' Daily Nation, 26 July 2023 Fleeing militia members are also reported to have taken refuge in the Kamologon forest, along the border between West Pokot and Elgeyo Marakwet counties, as well as Kerio Valley highlands. The rugged rocky terrain, poor road network, and lack of telephone network make these areas difficult to access by security forces. The Elgeyo Marakwet governor has attributed these recent attacks on civilians to the militias hiding in the Kamologon forest.26Fred Kibor, 'Fleeing bandits hiding in Kamologon forest and Kerio Valley highlands,' Daily Nation, 25 July 2023 On 6 July, suspected pastoralist militiamen ambushed a group of people who were returning from the market at the Teren bridge on the Tugen-Marakwet border. A week later, presumed pastoralist gunmen killed another civilian in Koitilial area of Arror, in Marakwet sub-county.
In response, the government announced a major operation on 25 July, to target militia hideouts in the Kamologon forest. The Interior Ministry also gazetted the Ruko Conservancy as a "disturbed" area, in addition to other areas declared as "dangerous" earlier in February. The decision followed intelligence that militias were regrouping in the area to launch attacks.27Emmanuel Wanjala, 'Kindiki declares major operation at Kamologon Forest,' The Star Kenya, 25 July 2023; Kimaiyo Evans, 'Ruko Conservancy Gazetted As A Disturbed Zone Over Bandit Regroupings,' Citizen Digital, 25 July 2023; Sharon Maombo, 'Kindiki declares parts of Nothern Kenya 'disturbed', 'dangerous',' NTV Kenya, 13 February 2023 
The ACLED Conflict Alert System (CAST) predicts that the current lull in violence in North Rift region is likely to continue in the coming months. However, without further measures to ensure that peace persists and prevent violence from simply being diverted to other areas, it is unlikely that the positive impact will last long-term. As highlighted earlier, the government is facing multiple and complex security threats across its territory. One of the main challenges for the government, as it attempts to foster this fragile peace, will be that of overstretching resources.28Tom Mshindi' Silence of guns marks start of the really tough part', Daily Nation 2 July 2023 The Interior Cabinet Secretary Kindiki has announced a plan for economic revitalization and development, including building new infrastructure, like roads, and rebuilding schools destroyed by militia violence.29Mary Wambui, 'Interior CS Kithure Kindiki: Why I have had sleepless nights,' Daily Nation, 1 June 2023; Magdaline Saya, 'KDF troops inspect ongoing reconstruction of classrooms in North Rift,' The Star Kenya, 3 August 2023 However, the success of this plan is unclear as the country continues to struggle economically.30Faustine Ngila, 'Kenya's government is struggling even to pay its ministers,' Quartz, 11 April 2023 These challenges may risk compromising the current relative calm in the region.