Special Report
Kenya-Somalia Border: Rising al-Shabaab Threat in the Wake of ATMIS Drawdown
During the summer of 2023, al-Shabaab's operations along the Kenya-Somalia border have significantly increased, raising concerns over a possible flare-up of cross-border activity. Between June and early August, ACLED records over 90 political violence events involving al-Shabaab militants in the border area, over half of which occurred in the Lower Juba region of Somalia (see map below). Increased al-Shabaab activity in the border area has resulted in a marked surge in attacks targeting security forces and civilians in northeastern Kenya and coastal Lamu county since June 2023, and a parallel surge in al-Shabaab activity recorded in neighboring Jubaland state in Somalia in July. 
Since the start of the Somali counter-insurgency operation against al-Shabaab in August 2022, the two East African countries have strengthened cooperation on security and counter-terrorism, while also agreeing to reopen border crossings closed since 2011. The rise in al-Shabaab activity, along with the ongoing drawdown of the African Union Transition Mission in Somalia (ATMIS) troops since June,1AllAfrica, 'AU Troops Begin Withdrawal From Somalia,' 22 June 2023 complicates the implementation of these initiatives. ACLED data show that despite being pushed towards the border, al-Shabaab has taken advantage of the terrain in the border regions as strategic hideouts and retained significant operational capacity. This report examines how these circumstances have enabled the militants to launch cross-border attacks against military forces and civilians.
Counter-Insurgency Operation Pushes al-Shabaab Militants Closer to the Border
The government-led security operation against al-Shabaab in central Somalia has led to an influx of militants southwards towards Jubaland state, where the offensive operation is yet to commence. The militants have also moved across the border, as improved vegetation cover due to the recent rainfalls has provided them with better hideouts, including in the Boni forest. The militants' increased presence in Kenya is also reportedly a result of weak law enforcement along the border, a situation made worse by the recent simultaneous changes in the country's security leadership by President William Ruto, which has left a security void that the militants have been exploiting to launch attacks.2France24, ''Vigilance is key': Al Shabaab threat rising in Kenya's northeast,' 23 July 2023 Consequently, al-Shabaab violent activity has significantly increased in northeastern Kenya and Lamu county in the past two months. Meanwhile, neighboring Jubaland state in Somalia, which shares a nearly 700-kilometer border with Kenya's Mandera, Wajir, and Garissa counties, has experienced almost four times the number of clashes between al-Shabaab and Somali and ATMIS security forces in July compared to the month prior (see graph below).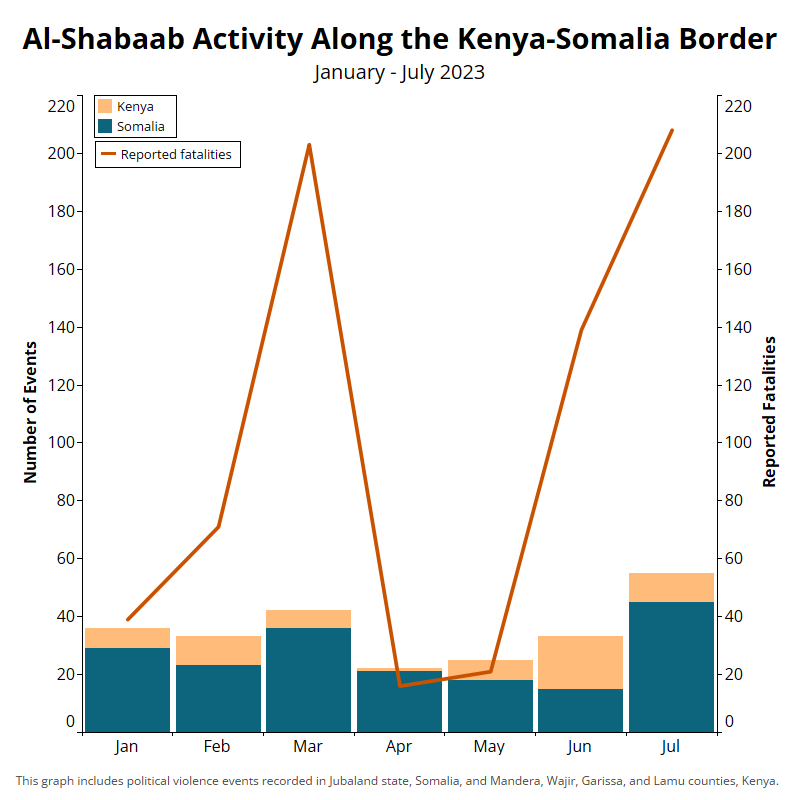 Meanwhile, al-Shabaab militants have been reportedly taking advantage of the drawdown of ATMIS forces during the transition of security responsibilities to Somali forces.3Mohamed Olad Hassan, 'Somalia Facing Uncertainty as African Troops Leave,' 17 June 2023 In June, the ATMIS withdrew 2,000 troops from Somalia, handing over five Forward Operating Bases (FOBs) to Somali forces.4FOBs have strategic importance as they are used to safeguard the security of other military bases in the areas where they are located and also gather and provide intelligence on militant movements to the main command centers. An additional 3,000 troops are to be withdrawn by the end of September, with the complete withdrawal set for December 2024 when the ATMIS mandate expires.5ATMIS, 'ATMIS military commanders conclude meeting on troop withdrawal,' 31 July 2023; AllAfrica, 'AU Troops Begin Withdrawal From Somalia,' 22 June 2023 Among the military bases vacated by the ATMIS is the FOB situated in Geriley village, Gedo region, which has strategic importance due to its location near the border. The withdrawal of the Kenyan contingent of the ATMIS from the base has raised concerns about the security situation in Gedo region and the neighboring counties in Kenya. 
Kenyan security forces have been fighting al-Shabaab in Somalia at least since October 2011, when Kenya deployed troops in Juba valley following a spate of cross-border activities, including the kidnapping of tourists.6Mary Wambui, 'War on terror: 12 years since Somalia incursion, is Kenya safe?' Daily Nation 14 August 2023 A year later, the operation was announced completed, and Kenyan forces officially joined the African Union Mission to Somalia, which was replaced by the ATMIS in 2022, with the main objective of implementing the Somali Transition Plan.7International Crisis Group, 'The Kenyan Military Intervention in Somalia,' 15 February 2012; African Union, 'African Union Mission in Somalia (AMISOM) transitions to African Union Transition Mission in Somalia (ATMIS),' 5 April 2022; Mary Wambui, 'War on terror: 12 years since Somalia incursion, is Kenya safe?' Daily Nation 14 August 2023. Despite these regional efforts, the group has grown its presence in Kenya, markedly by establishing recruitment networks that have facilitated al-Shabaab's capacity to conduct major attacks in the country, including on the Westgate mall in September 2013, Garissa University in April 2015 and Dusit Hotel in January 2019, led to hundreds of fatalities.8Mary Wambui, 'War on terror: 12 years since Somalia incursion, is Kenya safe?' Daily Nation 14 August 2023 
The increase in al-Shabaab attacks in Jubaland state has disrupted ongoing efforts to launch the second phase of the counter-insurgency operation in the state. In July, al-Shabaab conducted a series of attacks on the bases handed over by ATMIS forces, including the FOB in Geriley village. The militants launched two attacks on the base over 10 days. On 4 July, al-Shabaab militants attacked and briefly overran the base, but were repulsed by Jubaland security forces. Following the attack, Jubaland state officials raised concerns about the timing of the withdrawal of ATMIS forces, with Jubaland vice president warning it would give al-Shabaab an "advantage."9Garowe Online, 'Jubaland official: ATMIS withdrawal, untimely in Al-Shabaab war,' 5 July 2023 The militants targeted the base again on 13 July, overtaking the village and base after clashing with Jubaland security forces, but withdrew shortly after. 
In Kenya, the majority of al-Shabaab attacks since June have targeted Kenyan security forces. Across the four counties of Mandera, Wajir, Garissa, and Lamu, where al-Shabaab is mainly active, al-Shabaab violence has been mostly centered in Mandera, with half the recorded violent events taking place in that county. According to the Mandera governor, over 60% of al-Shabaab sightings across the border area are reported in the county.10Stephen Astariko, 'I didn't say 60% of Mandera controlled by Shabaab, says governor,' The Star Kenya, 23 July 2023 In Mandera, an area home to several inter-clan disputes, al-Shabaab militants exploit clan differences to gain the favor of clan-based militias and historically marginalized groups, to recruit locals into its banner.11Ahmed Hussein, 'Three Kenyan Soldiers Killed in Suspected Al-Shabab Attack,' Voice of America, 19 June 2023 Positive relations with clans could mean access to good hideouts in the area, such as locations along the Dawa river, which flows through Kenya, Somalia, and Ethiopia. Attacks in this area were reported throughout the summer. On 5 July, suspected al-Shabaab militants launched two attacks on security forces in Ogorwen and El Wak, reportedly killing at least five police forces in El Wak. Over a week later, the militants targeted security forces in three separate locations – Wargadud, Jabibar, and El Wak – in Mandera on 14 July. The attack on Wargadud police station led to the killings of two police officers and a teacher, while several vehicles were set ablaze, and a police car was hijacked. According to the forecasts of the ACLED Conflict Alert System (CAST), the county will likely sustain rising levels of violence in the coming months due to increased al-Shabaab presence and activity.
Militants have also been increasingly using new and more sophisticated tactics, such as small units and false flags to launch attacks, as well as surveillance drones. In Lamu county, in particular, security officers have been reportedly caught off guard, as militants have been laying ambushes in "new terror hotspots."12Kalume Kazungu, 'Beyond enemy lines: Unravelling the return of Shabaab in Lamu,' Daily Nation, 17 August 2023 On 5 July, ahead of a suspected suicide attack on a military post in Sirari, Lamu East, Kenyan forces shot down an al-Shabaab drone that was gathering information at the site of the planned attack.13Africa Defense Forum, 'Attack On Kenya Defence Forces Outpost Confirms Al-Shabaab Drone Use,' 25 July 2023; Cyrus Ombati, 'One al Shabaab killed as 8 elite officers are injured in clashes,' The Star Kenya, 6 July 2023 Nearly a month later, on 1 August, suspected al-Shabaab militants attacked several civilian vehicles using rocket-propelled grenades and assault rifles on the Lamu-Witu-Garsen road in Lamu West. Police from the Special Operations Group unit and forest rangers responded and repulsed the assailants. The Kenyan government claims 60 militants were killed in the clashes ensuing the assault. The attack happened despite a curfew imposed in several villages in Lamu West sub-county following an al-Shabaab attack on Salama and Juhudi villages.
Government Operations Target al-Shabaab Along the Border
Both Kenyan and Somali governments, with the help of forces from the United States and ATMIS, have launched campaigns to curb the increased al-Shabaab activity in areas near the border. In Somalia, security forces, including the Special Forces 'Danab/Bancroft,'14Danab Brigade soldiers are recruited and trained by Bancroft Global Development, a US private military contractor, and further honed by US military advisers. See Kyle Remfer, 'US troops, nonprofit trainers and a 'Lightning Brigade' battle for Somalia,' Army Times, 21 May 2019 Jubaland security forces, and US forces, conducted a series of attacks, including airstrikes, targeting al-Shabaab positions in Kismayo, Jamame, and Afmadow districts in Lower Juba region in June and July (see map below). This joint campaign comes after the second phase of the counter-insurgency operation set to expand to Southwest and Jubaland states has slowed down since March.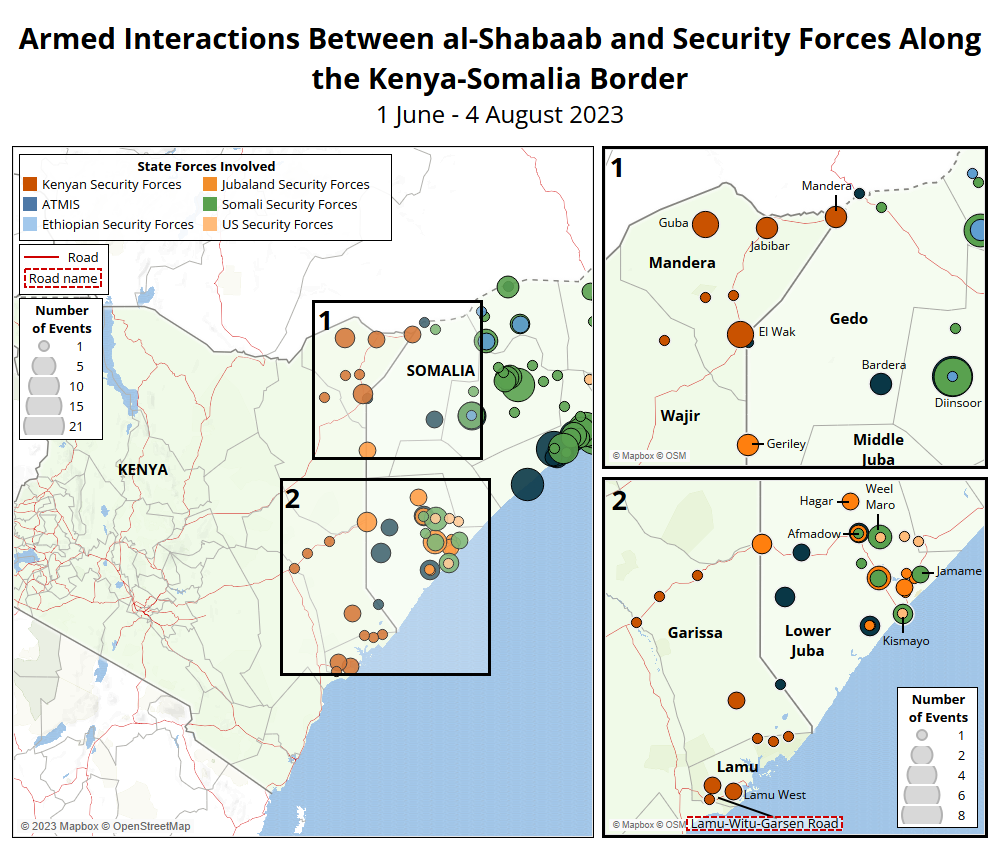 During the first phase of the operation, al-Shabaab lost control of several strategic villages and towns in Hirshabelle and Galmudug states. However, with the pause in the second phase of the operation, al-Shabaab's largest command centers and stronghold positions in Jubaland state were left intact. The recent joint operations by Somali and Jubaland security forces started in Kismayo district in June and later moved to Jamame and Afmadow districts. In July, joint forces supported by US airstrikes targeted al-Shabaab hideouts in several locations in Afmadow district, including in and around Weel Maro village. Over 100 militants, including senior commanders, were reportedly killed in these operations. Jubaland and Somali forces managed to take over Hagar town on 9 July, but later withdrew after holding meetings with local elders.
The Kenyan government also started a fresh operation against al-Shabaab along the border in July.15Maureen Kinyanjui, 'On the radar: Kenya starts major operation against al Shabaab,' The Star Kenya, 5 July 2023 As part of this operation, Kenyan forces have reportedly conducted an air campaign in Gedo region of Somalia, causing discontent among a section of the local population who have accused Kenyan forces of testing their military equipment on Somali people. In a worrying development that could result in further cross-border violence, local elders, who had gathered at Garbaharey, threatened Kenya with retaliatory measures if the air campaign did not cease. They also expressed opposition to the newly appointed Jubaland administration and declared allegiance to the opposition.16Stephen Astariko, 'Section of Gedo community fires anti-Kenya threats over KDF operation,' The Star Kenya, 25 July 2023
Additionally, the US military conducted a military operation in Lamu county in August, a day after al-Shabaab militants attacked five civilian vehicles in Lamu West. The operation comprised several detailed measures in order to ensure a safe environment for logistical and intelligence activities, as well as securely retrieving personnel. However, these measures do not seem to have deterred al-Shabaab, as a substantial group of militants has reportedly crossed the border. Intelligence reports also suggest that with this movement, the militants intend to launch more attacks in the region.17Cyrus Ombati, 'US military conducts operations in Lamu against al Shabaab,' The Star Kenya, 6 August 2023
The Lost Strategic Advantage Against al-Shabaab?
It seems that the security challenges posed by al-Shabaab have paradoxically deepened after the Somali federal government announced regional support for the second phase of its counter-insurgency campaign against the militant group. The move halted advancements and delayed progress, allowing for al-Shabaab militants to adopt new tactics like small units, false flags, and surveillance drones. Specifically, the militants have managed to disrupt the strengthened security alliance between domestic and regional security forces, as well as government-backed clan militias that played a major role in the first months of the counter-insurgency. 
Even though the security operations in both countries have shown great promise in addressing the protracted cross-border security challenges brought about by al-Shabaab militants, a lack of coordination on both sides of the border seems to hamper response. Given the complex security challenges, the future peace and security of the border region will depend upon improving coordination of security apparatuses in the two countries.