10 Conflicts to Worry About in 2022
Multiple security threats persist around the country
Nigeria continues to confront multiple security threats across its territory, with insecurity deepening in northern and southern parts of the country. While a long-running Islamist insurgency and ongoing militia activity, often labeled as 'banditry,' continue to impact the northern regions, the Biafra separatist rebellion has been a cause of unrest in the south. During 2021, ACLED records a 22% increase in the number of organized political violence events in Nigeria. The violence resulted in over 9,900 reported fatalities, nearly a 30% increase compared to 2020.
The threat posed by Islamist militants in the northeast shifted in 2021 and persisted, despite ongoing military operations to counter the insurgency, with the Islamic State West Africa (ISWAP) Lake Chad faction gaining more power and influence (New York Times, 15 October 2021). In 2015, when Muhammadu Buhari was elected as the new Nigerian president, he pledged to put an end to the Boko Haram insurgency (New York Times, 14 April 2015). His government has failed to do so, however (BBC News, 12 June 2021), with Islamist militants linked to more than 18% of all organized political violence in the country last year. While ACLED records an overall decrease in the number of events involving Islamist militants in 2021 relative to 2020, there was still a significant spike in militant activity, and violence has persisted and continued to evolve. 
In 2021, clashes escalated between Boko Haram (JAS)1Jamaatu Ahli is-Sunnah lid-Dawati wal-Jihad and its splinter faction, ISWAP Lake Chad, in a rivalry over supremacy and control of territory in northeast Nigeria and around Lake Chad. In May, Abubakar Shekau, the JAS faction leader, was killed during fighting with ISWAP militants in Sambisa Forest, reportedly by detonating his suicide vest (BBC News, 7 June 2021). Following his death, dozens of JAS faction fighters pledged allegiance to ISWAP (Reuters, 28 June 2021), while thousands surrendered to military forces in the subsequent months (New York Times, 23 September 2021). According to the government, over 15,000 Boko Haram militants had surrendered to the military by November 2021 (The Guardian, 12 November 2021). At the same time, ISWAP has been consolidating its grip in locations around Lake Chad, despite pockets of resistance from residual JAS faction fighters. In October, the Nigerian military also announced the death of the ISWAP leader, Abu Musab Al Barnawi. His death, however, was not confirmed by ISWAP (BBC News, 14 October 2021). 
While the Boko Haram insurgency has been traditionally concentrated in the northeast, particularly in Borno state, reports point to ISWAP and JAS militants overrunning several communities in Niger state in 2021 (VOA, 3 October 2021). The militants have been reported to establish camps in the state, thus expanding their operations to areas closer to the Federal Capital Territory. In November, the Niger local government confirmed the presence of Islamist militants in Shioro and Rafi local government areas (LGAs), as well as Borgu LGA near the border with Benin (Premium Times, 24 November 2021). This underscores a trend of militant expansion to territories in which they had largely not been present previously.
Elsewhere, in Nigeria's north-central and northwest regions,2More specifically, Zamfara, Kebbi, Sokoto, Katsina, Kaduna, and Niger states. communal militia activity constituted nearly one-third of all organized political violence events recorded by ACLED across the country in 2021. Political violence involving militias, often labeled as 'bandits,' started in Zamfara state in 2011 and then over time spilled into neighboring states (Daily Trust, 10 September 2021). In 2021, organized political violence perpetrated by these militias increased by 50% compared to 2020, with 30% of militia activity occurring in Kaduna state. Operating from ungoverned forests in Nigeria, these groups mostly engage in cattle rustling, kidnapping for ransom, and pillaging of villages (Al Jazeera, 6 January 2022). According to ACLED data, these militias killed more than 2,600 civilians in 2021, an increase of over 250% compared with 2020. This figure also far exceeds the number of civilian fatalities resulting from the Boko Haram and ISWAP insurgencies in 2021. 
Additionally, abductions and forced disappearances carried out by these groups more than tripled last year compared to 2020, as militias increasingly exploit kidnapping for ransom as an important source of income (Vox, 2 August 2021). Most prominently, militias carried out multiple mass abductions of school students: over 300 girl students were abducted in Zamfara state in February, while more than 100 students were kidnapped in Kaduna state in July (DW, 6 July 2021). In the security vacuum left by the absence of effective governance, militias have effectively taken over territories, imposing taxes and curfews and limiting people's movement (Vanguard, 2 September 2021; 25 November 2021).
Furthermore, organized political violence involving Fulani militias continued in 2021, particularly in Nigeria's Middle Belt. Although there was a slight drop in the number of events involving Fulani militias in 2021, they were more lethal compared with the preceding year. Nearly 800 civilian fatalities, many among farmer communities, were reported as a result of Fulani militia attacks in 2021. For instance, in December, Fulani militias launched a multi-day attack against Tiv farmers in Nasarawa state, reportedly in reprisal for the death of their kinsman in Obi LGA. The attack resulted in at least 20 fatalities and the displacement of thousands (The Punch, 20 December 2021). A lack of government measures to protect communities against these attacks has led to the formation of local vigilante groups (New York Times, 10 December 2018). ACLED data show that over 45 people were killed last year in clashes between Fulani militias and local self-defense militias.
Insecurity also intensified in the southeast, where political violence involving the separatist Indigenous Peoples of Biafra (IPOB) and its security outfit, known as the Eastern Security Network (ESN), grew significantly in 2021. ESN was founded in December 2020 as the IPOB paramilitary wing, allegedly to protect the Igbo people against Fulani militias and state-sponsored violence (Twitter @MaziNnamdiKanu, 14 December 2020). Clashes between government security forces and IPOB/ESN fighters first escalated in January 2021 following a government directive to "dismantle the formations of the ESN" in the area (Independent Nigeria, 28 January 2021). In June, IPOB leader, Nnamdi Kanu, was arrested in Kenya and extradited to Nigeria to stand trial. Since then, IPOB has imposed regional sit-at-home orders to denounce Kanu's arrest (Al Jazeera, 9 November 2021), which have often been accompanied with violence. Although IPOB suspended the weekly Monday sit-at-home orders in August (Vanguard, 15 August 2021), sit-at-home orders have since been intermittently reapplied, with elements in the movement continuing to regularly enforce them (Vanguard, 11 November 2021). Attacks and abductions targeting traditional rulers also surged last year, particularly in the south. In December, unidentified gunmen kidnapped several traditional rulers and killed at least three, with IPOB condemning the killings and the government's alleged indifference toward preventing and punishing these acts (Vanguard, 12 December 2021).
What to watch for in 2022:
With the in-fighting between Boko Haram and ISWAP, as well as defections on the part of Boko Haram fighters, ISWAP is emerging as a unified force in northern Nigeria while expanding its territories further toward the center. With this major shift in Nigeria's 12-year-old Islamist insurgency, ISWAP is likely to consolidate its control over the Lake Chad Basin and beyond in 2022. 
Meanwhile, the situation in northwest and north-central Nigeria poses an even greater threat to the country's security, with the militias outnumbering the Islamist militants. Moreover, these militias continue to develop their fighting capacity, having even shot down military jets, and have been able to relocate and operate in other states in order to evade military operations (BBC News, 19 July 2021). 
Civilians are likely to continue bearing the brunt of these conflicts in 2022. In some instances, security forces have also indiscriminately targeted civilians in their fight against armed groups in the north in 2021. For example, two airstrikes targeting Islamist militants led to dozens of civilian fatalities in September (Washington Post, 16 September 2021; Reuters, 29 September 2021). Increasing military operations in 2022 could result in similar events.
In Nigeria's Middle Belt, there is limited prospect of diminishing inter-communal conflict in the absence of effective measures adopted by the government to address the underlying issues causing the hostilities, such as changes in land use resulting from drought and displacement (Al Jazeera, 28 November 2021). Violence involving Fulani militias is one of the gravest security challenges confronting Nigeria, resulting in hundreds of fatalities and the displacement of thousands in 2021. Although this violence decreased by over 46% in 2021 compared with the peaks of 2018, it risks escalating and further undermining Nigeria's security in 2022.
With elections to be held in February 2023, election-related political activities have already started and will likely create additional security challenges. The last national elections in 2019 were marred by political violence, some of which was perpetrated by soldiers and police officers, while several instances of violence were also reported during the 2021 local government elections, particularly in Anambara and Ekiti states.
Demonstrations: This term is used to refer collectively to all events coded with event type protests, as well as all events coded with sub-event type violent demonstration under the riots event type.
Disorder

: This term is used to refer collectively to both political violence and demonstrations.

Event:

The fundamental unit of observation in ACLED is the event. Events involve designated actors – e.g. a named rebel group, a militia or state forces. They occur at a specific named location (identified by name and geographic coordinates) and on a specific day. ACLED currently codes for six types of events and 25 types of sub-events, both violent and non-violent.

Political violence:

This term is used to refer collectively to ACLED's

violence against civilians, battles, and explosions/remote violence

event types, as well as the

mob violence

sub-event type of the

riots

event type. It excludes the

protests

event type. Political violence is defined as the use of force by a group with a political purpose or motivation.

Organized political violence:

This term is used to refer collectively to ACLED's

violence against civilians, battles,

and

explosions/remote violence

event types. It excludes the

protests

and

riots

event types. Political violence is defined as the use of force by a group with a political purpose or motivation. Mob violence is not included here as it is spontaneous (not organized) in nature.

Violence targeting civilians: This term is used to refer collectively to ACLED's violence against civilians event type and the excessive force against protesters sub-event type of the protests event type, as well as specific explosions/remote violence events and riots events where civilians are directly targeted.
For more methodological information – including definitions for all event and sub-event types – please see the ACLED Codebook.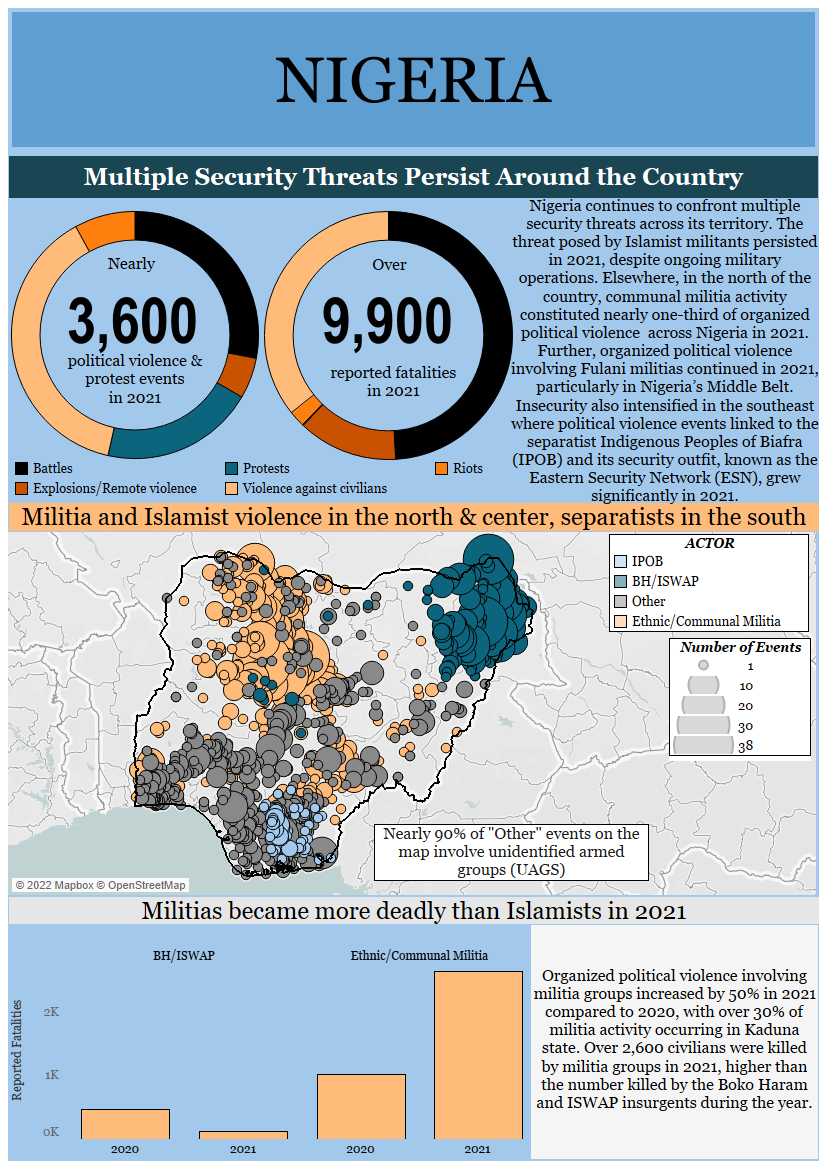 © 2022 Armed Conflict Location & Event Data Project (ACLED). All rights reserved.