10 Conflicts to Worry About in 2022
Multiple Complications Threaten to Result in a Dangerous Re-escalation
The start of peace processes and a cooling of conflict between the Tigray People's Liberation Front (TPLF) and the Ethiopian government in the first half of 2022 has led to some hope that Ethiopia's situation may improve. Although the northern conflict has changed significantly, conflicts throughout the rest of the country continue to rage, challenging Prime Minister Abiy Ahmed and his ruling Prosperity Party (PP).
On 24 March, the federal government declared a humanitarian truce in the Tigray region (FDRE Government Communication Service, 24 March 2022). Shortly after, the Tigray regional government, led by members of the TPLF, agreed to a "cessation of hostilities" (Tigray External Affairs Office, 24 March 2022). Both the federal government and the regional government of Tigray indicate that they intend to enforce a ceasefire (Tigray External Affairs Office, 24 March 2022). With the exception of some limited clashes and shelling incidents, the ceasefire has held, and violence has drastically decreased.
Initiating peace talks between the Ethiopian government and the TPLF has been a complicated process. Prior to an official announcement detailing the selected negotiation team, the Ethiopian government was very careful not to admit to talks with the TPLF (Addis Standard, 27 June 2022). Former Nigerian President Olusegun Obasanjo – now the African Union High Representative for the Horn of Africa region –  indicated in a recent interview that peace talks have been ongoing since at least May 2022; Obasanjo described the progress of peace efforts as going "very slowly but steadily," and indicated that the situation has improved in the last six months (BBC, 1 June 2022).
Obstacles to progress originate from several sources. In the Amhara region, which bore the brunt of the conflict between July 2021 and January 2022, politicians have accused Abiy and the PP of being lax in addressing security challenges posed by the TPLF and the Oromo Liberation Army (OLA/OLF-Shane) (Ethiopia Insider, 9 February 2022). Some in the Amhara region do not support government negotiations with the TPLF, especially in light of the damage done to Amhara and Afar over the past year (Al Jazeera, 1 May 2022; Borkena, 28 March 2022).  
Amhara ethno-nationalists have achieved some of their political goals in recent years, including the capture and ongoing administration of the Western Tigray zone by Amhara authorities. However, they are concerned that negotiations could involve the potential return of the Western Tigray zone to the control of Tigray regional authorities. A crackdown involving the arrests of Amhara ethno-nationalists and journalists in May, prior to the announcement of negotiations, led some to suspect the Amhara region may possibly lose control of the Western Tigray zone, which Amhara authorities have maintained since shortly after the start of the conflict in November 2020. 
Developments in other regions have also caused complications for the government. Insurgencies in Oromia, Benshangul/Gumuz, and Gambela regions have continued, challenging the regional governments and spreading federal security resources thin. In June, the OLA/OLF-Shane attacked Gimbi, Gambela, and Dembi Dolo, only weeks after the government claimed that it had neutralized the OLA/OLF-Shane following large-scale military operations in April (BBC Afan Oromo, 24 June 2022; Ethiopian Broadcasting Corporation, 9 April 2022). 
Deepening insurgencies have also led to increased violence targeting civilians, most evidently in Oromia. On 18 June, over 330 ethnic Amhara civilians were killed by suspected OLA/OLF-Shane gunmen in a location around 50 kilometers from Gimbi in West Wellega zone, Oromia. ACLED data indicate that over 230 incidents of civilian targeting were reported in Ethiopia during the first six months of 2022, resulting in more than 1,220 fatalities, and that over 810 of these fatalities (66%) occurred in Oromia. Elsewhere, regional forces have carried out extrajudicial killings in Gambela, drawing widespread condemnation.
While civilians remain the target of direct attacks, they also continue to suffer from the broader worsening of the humanitarian situation in the country. UNOCHA indicates that the situation in Ethiopia has "deteriorated" since January 2022 and that access issues and ongoing distribution problems have taken a toll on civilian lives and livelihoods (UNOCHA, 27 June 2022).
Despite ongoing militant insurgencies and civilian targeting, the upcoming national dialogue scheduled to begin in November represents a hopeful opportunity to end a long and difficult period in Ethiopian politics. The process has, however, had a rough start. Opposition parties have voiced objections to the National Dialogue Commission since its inception, citing irregularities in the initial commission selection process (Ethiopian Political Parties Joint Council, 17 February 2022; Addis Standard, 4 February 2022). 
Like the national dialogue, the proceedings of initial peace talks between the TPLF and the Ethiopian government have been difficult as well, with the potential for further complications to arise. Moreover, border clashes between the Tigray Defence Forces (TDF), and Eritrean forces have renewed the threat of war and may jeopardize the peace process (BBC Amharic, 17 May 2022).
The status of Ethiopia's federal military forces is a major factor that will influence the country moving forward. Following their withdrawal from the Tigray region in June 2021, the Ethiopian National Defence Force (ENDF) has struggled to keep up with ongoing security challenges across the country (Fana TV, 21 January 2022). The government has, however, launched large recruitment campaigns and increased defense spending in an effort to rebuild the ENDF. Its success or failure in this venture will largely determine the amount of force available to the government to respond to ongoing and future outbreaks of conflict.  
More than a year and a half since fighting began in Tigray, a peace process is underway but complicated by the threat of renewed violence in the north. Furthermore, efforts to quell insurgencies in Oromia and Benshangul/Gumuz regions have so far been unsuccessful. Along with rising levels of violence in many areas throughout Ethiopia, the potential failure of the peace process threatens to result in a dangerous re-escalation of conflict in the north during the second half of 2022.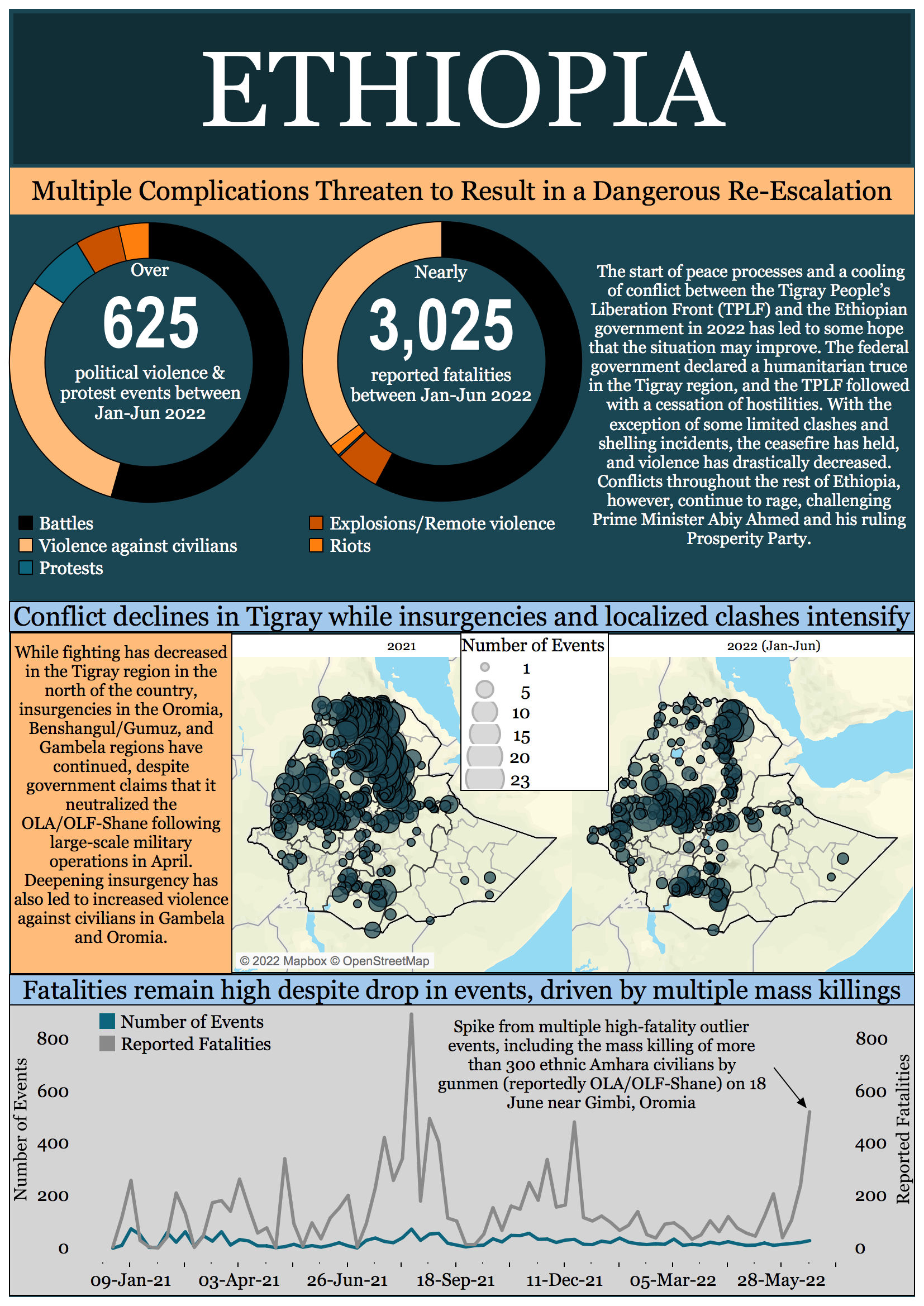 Demonstrations

: This term is used to refer collectively to ACLED's

protests

and

riots

event types.

Disorder

: This term is used to refer collectively to both political violence and demonstrations.

Event:

The fundamental unit of observation in ACLED is the event. Events involve designated actors – e.g. a named rebel group, a militia or state forces. They occur at a specific named location (identified by name and geographic coordinates) and on a specific day. ACLED currently codes for six types of events and twenty-five types of sub-events, both violent and non-violent.

Political violence:

This term is used to refer collectively to ACLED's

violence against civilians, battles, and explosions/remote violence

event types, as well as the

mob violence

sub-event type of the

riot

event type. It excludes the

protests

event type. Political violence is defined as the use of force by a group with a political purpose or motivation.

Organized political violence:

This term is used to refer collectively to ACLED's

violence against civilians, battles,

and

explosions/remote violence

event types. It excludes the

protests

and

riots

event types. Political violence is defined as the use of force by a group with a political purpose or motivation. Mob violence is not included here as it is spontaneous (not organized) in nature.

Violence targeting civilians

: This term is used to refer to ACLED's

violence against civilians

event type as well as specific

explosions/remote violence

events where civilians are directly targeted. 
For more methodological information – including definitions for all event and sub-event types – please see the ACLED Codebook.